West is best – lush green mountain retreats, far-flung beaches & cigar country
Tucked under the mountainous spine scaffolding western Cuba, you'll find fossil-flecked hills, cooling caves and rivers, and colourful birdlife. Sign up with us to pedal the heights before freewheeling down to tobacco fields and beaches.
---
The Sierras de los Organos, and del Rosario are sky-high forested mountains sheltering an eco-retreat, thermal spa, organic farms, coffee plantation ruins, tinkling waterfalls, the national bird striped in the colours of Cuba's flag, and a cave museum where Che Guevara holed up during 1962's missile crisis.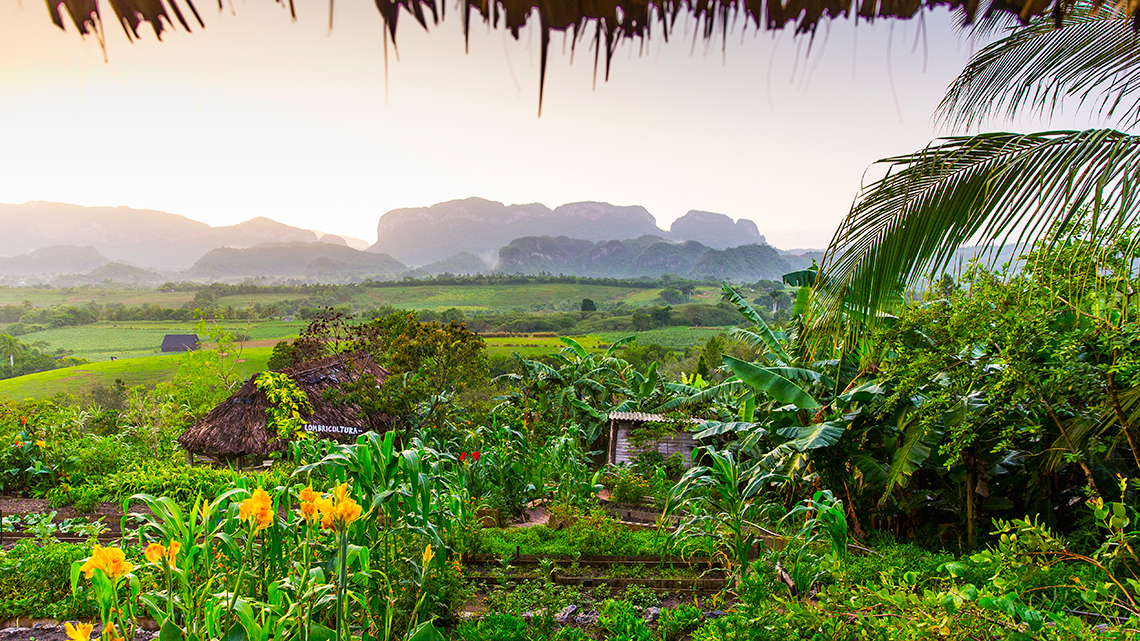 At their base, the sierras splay into the Valley of Viñales, a World Heritage Site of Jurassic limestone humps embedded with dinosaur relics, and underground caves harbouring the remains of historic man. Tobacco farms and wild west golden beaches lure visitors away from valley hotspots.
Western Cuba bike tours – three bicycling trips
Cubanía Travel's Cuba by bike tours offers a variety of challenges to riders. Short, sweet and cheap is 5-day Bike Cuba; more testing is our off-the-beaten-track Western Skyline Ride with backup vehicle support. Independently minded? Book our Bike Packing tour.
Bike Cuba – mountain, beach & tobacco farm highlights
Want a no-sweat tour of Cuba? This five-day Bike Cuba ride takes in the area's most beautiful sights at a leisurely pace. Pedal at an easy pace through tropical mountain forest with a Cuban guide leading the way. You'll get a taster bicycle tour of capital Havana on your first day, and the low-down on a community cycle project encouraging Habaneros to get back in the saddle.
Your first out-of-town stop is eco-community Las Terrazas, cradled in a wooded bowl and centred around palm-fringed San Juan Lake, in mountains riven with waterfalls, and scattered with ruins of 19th-century coffee plantations. Dip in to Las Terrazas' Moka Hotel pool, and watch hummingbirds dip into drooping scarlet hibiscus flowers. Later, dine on the lake-view terrace of organic vegetarian restaurant "El Romero", the community's best diner. Learn about the origins of Las Terrazas and Fidel Castro's "green revolution" before pedalling off to Soroa, home to the national orchid garden. Keep an eye out for the golf ball-sized lime green and watermelon red "Cartacuba" bird en route to San Diego de los Baños. Its thermal baths, open to visitors for a dip, are thanks to the volcanic core of the region's bedrock.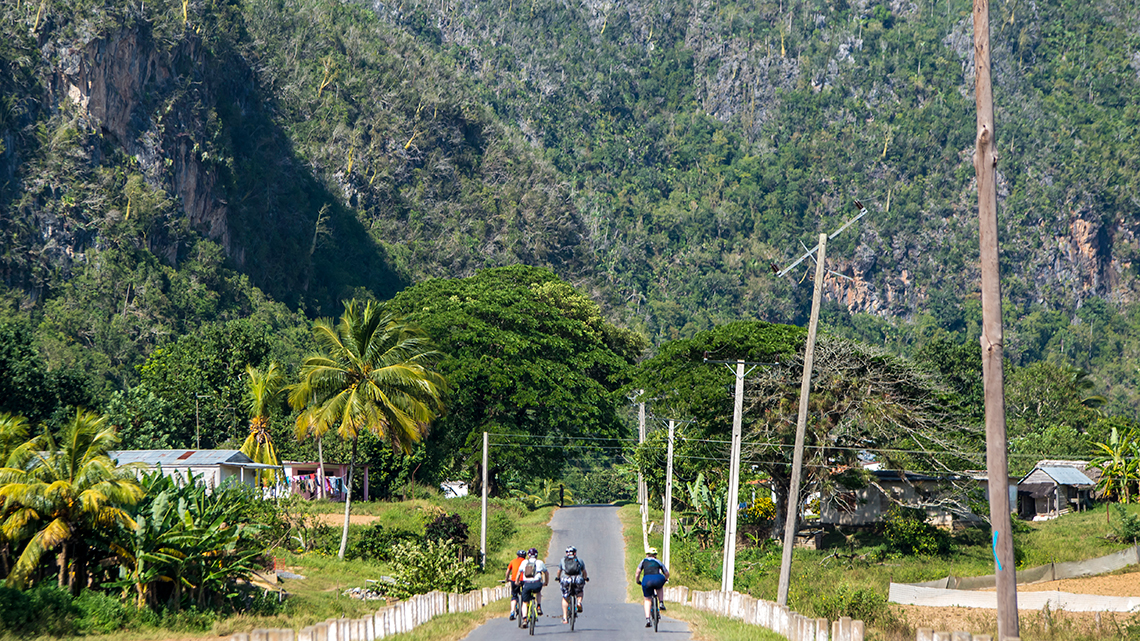 Views of the Valley of Viñales on arrival late in the day are extraordinary. A potholed ride to the west coast is rewarded with a day at Cayo Jutías, a slim, left-hooked sandy finger baking under a strong sun and blue skies. Slip into the turquoise sea and enjoy lunch and beer on the beach. Back in Viñales a tobacco farm visit, plus a lesson on cigar making in the land of premium cigars, beckons. Then it's on to a class of a different kind – salsa. Put your new whizzy feet to the test at bars with dance floors in town. Your last day sees you ride through beautiful "mogote" scenery – the shaggy limestone hills that characterise the valley – passing rural hamlets on the way. A creole food lunch at a family run organic farm is followed by a walk into Che Guevara's cavernous hideout during the 1962 Cuban Missile Crisis. Need a rest on the 200-km round trip? Board our support vehicle accompanying your ride.
Western Skyline Ride – pushing the bike out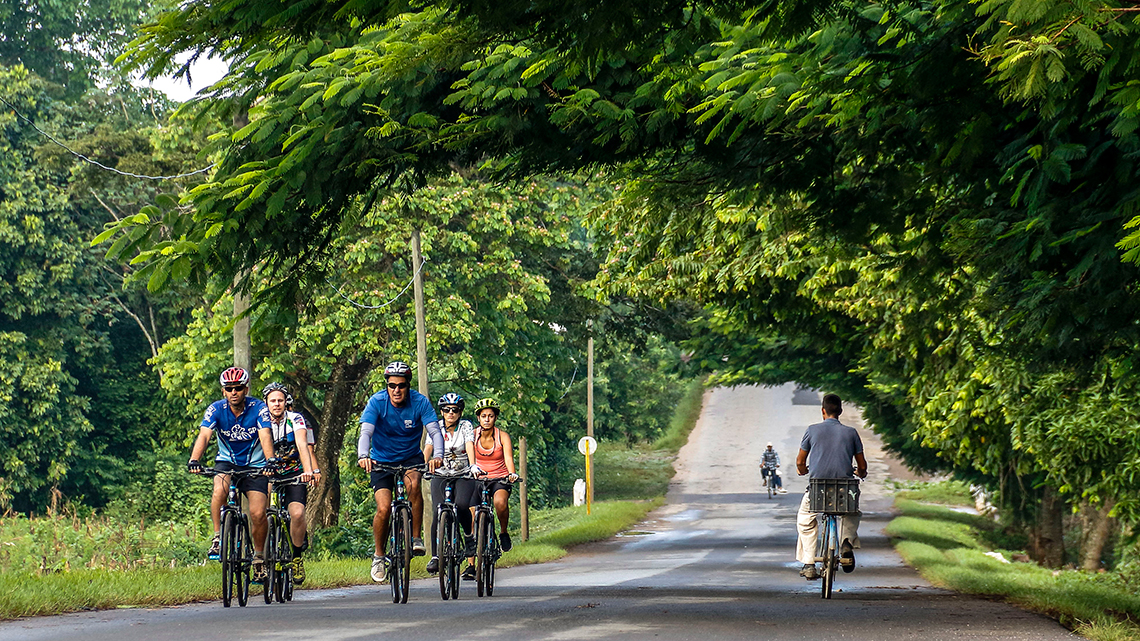 Looking for a more immersive trip? Join an eight-day ride down the spine of western Cuba. Explore Havana by bike – its leafy boulevards, mansion-lined streets, Revolution monuments, and ocean-splashed seaside promenade. With eight days to savour the region, this slow-cycle trip leaves Havana on a coastal road most visitors don't travel. It turns inland at Mariel to take the back door into the tropical heights of the Sierra del Rosario, home to the Cuban trogon, the island's handsome national bird, and the perfumed white petals of the "mariposa", Cuba's national flower. At Las Terrazas, head straight to Hotel Moka. Or better, detour via the nearby San Juan River where a teal coloured river tips over gentle shelves into shallow pools – perfect for a soak after your cycle! Book dinner at El Romero, Cuba's first vegetarian restaurant.
The following morning, climb to a mountain road with spectacular views. On clear days, you'll catch glimpses of the north and southern coastline of the Western peninsula. This skyline ride offers some of Cuba's most exciting cycling as the road undulates through palm-topped emerald hillocks on a forgotten backwater route through rural Cuba. To reach Viñales, you'll descend to a highway, empty of zooming modern cars or bounding HGVs. You'll be riding alongside lumbering American cars and horse-drawn carts.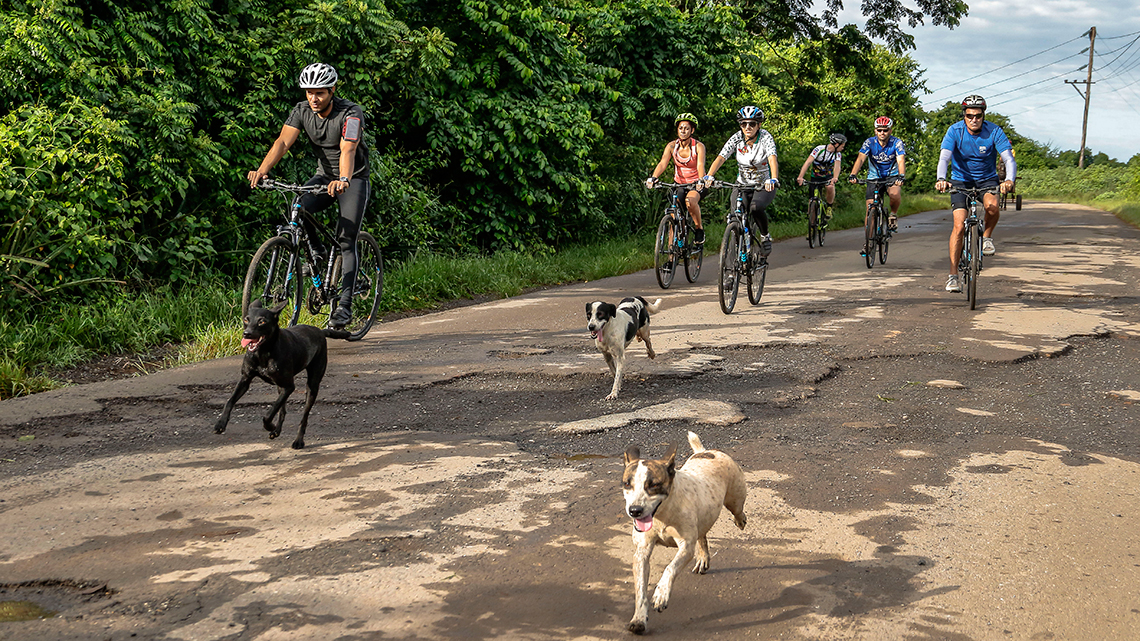 The next two days is spent in and around the beautiful domed hills of Viñales Valley, protected by UNESCO since 1999. You'll stay in Cuban B&Bs, and learn about organic farming and tobacco cultivation in the valley. You'll spend a day cycling to the coast and splashing about in gorgeous blue sea at Jutías beach, and you'll tuck into the fruits of a local farm back in Viñales – the wonderful creole dinner at Finca Wilfredo – from its incredible perch on a flattened lip of the valley.
You'll learn about cigars and tobacco and explore the flinty limestone hills that give a lost world feel to this extraordinary region. After a picnic lunch, try and sneak in a last country mojito before the road transfer back to Havana. For those wanting to dip out of this 285 km-pedal for a moment or two, a backup vehicle offers rest.
Bike Packing – DIY cycle tour of western Cuba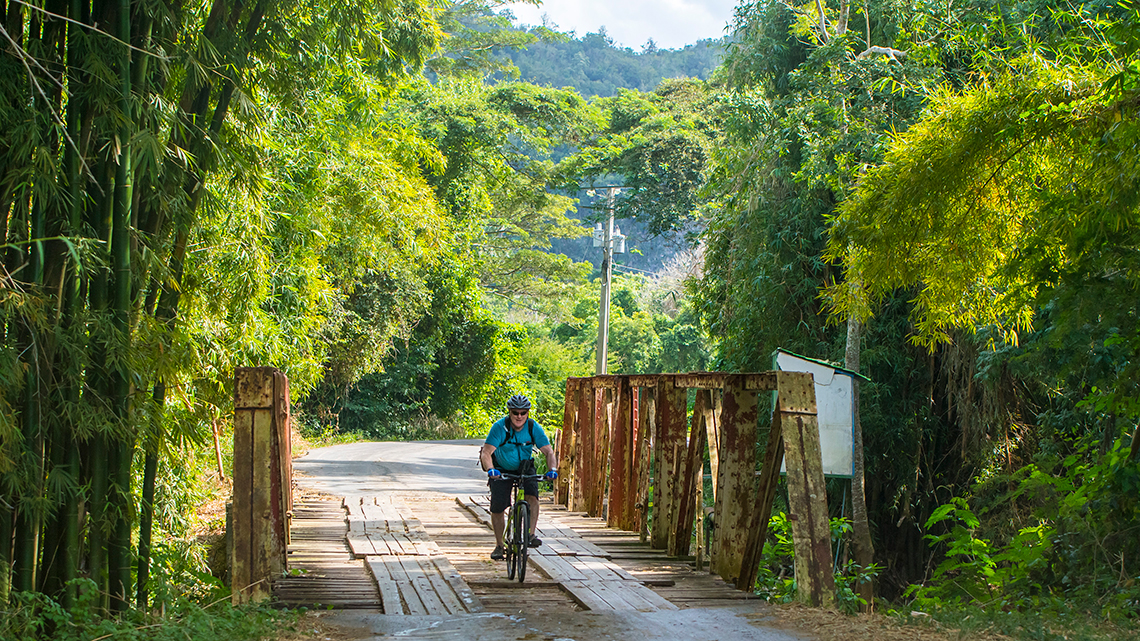 Want independence on your wheels but some of the hassle of the road taken care of? Ride around lush mountains, green valleys and farming communities of western Cuba at your own speed. This trip follows the routes above but includes bonus trails off well-trodden routes. It grants you the freedom of the road but removes the headache of finding remote transport for parts of the trip, and ensures you know where you'll rest your head each night. And because you'll stay at remote mountain spots, your breakfast, and most packed lunches and hearty dinners are included. Off-beat stays include a secluded mountain lodge, an unusual horse stud farm, and isolated B&Bs on mountain back routes. You'll relax at gorgeous Cayo Levisa, a picture-postcard island cast adrift in the Atlantic, before catching private transport back to Havana. Sign up on dates that suit you, or book a set departure to pedal with company.
Why cycling western Cuba is a winner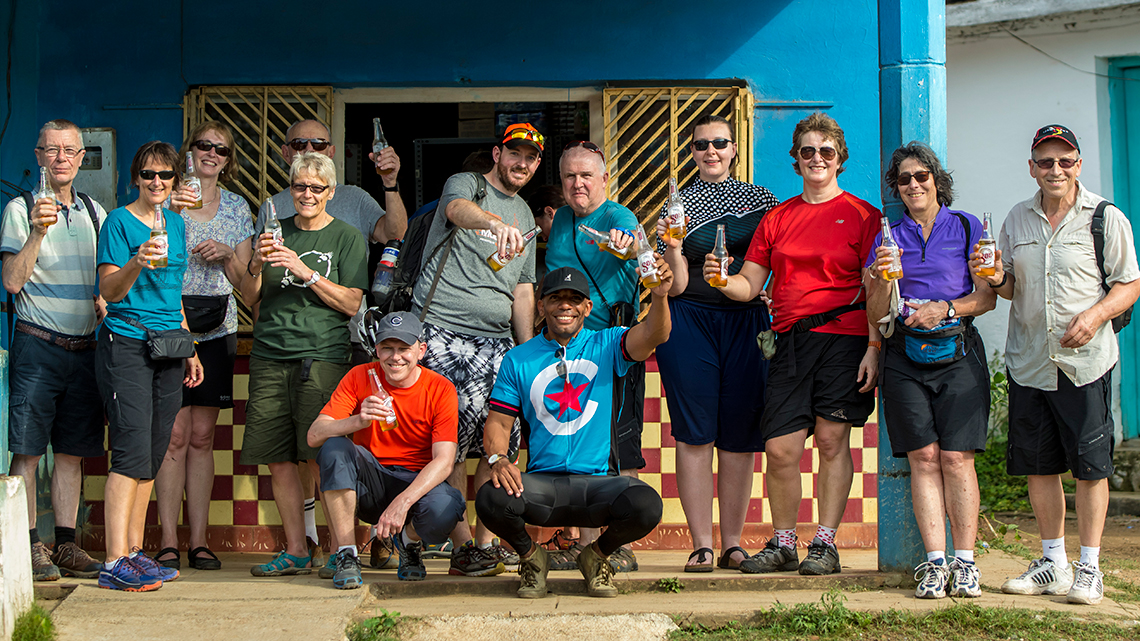 Cuba's western region isn't far from Havana, but it's a greener world with very little traffic, roadside stalls for fruit snacks and peanut candy, panoramic views, and mountains brimming with rivers, caves and waterfalls. Its star attraction, Viñales Valley, is a vision of beauty with beasts of burden tilling rusty red fields as they have done since antiquity. You'll meet locals on the road and at their homey B&Bs, and they'll pack you off with a better breakfast than in a hotel. Pedal on!