Road cycling Cuba, an adventure of discovery and exploration
Cuba is a fascinating island which boasts many diverse landscapes and some truly amazing scenery. What's more, there is no better way to enjoy it than from the saddle of your bike.
Travellers here can enjoy long, white sandy beaches with azure surf, thick, dense jungle with lush vegetation, strange geological accidents which have formed immense mountains in pre-historic valleys – and all that is before we even mention the vibrant, colourful towns and cities.
But when you're booking your holiday, how do you know where to go? Most travellers who are considering a trip to Cuba will all think the same thing:
"I want to see it all in one holiday!"
But specifically, if you're an experienced, accomplished cyclist and up for a unique physical challenge, you really can see it all in one holiday. Aside from Cuba's diverse aesthetic beauty and its distinctive personality, the fact that there's very little road traffic to hinder your progress and that you can still find horse or even ox-drawn carriages on the roads must sound tempting! Cycling around the island of Cuba will be like nothing you've ever done before, whether in Europe, North America or anywhere.
With Road Cycling Cuba, Cubania Travel has put together a mouth-watering holiday package for the more energetic traveller including food, bus transfers and all the necessary logistical support. By following the action-packed 15-day itinerary we offer, with large sections following the taxing "Vuelta a Cuba" circuit, you'll see the whole island of Cuba the best way it can be seen: in and amongst it from the saddle of your bike!
---
Let's explore the itinerary
Day 1: Havana
Cuba's capital and beating heart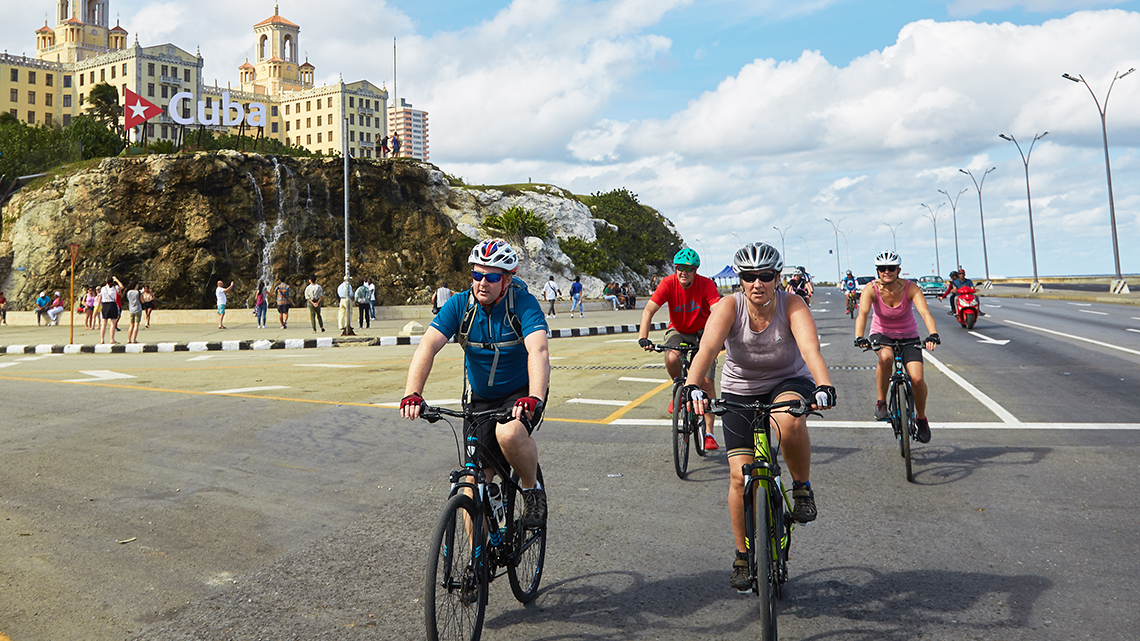 Havana isn't just one of the most picturesque cities in the Caribbean, it's one of the most interesting cities on the planet. Upon arrival in the city, most people are blown away by the colours, the bustle, the vibe and the music. Havana is simply in motion, all the time. It's well worth spending some time here to get to know its unique style, and you'll get the chance to go out for dinner in the evening to sample the unmissable charm.
Make sure you're aware of the best bars to go when you're here. There are dozens of amazing places to drop in and a little bit of research prior to a holiday can be the difference between finding a great bar and finding the best bar in Havana.
Day 2: Remedios
Well preserved colonial town in the centre of the island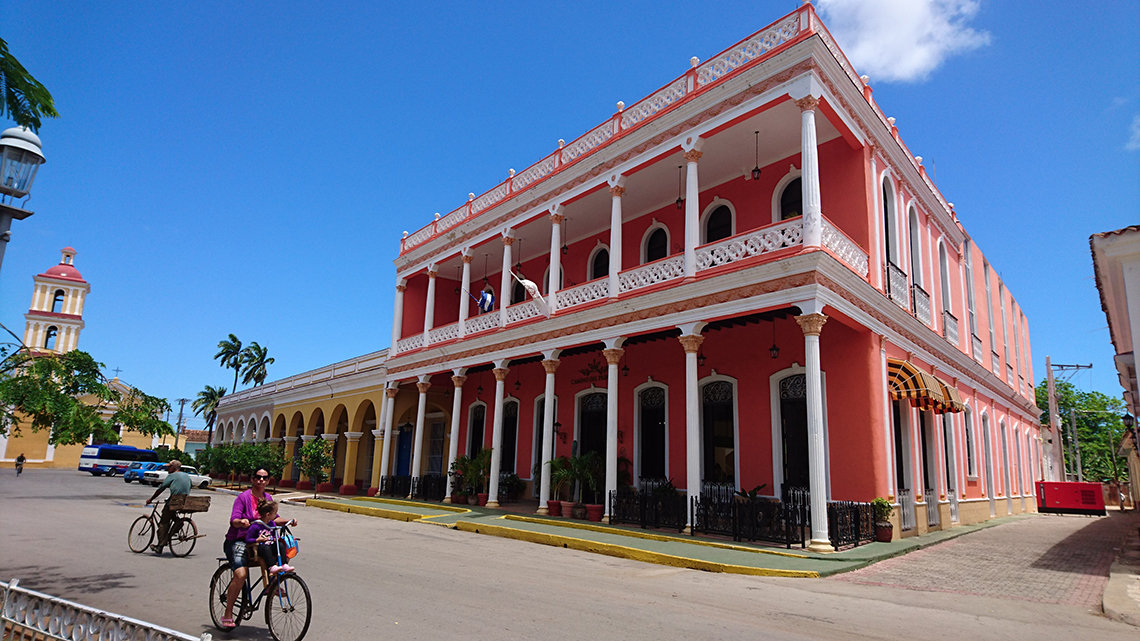 After waking up fresh and getting your bike ready, you'll have a short bus transfer to the Eastern outskirts of Havana where the start-line is. You'll also have the pleasure of meeting and then riding with a Cuban Masters rider who will also act as one of the designated bike mechanics. Who better to take you around Cuba's capital than someone who knows a thing or two about cycling? Feel free to chat with him and pick his brains about tips you're dying to ask as you get into your rhythm!
Leaving Havana behind and cycling towards Remedios will mean that you start getting to know the parts of Cuba that don't necessarily make it into the travel guides, but are wonderful to see nonetheless. Sugar cane fields adorn the tropical landscape, and you'll pass through tiny villages which have remained dormant since they were built. One such area which has remained dormant for 17 years is the sugar refinery and the surrounding sugar cane fields purchased by chocolate baron Milton S. Hershey in 1916. It's a totally unique experience that will stay with you for the rest of your life.
Day 3: Gibara
Picturesque fishing village with a penchant for movies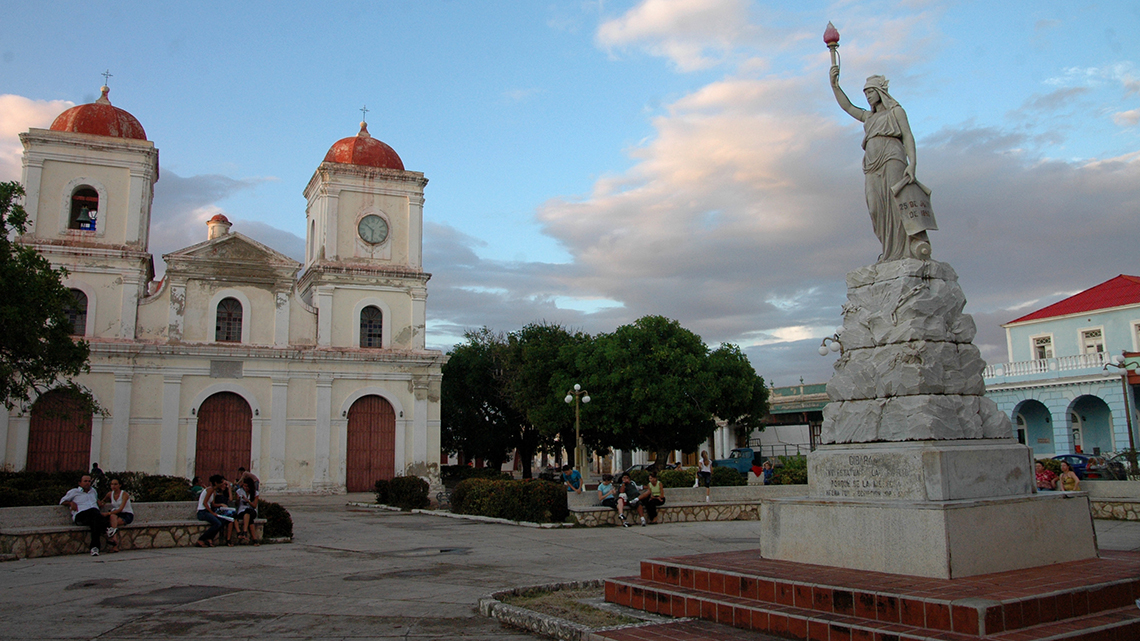 Finding ourselves in the flat pastures of Central Cuba, now's the time to start working those leg muscles. It may be on Day 3 that you begin to believe that Cuba really is the biggest island in the Caribbean as the scenery stretches out for well over 125 kilometres into the distance.
Naturally, we offer a support vehicle for stretches like this and the truly fatigued can catch a lift for a more tranquil journey to the North coast, and the picturesque fishing village of Gibara.
After this lengthy, but albeit flat ride, there'll be a chance to rest your calf muscles, and the evening is all yours to explore the local restaurants and their sumptuous menus of fresh seafood (we suggest on foot!). There'll be more challenging sections of the tour to come, so stretch out your legs and relax by this beautiful stretch of coast.
Day 4: Baracoa
Cuba's "villa primada" and chocolatey paradise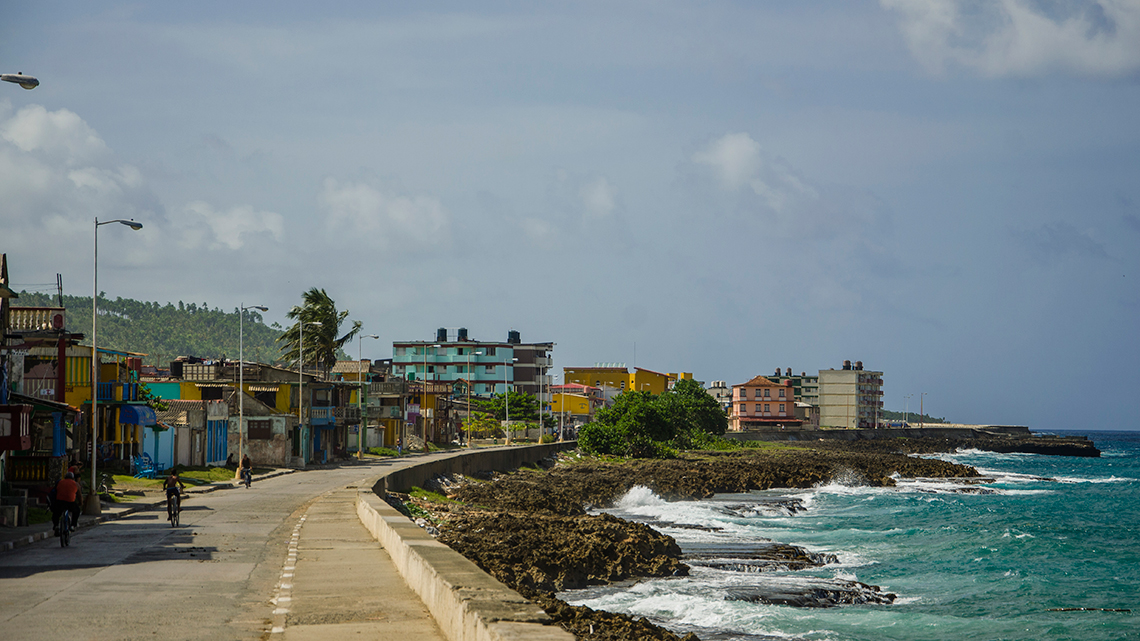 Leaving the coast, you'll head further east, deep into the famed Cuban countryside made immortal by the Buena Vista Social Club and the fact that the nearby town of Biran was Fidel Castro's birthplace. It doesn't get much more Cuban than round here!
There's more of an indigenous feel to this side of the island, and much of the countryside suggests why. You'll appreciate the opportunity to become one with Nature in a refreshing sense as we'll stop at the stunning Playa Maguana for a swim in the sea. Roads round this part of the island are fairly new, and our destination town of Baracoa has only been accessible by land since the 1960s.
Much has been written of Baracoa, but little fully justifies its charm. Officially Cuba's oldest settlement or "villa primada", its spectacular bay and intriguing town offer so much to see and do. The area all around the town produces chocolate and the whole air smells of sweetness. Historically, its beauty wasn't lost on Spain's enemies, and English ships have traditionally "visited" the island for their own form of sightseeing. Because of this, there are three sturdy forts that are well worth visiting and you'll be able to gauge just how jealously the town was always guarded.
Aside from the numerous places of interest in Baracoa, the town is surrounded by some of the best countryside found anywhere. Anvil Mountain, or "El Yunque", looks over dense jungle and National Parkland, home to a plethora of tropical flora and fauna, as well as subterranean caves where ancient civilisations inhabited long before Europeans came.
Day 5: Baracoa
Because one day is not enough
Christopher Columbus described this part of Cuba as "the most beautiful land ever seen by human eyes". He wasn't indulging in hyperbole. Baracoa and the surrounding area is so beautiful that if you're going to come here, it's worth seeing properly.
On Day five, you'll have the choice of diving deep into cultures that predate colonisation or staying active in the saddle again with a shorter bike excursion to Punta Maisi, where the coastal scenery is sublime. Alternatively, take a day off simply to explore the jungle and the rivers, the mountains and the caves, the stunning beaches nearby, and Baracoa's own museums and the plazas. We guarantee that you've never seen anything like it, and you may just find yourself agreeing with Columbus – something you may not have thought about much before Baracoa.
Day 6: Guantanamo and Santiago de Cuba
Ridding to Cuba's Caribbean heart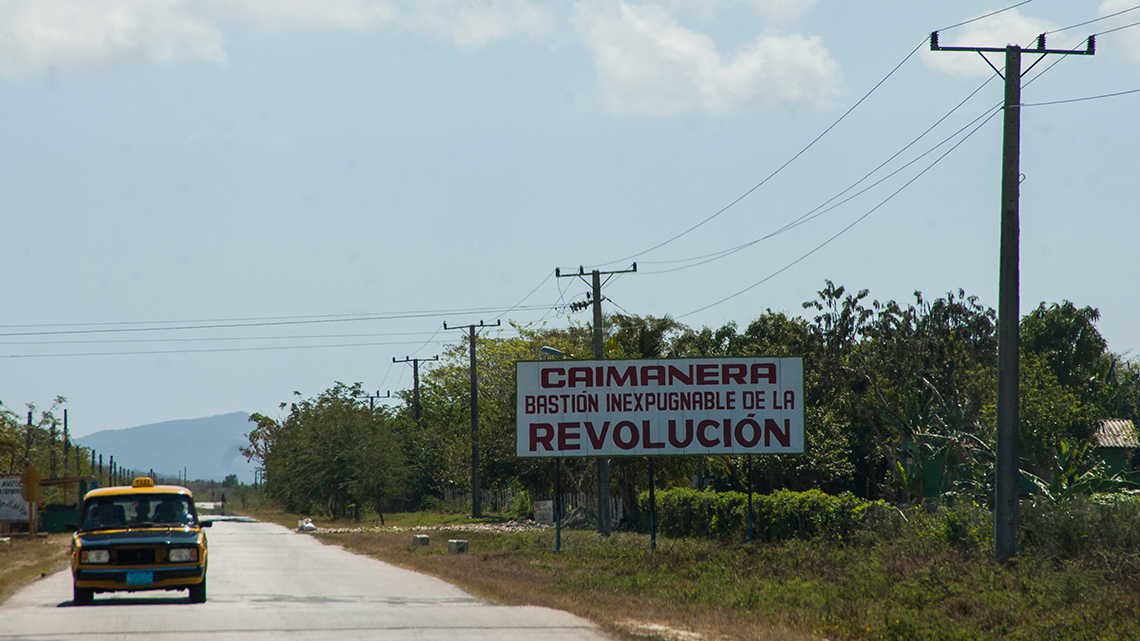 If you can bear to tear yourself away from this little slice of paradise – there's a cycling tour to complete! One of the most challenging sections of the tour, this was an infamous part of the "Vuelta a Cuba", and you'll have to climb for over 30 kilometres through the mountains and through the spectacular tunnels before dropping down to Imias and then arriving in Guantanamo province. This really is a demanding stretch of cycling and you'll take yourself to the limits of your stamina gaining the altitude for the climb. This physical effort is counterbalanced by the breathtaking panorama – hopefully you're able to enjoy it despite the effort! Should you require any assistance on this particularly taxing part of the tour, there's alternative transport available.
You'll finish the day in Santiago de Cuba, the island's second city and original capital. It played an important part in independence and revolutionary struggles and is known as "Heroic City".
Like Havana, it is a lively, cultured city and after a long day of cycling one of the most difficult stretches of the tour, dinner and mojitos should be just the ticket. People say that Santiago de Cuba is the most truly Caribbean city in Cuba, and it's a good idea to check for things to do before your arrival so that you can make the most of your visit to this amazing place.
Day 7: Sierra Maestra
A day of mountains and prayers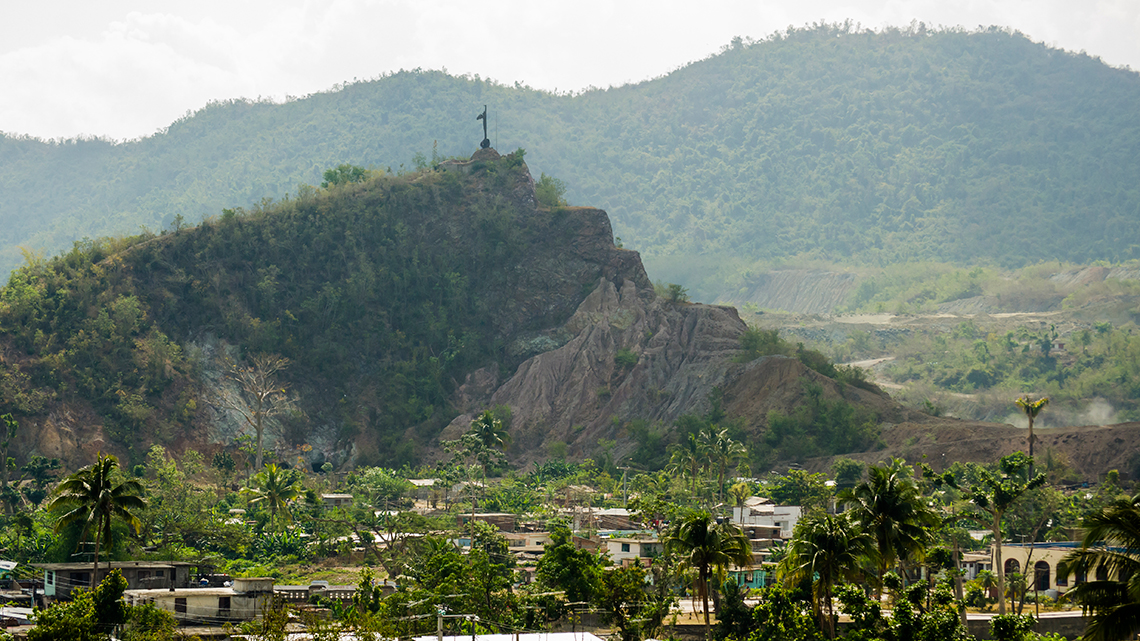 This halfway marker is a really interesting day. You'll pass by "Nuestra Senora del Cobre" which is not only an important place of pilgrimage for Cubans, but the location of Ernest Hemingway's Nobel Prize for Literature, awarded to him in 1954. Hemingway wanted to dedicate the prize to the Cuban people as the island had influenced a number of his works, and instead of handing it over to the government, he enshrined it here at this church.
The destination of Bayamo was one of the seven original settlements founded by the Spanish conquistadores, and curiously, it also played a really important part in Cuban independence, even lending its name to the Cuban National Anthem.
The day finishes with a welcome bus transfer up into the Sierras to find the pretty village of Santo Domingo.
Day 8: Camaguey
The road towards the city of twisted streets
You can explore the Sierra Maestra National Park in the morning and take in the stunning beauty of your surroundings and breathe in the pure mountain air. You'll struggle to find a better place to wake up, and it isn't just aesthetically interesting either. It was from here that Castro and Guevarra started the initial processes of the Cuban Revolution in the 1950s and it would be an opportunity lost not to explore the military base from which they operated one of History's most well-known coups.
After the hike and sampling the culinary delights of the village, we begin the journey to Camaguey – another old colonial city which was purposefully built with a confusing layout in order to deter pirates and invaders.
Day 9: Sancti Spiritus
Reach an oasis of calm in one of Cuba's oldest towns
Now you'll leave the east behind and head back westward to Cuban pastureland. Passing through Majagua, your destination will be Sancti Spiritus – another of the seven original settlements built by the "conquistadores" in 1514. A beautiful and peaceful place, Sancti Spiritus is home to the oldest operational church in all Cuba, and as not commonly visited by tourists, you may find the sense of calm here perfectly tranquil after a day of cycling.
Day 10: Hanabanilla
Spectacular views in a door to door cycling adventure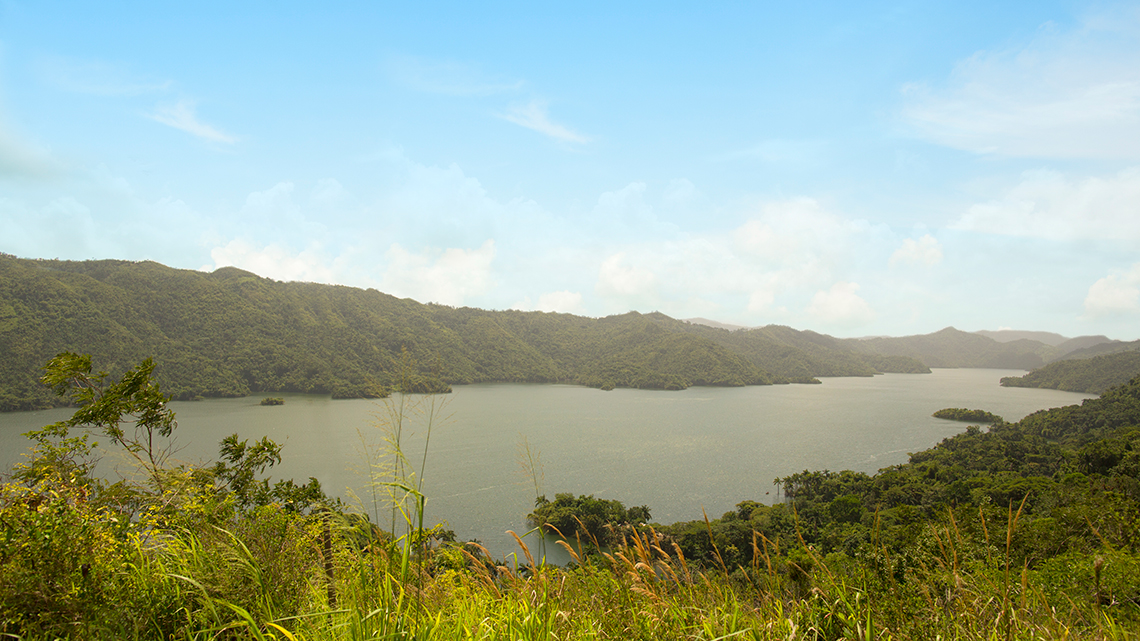 The journey towards Hanabanilla is spectacular and provides all the sights you would have hoped for when you signed up for this. Climbing through the Escambray Mountains, you'll wind through tiny rural villages and tobacco plantations famous for the Cuban cigars produced. The vistas really are something to behold, and people come from far and wide to feast their eyes on the lake, the tropical vegetation and the beautiful mountains.
There are no bus transfers involved in this part of the itinerary, just pure saddle-time from the clear dawn till the stillness of dusk!
Day 11: Trinidad
UNESCO Heritage Site and Cuba's Museum City
This morning's ride has all the aesthetic beauty of the previous day, but with the advantage of some downhill respite! You will be able to see numerous monuments to the Independence Wars as it was on these gentle fields and pleasant pastures that Guevara led his troops against Batista.
The descent to Trinidad is accompanied by wildlife and the entrance to the city itself is a visual treat. Trinidad has been a UNESCO World Heritage Site since 1988, and once you get off your bike and set foot on "terra firma", it's like being transported back 500 years to colonial times. The colours of the buildings will remind you of a mini-Havana, but the enticing cobbled streets and horse-drawn vehicles will make you fall in love with everything there is to see and do here.
If you like your nights livelier than your days, Trinidad also has a reputation for coming back to the 21st Century pretty quickly at sundown, and you will love exploring the traditional plazas, the restaurants, and the bars filled with live Cuban music.
Day 12: Playa Ancon
Sun and sand in the Caribbean Sea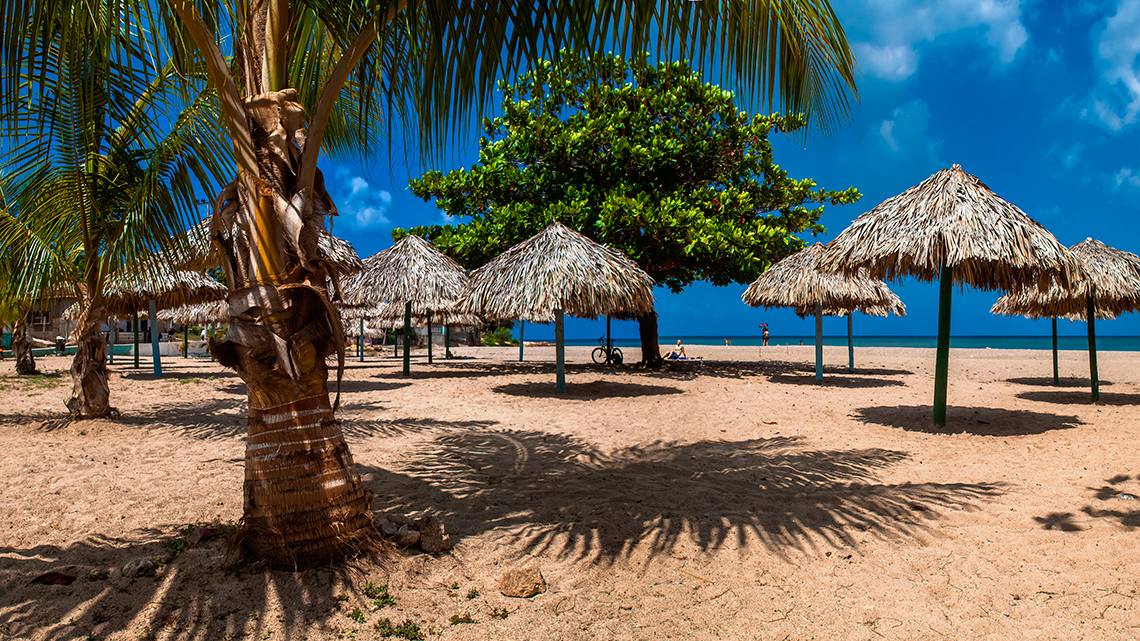 Just as we did in Baracoa, so we will do in Trinidad. Some places are just too picturesque to get up and leave, and it would be such a shame to cycle off without a day spent here. After a morning trip to Playa Ancon for a well-earned plunge into the sea, you'll cycle back to explore what you couldn't see of Trinidad on Day 11.
It's a good idea to investigate what to do in Trinidad before your visit as there are many museums and places of interest to see, but our guides are always ready to help and provide advice, as well as optional activities or places to see.
Day 13: Cienfuegos
The pearl of the south
We're back on the "Vuelta a Cuba" route with some intense morning climbing to work out those "Mojitos" you had in Trinidad. This morning's climb is the tour's second really challenging ascent and as you wind through tropical forests, the Caribbean Sea comes into view, and from the high ground, the vistas really are something to behold. This is one of the most picturesque rides of the whole tour and we think that the sights you'll take in won't just be some of the best over the 15 day itinerary, but some of the best you'll ever see anywhere.
The steep descent is also famous amongst local cyclists and well-known as "La Curva de los Muertos" or The Curve of the Dead. Don't be put off by the name though, we promise it's just linguistic hyperbole and some respite for your legs after the climb that morning!
When you arrive in Cienfuegos, there'll be a brief panoramic tour of the city by bus, and then a transfer to the tranquil beach village of Playa Larga, situated at the mouth of the Bay of Pigs. It was here in 1961, that a US-sponsored Cuban force consisting mainly of exiles attempted an invasion to reverse Fidel Castro's revolution. The invasion was repelled and another deep notch of Cuban identity was marked on the bark. This really was one of Cuba's defining moments, standing up to superpowers and staying firm.
Day 14: Matanzas
The "city of bridges" or the "Athens of Cuba"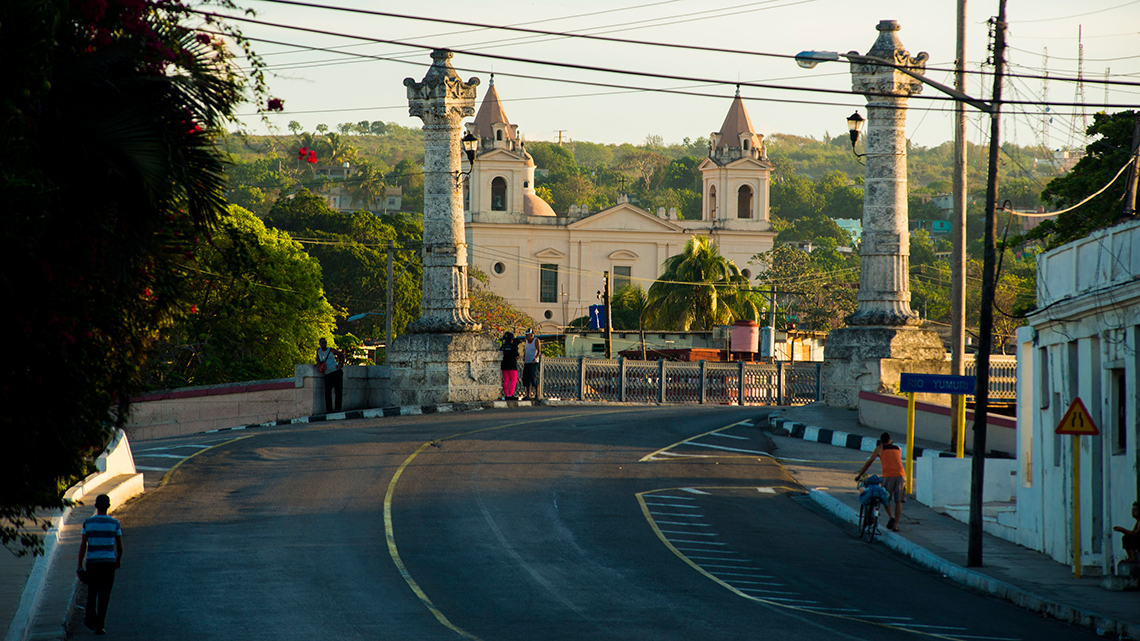 Leaving Cienfuegos for Matanzas means cycling through a UNESCO Biosphere Reserve, home to countless species of Cuban birds, many of them endemic to the island. It is a flat and pleasant ride, through the low-lying Zapata Peninsula.
On the last day, your destination is Matanzas – the Venice of Cuba – known for its bridges. Although few people outside Cuba will have heard of Matanzas, many people worldwide will be aware of its exports. It was here that "Rumba" and "Danzon" originated, making it a remarkably interesting and important place on a cultural level.
Day 15: Back to Havana
Back to where it all began
Your cycling tour is at an end, but there's still time to rest those legs and saunter around Old Havana. Said to be Latin America's finest colonial city, it is the perfect climax to this Cuban experience. Once again, UNESCO agrees, and the cathedral, churches and palaces that decorate this wonderful city can take a full day to see properly.
A unique cycling experience to treasure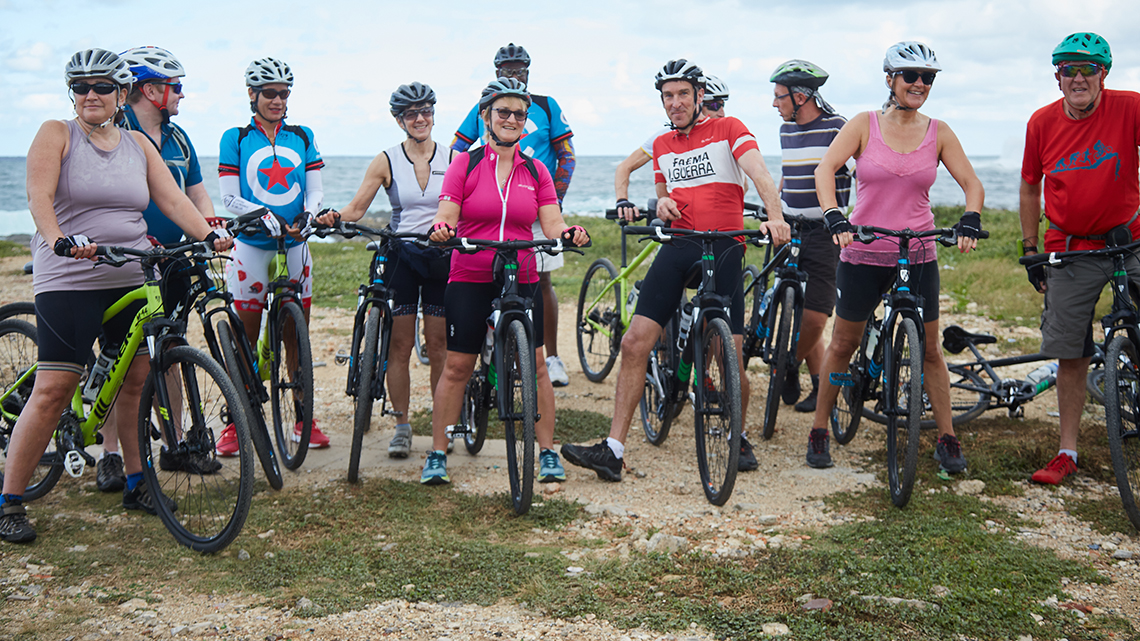 When you add up all the diverse and beautiful sights you've seen in a relatively short space of time, this really is a unique experience. It's not often that you get the chance to see a whole Caribbean island in a two-week stay, with the clear conscience of keeping fit at the same time!
One of Cuba's most famous cyclists, Sergio "Pipian" Martínez, was famously a four times winner of the illustrious "Vuelta a Cuba", which large parts of this tour follow. Are you ready to take up the gauntlet that Pipian has thrown down and accept this challenge? Who knows, you may be the next Pipian, which on this interesting island is a very revered title indeed!
We've really done our best to provide you with the best Cuban experience, and with all the accommodation included, sampling the traditional Cuban gastronomy that we'll provide, transporting you to all the places you need to be, bilingual staff on hand to assist at all times, and the opportunity to ride with experts, we are pretty certain you'll absolutely love it.
You'll need to bring your bike, and all the necessary accessories (helmet, appropriate clothing, water bottles, sun-cream), but once you've unpacked it and filled your canteens, it's the open road and a whole nation's worth of sightseeing for two blissful weeks.
They say you can't put memories in a box to be sold, but we've come pretty close!