Kayaking in Cuba – another perspective on Cuba's untamed beauty
Kayaking is a fantastic sport for any beginner to learn. Like cycling, it's relatively simple to pick up and it provides a great workout. Within a few hours of practice, you'll be paddling along competently at a fairly rapid pace.
Although you may not immediately think of kayaking as the best way of seeing Cuba, it offers the chance to see this beautiful island from a completely different perspective from how visitors usually do.
The team at Cubania Travel has put together a package that gives you the opportunity to mix some sightseeing on land with kayaking down the rivers, across the bays, on the lakes, as well as out on the open sea.
So, you'll see Cuba from a unique perspective, and give your arm muscles some exercise too!
---
Kayaking in Cuba – get ready to tour the island in a totally different way!
Day 1 – Arrival in Havana
Havana is a stunning Caribbean destination to explore, and although you're going to be kayaking for a week, it would be a crime not to down paddle and explore this city on foot. Every nook and corner of Havana is painted in bright colours, there's fascinating history everywhere you turn, a vibrant nightlife with friendly people, and unique architecture down every street.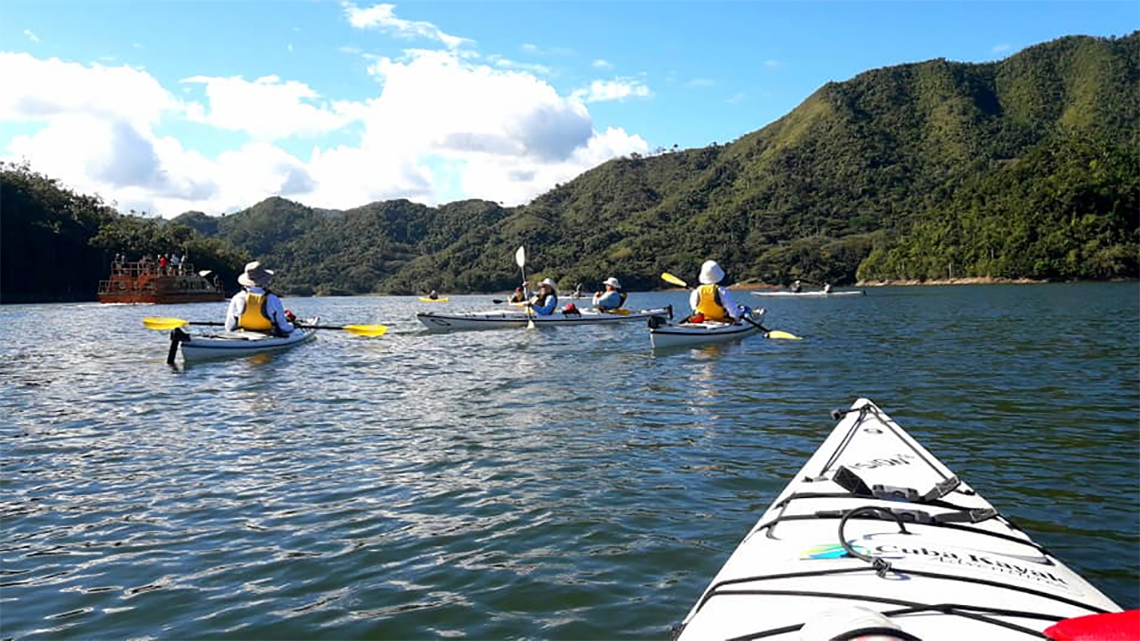 After arriving, you'll be taken to your accommodation and given the opportunity to spend the evening exploring Havana. We recommend diving in at the deep end and sampling the bars and restaurants, but feel free to speak to your guides if you need any advice or help with what you're looking for. There's a really eclectic range of food to choose from, like the simple and honest food at Dona Eutimia, or something completely different like a Cuban-Japanese fusion at Jama.
Day 2 – City of Columns
Havana was named the "City of Columns" by Alejo Carpentier because of the glorious classical architecture at every turn. Carpentier was a renowned Cuban writer and intellectual pioneer of what was known later as the "Realismo Magico". Anyway, after a night drinking genuine Cuban-style Mojitos, you may need some extra columnal support in the morning when the "realismo" of a muzzy head hits!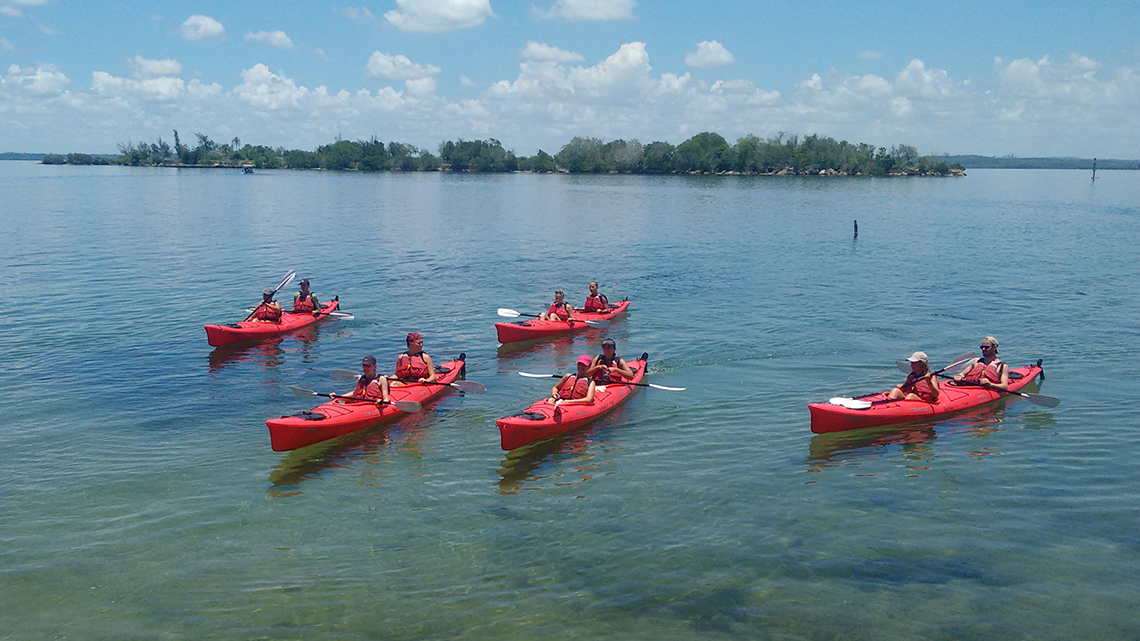 So, after a hearty breakfast to replenish your energy, we'll start the day with an interesting visit to Fundación Antonio Núñez Jiménez to learn about Cuban nature and the conservation of biodiversity on the island.
Established in 1994 by Dr. Antonio Núñez Jiménez, the Foundation is a civil, non-governmental, non-profit organisation active in whose research and development of programmes that promote care of the natural environment and education to ensure that Cuba's rich ecosystems are valued and sustained for future generations. values towards "Culture of Nature" at local, national and international level.
Afterwards we'll take a walking tour of historic Old Havana, drinking in some of the main sights that make this city a captivating destination to visit. We'll also try some authentic Cuban gastronomy by having lunch in a private paladar restaurant in the Old Town.
Then, when the last plate has been cleared away and the last dreg drunk from the glass, we'll head off south eastwards for 2.5 hours into Matanzas Province and to the lowlands of the Zapata Peninsula.
Upon arrival in the laid-back coastal town of Playa Larga we'll check in to our casa particular, a Cuban-style bed & breakfast, located just one block from the scenic beach. You'll meet your kayak instructor and have dinner together, and no doubt enjoy the sunset whilst having a drink on the roof-top terrace.
Day 3 – Let the kayaking begin
Now you're acclimatised to Cuba after spending a couple of days getting to know Havana, it's time to go on our first kayaking expedition. You'll have the unique opportunity to explore the distinctive mangroves of the Zapata Peninsula coastline along the western side of Playa Giron. If the name doesn't ring any bells, what about the "Bay of Pigs"?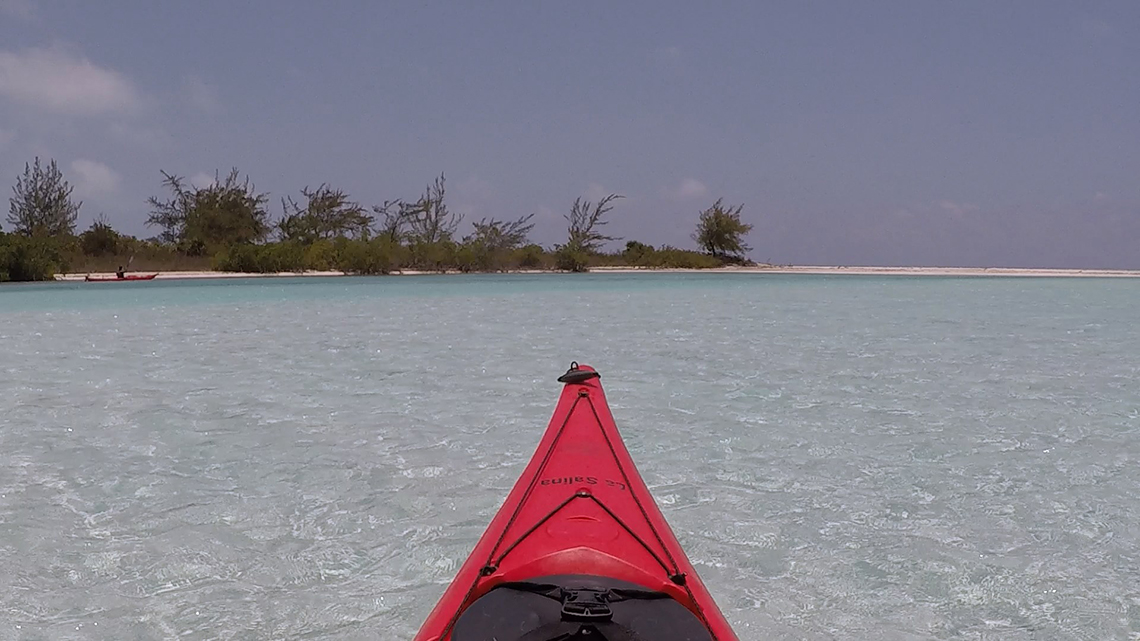 If this sounds more familiar, it's because it was here in 1961 that a failed attempt by US-sponsored Cuban exiles to reverse Fidel Castro's Cuban Revolution took place, beginning with a military invasion of northern Cuba. Castro's army held firm, with the help of Che Guevara, and the rest is fairly murky history.
Nowadays, this protected region is a National Park , a flourishing natural habit for all kinds of bird species such as flamingos and bee hummingbirds, as well as reptiles like crocodiles and iguanas.
When kayaking here, the scenery is as spectacular as the wildlife. We paddle through the wetlands and explore natural canals which take us deep into the Zapata Swamp. There are sandy beaches, rocky islands, and dense, lush forests to explore and it's a great introduction to the sport if you're a novice.
After eating a packed lunch in the area, we'll then return to Playa Larga in our vehicle and continue onwards along the southern coastline to the beautiful city of Cienfuegos an hour and a half away.
We'll make a brief and interesting stop at the museum in Playa Girón whilst on route as it explains all the events surrounding the "Bay of Pigs" invasion. After all, it would be a shame to be here without knowing its historical significance!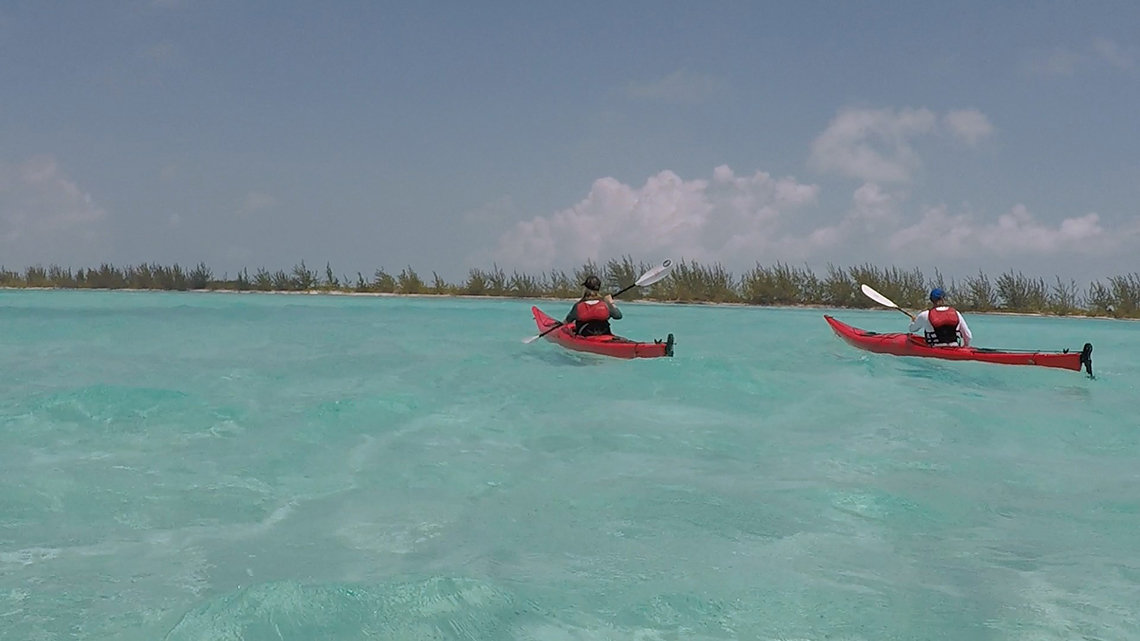 Finally, in Cienfuegos you'll have the chance to visit the Parque Marti and Paseo del Prado to see the colonial era architecture in all its glory. The city was initially founded by affluent French immigrants who wanted to construct a European style city.
However, there's a catchy Caribbean vibe too, and the lingering Spanish influence makes for a fascinating city which tourists visit without much prior knowledge, and tend to genuinely love.
Being one of the most recently founded cities in Cuba it has a more clean, modern, and spacious feel, and is aptly known as "The Pearl of the South".
You'll have the chance for some more nocturnal exploration, sampling the restaurants and bars before checking into our "casa particular".
Day 4 – Diving in at the deep end
In the morning we'll transfer to the mouth of the bay and to a scenic start point for today's kayaking route which is called "La Milpa".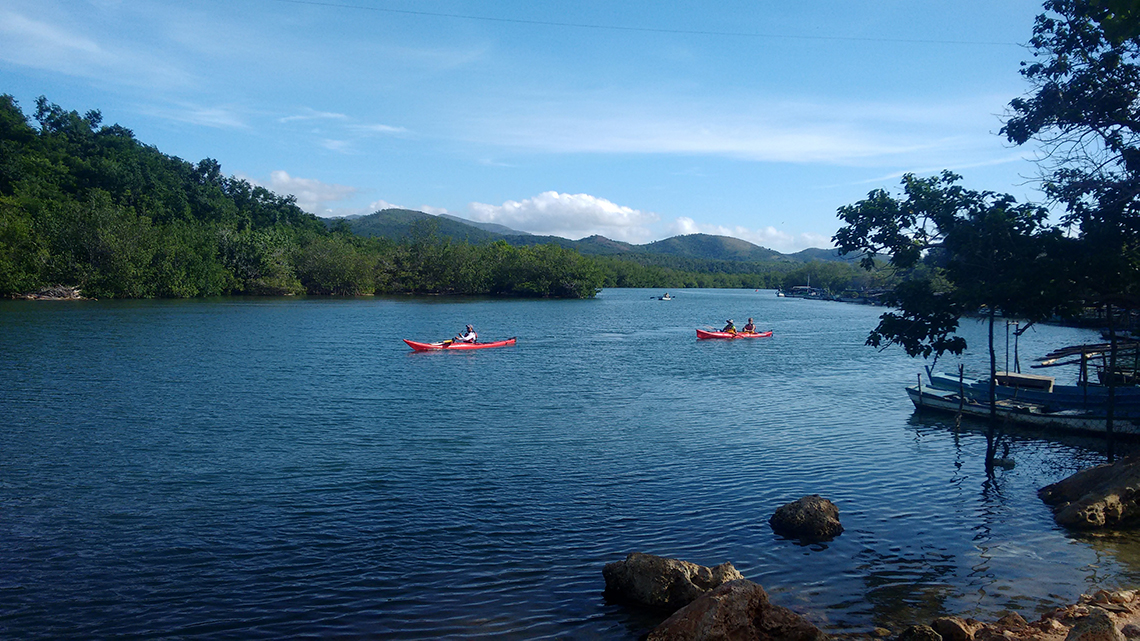 Paddling out of Cienfuegos Harbour, we find ourselves in one of Cuba's largest bays and enjoying views of Cienfuegos itself and the spectacular Escambray Mountains to the West. We cut across the bay , making a rest stop on one of the natural islands before heading towards the mouth of the bay. It's definitely worth stopping to visit the strategically placed fortress "Castillo de Jagua", to the East of the bay entrance. This fortress was erected by King Felipe V of Spain in 1742 in order to protect the bay from English pirates who prowled the Caribbean coast back then, seeking to plunder the riches of the Spanish Empire.
Focussing on our kayaks instead of Spanish galleons however, we'll continue on towards make the short crossing to the other side of the bay entrance and stop at our lunchtime destination "Rancho Cristal", passing several small fishing communities along the way.
You'll get to eat lunch with a stunning view over the whole bay, before we head inland by bus towards the looming Escambray mountain range. Our destination is Hanabanilla, a hotel located in the mountains next to a wonderful lake and surrounded by lush green forest.
The 126-room hotel was originally built in July 1975 using a Cuban adaptation of the Russian construction system popular in the 1970s, and utilised to create schools and hotels throughout the island.
The hotel facilities and food are fairly rustic, but the location is what draws people here. It's a stunning place and spending any time here is a real privilege. Dinner is in a "paladar" restaurant based in the nearby village community and if diving in at the deep end as far as getting to know the real Cuba is what you're looking for, it doesn't get much more profound than this.
Day 5 – Out on the lake
Today we swap salt water for fresh water for the first time and Lake Hanabanilla is one heck of a beautiful place to start. We'll paddle towards the amazing waterfall known as "Cascada Los Helechos" which looks so aesthetically perfect, you'd think it had to be man-made for a shampoo advert. There's actually a short hiking trail here too, and our group can either have a swim in the waterfall's cool, clear waters or simply take a moment to enjoy this paradisiacal spot. It's not something you'll forget again in a hurry!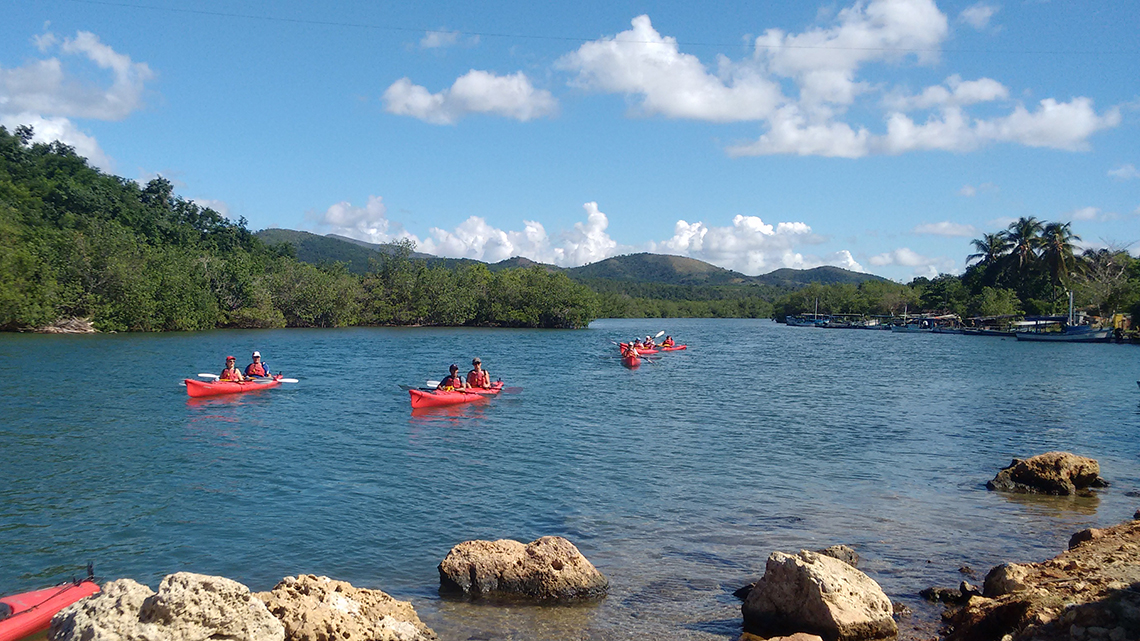 Once you've drunk in the scenery, we launch our kayaks in the direction of "Río Negro", just another beautiful place of many located along the lake. Here we'll have another opportunity to walk up to a lookout point offering magnificent views.
Lunch will be at the Río Negro Restaurant so you can continue to enjoy the delights of Cuba's rural gastronomy, and afterwards, to help burn some of it off, we'll paddle gently across the lake enjoying the surrounding scenery before arriving back at the hotel.
In the afternoon we transfer by road out of the mountains and back down to the south coast. Our destination for the night is Villa Guajimico, and like Hanabanilla, although the accommodation may be described as unsophisticated, it's the beautiful natural habitat and tranquil surroundings that attract the tourists. Plus, if you're left thinking that you couldn't possibly take in any more beauty today, we've got a surprise for you. In the early evening, we can take our kayaks out onto the Caribbean Sea and see the sunset from the water. Spectacular? Just a bit…
Day 6 – Falling in love with Trinidad
We're pretty sure that you will have enjoyed your paddle on the Caribbean Sea last night, so this morning we'll repeat it and paddle to an isolated beach with rocky cliffs on both sides. It's a perfect location to relax on the sands and you can even snorkel in the surf too, checking out all the marvellous marine life under the surface.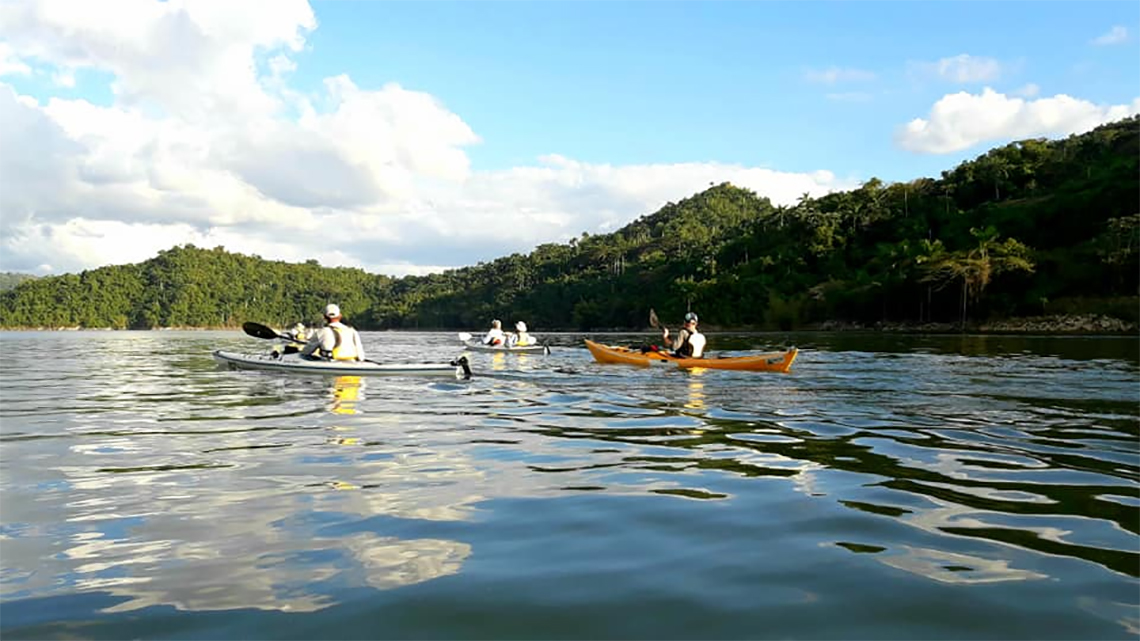 We'll head back along the coastline to Guajimico, before driving along the coast for lunch at "La Vega" community.
If you fancy temporarily swapping your paddle for a saddle, there will be an optional activity on horseback for those who are interested. It's a five-kilometre trail which eventually leads down to a small cove and another secluded beach. Cuba really is a goldmine of random places of utter beauty, and we really want you to see as many of them as possible.
Afterwards, continuing onwards by road we arrive at one of Cuba's UNESCO World Heritage Sites and one of the island's genuine highlights; the town of Trinidad.
This small town's picturesque cobbled streets and colourful buildings rightly attract visitors from all over the world, and there are plenty of cultural delights to explore in our time here. Being in Trinidad is a bit like stepping back in time 250 years and we're sure it will surprise and delight you.
It's actually one of the best-preserved historical towns in the whole of North America which makes it absolutely essential to visit properly.
Our guide will give a tour of the town and include a visit to a traditional pottery house as well as a vendor of the local rum and honey drink known as "Canchánchara". After checking into our casa particular, we'll go out for dinner in the evening and then on to a live music venue in the town.
Day 7 – Visiting Che and fond farewells
Trinidad is an amazing place, but we're here for kayaking and the call of the waters is too strong. So, after breakfast, we'll take a short transfer to the outskirts of town to the start point of today's kayaking expedition.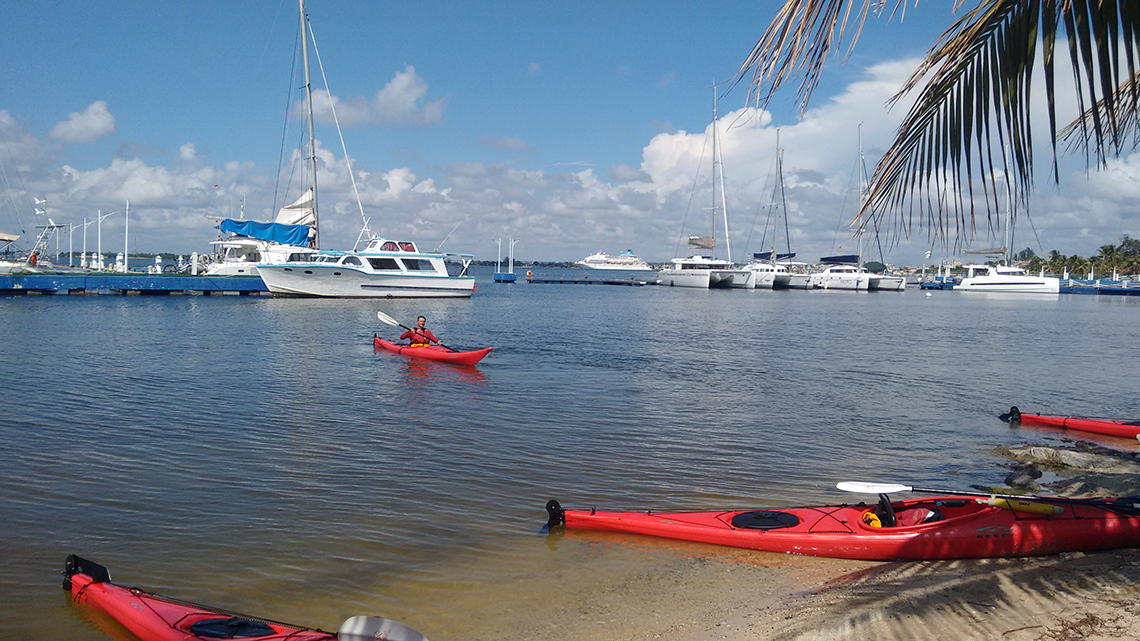 We'll be paddling on the Guaurabo River, winding our way down to the fishing port of La Boca before reaching the open sea and paddling up the Ancon peninsula to a beach called "Playa Maria Aguilar".
Once again, it'd be too much of a shame to not stop and spend some time here, so we'll stop for a swim and some relaxation before transferring to another nearby fishing town called Casilda.
After lunch at a paladar, we have a fairly long drive back to Havana, but we will make an important stop along the route to visit the Che Guevara Mausoleum in the outskirts of Santa Clara.
The mausoleum is a memorial located in the "Plaza Che Guevara" and it houses the remains of the revolutionary hero Ernesto "Che" Guevara and twenty-nine of his fellow combatants killed in 1967 during their attempt to spur an armed uprising in Bolivia. Well, it wouldn't be a trip to Cuba without something to do with Che, would it?
Arriving in Havana we'll check in to our casa particular and then go out for our last dinner together. It's your last night in Cuba too, so there's really no better place than Havana to see Cuba off in style!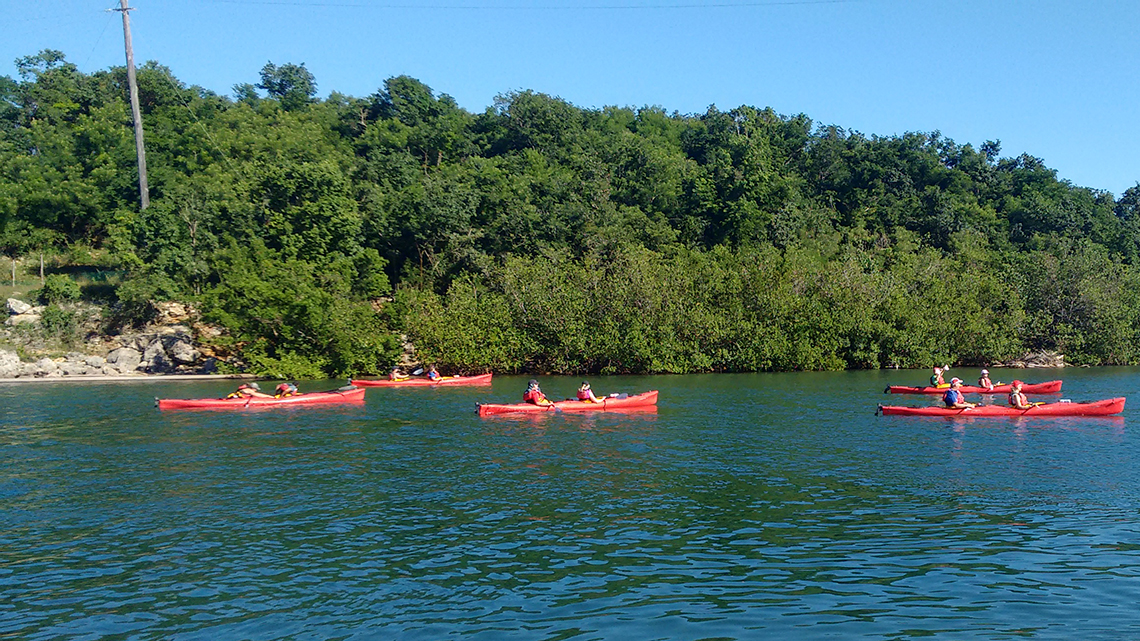 Havana is a vibrant and friendly city, with something for everybody. However, if you feel that you need some advice about where to go, please chat to any one of our guides who can provide assistance with recommendations and tips.
Day 8 – Hasta luego!
All good things come to and end, and our tour ends today as we say goodbye to Havana. There's still time to enjoy the morning in Havana at your leisure, maybe squeezing in the last few things you wanted to see before but didn't have the time, or enjoying one last Mojito or Cuba Libre. You won't even have to worry about your bags – you'll be able to store your luggage until it's time to leave.
We'll then transfer you to the airport for your departure flight. However, as we think you'll have had an unforgettable week on this stunning and captivating tropical island, there's always the possibility to book extra nights in Havana if flying home really isn't appealing! Just feel free to contact Cubania Travel in advance.