Jibaro, "wild" thing – I think I love you
Cuba's definitely about celebrating life. It is all over the island and happens in many different forms. There is a fast, indulgent way of celebrating life heard in the vivacity of the music and seen in the vivacious dancing. Then there is the slower, contemplative way, indicated by the pace of life that Cubans enjoy. Life's to be savoured, relished.
If you are thinking that you could name many other countries that revel in celebrating life, though you would be right, Cuba's way is unique. We call it "The Cuban Way". There is a love of non-conformity here, a pride to stand out – to be wild, connected with your inner soul. The delightful but dilapidated colonial architecture that effortlessly oozes classical chic, the 1950s Cadillacs that bumble along the island's narrow, deserted roads, or the fact that despite having one of the highest literacy rates in the world, Cubans still only earn an average of £25 a month.
Cuba is different, and everything is to be enjoyed. That may be why there is hardly any violent crime here, it is a leading global destination for solo female travellers and life expectancy is higher than in the United States.
But what about the food? Well, Cuba's a cultural melting pot historically so despite a slow start, the rapid rise of the Cuban "paladar" has contributed to a wild gastronomical revolution.
Read on and learn a little bit about the paladar Jibaro, a place that embodies the Cuban spirit of not quite conforming to the norm.
---
A little bit about Jibaro
It could sound like the first line of a joke: What do you get when you cross a nuclear engineer with a university economics lecturer? The punch line's not quite what you would expect though.
The answer? Jibaro – one of Cuba's most charming and popular paladares that provides authentic, interesting food, with original, highly praised cocktails and mocktails as well as the enthusiastic welcome you are sure to receive in any Cuban establishment.
A Cuban slang word meaning "wild" or "untamed", "Jibaro" was the bold name chosen by Diana (the nuclear engineer) and lecturer David Figueroa to name their culinary adventure.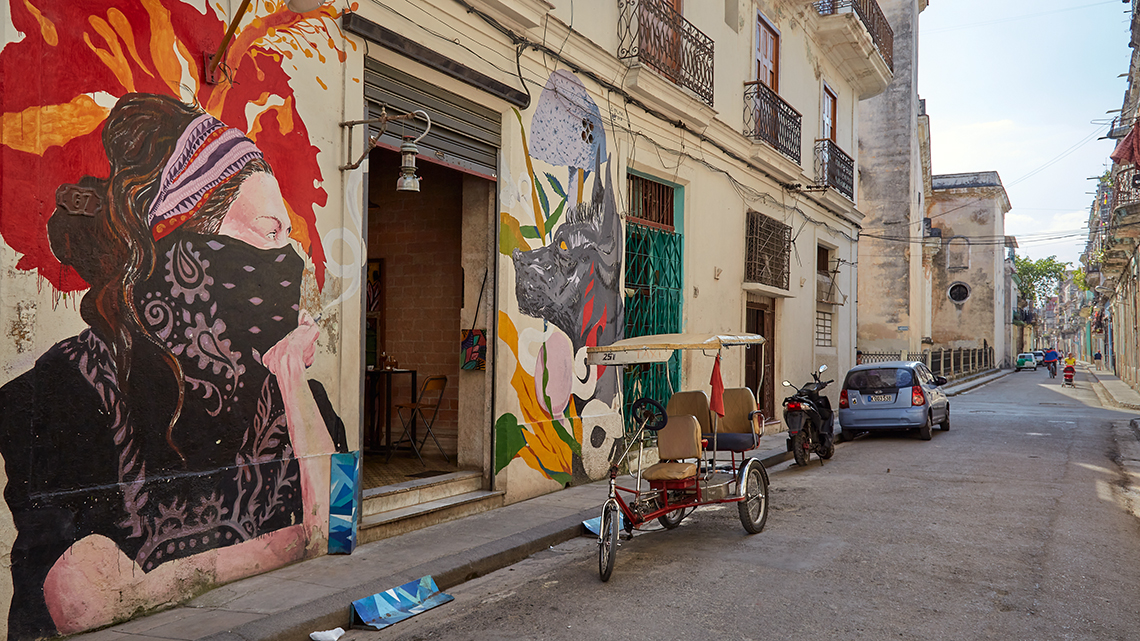 Located in the picturesque San Isidro neighbourhood, where the famed street art and graffiti is prevalent on nearly every wall, Jibaro is a stand-out place to stop and rest if you find yourself in Old Havana.
Firstly, if we are being honest, Old Havana is a wonderful place to find yourself in. It's full of wonderful colonial architecture from the 16th, 17th and 18th centuries that are interspersed with plazas and terrazas in which the locals and tourists alike slow things down to enjoy the warm morning sun or the long tropical afternoons and evenings. Guitars can be heard on upper balconies, a nearby bar plays some "Cha Cha Cha", and the smell of rum and lime juice fills the air.
Amongst all this beauty, Jibaro is not too hard to find. Despite being a wonderfully restored colonial mansion, it doesn't attempt to blend in with the shabby splendour of the city around it and you may find your gaze drawn to it before long. Feast your eyes on the large abstract mural at the entrance portraying bold turquoise, purple and yellow colours to fascinate and tempt the passers-by inside.
Upon entering, you'll see a beautiful interior with typical Spanish arches, 19th century terracotta floor tiles, mood lighting accentuating the numerous paintings by modern Cuban artists, and you'll smell all the ingredients which make up the famous mocktails lingering in the air – something to delight your nose as well as your palate!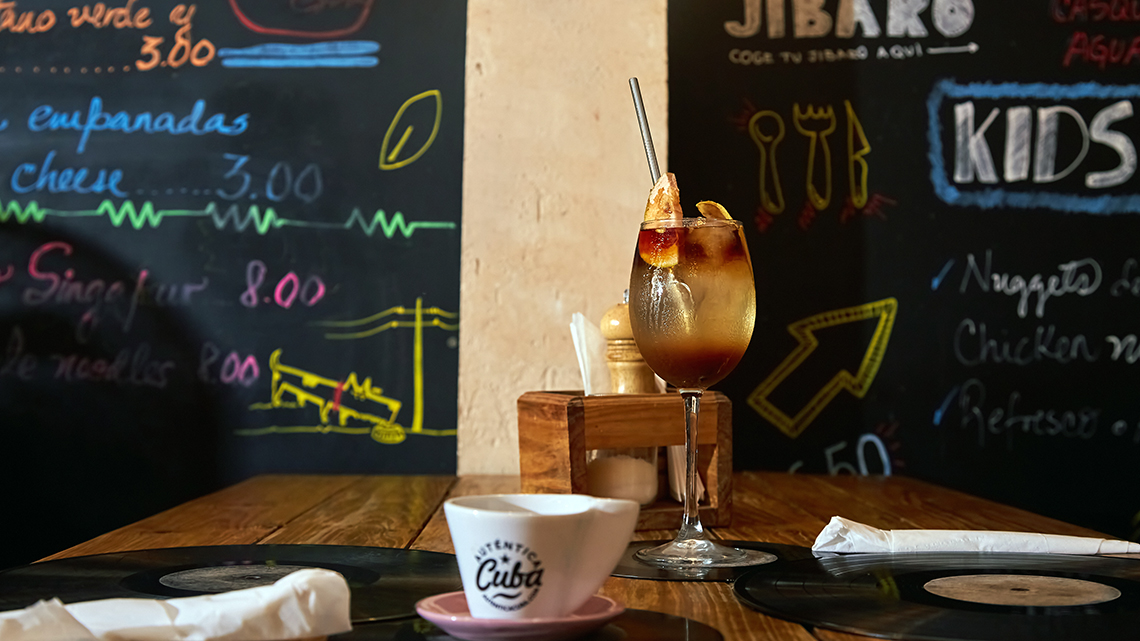 Like Cuba itself, it mixes traditional and smart with casual and chic, a juxtaposition the island effortlessly carries off everywhere.
What is on the menu at Jibaro?
The Cuban secret to providing good food is simple: its own simplicity. Just like other renowned paladares in Old Havana like Doña Eutimia on Callejón del Chorro, there is a thought that going back to basics is the way forward.
"True gastronomy is making the most of what is available, however modest." – Claudia Roden.
The menu at Jibaro is full of simple, typically Cuban dishes made with fresh local ingredients, like pork stew, rice with beans, slow-cooked lamb in sauces, all manner of locally caught fish dishes and guava shells with cream cheese to finish.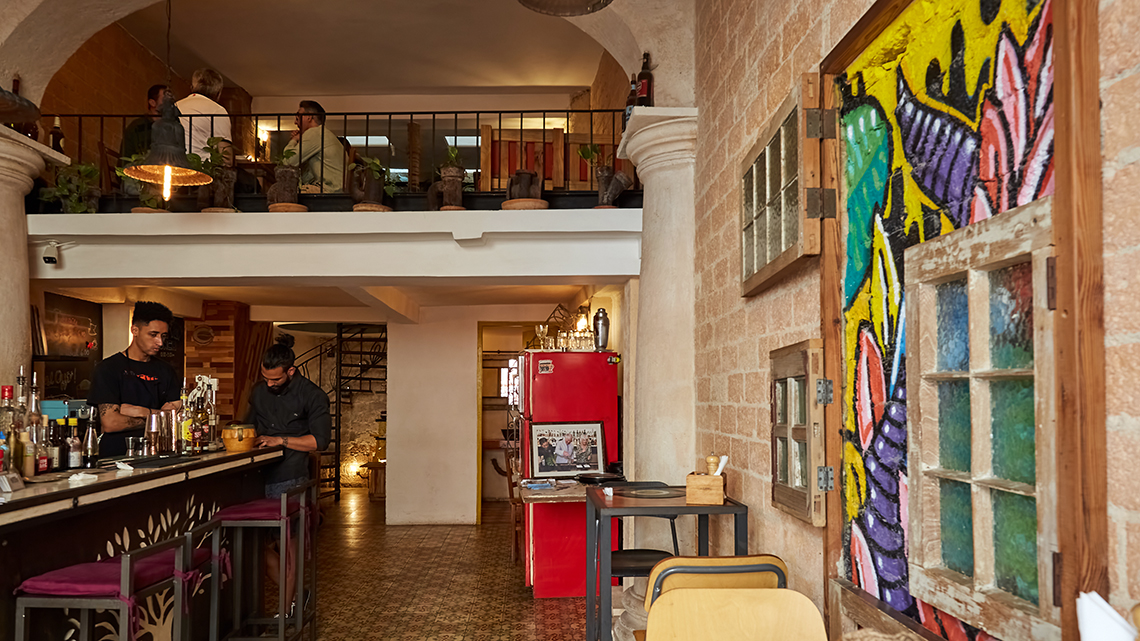 If you fancy some lighter bites, there is a tapas menu which doesn't disappoint. The selection ranges from Malanga or Yucca fritters with honey or "mojo" (a Cuban sauce), pork ribs in homemade sauces, baked aubergine with vegetable quiche, right up to ceviche (a speciality) or mince moussaka.
You can wash all this down with coffee, wine, beer, fruit juices or try the house cocktails and mocktails. There are even some fiery alternatives if you like things hot – ask for the "Michelada" or the "Chelada", a beverage containing the house "Sangrita", Worcestershire Sauce and tabasco.
There is more. Every Friday, Jibaro goes international and the recipes are inspired from different regions around the world. So far, they have done Hindu Friday, Gypsy theme, Bolivian, Thai, Colombian, Moroccan and Brazilian, even getting in guest chefs to add their nous to the dishes.
The ingredients are fresh, the meals are well-presented, and the tastes are sublime. It is no wonder that Jibaro has been specifically recommended by The Independent as one of the go-to places in Havana to share some tapas and soak up the atmosphere. So good in fact, it is fit for a Prince! Charles and Camilla visited here last year on their 2019 tour of Cuba. Who knows? HRH may even get a mocktail named after him…
Not always plain sailing
Setting up a hip restaurant or a cocktail bar in a fantastic tourist location, namely a tropical island in the Caribbean, seems as though it would be a great business model. The tourists roll up, stroll in, dine out, drink up, pay up and wander out, ad infinitum. Even in the quiet season, there are enough thirsty Habaneros to keep afloat. Aren't there?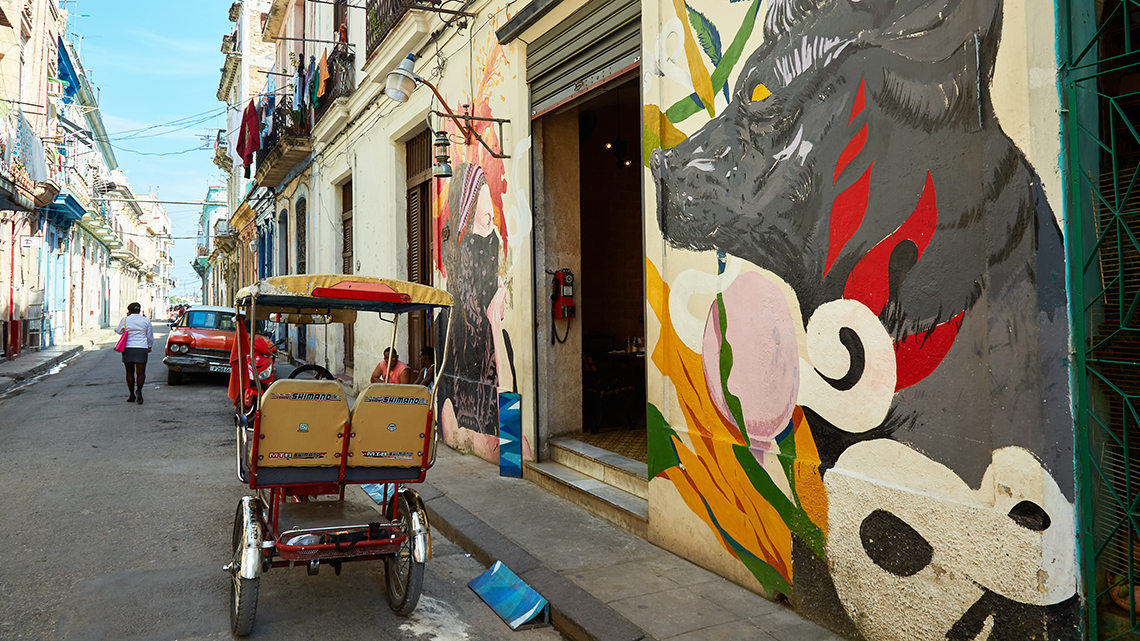 Well, Jibaro owner Diana Figueroa says it's not always plain sailing.
"Running a bar isn't an easy thing to do in Cuba. The American tourism ban over the last couple of years has had a big impact. That's on top of there being no wholesalers in Cuba to buy ingredients. Changes are happening, but it's always baby-steps."
There are almost daily shortages of essential ingredients, right down to the most basic things like milk or chicken. Cubans are ever more reliant on tourism coming from Canada and Europe, but in typical fashion most people show a relaxed stoicism about their stuttering economy.
Cubans adapt and survive. It forms part of "the Cuban Way", carving out the island psyche they possess, something they have had to learn since the revolution in 1959 which put Fidel Castro in power.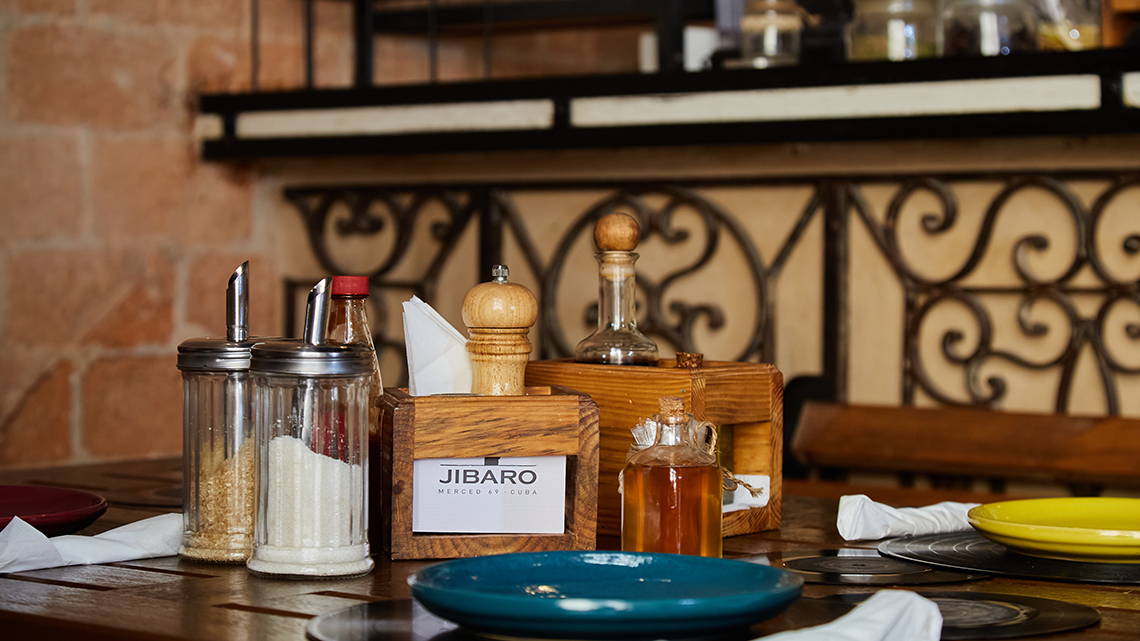 However, it is not just politics that can dent Cuba's welfare. 2020 has not exactly proved to be completely straightforward so far, as we all know.
With the Coronavirus pandemic forcing Jibaro to close its doors to the clientele, it has had to reinvent itself just in order to survive. Bars and restaurants in Havana are no strangers to quiet periods in the year and keeping their heads above water during the rainy season when the Atlantic weather can occasionally set in can prove a test, but this was different.
Innovation starts outside your comfort zone
George Bernard Shaw once said that life is not about finding yourself, it is about recreating yourself. Jibaro has had to adapt to the global situation by being creative and starting off on a new tack.
"What if our bar could be something else? For us, that means becoming a small lab through the development of our line of sustainable, minimal-waste, artisanal mixers, which are staples in our cocktails and dishes, but have also gained their own external demand." – David Roque, co-founder Jibaro.
This new journey highlights the fact that it is through flexibility and innovation that will mean survival for Havana's paladares.
Jibaro's clients form a broad spectrum of well-known spirit brands and their promotional campaigns, small and medium bars, and even just individuals from their own homes. What is more, the owners of Jibaro suggest that investing in these mixers will open up parallel ventures such as ready-to-drink cocktails.
"No matter how cumbersome starting a project from scratch may be, there's always a way and established organisations with the rights infrastructures can act as conduits for all your energy and effort. For us, that means working on our environmental education project with the kids from our community and supporting our local mixology school ArteCorte." – David Roque, co-founder Jibaro.
What are people saying about Jibaro?
Whilst we love this paladar and recommend stopping by for some food and a well-earned cocktail, it is not just us singing its praises.
These comments are taken from TripAdvisor where Jibaro has a 5-star rating from over 200 official reviews!
"Fabulous gem in old Havana – Restaurant was directly opposite our hostel and was a great place for drinks after sightseeing or dinner. The owner Diana does the most amazing food tour. The food is proudly Cuban with Greek and Middle Eastern twists. We learned to make Mojitos behind the bar and the restaurant is made from recycled bits of old Havana. It's quirky, funky and staff so very helpful and keen to please. I was sad to leave Jibaro behind. A very special place!" – Clachangirl (March 2020)

"Tasty vegetarian food! – We loved this tiny little place tucked away on a residential street in old Havana, with very hip decor. We chose three appetisers to share: malanga fritters, yucca fritters, and plantain empanadas: all tasty fried foods we'd never tried before! The dip for the yucca fritters – called mojo – was to die for! Then we had ravioli stuffed with Cuban blue cheese and a ratatouille – again, prepared in a very unique and delicious way." – MarcXuereb (March 2020)

"Excellent cocktails and food! We tried a few of their cocktails and every one was delicious. Also ate a nice meal here. We ordered the tomato soup, ceviche, and Ropa Vieja. Food and service were a few notches above most restaurants we tried in Havana with prices that were lower!" – ThirdWorldDog (March 2020)

"What an excellent restaurant off the beaten path but still in old Havana. The food and service were outstanding. After spending a day at all the touristy destinations this was a breath of fresh air! My husband had the pork tapas, I had the pork tamarind and our friend had the pasta.. everything was excellent! I highly recommend this restaurant." – Columbine75 (February 2020)

"A true hidden gem – Although this was on our list of places to go, we walked past it the first time. Glad we went back though to find it. We had the mula jibaro as I had read about it already. Very refreshing on a hot day. Camilla and her staff were all really friendly. If we had been in Havana longer we would have definitely gone back to sample more. We would recommend it and will certainly be back in the future." – Prussellibiza (January 2020)

"Out of the way but outstanding – This restaurant was recommended by a friend. The menu definitely scored highly for creativity and the quality of the dishes lived up to the promise. Everyone was delighted with the food – the vegetarian option was superb, and the desserts were excellent. Service was friendly and the food was absolutely worth the wait. The setting is outstanding – a beautifully restored old building on two levels. We sat in the mezzanine area. I'm really sorry we did not manage a second visit. Highly recommended." – ChiriDR (December 2019)
Food is a great giver of happiness
Ernest Hemingway, the American novelist who uttered this truth, fell in love with Cuba as soon as he set foot on the shore in 1928. Few people are better equipped to opine about this beautiful Caribbean island.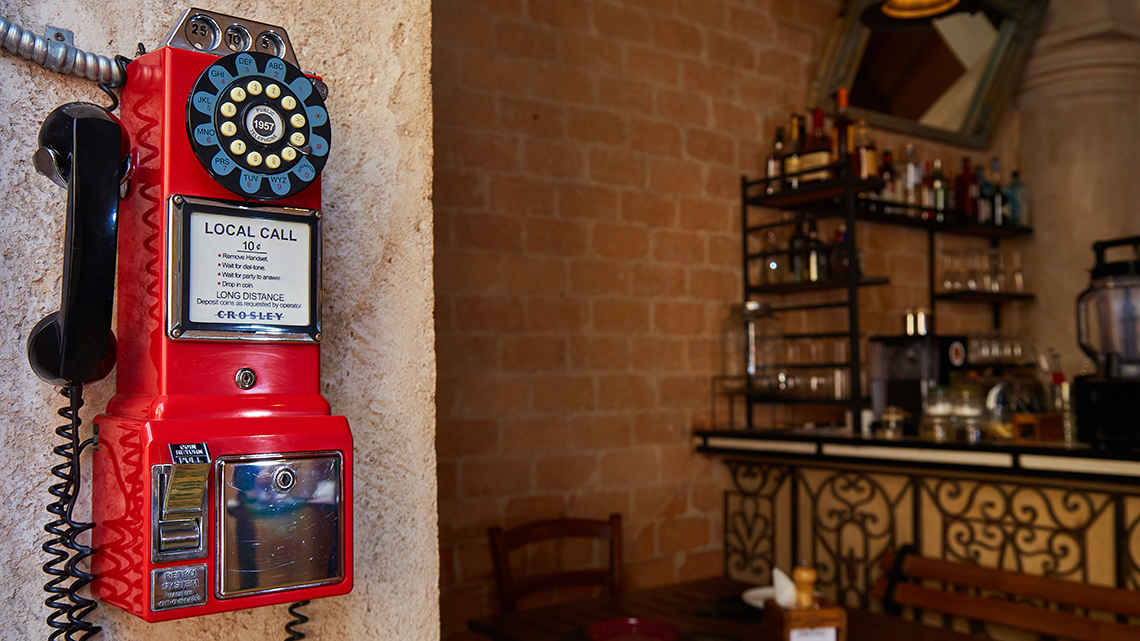 There's a common misconception that time here is frozen, but it's not the case. Old Father Time ticks forward leisurely, sitting on the Malecón seawall next to the ocean, mojito in one hand, squinting into the sun and smiling.
But while the Cuban pace of life can seem unhurried, unrushed, even lethargic, the speed with which the gastronomy scene is gathering pace seems staggering.
Along with Jibaro, more and more paladares like O'Reilly 304 and its younger brother El del Frente, or Cuban-Japanese fusion restaurant Jama are all thriving on blossoming reputations as foodie hotspots, combining innovation and invention with creativity and tradition. The mix really works – Jibaro was announced as a finalist of the Tahona Society Award in 2019.
At Jibaro, they do not believe in easy solutions or miracles from the sky. There is a simple ethos of providing great quality food and drink combined with the joy that they are doing something that they love.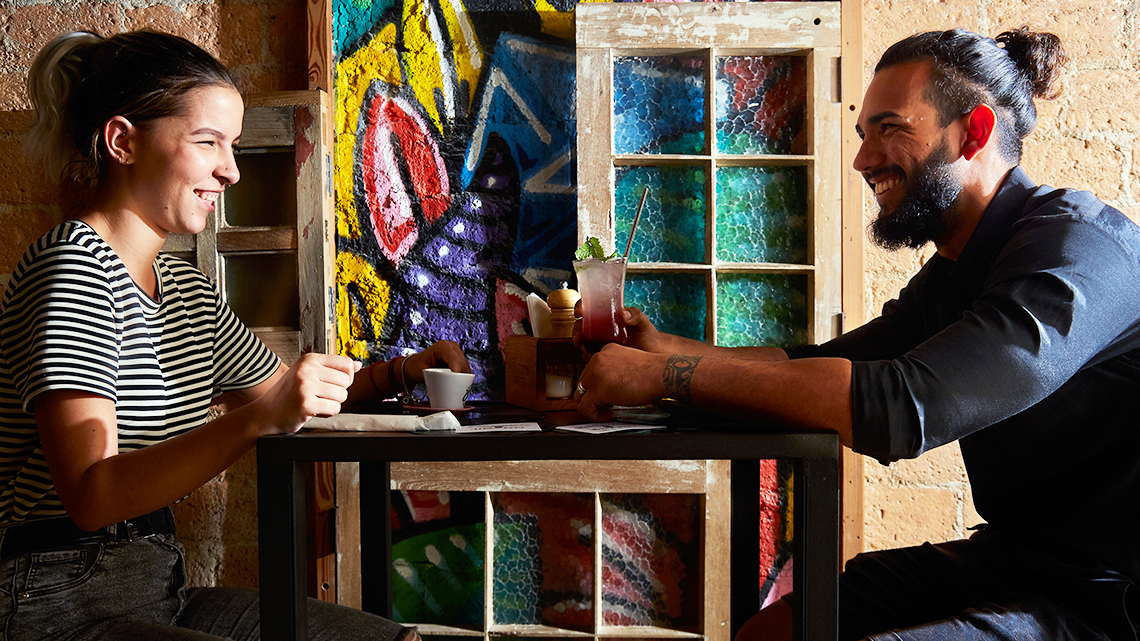 What is more, by reaching out to help other paladares and bars in Old Havana over the Covid-19 lockdown period, they are actively contributing to sustaining the cultural survival of this beautiful part of the world.
"When you feel unable to change your bar, you have become old." – Graham Greene, from the novel Our Man In Havana.