Havana's Parque Central – the starting and ending point for an essential tour of Havana
Parque Central in Havana gives visitors an ideal starting point for many different itineraries and walking tours of the city. An attraction in its own right given its influx of daily visitors and Cubans going about their lives, it makes for an excellent people-watching spot, midway-point, resting place or ending point after a long day of hardcore touring and walking around Havana. The abundance of cultural highlights and popular dining venues in its vicinity make it all the more convenient.
---
Parque Central, as its name indicates is Havana's most central hotspot, sitting at the imaginary dividing line between Old Havana and Centro Habana and therefore standing as the gateway to both neighbourhoods. It offers visitors a great starting point for two very different itineraries of Havana, from the old town's must-see landmarks and immaculately preserved colonial beauty to the less trodden, decayed and crumbling beauty of humble Centro Habana, oozing authenticity and pure cubanía through every pore.
The finest Havana hotels mere footsteps away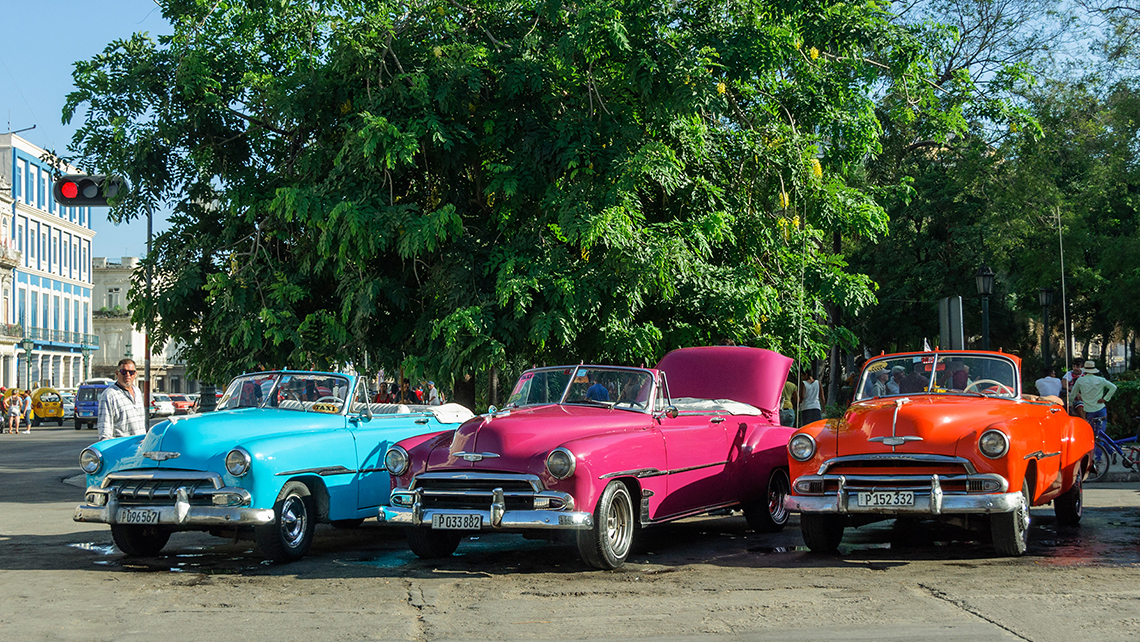 The park sits surrounded by landmarks like the Gran Teatro de la Habana (directly facing it) and the iconic Hotel Inglaterra, Cuba's oldest hotel, with over a century of history and a long list of past famous guests, including Winston Churchill. Other popular Havana hotels surround the park, like the five-star Iberostar Parque Central, the uber-luxurious Gran Hotel Manzana Kempinski and Hotel Telegrafo (yet another historic colonial gem).
And some of the best casas particulares too
With such a central location you bet you can find some of Havana's best "casas particulares" surrounding Parque Central or just around either of its four corners. At Cubania Travel it's no secret that we favour stays in casas particulares over hotels as we believe it adds authentic flavour to your Cuba holiday and ensures that your money stays local rather than benefitting large hotel chains. The quality of some casas particulares in this central part of the city has nothing to envy hotels either.
Cultural highlights
It's not all about historic or fancy hotels surrounding Parque Central, some of Havana's must-see cultural landmarks are found in its confines. We already mentioned the majestic Gran Teatro de la Habana, flanked by a pastel-coloured line of neatly parked 1950s convertibles, but Havana's "Museo Nacional de Bellas Artes" (National Museum of Fine Arts) can also be found in the park's vicinity. On its south-eastern side you only need cross the street, walk up a few metres and turn right.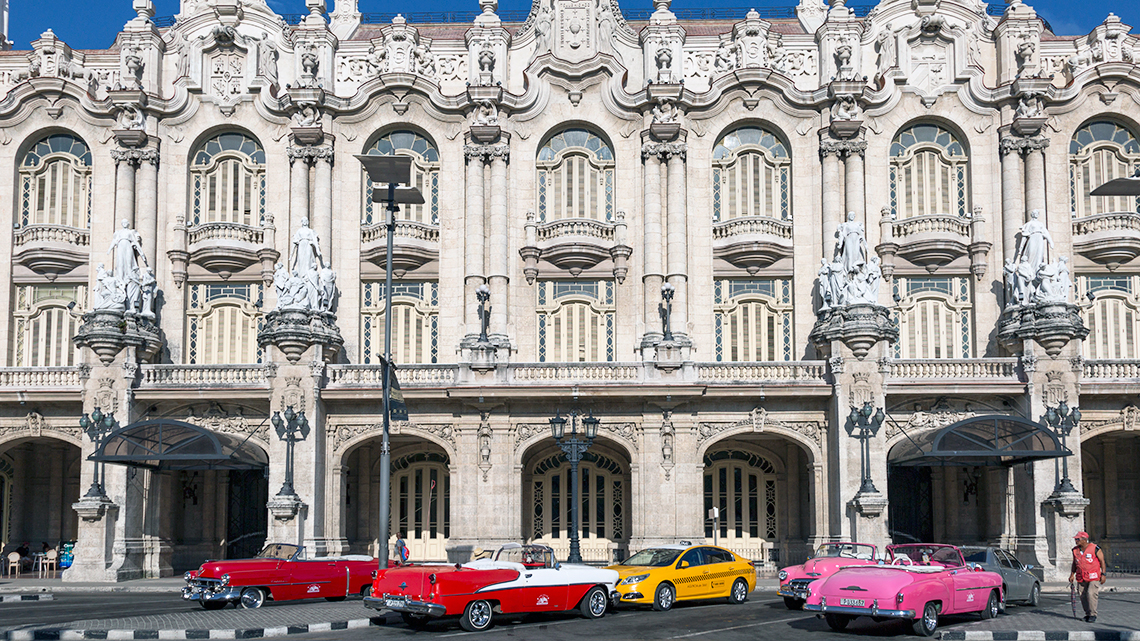 If you walk up to its north-western corner and cross the street northwards you'll see how the Paseo de Martí Avenue gives way to the leafy Paseo del Prado, transforming into a scenic marble-floored promenade flanked by leafy trees giving plenty of shade and all manner of old buildings encompassing a great variety of architectural styles. Its famous corner bordering Neptuno Street inspired a very popular Cuban song, forever immortalised by Enrique Jorrin. It all makes for a rather picturesque, culturally enriching experience.
The city's beating heart
Many argue that Parque Central is the epicentre of habaneros' daily lives, and indeed, for many of them it is. The flurry of people that can be witnessed crisscrossing the park whatever the time of day makes for some great people watching. There are plenty of tourists too, it couldn't be any other way with this being such a central spot, but it's full of authenticity, unique quirks and local charm whichever way you look.
The evocative atmosphere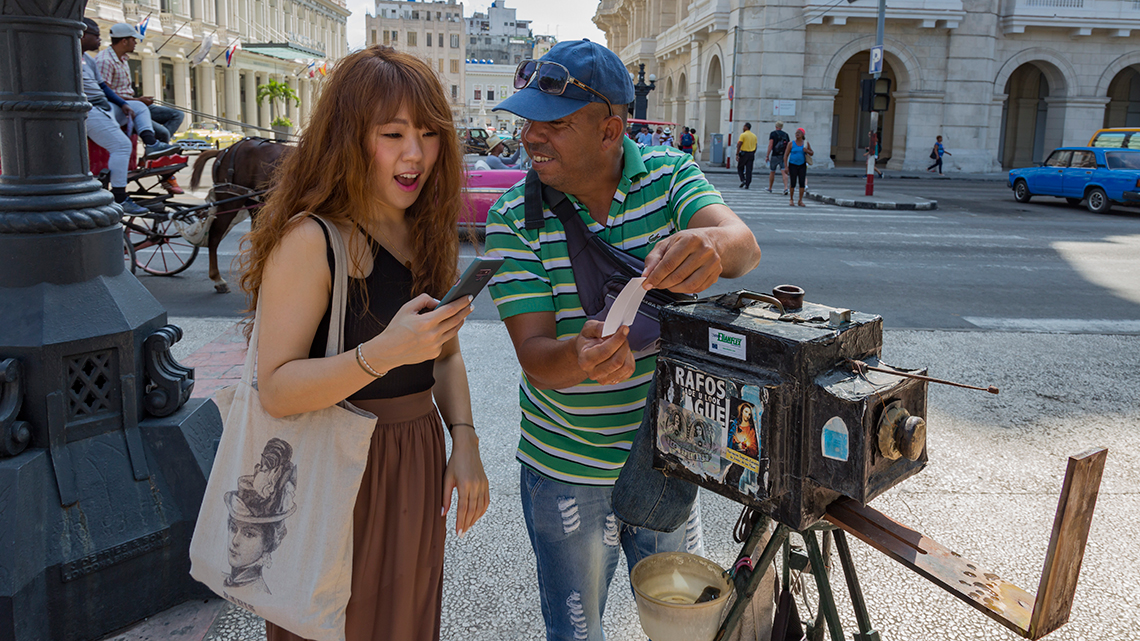 Walking along Havana's Parque Central, or even better, staying still for a moment of blissful mindfulness is a must. Just purely observing and slowly taking in the surroundings and the pulsating atmosphere can prove the most rewarding experience of all. Pay close attention to everything around you; notice the exhaust fumes, the noisy engines of old classic cars clanking by, the graceful Cuban ballerinas emerging from the Gran Teatro, the "jineteros" in their lively and often loud dealings, going about their business, trying to offer their services to tourists, and everything intensified by a permeating humid heat and topped by a sunny blue sky. It will almost feel like a Cuban kiss.
Its hottest corner
If there is one thing that Parque Central is famous for among habaneros, that's "la esquina caliente" (hot corner) dubbed so because of the of heated arguments that take place among hardcore baseball fans. More than a corner of Parque Central, it's a living piece of it, a live forum where the discussions go beyond baseball and often diverge into topics concerning politics and closely touching aspects of Cubans' daily lives.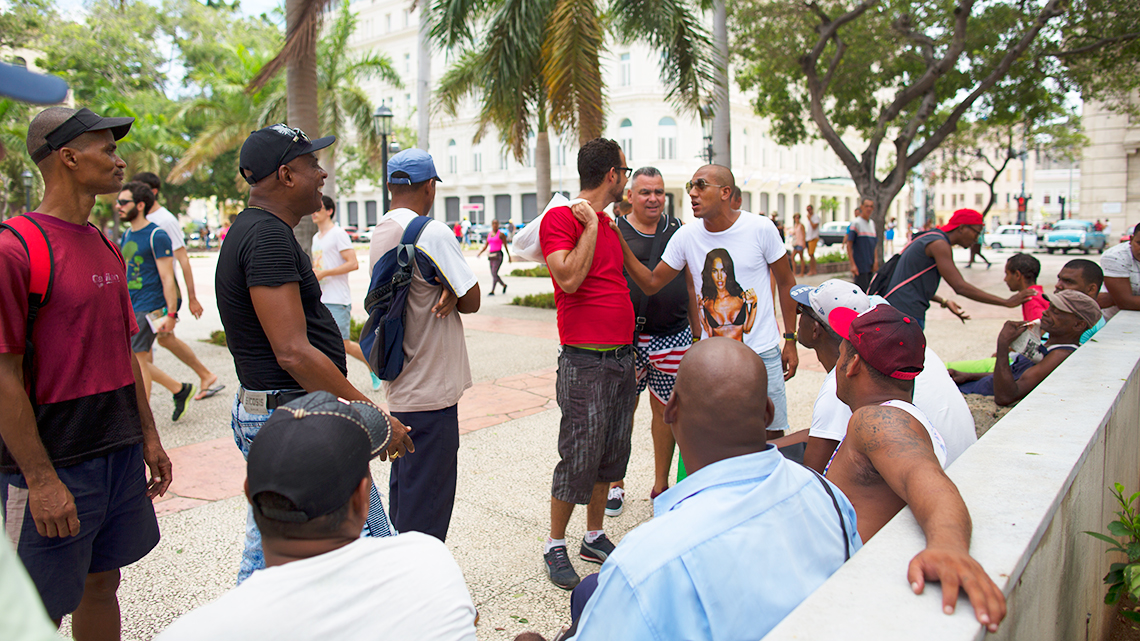 The arguments may look very heated at times and indeed, they sometimes are, but they never get violent or physical, there's a mutual code of respect that prevails and makes this one of the most animated hotspots in the city, especially in the afternoon, at around 4 p.m. or. It's hard to miss it, you'll notice a group of people of all ages gathering around one of the park's stone benches and engaging into lively chat. However angry they may look at some point, fear not, that's just Cubans being expressive. While walking around Parque Central look out for this hotspot, that way you know you'll be doing your tour of Havana the Cuban way, enriching it with real, local highlights.
Parque Central – Gateway to the heart of Havana
Gateway to Old Havana and the sea
Parque Central gives way to Old Havana's many highlights found to the east, north and south of its confines. But also, its most immediate western side belongs to Old Havana too, just before it transforms into Centro Habana.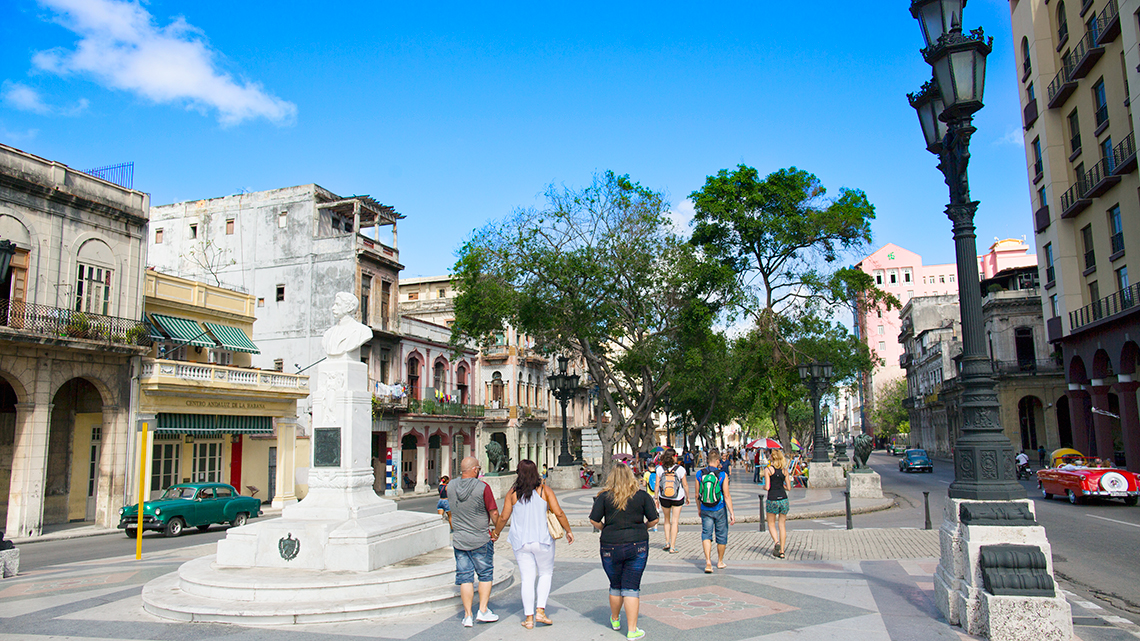 On the Old Havana side of things, with the Parque Central as your starting point you'll be steps away from iconic venues like the Gran Teatro de la Habana (ideal if you could catch a performance there) El Floridita bar, Sloppy Joe's and a good array of popular paladares and bars like O'Reilly 304, Dona Eutimia or Jama, Cuba's avant-garde Japanese fusion restaurant with a Cuban twist (tastefully eccentric). After passing the Museum of Fine Arts, and then past the Floridita in front, you come across Obispo street, one of city's busiest arteries, historically famous for its succession of shops and the influx of Cuban shoppers, an excellent opportunity for another dose of pure "cubanía" at its most authentic.
If you opt for a scenic stroll along El Paseo del Prado (to the park's northwest) and continue all the way up until you reach the sea, you can continue your walk westwards towards the Malecon seawalk, or head eastwards towards Avenida del Puerto and visit to El Castillo de San Salvador de la Punta. Or you could continue walking southeast for further Old Havana highlights and come across the Castillo de la Real Fuerza, Plaza de Armas, and Plaza San Francisco de Asis (Saint Francis of Assisi square). The possibilities are many.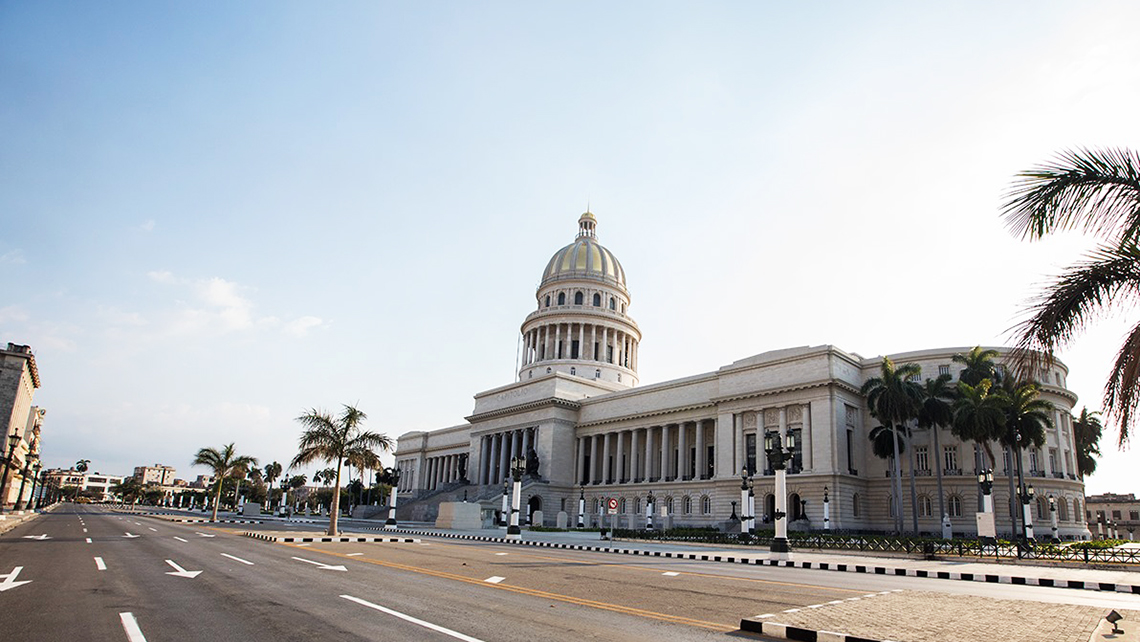 From its southwestern corner, Parque Central gives way to the grand El Capitolio building, another must-see landmark in Havana, now restored to its former glory after years of extensive repairs. Made to the image and likeness of the Capitol building in Washington, Havana's Capitolio sought to outdo the original and as such its interiors are somewhat grander and overall, the building is slighter bigger than its US twin.
Step inside and you'll be gasping in awe at the world's third largest indoor statue, "La Estatua de la República". Right in front of this magnificent statue (covered in 22 carat gold leaf and weighing 49 tons), on the splendidly polished marble floor you can marvel at the replica of the 25-carat diamond that marks Kilometre Zero for Cuba's Central Highway (the original, which belonged to the last Tsar, Nicholas II of Russia, is safeguarded in the Banco Central de Cuba, after being stolen in 1946 and then mysteriously returned the following year).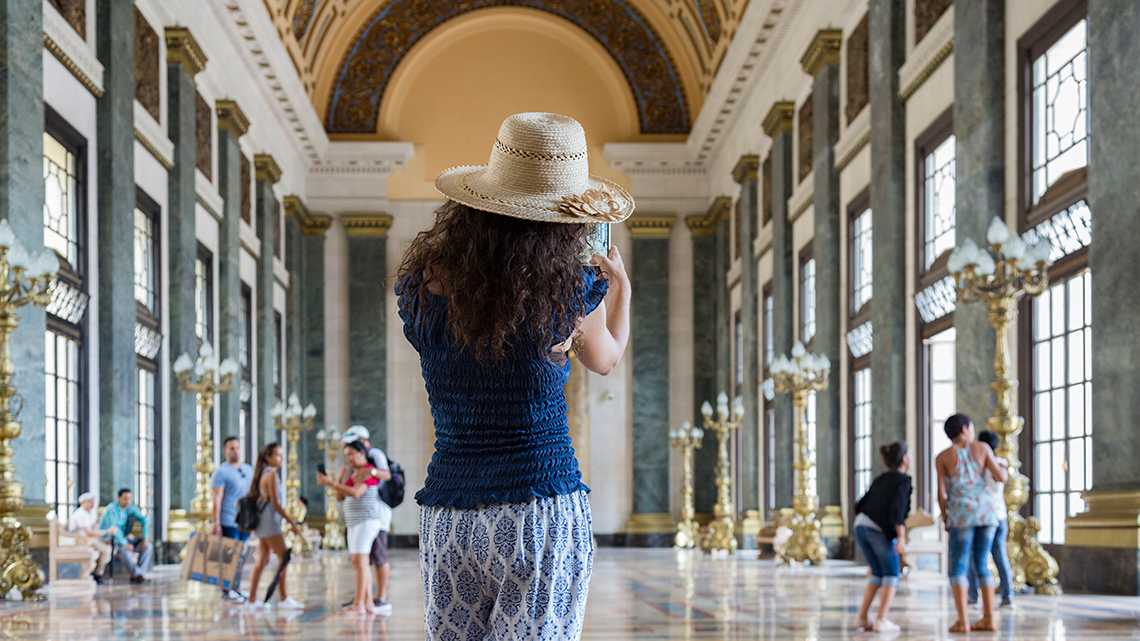 For years, El Capitolio housed the Cuban parliament and still intactly preserved you´ll find its Chamber of Deputies and Senate Chamber. After checking out its impressive exterior and interiors you could continue your journey by venturing into Centro Habana, which brings us to the next section.
Gateway to Centro Habana
Parque Central gives way to Centro Habana once you pass the Capitolio building. After reaching its southernmost corner, turn right into Dragones street and after only a few metres (two blocks) you'll soon spot what looks like a Chinese archway or gate. No need to rub your eyes, you're still in Havana.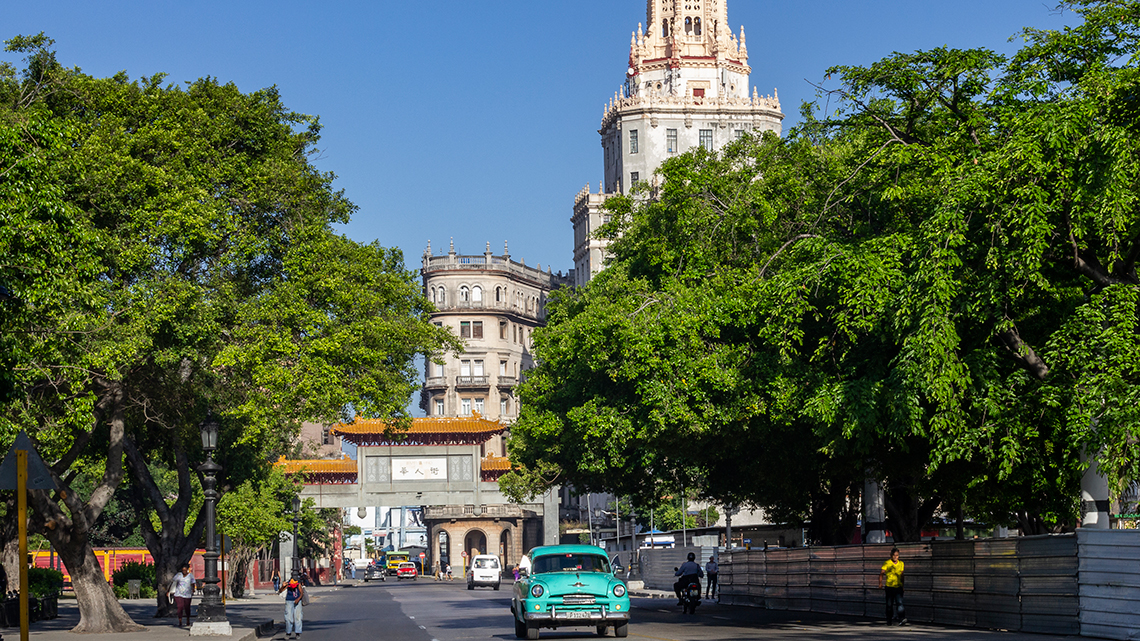 Almost immediately as you continue along Avenida Zanja you'll stumble upon the entrance to Havana's Chinatown. This brings about a great opportunity to take in the quirks of what used to be the epicentre of the America's biggest Chinese migrant population.
You can sample Cuban-Chinese food at one of the many Chinese-themed restaurants in Havana's Chinatown and taste its peculiarities (a word of warning, all Chinese restaurants in Havana have a menu split between its Italian food offerings and Chinese food specialties, so don't be surprised that many of these eateries are popular for its pizzas! Just another Havana quirk, the real Cuban way!).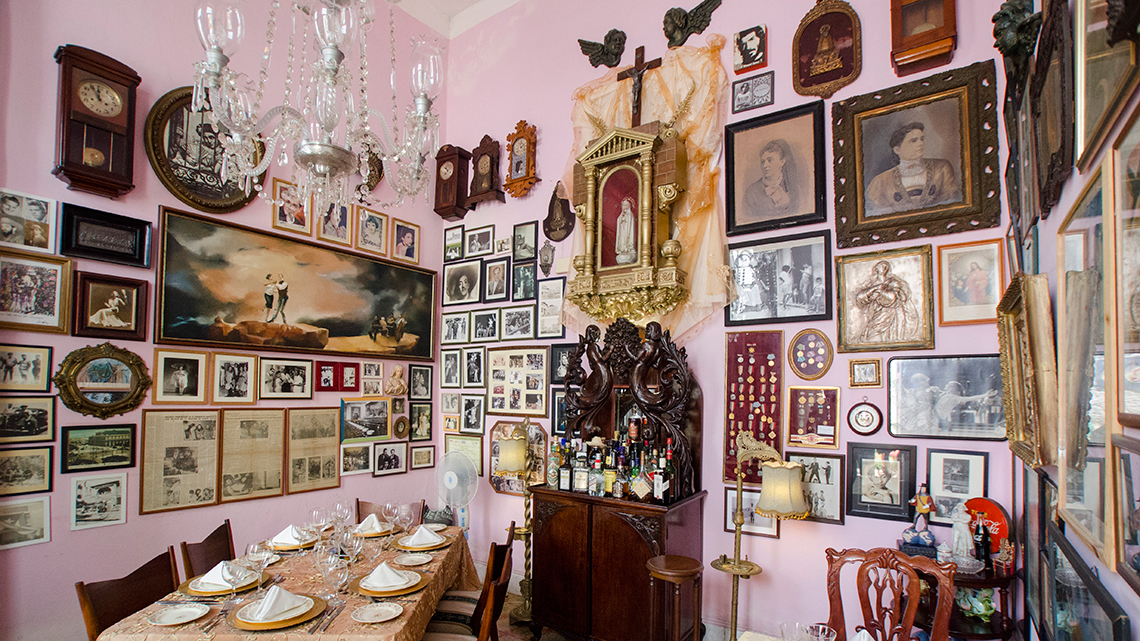 Alternatively, you can eat at many of the legendary Cuban "paladares" that have made tourists venture into this very little trodden part of Havana. If there is one Centro Habana is famous for are paladares like La Guarida (where Madonna threw an epic 58th birthday party a couple of years ago) and San Cristobal (where the Obama family famous dined).
Ideal proximity to Havana's best bars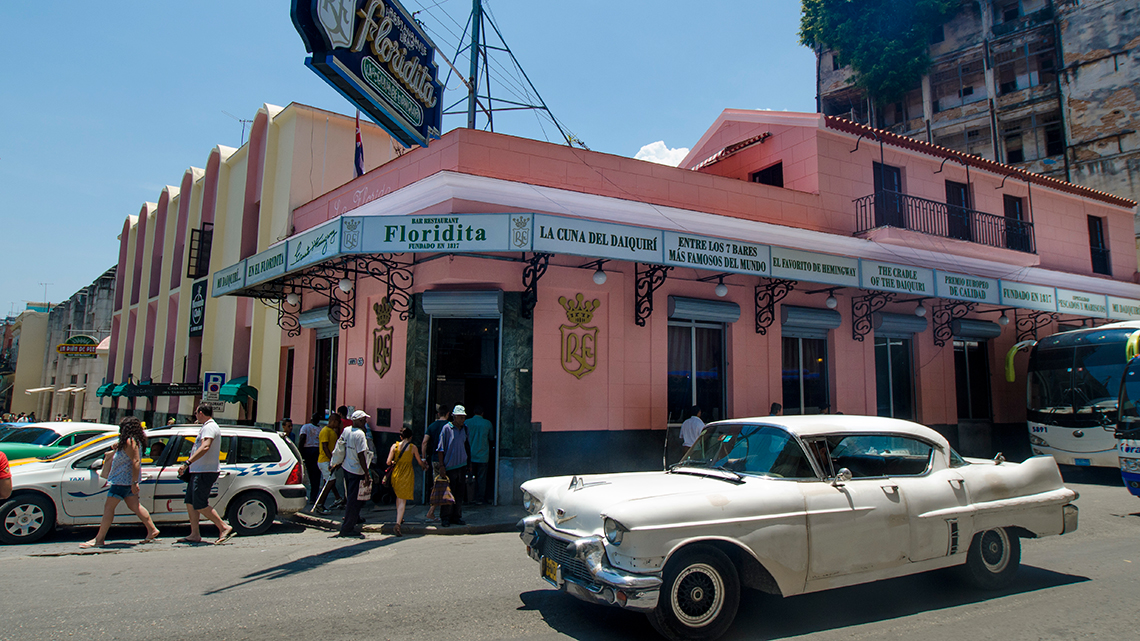 We've already mentioned the quintessential El Floridita, but many up-and-coming bars in Havana are also in the vicinity of Parque Central. Such is the case of Sia Kará, found just behind the Capitolio, loved by tourists and locals alike, with frequent live performances and a Bohemian atmosphere (we highly recommend it). Likewise, El Tablao de Pancho and London Bar are good choices found next to the Gran Teatro, just opposite Parque Central. While London Bar explores the Cuban-British connections with plenty of UK-inspired décor, El Tablao might serve up non-remarkable food but it shines with its live entertainment offerings.
Old Havana or Centro Habana?
Eenie, meenie, miney, moe… which way should you go? When you're in Havana's Parque Central you have two alternative routes to choose from. If you walk eastwards Old Havana's wonders open up before you, if walk towards the west you will see how Old Havana turns into Centro Habana after passing the Capitolio building. Our recommendation? Grab a bike and see both sides!