La Guarida – an emblem of Havana since 1996
Located at 418 Calle Concordia, La Guarida is not only one of Havana's most renowned paladares, providing excellent food, delicious drinks, and stylish ambience, it is also an iconic part of Havana's recent history. With its typically run-down Cuban charm, this establishment has many ties with Hollywood, making it a "must-see" place if you are in town.
Read on and find out more about how this chic corner of La Habana has rubbed shoulders with celebrities whilst maintaining its very Cuban roots.
---
It was back in 1994 that Cuba briefly swept open the curtains behind which it had traditionally hidden and did something pretty special.
"Fresa y Chocolate" (Strawberry and Chocolate) was a film that made huge ripples on a global scale, being nominated for an Academy Award for Best Foreign Language Film, and winning a Goya Award as well as scooping a special mention at the Sundance Film Festival in 1995.
It tackled the sensitive subjects of the LGBT community and Cuba's general place in the world after the collapse of the Soviet Union, the two flavours in the film's title serving as metaphors for sexual liberty and drudgery.
The film rightly cemented its place in Cuban folklore as well as every genuine cinema lover's "must watch" list, but it did not stop there.
La Guarida, Havana's most famous paladar
On 14th July 1996, Enrique Nuñez del Valle and his wife Odeysy B. Caro used the location for the film to open the paladar named "La Guarida" (The Den). Paladares are unique to Cuba and are best described as privately owned restaurants found, at that time, in the living rooms of ordinary families' homes, who are generally just trying to make some money.
The thing is, if this were simply a quick stop to grab a quick sandwich on your way around Havana, it may not have gained much traction. However, La Guarida became more than that. Thought by many to be the best place to eat in the whole city, this restaurant has really honoured its slogan, becoming an emblem of Havana since 1996.
What's going on at La Mansión Camaguey?
Constructed in 1913, the building, originally known as "La Mansión Camaguey", proudly proclaims its own faded elegance. There is a magnificent wooden entrance door, a palatial marble staircase up two flights of stairs, a wrought iron bannister, and the ornately decorated stone walls.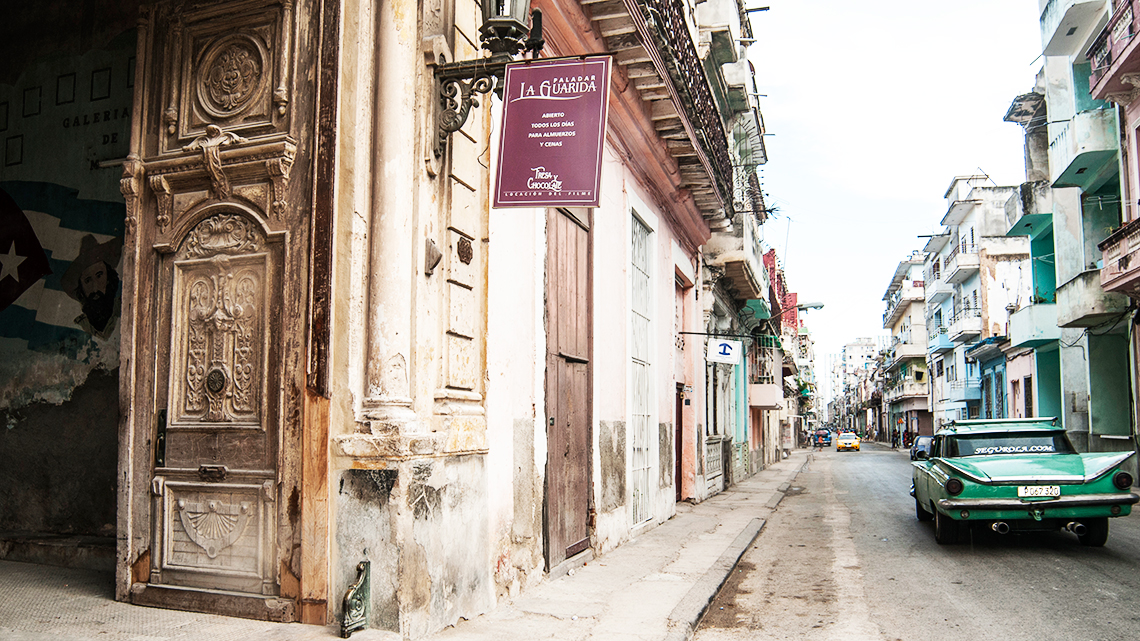 However, in typical Cuban fashion, La Mansión Camaguey wears its grandeur as a rock-star wears a 19th century red British military jacket. Havana is often described as a Prince in pauper's clothes, and the ramshackle but ornate pillars and buttresses holding up chipped 30-foot-high stone ceilings fit the idiom to visual perfection.
Street cats wander lazily around the crumbling colonial-style columns and a dusty wheelbarrow rests against the headless statue of a Grecian figure. A spare tyre leans up against a courtyard of pillars and some scaffolding next to a huge, faded façade effortlessly juxtaposes the old world and the new.
Back in a sepia-tinted age, La Mansión Camaguey could have seemed at home in Belle Epoque Paris or New York in Edith Wharton's Age of Innocence. But, although Father Time apparently heals all wounds, he ravages masonry. A century of neglect has definitely left this beautiful aristocratic old building bruised, though not broken.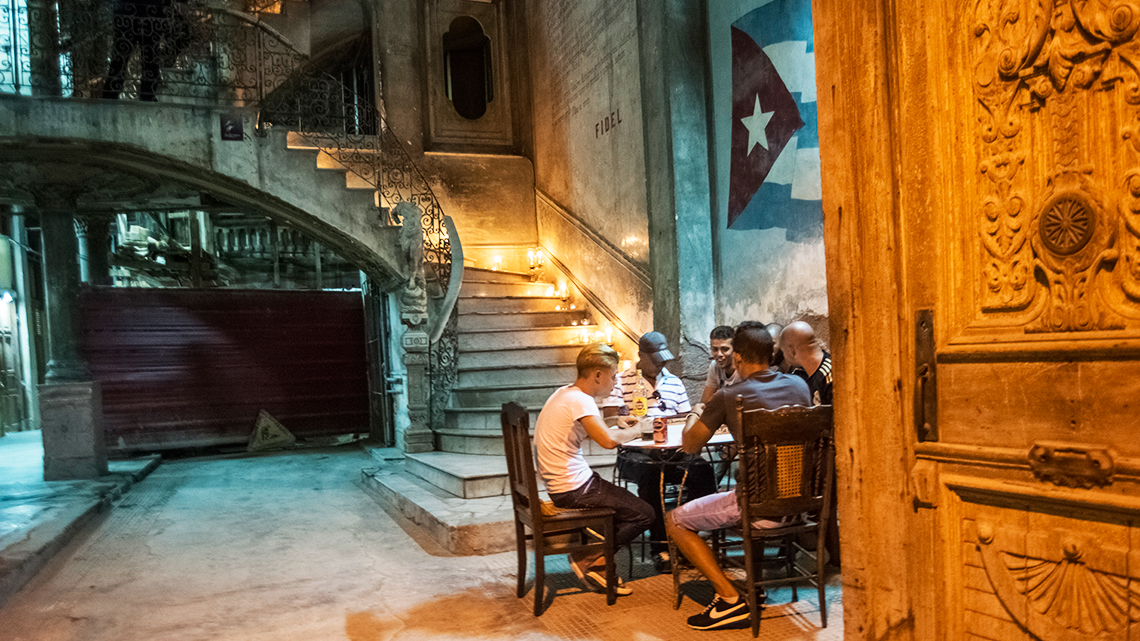 This is Cuba, and it is often the case that despite a crumbling exterior, establishments like La Guarida are teeming with life inside.
"Mi casa es tu casa"
It is a fitting Spanish phrase to learn when you visit a paladar in Cuba. "My home is your home" never becomes so literal. Cuba's fantastic network of privately owned restaurants, each offering their own nuanced touches to traditional menus, really transport you into a sense of being at home. There is a homeliness to the décor, the ambience and the gastronomy on offer.
When you walk in the door at La Guarida, you immediately notice the smells from the kitchen – something that resonates with nearly everyone's memories of childhood.
As expected, there are plenty of homages to the film "Fresa y Chocolate" as well as a mishmash of decorations ranging from Edwardian chandeliers and 1920s copies of Vogue, to 1950s furniture and bric-a-brac.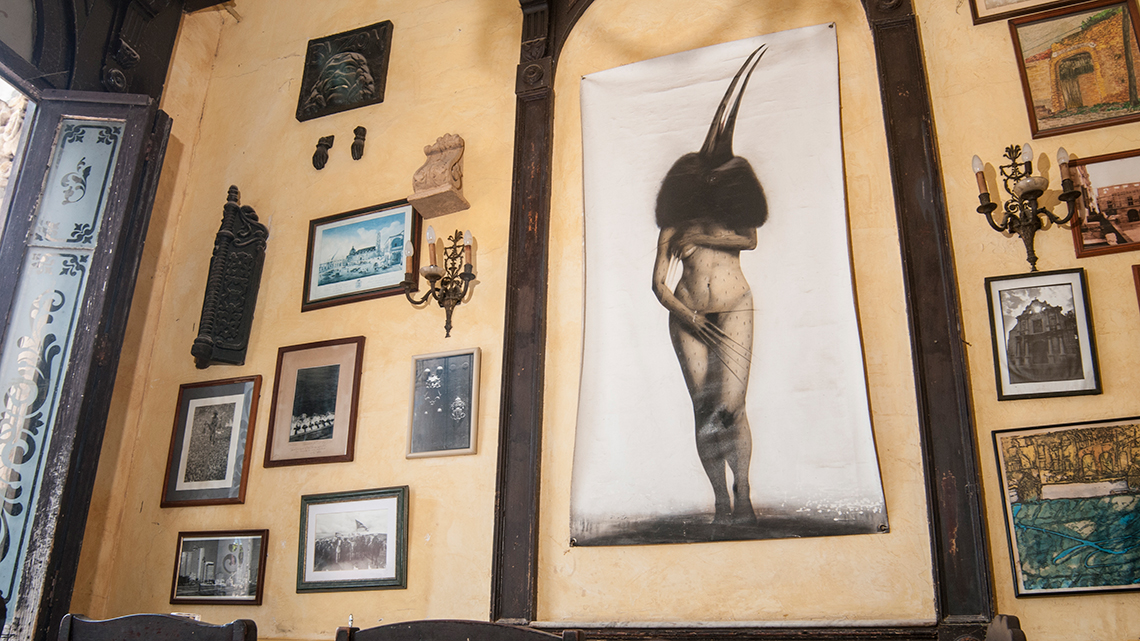 Black and white photographs of moustachioed gentlemen share wall-space with brass cherubim, and the head of a Native American Indian complete with tomahawk rubs shoulders with a pouting Marilyn Monroe. A copy of Van Gogh's Starry Night sits above another copy of Christ's Last Supper and a copy of Vanity Fair rests on a desktop from Rihanna's photo shoot at this very place in 2015.
There's silver cutlery on the linen tablecloths, candles, and traditional jazz. You get the picture.
Cuba's paladares and changing people's mentalities
The food in Cuba has undergone a happy transformation over the last few years. As a result, Havana is genuinely considered to be on the path to becoming one of the world's "foodie" hotspots.
You only have to go back 20 years to hear deprecating sayings about the island's gastronomy – especially when compared to how high the standard is around the rest of the Caribbean. What are the three worst things about Cuba? Breakfast, lunch, and dinner. There are only so many combinations you can drum up with rice, fried beans, and pork.
But why the renaissance?
Well, it all boils down to startlingly obvious idea of just using varied ingredients to put a modern twist on stalwart Cuban dishes. After all, just because the dish is uncomplicated, it does not mean the flavour is not delicious.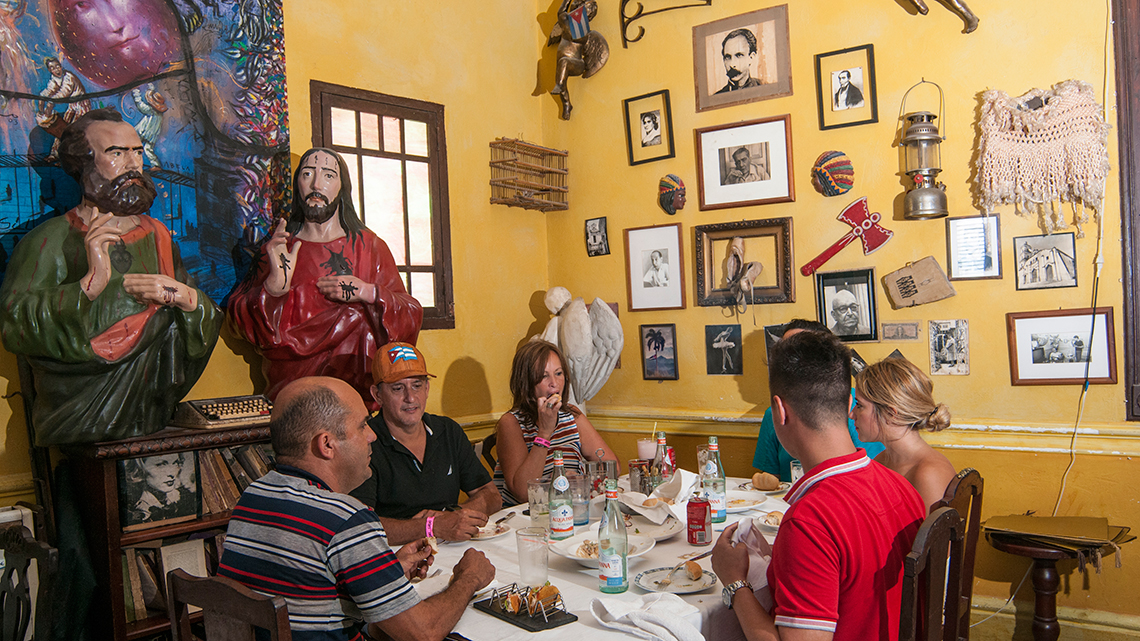 There are many great paladares in Havana and it is worth mentioning such names as Jibaro with its themed days, celebrating cuisine from Bolivia, Thailand, Colombia, Morocco, Brazil and Asia, or even Cuban-Japanese fusion restaurant Jama, effortlessly combining two very different cultures.
There's O'Reilly 304 and its younger brother El del Frente which claim to do the best cocktails in Havana, the Buena Vista Social Club themed El Cuarto de Tula, the trendy El Chanchullero or even Doña Eutimia which celebrates only serving simple Cuban foods passed down the generations via word of mouth. All are superb and you will eat well in every one of them.
What's more, by eating locally sourced food from privately owned restaurants, you're contributing hugely to sustainable travel which is vital to preserve the culture and fortify the economy of Cuba as a whole.
What's on the menu at La Guarida?
If you needed any other reason to visit this spectacular place, stating that the food is superb seems too obvious an observation.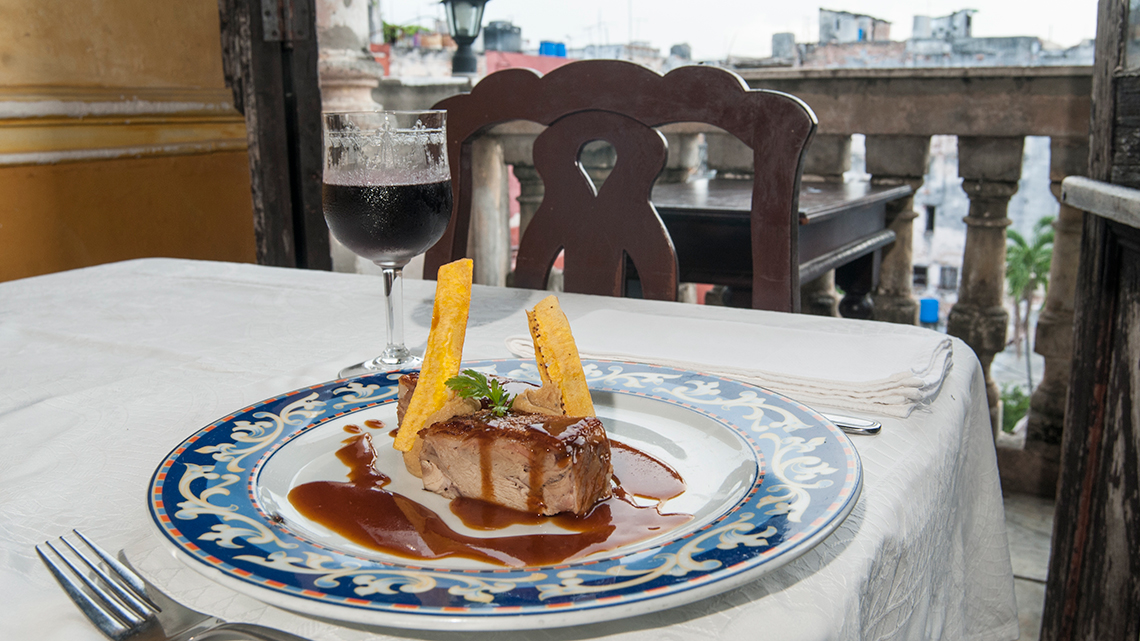 Some of the sumptuous starters include aubergine caviar, melon gazpacho with strawberries, goat's cheese and nut salad, ceviche, papaya lasagne and tuna cakes with homemade mayonnaise.
Main courses include freshly caught fish with roasted vegetables and a tomato jus, rack of lamb in a homemade orange and honey sauce, coconut-glazed tuna in sugar cane, seared grouper and red snapper, provincial rabbit accompanied with black olive caponata, saffron risotto, or a Guarida-style chicken curry.
Finally, dessert can be lemon pie with walnuts, mango and coconut tart, apple pastries or predictably, strawberry and chocolate ice-cream!
The astutely chosen wines compliment the food to perfection and if you fancy some of the best views of Central Havana from the rooftop with a cocktail, the house list is original and fresh, providing firm favourites like the Mojito, and house specialities like La Mansión.
What are people saying about La Guarida?
From just over 2,500 reviews on TripAdvisor, it is no surprise that 1,680 of them rate this paladar as "excellent", and nearly 600 as "very good". You could say that the proof really is in the pudding.
"It's extremely famous and hardly needs a recommendation from me, but the beautiful interiors of this ancient building, its spiral staircase, the balcony that hosts drinking and dancing to excellent Jazz musicians is a joy. The fish is fresh and delicious and make sure you try the mango lasagne which was worth the whole trip. That's why Steven Spielberg eats at La Guardia when he's in town." – Gilesslade, October 2020

"Fantastic food! Very cool building! This restaurant was so good that we ate there twice in 5 days! The food was delicious, and we had a romantic table on one of the balconies looking out over Havana. As soon as you walk in the building, you can see you are in for a unique experience! Be sure to take some pics on the staircase before you go upstairs because you'll be so enthralled with your meal that you'll probably forget when you leave." – Heladoymusica, March 2020

"Whatever everyone says, this is the place to eat! Don't be surprised at the entrance, they all start at street level with no real sense of arrival, but this place does not need it. Walk up two floors on a marble staircase until you reach the roof. Excellent service, better than in most world class cities. Really amazing food, Seviche to die for and the Lobster seared to the best quality." – Gerhardm195, March 2020

"Best meal and views in Havana. You have to eat at La Guardia. This was by far my favourite meal I had on my trip to Cuba. Don't forget to take the spiral staircase to the bar upstairs which has the most amazing views of Havana." – BriancE2647FP, February 2020

"My travel buddy and I visited Cuba several times, and once we had a meal at La Guarida, it became one of our favourite restaurants in Havana. On one occasion, Susan Sarandon walked into our small dining area. If I had my wits with me, I would have invited her to join our table. Opportunity lost forever." – 305takn, June 2020
Looking for La Guarida? Follow the stars
Shoot for the moon – even if you miss, you will land amongst the stars. Shooting for the moon is not tough in Cuba. As you wander around Havana on a balmy evening, it shines bright in the chocolate blue Caribbean sky.
What's more, if you wander to La Guarida for something to eat or drink, you really could land amongst the stars. The Hollywood stars, that is.
La Guarida has seen many a famous face decide to eat there. If we were to mention that Jack Nicholson, Oliver Stone, Steven Spielberg, Matt Dillon, Naomi Campbell, Ralph Fiennes, Sting, Paris Hilton, Natalie Portman, and Mick Jagger have all plumped for La Guarida's delights, and Madonna even chose to celebrate her 58th birthday here, you would be inclined to think that the chefs were doing something right.
The New York Times goes as far as to say that it "is a cut above the rest". The Spanish Royal Family agrees. Queen Sofia chose to dine here on her visit to the island and the chair upon which she sat still hangs proudly from the wall, a cut above the rest!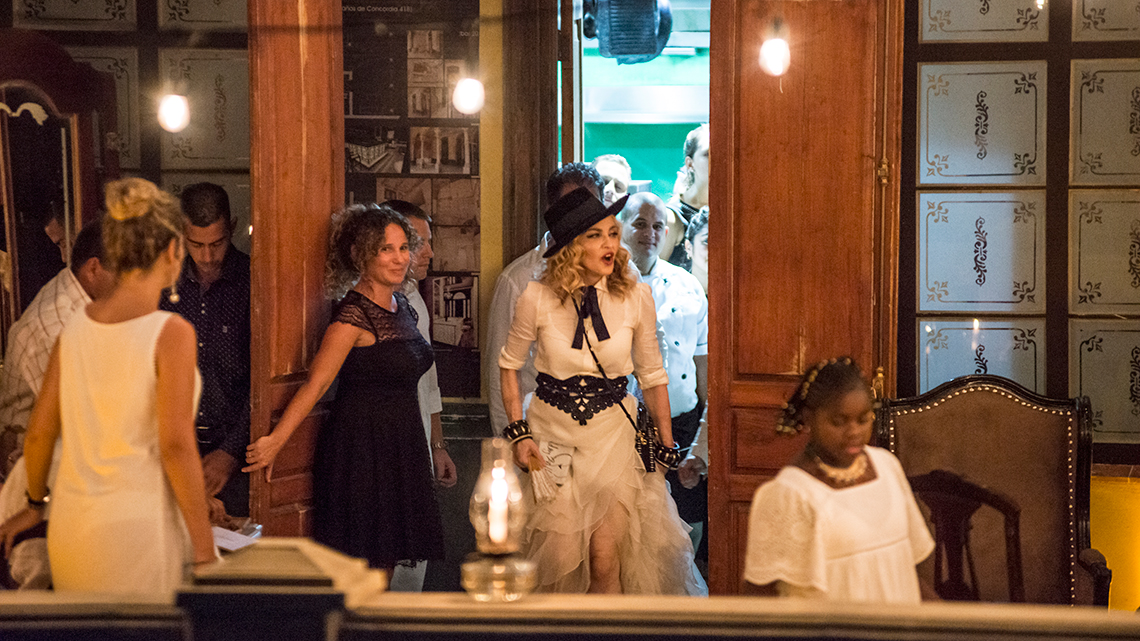 Everything about La Guarida entices and enchants. Its personality, its grandeur, how it dresses like an aristocrat fallen on hard times. How the rich and famous want to eat and drink here. How it is a wonderfully stereotypical Cuban tumbledown building that Royal families wish to visit. How it is the location for an Oscar nominated film. How it seems simultaneously like 1930s New York and your own home.
Make sure you visit La Guarida so you can become part of the beautiful reality behind the starry-eyed fiction.