El del Frente – how the second paladar on one street in Havana is creating a culinary monopoly
There really are some great places to eat in Havana these days. Some paladares, or private restaurants that spring to mind are the wonderful Jama – a scintillating mix of "food-fusion" marrying together Japanese cuisine with traditional Cuban gastronomy.
Then there's Doña Eutimia, where simplicity means perfection and visitors can sample the amazing dishes inspired by the ancient recipes of proprietor Leticia's grandmother.
Then, when it comes to "must see" places, we simply can't leave out O'Reilly 304, possibly Havana's hippest bar-cum-restaurant. Known for its ceviche and its sublime gin-based cocktails, there's a unique atmosphere here than enchants and bewitches everyone that enters.
Knowing how good O'Reilly 304 is, it may well interest gastrophiles visiting Havana that the proprietors also own the place just across the street too.
O'Reilly 304 owner Julio Cesar Imperatori and his brother José Carlos also set up another paladar venture on the other side of the street, like the slightly younger twin brother to the wildly popular O'Reilly 304. The name? "El del Frente" (The One Opposite).
---
More of the same from the owners of O'Reilly 304
There's an old adage that states "if it ain't broke, don't fix it". I've never heard of any similar expression affirming "if something's wildly popular, make something very similar", but you get the gist.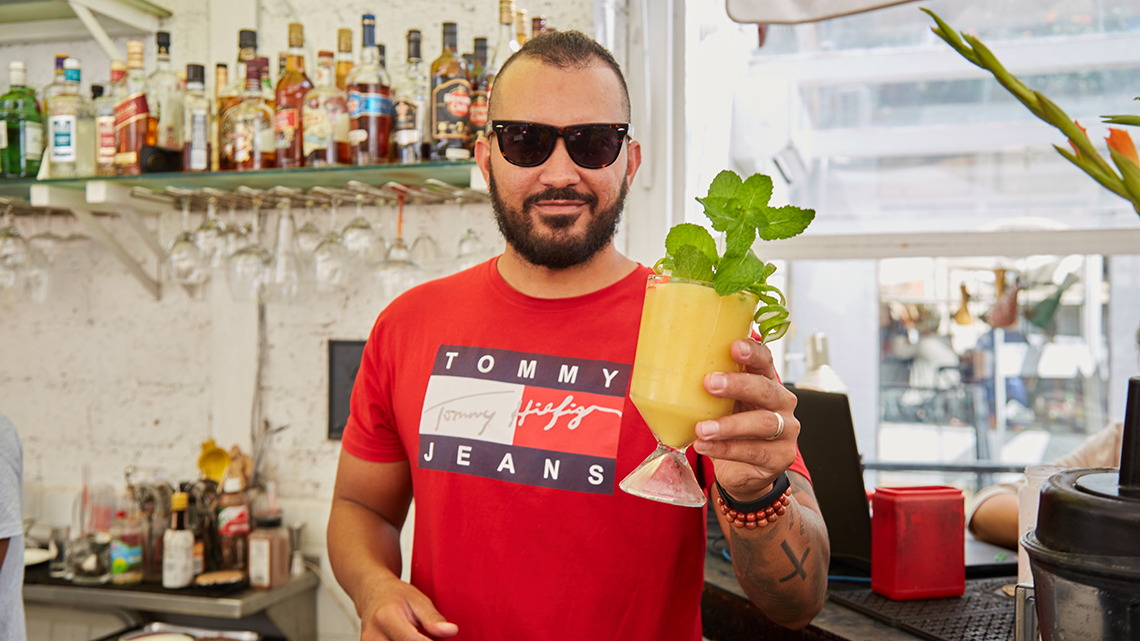 O'Reilly 304 has proved to be such a success with its fantastic, alternative menu, unrivalled ceviche and gin-based cocktails that it's become one of Havana's finest establishments to eat and drink.
In much the same vein, El del Frente does exactly the same thing. Even the name sums up the atmosphere created by the two empresario brothers. "The one opposite" indicates the relaxed ambience that both paladares radiate. It possesses all the culinary excellence of O'Reilly 304, a similar style of highly inventive cocktails and a superb roof terrace to boot.
Like its older brother across the street, gin takes prominence on the menu and the service is relaxed, charmingly disorderly and, when pouring drinks, generous.
Sound interesting? In keeping with this musical island, on Saturdays, there's live jazz too!
What's on the menu?
The menu is imaginative, original and excellent. Just like O'Reilly 304, the "ceviche" at El Del Frente is reputed to be the best in town, and people say that it's at El del Frente where they do the best tacos too.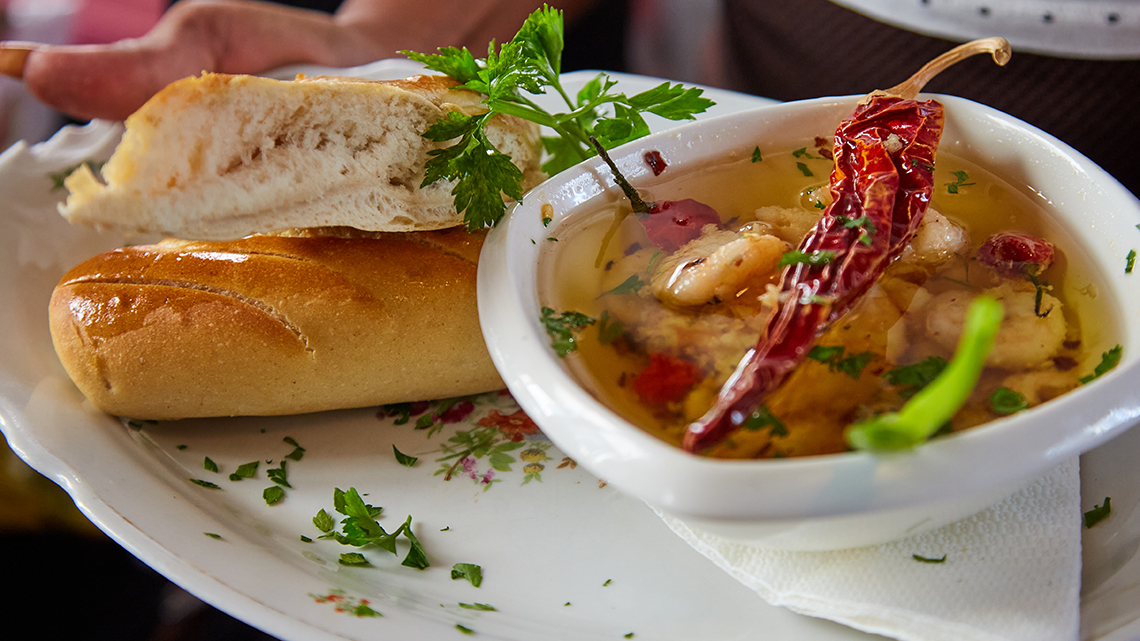 In addition, the "empanadas" and the tuna tataki is outstanding. Following the seafood theme, there are lobster tacos and a celebrated octopus salad.
An advantage that El Del Frente has over many other paladares in Old Havana is simply its wonderful location.
Good food and fine cocktails on a spacious rooftop terrace where you can still enjoy a Cuban cigar, all surrounded by Old Havana's historic architecture under a tropical night sky is a memory you'll take away with you.
Long after the taste of your succulent lamb burger and flavoursome daquiri have gone, the recollections of the creamy Caribbean moonlight casting an ethereal light off the ramshackle multi-coloured 19th century façades and the sound of laughter and life from habaneros chatting in the street below will always warm your heart, wherever you are.
"For nothing is ever lost to us so long as we remember it." – L.M. Montgomery
What are people saying about El del Frente?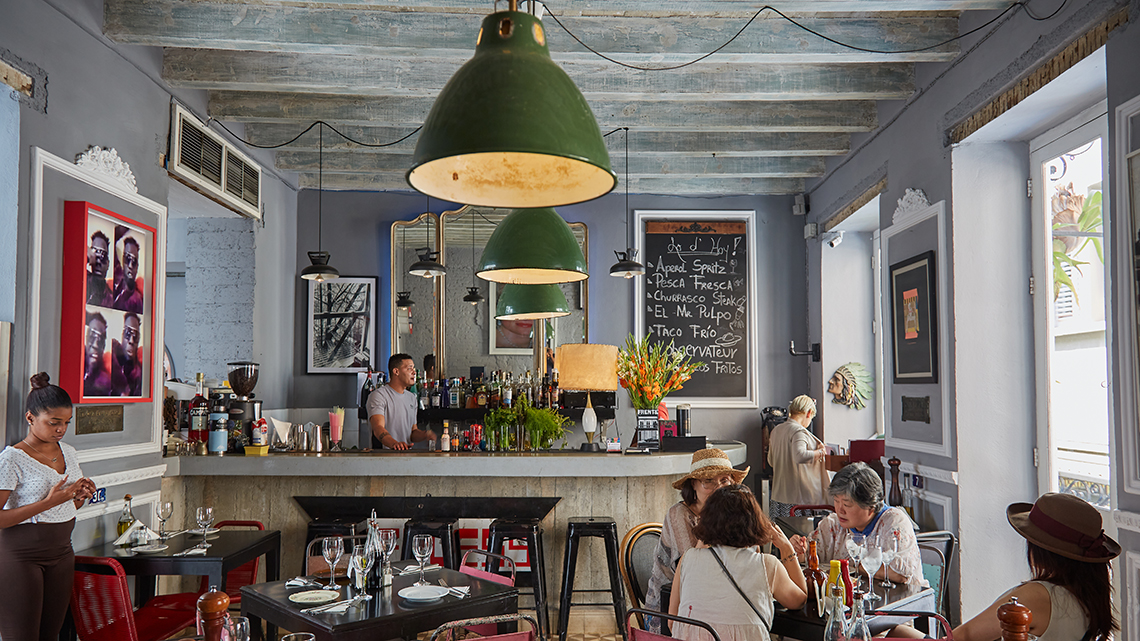 We recommend you really try and get to this place whilst you're in Havana, but don't just take our word for it! If you still need convincing, here's what some other happy customers have said;
The food was excellent and there were some really nice innovative items on the menu. The ceviche was actually in a small mound, moist not runny & delicious – we also had small croquettes with squid and squid ink in the centre they were delicious. – taffyjones052, February 2020

Beautiful with Excellent Food and Drink! The atmosphere was cool and laid back. The drinks were delicious and beautiful. The food was delicious. I highly recommend. – I3383IZalexB, February 2020

Awesome! Recommended by a friend and hands down delicious! went up to the rooftop since the weather was nice. The music was good, the place was awesome and the food delicious. The "tostones" were something I've never had before in my life and the prices were on point. – Guide42059, February 2020

Five stars and great vibes! Great atmosphere, food and cocktails. Amazing terrace for drinks & snack in the afternoon! A Cuban friend suggested this place, but we weren't expecting such a nice and cool place. From the street you don't even notice that it has a terrace/rooftop. Very cool place to hang out. – Sara_Carapeto11, January 2020

Great vibe and decor. Food excellent, particularly the ceviche and fish fillet. Very generous pouring of wine by the glass! We ate in the first-floor restaurant but the rooftop upstairs looked fabulous. – HeBu123, January 2020
El del Frente – a paladar breaking the trend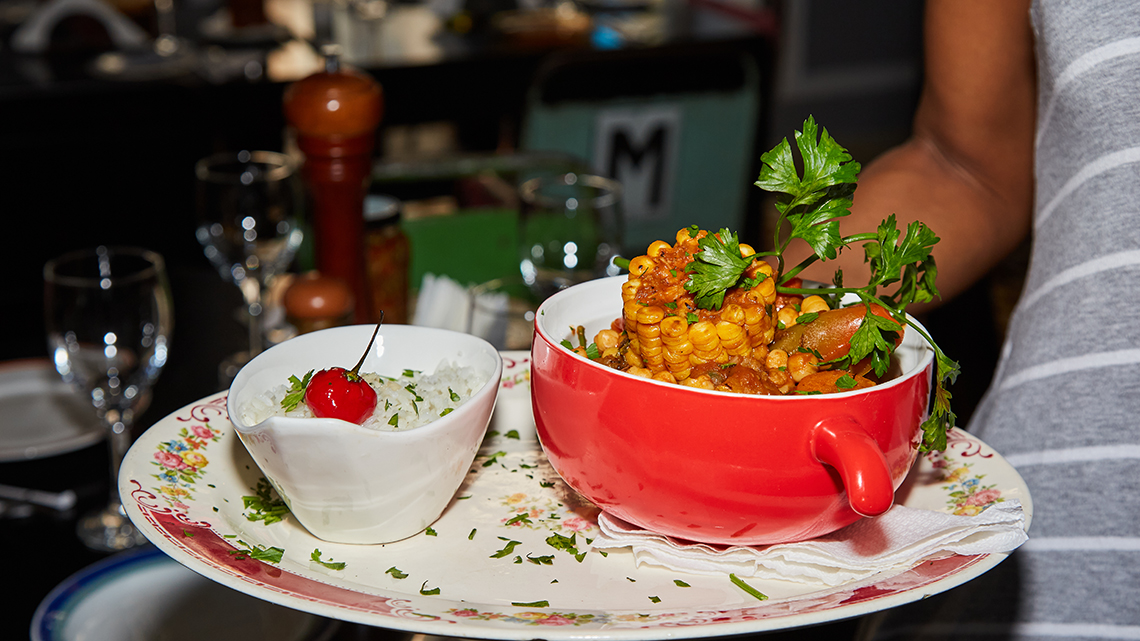 For such a long time, going to Cuba meant low food expectations. The only route to gastronomic satisfaction was to dine on international cuisine at Havana's more expensive establishments. Travel guides warned of underwhelming dishes like rice, stewed pork and beans and people's taste buds seemed to be on survival mode.
"A half-century of deprivation and isolation starved Cuba's culinary traditions, but a new generation is fostering a restaurant revolution that no embargo can stop." – Michael Ruhlman
Over the past decade though, Cuba's undergone, well, a revolution. Not the kind of revolution for which it is most famous however, this kind tastes better and fills your stomach.
To cut a long story short, previously, state ownership of restaurants had totally stifled the creativity of what was available on menus. Chefs didn't have the ingredients to invent new dishes, and Cuba started to get a reputation as a bit of a culinary backwater.
The outcome? A new generation of Cubans developed their palates and what was previously a luxury became a demand.
Nowadays, Havana is one of the planet's foodie capitals and these charming paladares offer genuinely creative and delicious food, often marrying together numerous cultures in a food-fusion. After all, Cuba is a melting pot of European, African and Asian cultures so it's normal that the typical cuisine reflects that.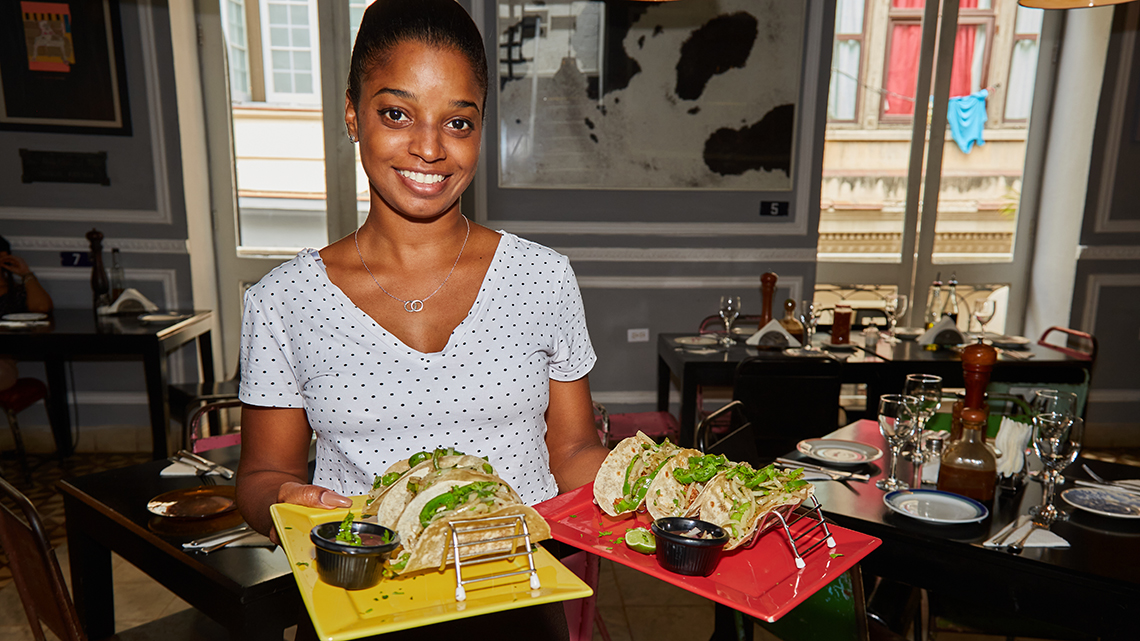 But back to El del Frente – this paladar, no longer an after-thought of O'Reilly 304, has made such an impact that Condé Nast Traveler specifically mentions José Carlos Imperatori as one of the visionaries who has served to rescue Cuban cuisine from the brink.
Visionary? Possibly. Creative? Undoubtedly. Original? Indisputably. A self-sacrificing revolutionary who's laid down his dreams for the greater good of La Patria? He'd be the first to tell you not!
"A server at a paladar can make as much as 20 times what a surgeon on the government payroll pulls in."
So, as the waiters and waitresses bustle around from the mismatched metal furnishings within to the balcony bathed in glorious sunshine, and the trendy clientele talks in fashionable Spanglish about local artists, all seems well with the world.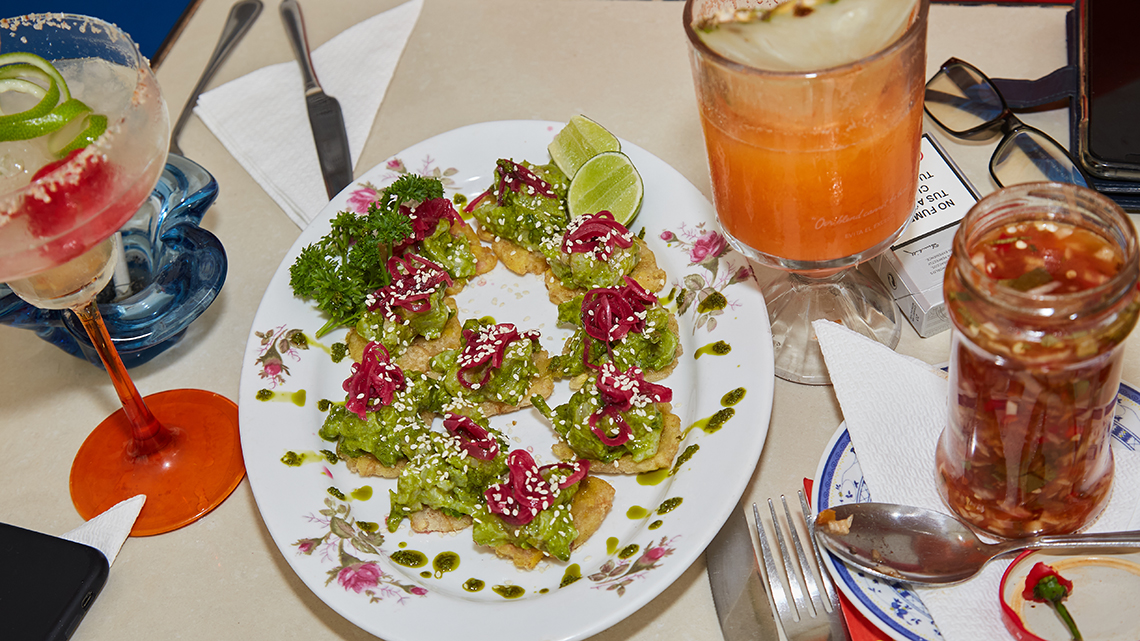 El del Frente no longer leans on older brother O'Reilly 304 and genuinely stands up as one of Havana's best places to eat on its own merit.
Cuba's food revolution is still evolving and things will almost certainly get even better. One thing's for sure though, brothers Julio Cesar and José Carlos won't be changing too much about their winning formula of great food and exquisite cocktails.