El Chanchullero de Tapas, check out the paladar where Hemingway never was
El Chanchullero de Tapas is a great name for a bar. It roughly translates from Cuban slang as 'somebody who spreads idle gossip with no bad intent' and paints a picture of a paladar full of chatting friends, catching up and teasing each other amongst the bustle of another beautiful morning in Old Havana.
Situated on Calle Bernaza y El Cristo 457A, there are great views of the nearby square Santo Cristo del Buen Viaje, which is a popular place to congregate (it's a useful Wi-Fi hotspot in a city where the internet isn't readily available everywhere), but also boasts historical and sentimental importance. It was the last plaza to be built by the Spanish during colonial times, dedicated to the many sailors that visited the city with the intention of wishing them bon voyage.
The irony with El Chanchullero (as is affectionately known between trendy habaneros) is that it is simply too honest. Yes, the food's great and the atmosphere's hip, but there is more. Aside from the mischievous, playful name, its slogan actively celebrates not jumping on the metaphorical bandwagon regarding a fairly ubiquitous Cuban marketing ploy mainly used by state-managed restaurants.
---
Hemingway was never here
It is no secret that Hemingway loved his time in Cuba, especially the bars and restaurants of Havana. After the Spanish Civil War ended in 1939, he spent the next 20 years in the Caribbean island penning seven books. Among them were classics like "The Old Man and the Sea", "For Whom the Bells Told", "A Moveable Feast" and "Islands in the Stream".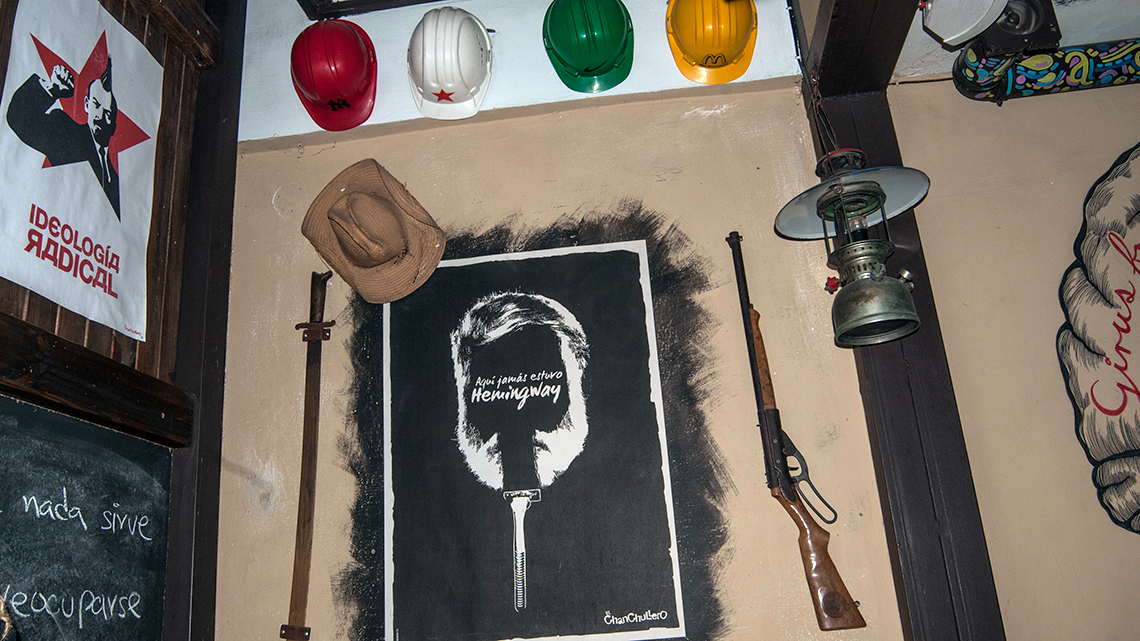 Fast forward 60 years and it's hard to stroll around Old Havana and find a bar or a paladar that doesn't boast a tenuous claim that Hemingway once stopped there for some reason, be it a mojito, a daiquiri, or just to use the lavatory.
So, El Chanchullero, with refreshing honesty avoids any connection with the myth-like American author from the start. The sign outside the door "Aqui jamas estuvo Hemingway" (Hemingway was never here) will make you smile. They have laid their cards on the table. The clientele appreciates such candour, and in they go.
So, what is on the menu at El Chanchullero?
"Simplicity is the final achievement." – Frédéric Chopin
If anyone has ever listened to the music of Chopin, you will know that it is not exactly known for its simplicity. However, rather charmingly, it is what he most strived to achieve.
Now as far as we know, like Hemingway, Chopin also never visited El Chanchullero, nor indeed Cuba. Chopin's statue stands serenely in Plaza San Francisco de Asis where you can see him calmly meditating or talking to the pigeons that inhabit the square. However, it is worth noting the link of chasing simplicity between Poland's most famous composer and Cuban gastronomy as a whole.
The food in Cuba has undergone a huge renaissance over the last few years and Havana is genuinely considered to be on the path to becoming one of the world's "foodie" hotspots. But why is this? Because of the complexity of the dishes dreamt up and the startling sophistication of taste?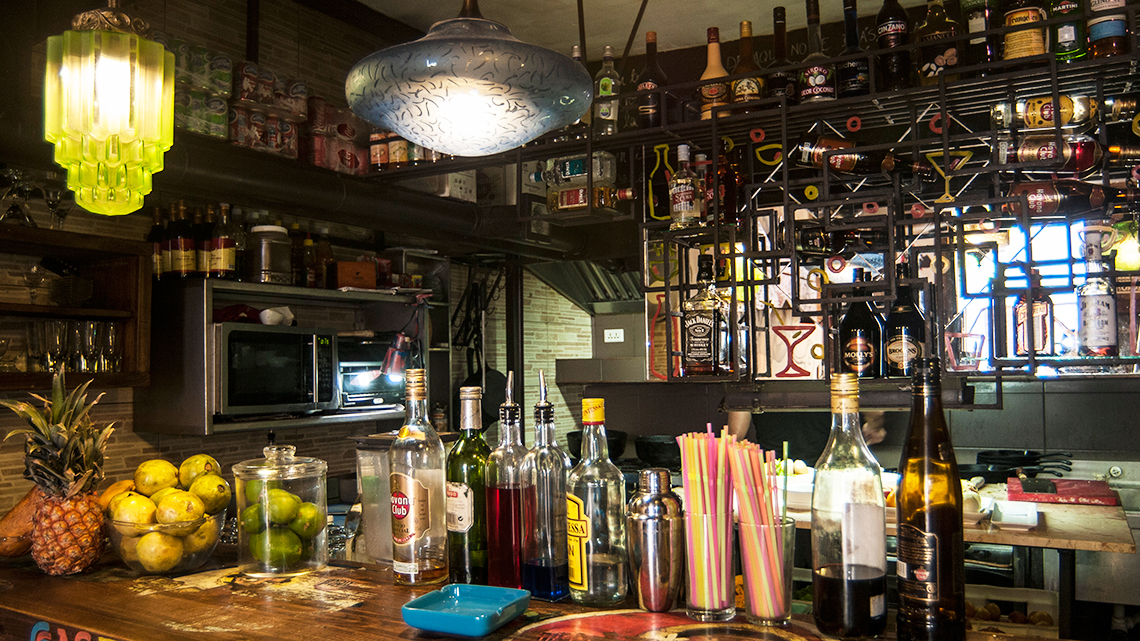 No – it all boils down to the simplicity of using traditional ingredients to put a modern twist on stalwart Cuban dishes. After all, just because the dish is uncomplicated, it does not mean the flavour is not delicious!
There are many great paladares in Old Havana and it's worth mentioning such names as Jibaro with its themed days, celebrating cuisine from Bolivia, Thailand, Colombia, Morocco, Brazil and Asia, or even Cuban-Japanese fusion restaurant Jama, effortlessly combining two very different cultures.
There's O'Reilly 304 and its younger brother El del Frente which claim to do the best cocktails in Havana, or Doña Eutimia on Callejón del Chorro which celebrates only serving simple Cuban foods passed down the generations via word of mouth.
Yes, there are many fantastic places to satisfy rumbling stomachs during your stay on this part of the island, but let us have a look what El Chanchullero has to offer.
There are some inventive appetisers on the menu to arouse your interest and palate alike – "Tamal Chanchullero" is one to try if you are just popping in. Typical to Cuba, it is tough to find a good Cuban "tamal" (tamale) in Havana, but El Chanchullero is the place for you to taste it if it is your first. A dish made of corn dough mixed with onion, garlic, oil, and fried meat, then steamed to form a type of savoury cake wrapped in corn husks. We highly recommend it!
There are also peppers stuffed with meat and the delicious croquettes found all over Cuba.
El Chanchullero really comes into its own for the main courses though. There are many different types of traditional chicken and pork dishes, including the "Cemiñoco de Cerdo" which is a must. "Cemiñoco" is Cuban slang for a big rock, so the dish is essentially large cubes of meat in a delicious secret sauce prepared there while you wait. The shrimp enchiladas are huge and totally fresh too, so they're really worth ordering.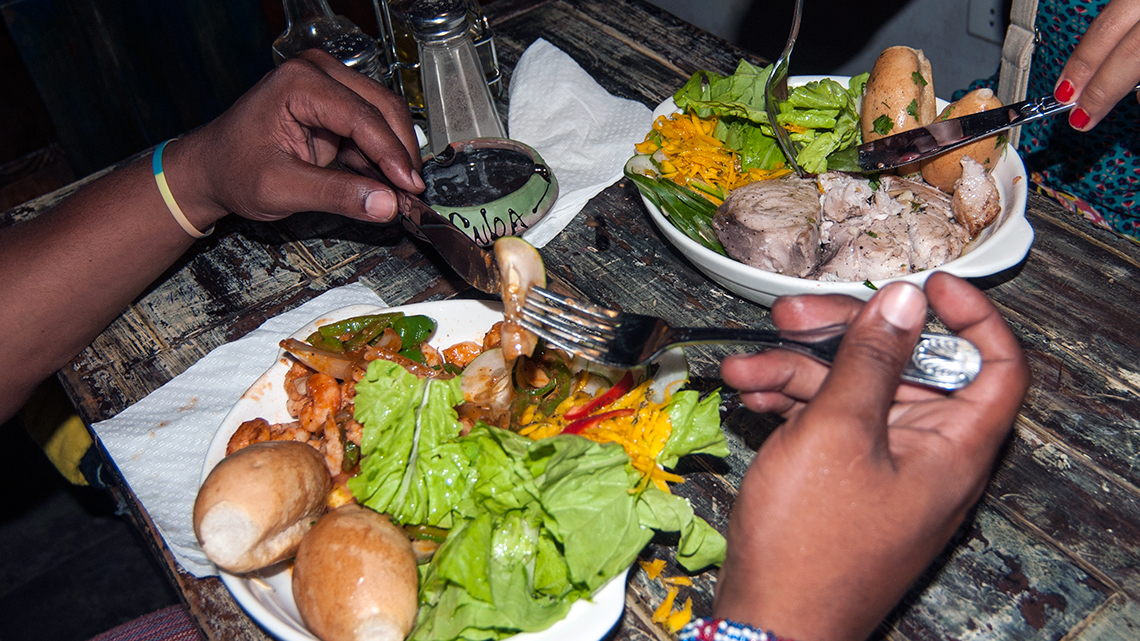 Fancy something with a really Cuban feel to it? Try the "Completa Del Día" – roast pork served with a mashed plantain accompaniment (ask for the "Fufú de Plátano").
However, if you are feeling really brave, go for the "Gordo Azul" – literally translated as the "Fat Blue". And no, Hemingway never tried it, but we think you should…
To wash all this down, there is a fine selection of tasty cocktails, beers and liquors with another list of seven house specialities like the flavoursome "Laguna Azul" (Blue Lagoon) or the "Margarita la Mismísima" (Margarita, yes the very same one).
What is the vibe at El Chanchullero?
El Chanchullero is another hip place in a very cool city. Seasoned travellers and beach-bums alike would probably associate Havana with all the ready clichés that trip off the tongue when asked.
Cadillacs, cigars, fabulous music, and hot salsa dancing, cocktails, boxing, baseball, political revolutions, Che Guevara and Fidel Castro.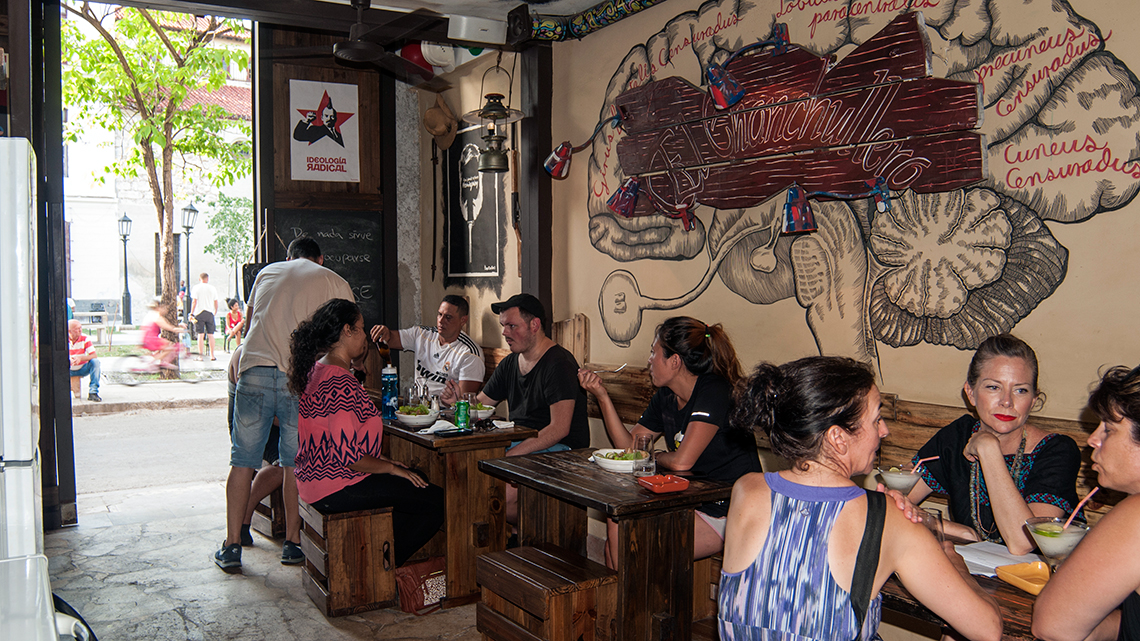 Despite all that, if you are lucky enough to visit this enchanted part of the planet, Cuba is so much more than that.
It is about wandering the unknown streets in neighbourhoods that do not appear in your travel guides. What is more, these are some of the safest streets right in the heart of the real Old Havana and one of the best destinations around for solo female travellers.
Anyway, it is with this philosophy of going off the beaten track in mind that you will stumble across El Chanchullero. It is not located in the prettiest part of Old Havana but in one of the most genuine parts, and you would be forgiven for walking past it. Not if we can avoid it though. You will probably be drawn in by the music first of all, confident, loud, upbeat – perfectly complementing the style of the bar.
It is important to know when you come to these shores that Cuba's a layered country, complicated and uncomplicated in equal measures. The past is the past and shapes the present, but people look towards the future whilst making the most of the here and now. We call it "The Cuban Way". Get it?
With this paradox in mind, whilst not succumbing to globalisation, there are moods to the bars and paladares around Old Havana that are influenced from far-flung places overseas.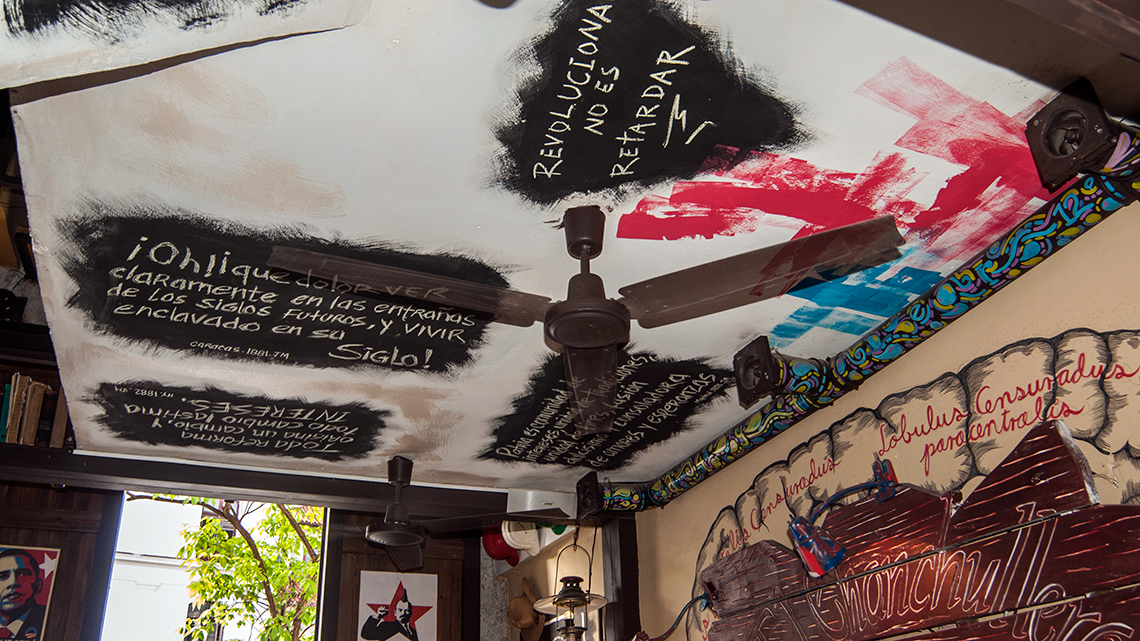 Like many others, El Chanchullero gives off a hip artistic vibe which parallels Brooklyn or Camden. The décor is quintessential in a Cuban way, with political messages, graffiti, and vintage postcards from around Havana filling the wall space. There is a tip of the hat to gentlemanly bar etiquette above one table as a sign reads:
"No Wi-Fi – please speak to one another."
The clientele dutifully takes heed and by 7pm, this charming watering hole is a bustling, noisy, fun-fuelled spot of chatter and laughter. It is so popular in fact that it is not easy getting a table after this time so be astute and come earlier.
What are other people saying about El Chanchullero?
It is not just us who love this stylish, unpretentious paladar. These comments are taken from TripAdvisor where El Chanchullero has a 4 and a half-star rating from 1,500 official reviews!
"Lovely indoor and terrace – Fun urban upcycled decor. Love the indoor seating area, but the terrace is even better. Great drinks, interesting food and lovely service." – 455sitas (March 2020)

"Perfect in every way! Try anything you want – it's all good! Special note for 'ropa vieja' and daiquiris! Decor is also very cool and prices are really affordable. We thoroughly enjoyed it!" – Isatrembl (March 2020)

"SO FUN!!! We came here for lunch one afternoon and we just loved it! We were a large group of 8 adults and the staff was super friendly and made space for us on the rooftop so that we could be in the shade. The drinks are cheap, strong and taste SO good. What more could you ask for?! The food was also cheap, fresh and delicious! It really is a great place to go hang out with a group of people you like, eat, drink and get a little drunk under the hot Havana sun! LOVED this place so much and we would definitely go back! I recommend the daiquiris, mojitos and the chicken with pineapple!" – Patty0781 (February 2020)

"Amazing restaurant with very tasty, quality and special food with nice price. The best place to the sitting is on terrace, you will enjoy it. They have very good cocktails too and play good music." – Tanasedivcova (January 2020)

"Fantastic Rooftops and Drinks – We only came here for a drink, but lingered for a while when we saw the rooftop. We sat at the bar, ordered their Mojito, which is supposedly a favourite among locals and it did not disappoint. We enjoyed the warm 'winter' air and we made friends with the bartender and swapped some stories and shots. If we end up in Habana again we're definitely coming back here!" – KevinTKn (January 2020)

"Best meal I've had in Havana – Don't bother going to more expensive places. This is cheap, and the food is the best I've had in Cuba. We were lucky to get there at a time when there was no queue outside." – WritingLily (January 2020)

"Great food, drinks and vibe – We liked the look of this bar/restaurant and decided to pop in. We ordered a couple of pina coladas and some nachos and both were great. The drinks were particularly boozy (but in a good way), and very reasonably priced at $2.75 CUC. We ordered a second before moving on slightly tipsy! We ended up returning on another occasion for lunch and this was fresh, simple, yet tasty. We really liked the atmosphere and the prices were good for the quality of food and drink." – Brad_Herbert (December 2019)
Honesty is the best medicine
The guys at El Chanchullero have focussed their business on simplicity and honesty. There are no frills to this paladar, but it does not require them. It stands up on its own.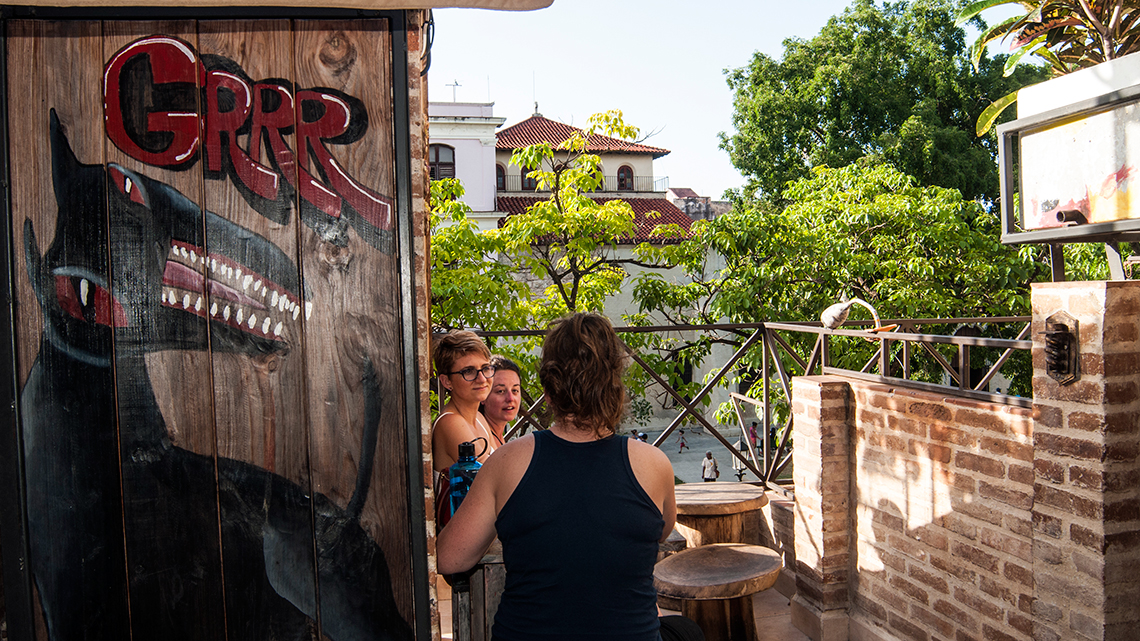 In fact, do not just take our word for it. Lonely Planet recommends El Chanchullero as one of the best places in Old Havana to sit down, have something to eat and drink, and soak up the world-famous night life that perpetuates in Havana, this wonderful, unforgettable city.
A paladar will always be successful if the food is good, the waiters friendly, the prices affordable and the ethos simple. El Chanchullero ticks all those boxes and it is its lack of pretence, mirrored in Hemingway's writing style, that makes me wonder whether the old man himself would be found right here of all places, were he alive today.
"Beauty exists where you least expect to find it." – Gail Tsukiyama