Eating Cuba – Cuba's culinary culture
Cuba isn't well-known for its cuisine, in fact until recently a trip to Cuba would come with a warning that it wasn't a food destination. Thankfully, its culinary reputation is on the rise.
A real melting pot – Cuba's history is in its food
Cuban food is a reflection of the country's melting pot history and has roots in African, Spanish, Italian, American, Chinese and Taino cuisines. The key influences came from Spanish country cooking with plenty of beans, lots of garlic and pork. Like Spaniards, Cubans dislike spicy food; a surprise if you have visited other Caribbean nations.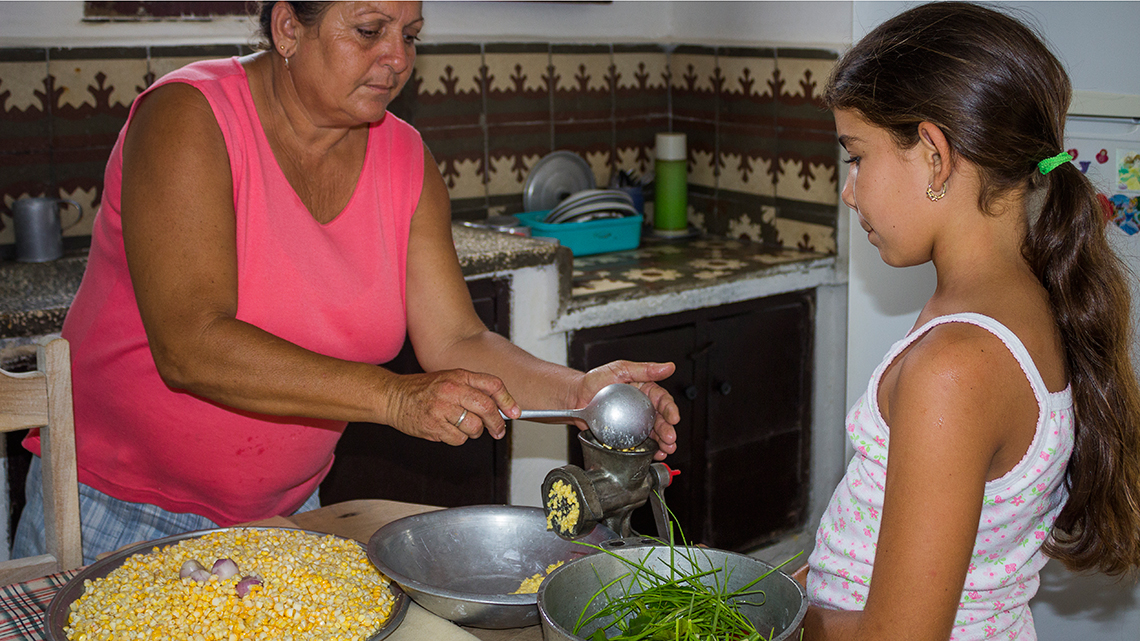 You'll find African influences everywhere, brought over by slaves who were forced to work on Cuba's sugar plantations – from fried plantains and yucca to soups laden with sweet potato and cassava. Every so often you'll taste hints of Cuba's pre-Columbian Taino population in corn meal soups and the "tamales" that are still served wrapped in cooked corn leaves as they would have been centuries ago.
Over time Cuba attracted immigrants from all over the world, and each culture left its mark on Cuban food. As a result, you can buy pizza and hamburguesa in pretty much every village in Cuba and many a rural restaurant will serve you their version of Chinese fried rice.
So what is Cuban food?
Cuban food is what the locals call "comida criolla", or creole food. It is soul food to be eaten with a large group of family and friends, with an emphasis on quantity and gutsy flavours. "Comida criolla" will typically entail a table brimming with a variety of different dishes and will always include rice and beans. On the table you're likely to find arroz y frijoles (white rice served with a black bean soup of mild spices) , arroz congri (like the Jamaican rice and peas but usually using black beans), fried plantain, garlicky malanga fritters, fried or boiled yucca with a garlic and oil dressing, fresh salad, pork, chicken, lamb, fish or beef. If it were a festive meal, the main dish would be whole roast pork, often with a little Cuban hat and a cigar in its mouth.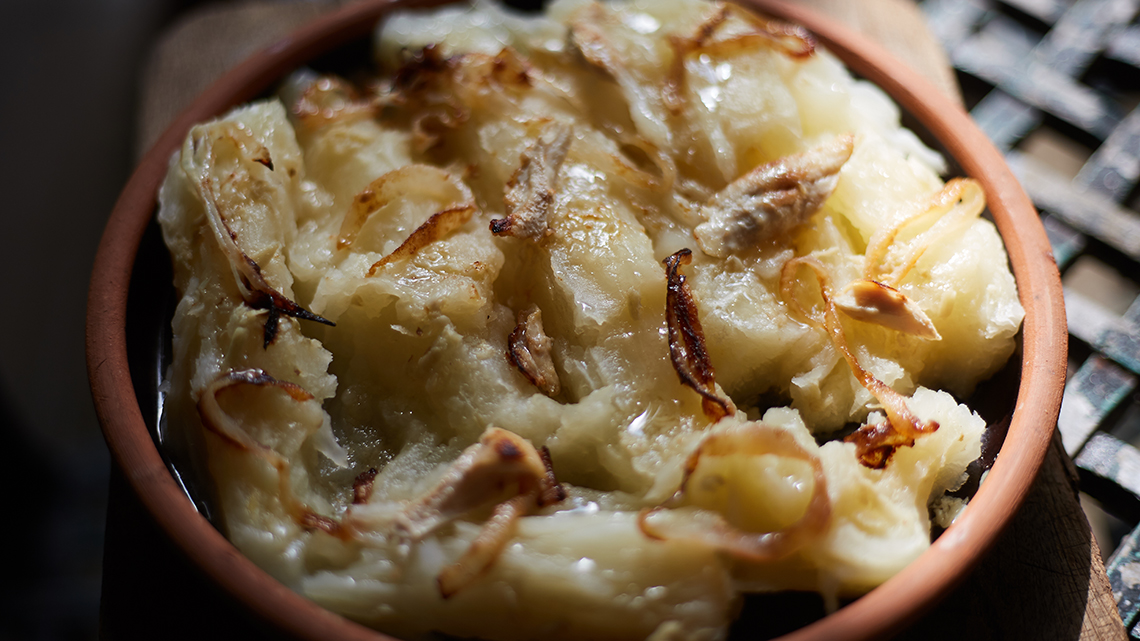 You can't do proper Cuban cooking without plenty of garlic, cumin, citrus and salt. Although Cuba's neighbours love spicy food, Cuban's rarely enjoy picante but love deep satisfying flavours.
Cuba's national dish is "ropa vieja", or "old clothes", so called because the meat is shredded (like old clothes) into the rich tomato sauce. Since beef is scarce in Cuba, lamb and pork versions of the recipe are also popular.
You can't really talk about Cuban cuisine without mentioning sugar. Sugar is an essential part of the nation's history and finds its way into every Cuban recipe, from black beans to fruit juice. No Cuban would dream of drinking their "cafecito" (espresso) without a heavy lacing of sugar and no traditional Cuban meal is complete without a "postre" (dessert). Flan is a the most popular Cuban dessert , along with "helado" (ice cream) or guava jam served with mild cheese.
Not a meat eater?
It's not that "vegetarian" is a dirty word in Cuba, but it is met with looks of astonishment and the eternal rejoinder "not even chicken?" If you're vegan then you should brace yourself for a series of misunderstandings and eyebrows raised in bemusement. True, Cuban cuisine was not made for the vegan/vegetarian, but there is room for manoeuvre.
Most Cuban establishments make a mean pumpkin soup and though kidney bean stews often include chunks of pork, black beans are always 100% meat-free. There is an increasing number of vegetarian/vegan-friendly restaurants across Cuba with some creative ideas and, though most Cubans still prefer meat, there is a growing consciousness around its consumption.
Get cooking, the Cuban Way!
Is your mouth watering after all this talk of shredded beef and super sweet flans? Though you may not be able to travel right now, you can still summon Cuba's flavours in your own kitchen. Cubania Travel has put together our favourite recipes for "ropa vieja", black beans, fried plantain and "flan" to help you prepare a typical Cuban feast.
An authentic recipe for "Ropa Vieja"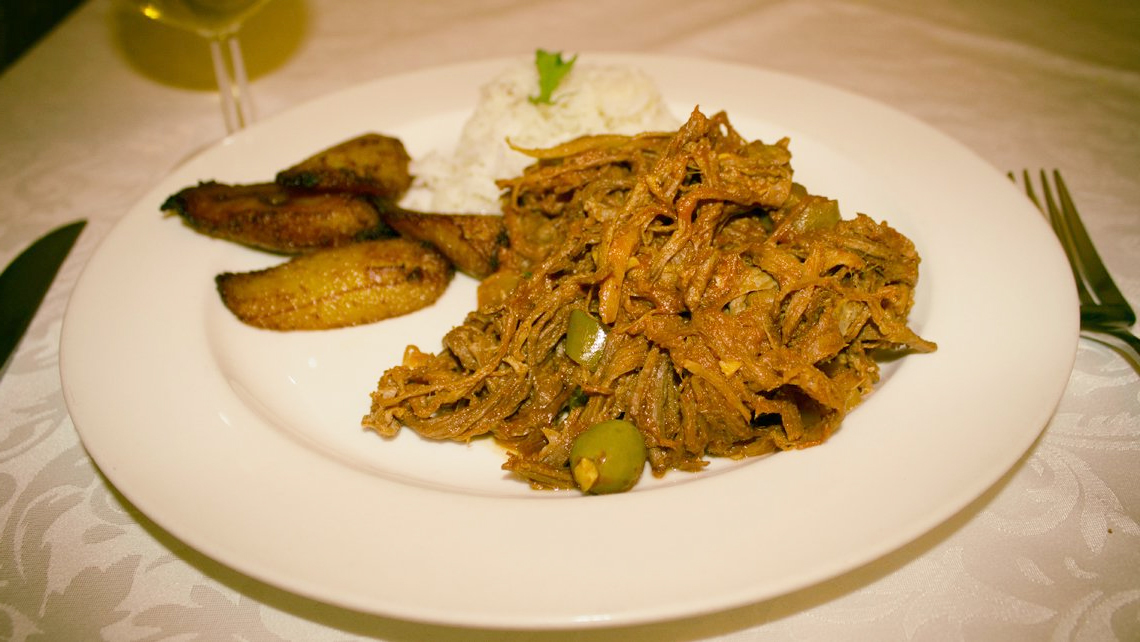 This is THE Cuban dish everyone has to try when they come to Cuba (non meat-eaters excepted). Ropa Vieja, or "old clothes", is a beef dish where the meat is stripped into rags (much like old clothes) and cooked in a delicious, tomatoey sauce. Strangely, given the prevalence of this dish, beef is pretty hard to come by in Cuba and pork or lamb are often used in its place. However, for the sake of authenticity we are giving you a mouth-watering 100% bovine recipe for Ropa Vieja.
Ingredients
460g beef tenderloin

1 bay leaf

Salt and pepper

2 onions

2 green peppers

2 cloves of garlic

1 teaspoon dried parsley

1 teaspoon paprika

(1 teaspoon fresh or dried oregano)

(1/2 teaspoon cumin)

40 ml dry white wine

40 ml tomato purée

2 tablespoons cooking oil

Water as needed
Equipment
Medium-sized pan

Frying pan

Fork
Method
Put your beef in a pan with, salt, pepper, bay leaf and enough water so that there are three fingers between the meat and the surface of the water. Put a lid on the pan and cook for 30 minutes or until the beef is tender.

Once a fork slips easily through the beef then it's ready. Remove from pan, drain and leave to cool. Meanwhile, crush the garlic, chop the onion and slice the peppers into thin strips. Heat half of the oil in the pan.

Once the meat has cooled use a fork to rip it into strips. Add the stripped meat into the pan and fry until it becomes golden in colour. Add the paprika, cumin, oregano, cooking wine and tomato purée.

In a small frying pan heat the rest of the oil before frying the garlic, onion and pepper on a medium heat so that it cooks but doesn't burn. Once tender add to the beef.

Cook everything together for a few minutes and add the dried parsley.

Serve your Ropa Vieja with rice and black beans.
An authentic recipe for Black Beans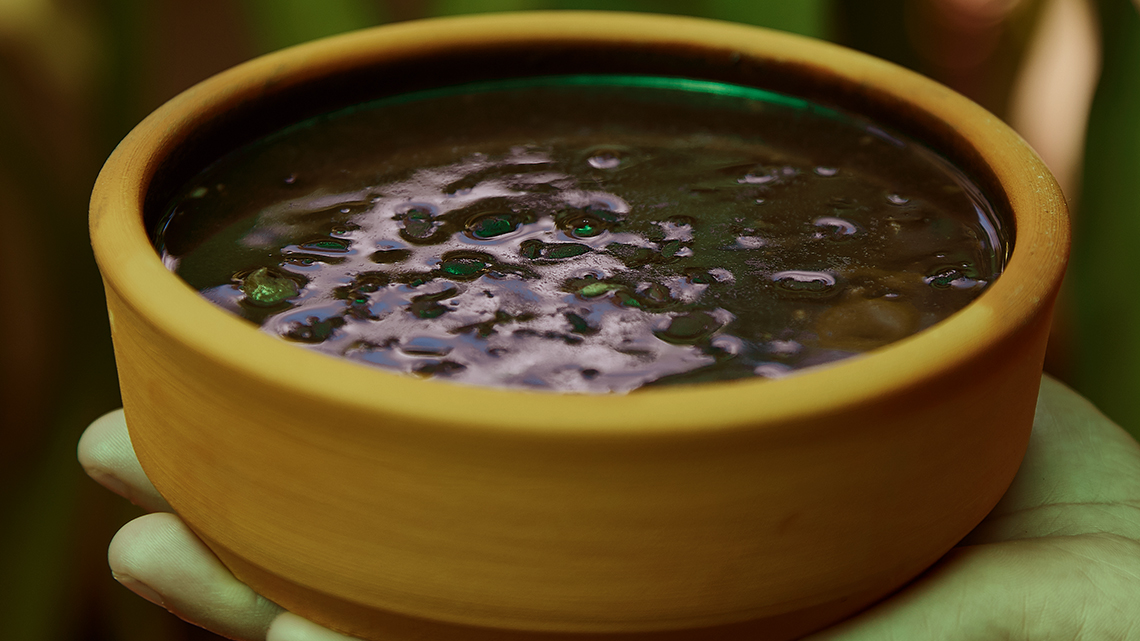 There's perhaps nothing more emblematic of Cuba than black beans and rice. This is the staple diet of the entire population and the cornerstone of any Cuban meal. When the Cubania Trave office put heads together to decide who made the best black beans the answer was unanimous: Dayana's mum. Dayana, our IT and Operations wiz, asked her mum to impart her sacred knowledge and the result is this, our recipe for the ultimate black beans. ¡Gracias Maria Cristina!
Ingredients
400g Dry black beans

Half a litre water

1 Green pepper

2 teaspoons vinegar

2 teaspoons cooking wine

1 teaspoon sugar

Salt to taste

2 cloves garlic

1 small onion

2 tablespoons olive oil

1/2 teaspoon cumin

1/2 teaspoon dried oregano
Equipment
Pressure cooker

Frying pan

Wooden spoon
Method
Chop the green pepper in half. Add half the green pepper, the beans and water into the pressure cooker. The water should cover the beans completely and there should be about one cm of water between the beans and the surface of the water. Cook in the pressure cooker for approximately 40 minutes.

In the meantime, chop the other half of the pepper and onion into small cubes, crush the garlic and gently fry together in the oil along with the oregano and cumin. Cook until the onion and pepper have softened and the herb/spices are pungent.

Back to the beans: take off the pressure and check whether the beans have softened – they should be crushed easily by back your spoon. If they're still a little hard give them another 10 minutes or so of pressure. If they're soft, take the lid off but keep the heat on for some of the water to evaporate. Add the vinegar, cooking wine, salt and sugar.

Empty the contents of the frying pan in with the beans and mix everything in together. With the back of your wooden spoon, mash some of the beans to thicken the water into a creamy sauce. Cook until most of the water has evaporated.

The final consistency of your beans should be thick and mushy yet liquid enough to serve with a soup ladle. Serve with white rice and, if you're really being Cuban, a slice of fried pork. Veggies/vegans, try accompanying your beans and rice with a slice of avocado and a peeled banana.
An authentic recipe for "Plátanos maduros fritos" (fried plantain)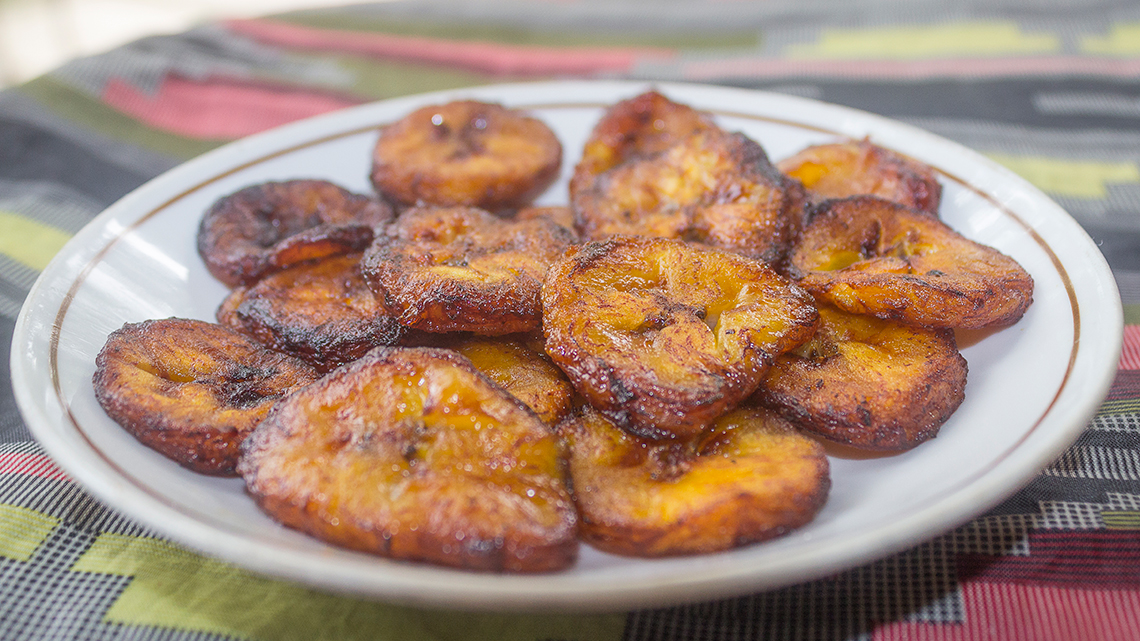 Adding to our series of typical Cuban recipes we bring you the fried plantain. Simple enough, but sorely missed if absent at a Cuban dinner table. This is by no means a low-fat dish, but boy oh boy is it delicious! Ripe plantain fried in oil becomes so sweet it's almost a dessert, each chunk melts in the mouth leaving you desperate for another. With all its natural sweetness, fried plantain is the perfect accompaniment to a real "criollo" meal. When you prepare your Cuban-inspired dinner, make sure you have a plate of these delicious morsels on the table.
Ingredients
4 very ripe plantains (it's vital that they're really ripe or you won't get that melt-in-the-mouth sweetness)

Plenty of oil (vegetable, soya, peanut, avocado…)
Equipment
Skillet or frying pan

Tongs or fork

Paper towel

Plate
Method
Slice the ends off the plantains and peel them. Cut them up into half-inch slices at a diagonal angle.

Fill your skillet or frying pan with about 1/4 inch of vegetable oil and leave to heat.

Once the oil is hot enough that your plantain sizzles when dropped in, start to fry the plantain in batches of around 12. How many chunks you fry at a time depends on the size of your pan, just make sure your plantain chunks aren't touching each other inside the pan.

Fry the plantain for 2-3 minutes on one side and then flip them over with tongs or a fork. Fry the other side for 2-3 minutes. Your plantain chunks should be golden brown on both sides.

When your plantain is ready to come out the pan lift them out with your tongs/fork and place them on a plate covered in a paper towel. The paper towel absorbs excess oil.

Repeat until all your plantain is fried and then serve piping hot – riquísimo!
An authentic recipe for Cuban Flan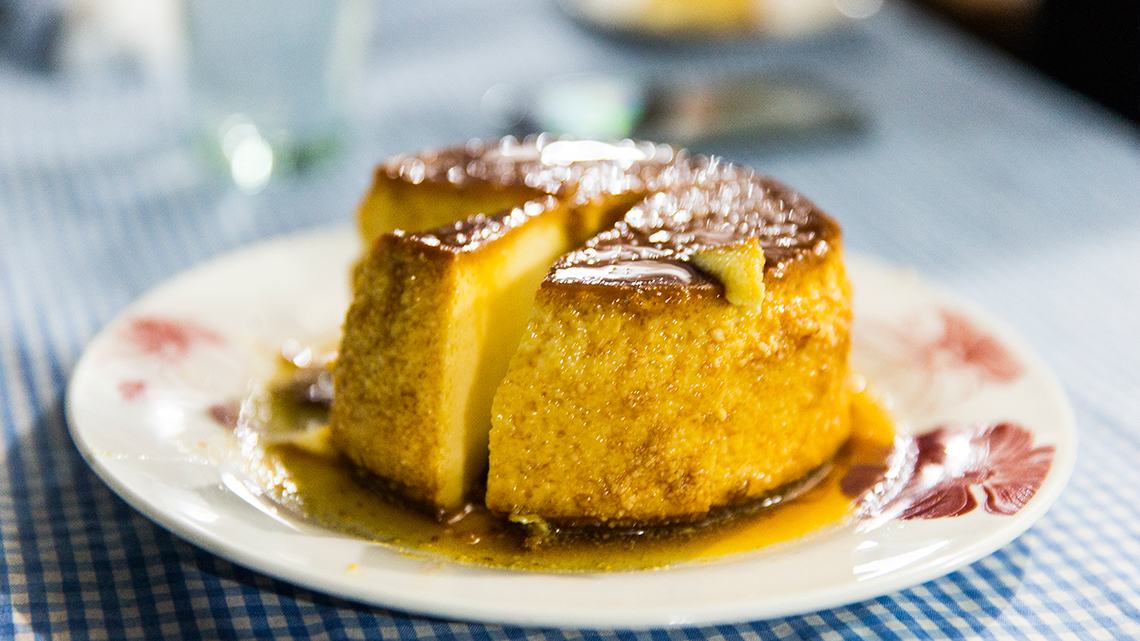 Flan is the go-to Cuban dessert, the dessert any self-respecting eatery has on its menu. This humble combination of eggs, milk and sugar has taken on legendary status in Cuba. The Cuban flan has the custardy texture of crema catalana with all the eggy sweetness of crème caramel. Our head of Operations, Liudmila, makes a mean, mean flan. We asked her for her recipe.
Ingredients
1 410g tin condensed milk

1 410g tin evaporated milk

118ml water

3 large eggs or 4 small

1 teaspoon vanilla essence

A pinch of salt

113g white sugar
Equipment
Blender

Small pan

16" flan mold with lid

Pressure cooker or oven

High-walled baking tray if using oven
Method
Put the condensed milk, evaporated milk, eggs, vanilla essence and salt in the blender and blitz until well-mixed. Leave to stand.

Empty the white sugar into a small pan and cook over a medium flame until the sugar melts and begins to turn gold. Take it off the heat as soon as it has turned gold to avoid burning.

Empty the caramelised sugar into the flan mold and swish it about so that it covers all of the mold's walls.

Empty the blended ingredients into the mold and fix the lid.

Pressure Cooker Method: Pour water into the pressure cooker and then place the mold inside the pressure cooker. Cook for 25 minutes.

Oven method: Pour the water into a high-walled baking tray. Place the flan mold in the baking tray and cook at 180 degrees celsius for approximately one hour. If you stick a knife in the flan and it comes out clean then the flan is ready.

Leave the flan to cool for an hour before taking it out of the mold. Remove the lid of the mold and put an up-turned serving plate in its place. With one hand on the bottom of the mold and one on the plate, flip the mold over so that your flan is sitting neatly on the serving plate.

Put your flan in the freezer for 10 minutes or so – as soon as it has cooled down you can serve it.
In 7 easy steps there you have it – the perfect Cuban flan!