Drinking Cuba – Cuban Cocktails
Besides its cars, cigars and salsa, Cuba is known the world over for another national product: rum. It's no secret that many come to Cuba in search of the perfect "Mojito", but there is a lot more on Cuba's cocktail list – we're giving you just a glance at Cuba's many whistle-wetters.
Cocktail Paradise
Cuba is indisputably cocktail heaven. It has the ideal combination of excellent nationally produced rum, a variety of tropical fruit and all the sugar you could ask for – not to mention the prices! A Mojito in Havana will cost you as little as CUC2 (£1.30). A warning though: perhaps due to the ready availability of rum, Cuban bartenders don't use measurements for rum, meaning your average Cuban cocktail packs a hell of a punch. For every Cuban cocktail you drink, imagine it's two at home. Go steady, drink plenty of water, and enjoy!
In Cuba, where there's a view, there's a cocktail. Whether it's a refreshing Daiquiri whilst overlooking the awe-inspiring valley of Viñales or a coconut-loaded Piña Colada in wild Baracoa, Cuba makes sure you always have something to sip on whilst you contemplate the view. Other great spots are the roof terrace at La Guarida Paladar in Havana and the balcony at Los Conspiradores Bar, overlooking the Plaza Mayor in Trinidad.
"My Mojito in La Bodeguita, my Daiquiri in El Floridita" – Ernest Hemingway.
American expat Ernest Hemingway was a renowned cocktail drinker, and his famous recommendation attracts thousands of visitors to El Floridita and La Bodeguita de Medio in Old Havana every year. Hemingway was by no means the first person to discover the intoxicating appeal of Cuban rum, the sugarcane-based drink had been a favourite amongst sailors and landowners alike for hundreds of years before the Daiquiri cocktail made its first appearance.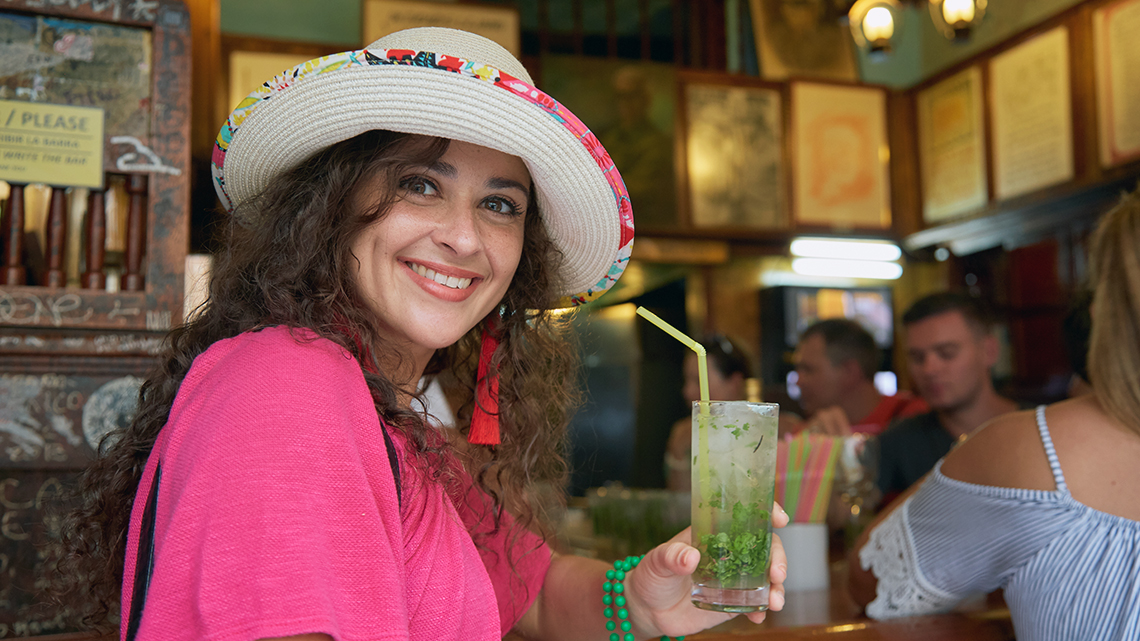 Even the famous Mojito is said to date back to the 15th century and the British "privateer" (a polite word for a pirate), Francis Drake. Drake is said to have relied on local indigenous know-how using lime, fermented sugarcane and peppermint to cure his men of scurvy.
The best Mojito in Cuba won't necessarily come from Hemingway's favourite Bodeguita del Medio, you're more likely to drink it somewhere completely unexpected, like the humble rural home you stop at on a hike. The secret to a real Cuban Mojito isn't in the elaborate decoration or the cute piece of sugar cane slotted into your highball glass, it's in the perfect mix of those classic, unbeatable ingredients: peppermint, lime juice, soda water, rum and sugar.
The Daiquiri has its own story, though there are several versions. It all seems to come down to American mining engineer, Jennings Stockton Cox, who was living in Eastern Cuba at the turn of the 20th century. In the most common version of the story Jennings is said to have run out of gin when hosting and served rum, lime and sugar with ice instead. He was working in the small settlement of Daiquiri in the Sierra Maestra, hence the name, "Daiquiri". The cocktail was soon taken back to the US and became hugely popular. The great thing about the Daiquiri is its adaptability, nowadays in Cuba you'll find mango, pineapple, melon and passion fruit Daiquiris, all made with delicious fresh fruit.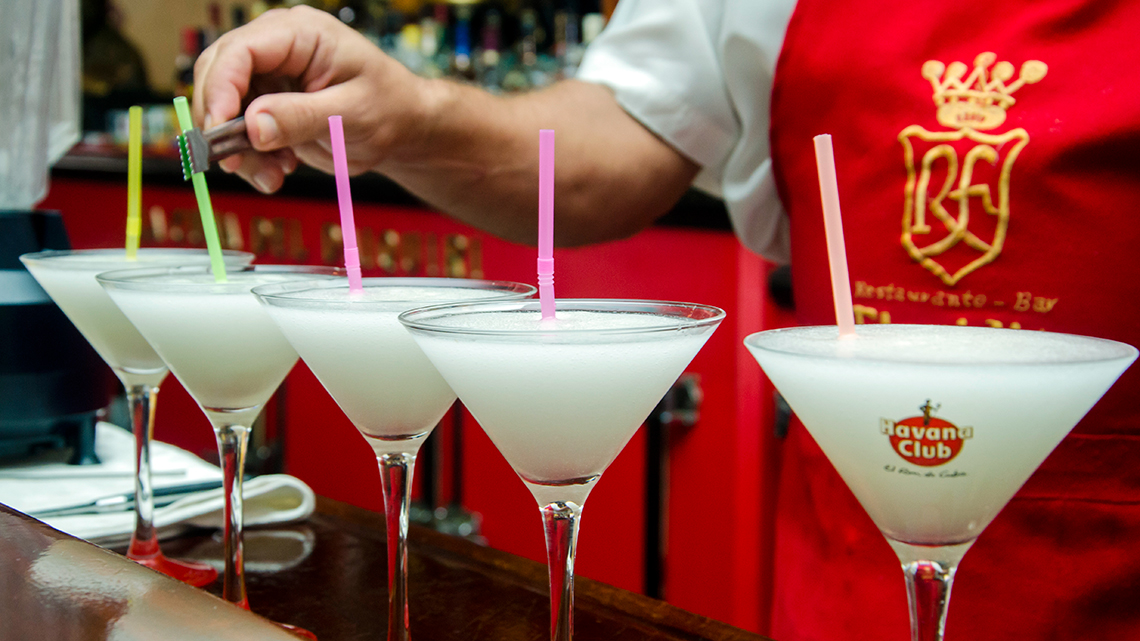 Cuba's humblest signature cocktail is the "Cuba Libre", a simple mix of rum, cola and lime. This cocktail also has its origin in the Cuban war of independence. Some accounts say that Cuban men fighting in the war drank "Cuba Libre", a mix of aguardiente and molasses, others say Cuba Libre was invented by an American captain after he and his fellow "Rough Riders" fought against Spain Cuba's war of independence.
Captain Russell ordered himself a shot of Bacardi Rum with Coca Cola and a slice of lime, drink in hand he toasted:
"Por Cuba Libre!" (To a free Cuba!)
At that time Bacardi was Cuba's most famous rum, but shortly after the Cuban revolution the Bacardi family moved their business to Puerto Rico. Whether it's made with Bacardi, Havana Club, Coca Cola or Tukola, the ever-so-simple Cuba Libre is the most popular drink in the world.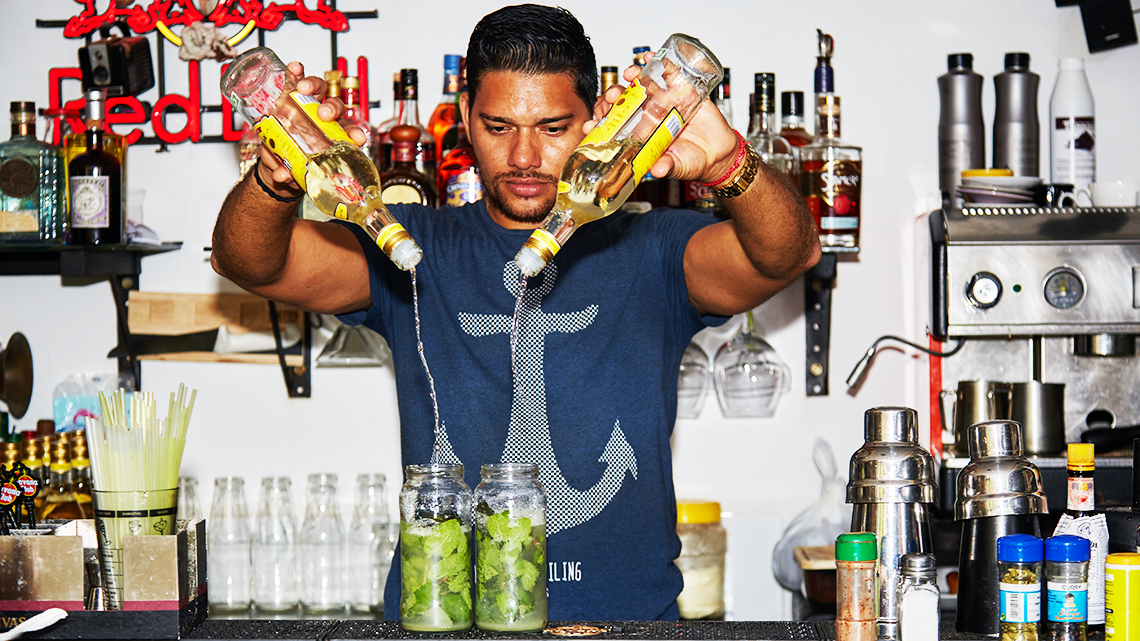 Beyond the classic Mojitos, Daiquiris and Cuba Libres, Cuba has plenty on its cocktail list. There's the "Caipirissima", Cuba's rum-based answer to the Brazilian Caipirinha: it doesn't quite have the mind-blowing kick of its cachaça-sporting cousin, but it will leave you fresh enough to try out your salsa moves. For those suffering from a tropical cold, there's the "Canchanchara", made with honey, warm water and lime. It will have you right as rain in no time! Hungover? Try a Cuban Bloody Mary – the Cubanito. Rum, tomato juice, lime, Worcestershire sauce, spices – a bit of the hair of the dog that bit you.
Fun not Rum?
Want all the fun but none of the rum? If you're not drinking alcohol Cuba still has plenty to offer your taste buds. There are always non-alcoholic cocktails on the menu, the queen of which is the Piña Colada. That classic blend of coconut and pineapple is a sure fire way to tell your brain you're on holiday. Another all-time favourite is the limonada frappé, a blended mix of ice, fresh lime juice and sugar. There is probably nothing more refreshing than a bittersweet limonada frappé on a sultry Cuban afternoon. Some bars like to add peppermint into the mix to take this thirst-quencher from scrumptious to sublime.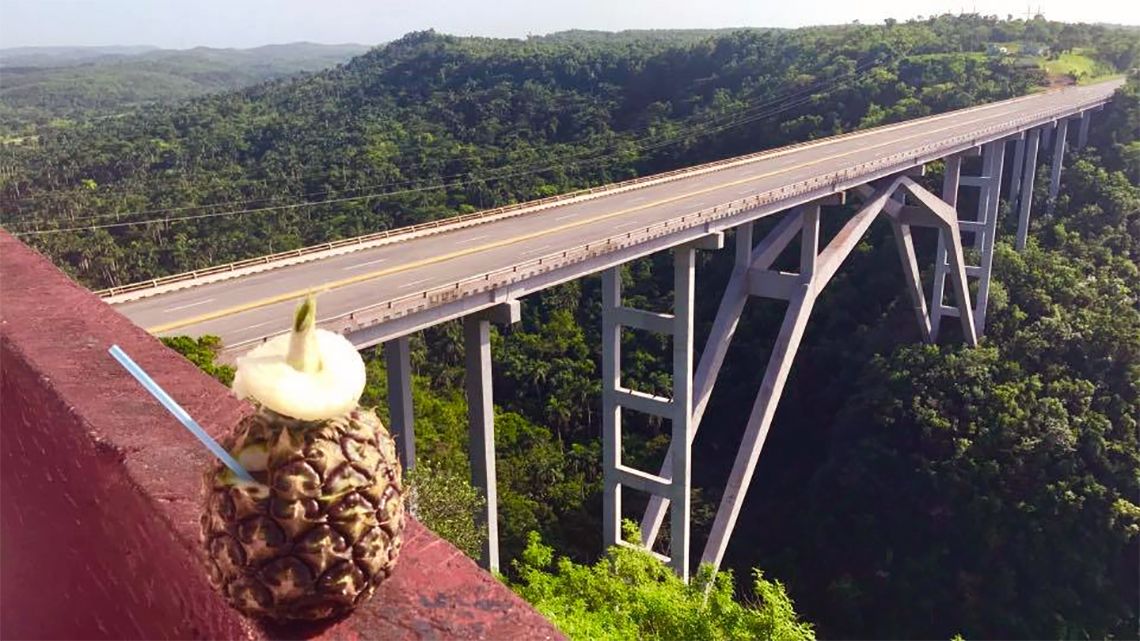 As the largest island in the Caribbean, Cuba has a wide range of tropical fruit, all of which Cubans blend into delicious juices. Whether it's watermelon, pineapple or guava, you're sure to find a fresh Cuban fruit juice or smoothie to suit you. For those who like a bit of fizz, Cuba has a line of national refrescos (fizzy drinks) in a variety of flavours. Some visitors even say that Cuban Tukola is better than Coca Cola…
Bring Havana Home
We know that everyone is stuck at home right now, but you can still bring Cuba to you! Cubania Travel has put together a few cocktail recipes to get you a movin' and a shakin' at home. Start easy with a classic Cuba Libre and then why not get your pestle out and start grinding peppermint for that oh-so-refreshing Mojito. Cubans always sprinkle the first drops of a bottle of rum on the floor, the Cuban Way of giving thanks and sharing with their ancestors, "para los Santos" as they say!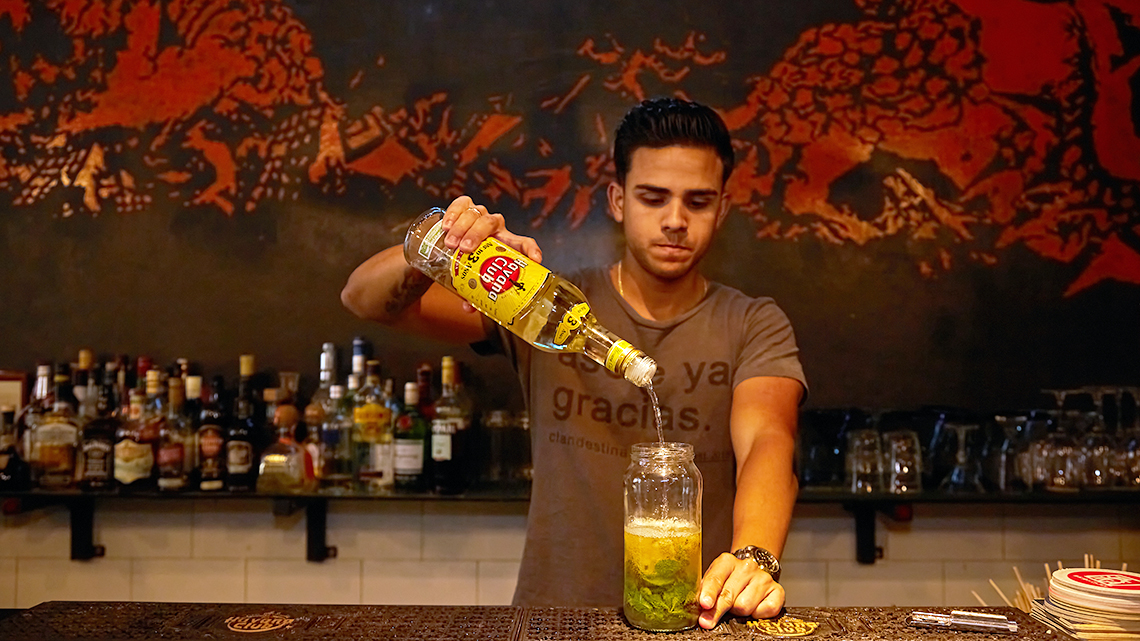 Drinking Cuba – An Authentic Mojito Recipe
The Mojito's humble yet elusive mix of rum, sugar, peppermint and lime is surprisingly tricky to get right. In order to provide a full-proof recipe we asked our mixologist friends at Jama restaurant in Old Havana for their input. In Cuba the rum runs freely, so do it the Cuban way and add as much or as little rum as you want to this delicious recipe.
Ingredients
White Rum, preferably Havana Club Añejo Blanco 3 años

A generous handful of Peppermint leaves

A few drops of Angostura Bitters

1 lime cut into wedges

2 dessert spoons white cane sugar or to taste

Plenty of ice

Club soda
Equipment
Sturdy high-ball glass

Stirrer

Cocktail shaker, large lidded jar or reusable coffee cup

Pestle
Method
Place half the lime wedges and peppermint leaves in the glass and grind them with the pestle until the lime has released all its juice.

Add the other half of the lime and the sugar and grind until the lime juice has been released.

Add the ice – it should almost fill the glass.

Pour over the rum and soda and stir your Mojito before adding the splash of bitters. If you have a cocktail shaker now's the time to use it, otherwise, use a sealed jar or a reusable coffee cup and give it a good shake. Pour the Mojito back into the glass.

Try your Mojito and add more sugar if necessary, making sure to stir it in well.

Drink and enjoy!
Drinking Cuba – An Authentic Daiquiri Recipe
Along with the Mojito, the Daiquiri is an emblematic cocktail of Cuba. We're focusing on the original lime recipe, but Daiquiris are extremely versatile and can be made with any number of fruits, from mango to passion fruit.
Ingredients
45 ml (or to taste) White rum – preferably Havana Club Añejo Blanco 3 Años

30 ml fresh lime juice

15 ml simple syrup or 50g sugar

1 cup ice
Equipment
Cocktail glass

Blender

Small pan if making simple syrup
Method
If making syrup, mix 125g sugar with 125g water and cook until all the sugar has dissolved. Let cool and store in the fridge.

Blitz ice in blender until it is completely crushed.

Add the rum, syrup or sugar and lime juice to the blender and blitz all ingredients together for 30 seconds or so.

Pour your Daiquiri into a cocktail glass, sit back and enjoy!
Drinking Cuba – An Authentic Cuba Libre Recipe
Cuba Libre is said to be the most popular cocktail in the world – maybe because you only need three simple ingredients: rum, lime and cola. Though deceptively similar to the rather unglamorous Rum and Coke, a Cuba Libre distinguishes itself with that very Cuban squeeze of lime, and of course nowadays it's served locally with Cuban Tukola and Havana Club rum, rather than Coca Cola and Bacardi.
Ingredients
Dark or white rum – Havana Club Especial or 3 Años!

Cola

6 ice cubes

Half a lime
Method
Put the ice in a glass. Chop the halved lime in two, give both slices a squeeze over the ice and then drop them into the glass.

Fill about 1/3 of the glass with rum and top up with cola.

Enjoy!
We hope you enjoy these simple recipes and give them a try at home. If so, Cubania Travel says:
"Salud, porque belleza sobra!" (Good health as beauty is in good supply).
And if you are you looking to understand a bit about that magical country called Cuba, then look no further and watch this fantastic documentary.
There is no better way to understand the history of #Cuba than through its fleeting relationship with its rum, which influences virtually every aspect of the Cuban culture.