Doña Eutimia – where simplicity means perfection
What with Doña Eutimia being located so close to the main square near the Cathedral of San Cristóbal, this part of Old Havana is actually one of the busiest. However, although it's a bustling and lively area, curiously enough, it also seems peaceful in its liveliness.
Tourists meander around taking photographs of the beautiful architecture, a flower-seller sits smiling, offering passers-by brightly coloured orchids in bold reds and yellows, and some ageing Habaneros sit in the invigorating Cuban sun, eyes closed as the warmth of the morning turns into afternoon heat.
There's a tranquil sense of calm as the people in this square go about their day, and it seems to reinforce the strange notion that one of the world's best restaurants is just a few metres away.
---
Simplicity is the ultimate sophistication
Leonardo da Vinci is accredited with saying that simplicity is the ultimate sophistication. Never has that phrase rung as true as when you consider the "paladar" Doña Eutimia.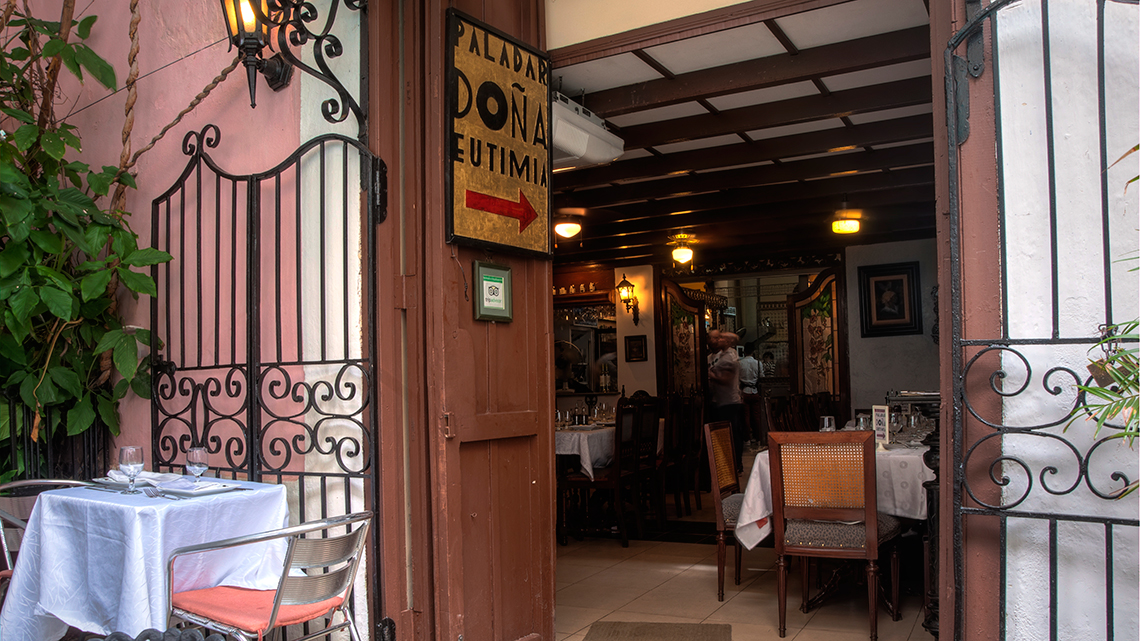 The proprietor, Leticia, has never really had any formal cooking training, but fitting in with the romance of nostalgia that's prevalent here in Cuba, she has developed a very traditional Cuban menu solely based on the memories of what her mother used to cook.
For example, some of the food the guests can sample include "tamales" (a Mesoamerican dish dating back to the Aztecs), "ropa vieja" (Leticia prefers using lamb instead of beef), pork, or rice and beans cooked in the traditional Cuban manner. Although it may sound basic, da Vinci evidently knew what he was talking about. Doña Eutimia is not only one of the most sought-after restaurants in Cuba, but also highly acclaimed by The New York Times, and listed in Newsweek magazine as one of the top 101 restaurants in the world recommended by chefs.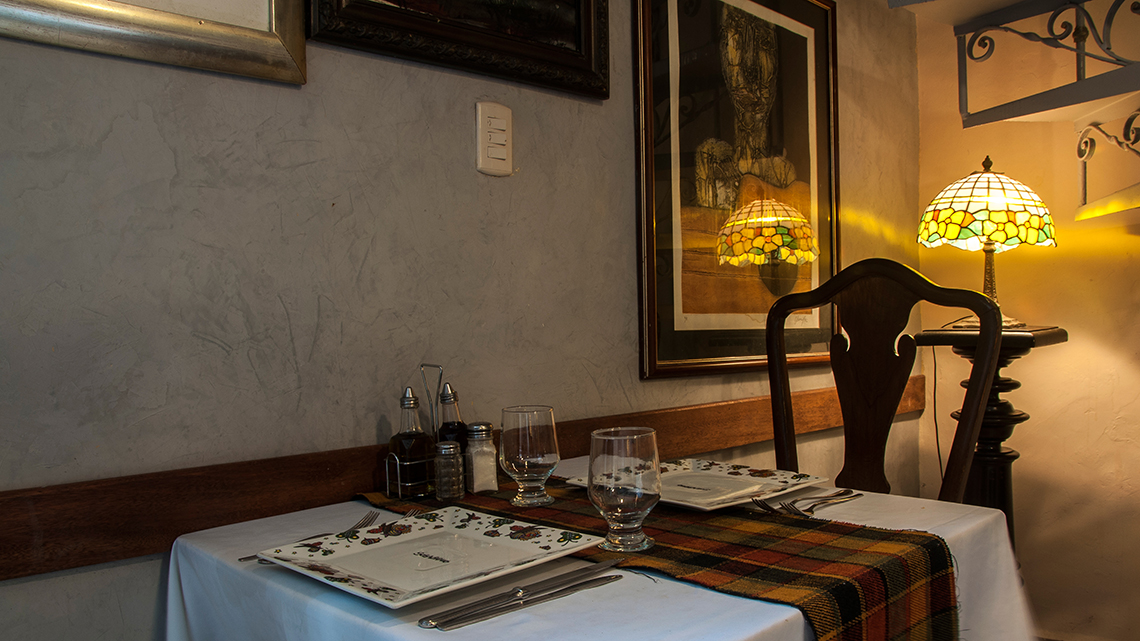 Even the decor inside plays on the simplistic theme of "less is more". The colourful screens and partitions around the restaurant use the natural light to cast a multitude of colours and hues across the tables, reflecting the kaleidoscope of colour outside for which the city's architecture is famous.
This theatre of light forms a happy duet with the aromas coming from the kitchen, and it's not a surprise that gastrophiles and self-proclaimed foodies the world over are coming here for a generous slice of the charm on offer.
A home from home for Cubans and tourists alike
The Doña Eutimia "paladar" owes its name to the lady of the same name who lived on the other side of the old square, who was known for cooking for various artists at the Experimental Graphic Workshop. These artists included names like Fabelo, Choco, and Nelson Domínguez, as well as other celebrated Cuban contemporary painters.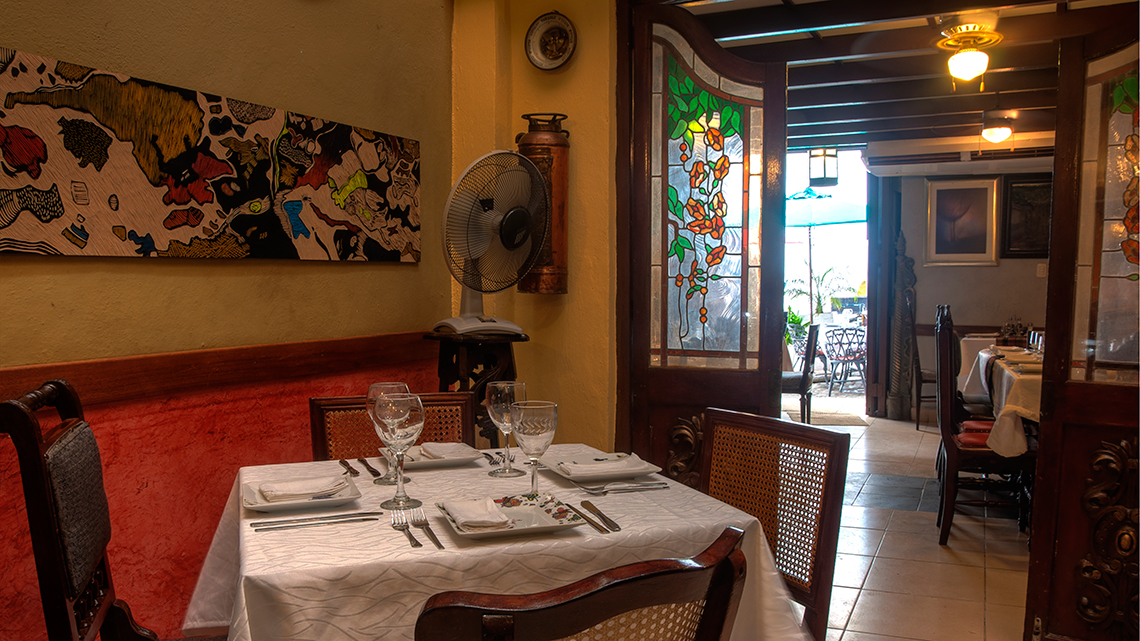 In an effort to provide these artists and painters with a home away from home, the whole design of the eatery was re-styled to replicate a "typical Cuban home"; simple, homely and comfortable.
It was clearly a formula that worked, because the "paladar" has become so comfortable and the food so celebrated, that Leticia Abad and her husband now have a waiting list to eat there, and a queue which regularly stretches out the door to the artists' workshop outside.
Talking of comfort, there's also a modern Cuban feel to juxtapose the history and traditional food. Guests lucky enough to find themselves here can relax in style in the bar area on comfortable sofas whilst listening to – you've guessed it – traditional Cuban music.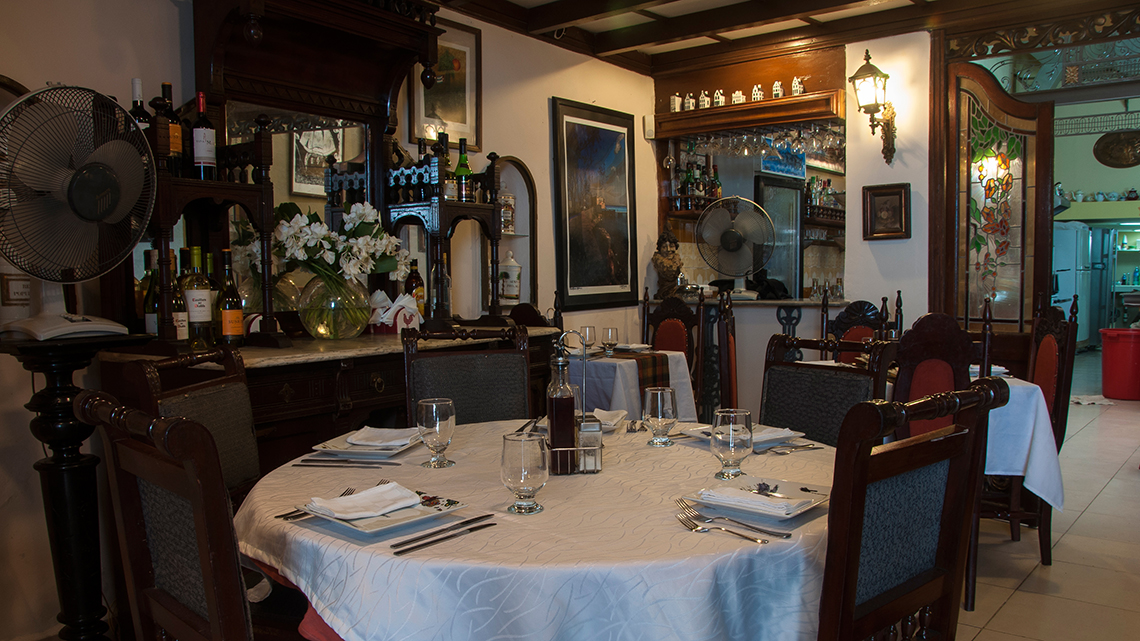 The art in the main dining room reflects the whole island, and there's also seating outside to enjoy the aforementioned afternoon sun. What was once a home away from home for Cuban painters has turned into a staggeringly popular "must-see" for tourists – a temporary home away from home whilst you're in Cuba.
What do people say about Doña Eutimia?
Doña Eutimia is a quaint, charming, down-to-earth "paladar" that offers delicious food at good prices. It will come as no surprise that people who have been there are saying good things about it on TripAdvisor;
"Doña Eutimia was one of our 'go to' spots for dinner. We loved it. Veggie options were fantastic. We stayed in Old Havana and the restaurant was within walking distance. The mood was relaxed and festive. No stress. The prices were reasonable. In the evenings, musicians would play right outside the door." – December 2019

"Our best meal in Havana. A small restaurant in Old Havana with excellent Cuban food and prices. We had the 'ropa vieja' and 'tostones' which was a real treat!" – December 2019

"This is one of the best places we have been to in Habana, excellent quality food and service, best value for money we have seen." – November 2019

"Great food! We loved this place as it's so warm and quaint! Reservations are recommended but in the early evening you might get in. Traditional excellent food and good drinks. If you like a stronger drink the rum is excellent. We ate here twice. You will not be disappointed." – November 2019
One piece of advice is that as the food at Doña Eutimia is of the highest order, and further proof that Cuba's traditional cuisine, when prepared properly, can be spectacular, is that it is sensible to book ahead if you're serious about eating here. Word travels fast, and when something's this good, it's normal that the waiting list lengthens.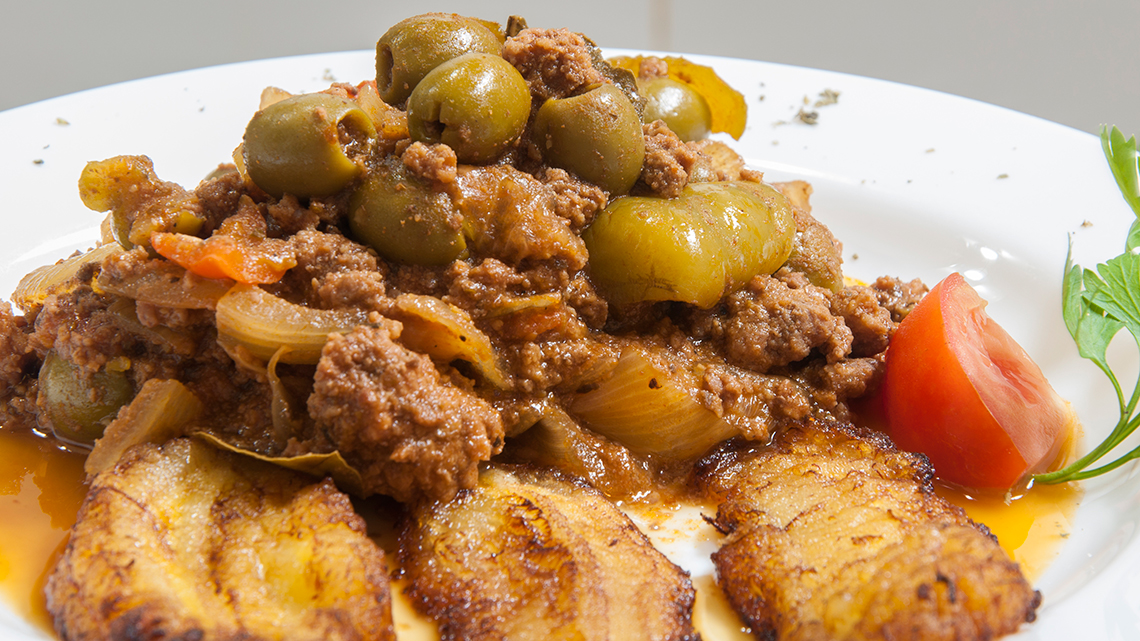 However, there's a flip side to everything, and another huge positive of this beautiful "paladar" is that once inside and at a table, although there's a long queue of people waiting, there's absolutely no sense of being hurried.
Leticia, the proprietor, actively encourages her guests to take their time and savour what they're eating which really adds to the experience of dining here.
Try the frijoles before you leave!
As Doña Eutimia is situated in the heart of Havana's old centre, which is in itself an area of the city that provides tourists countless images of unimaginable beauty, this place is definitely worth putting on your "to see" list.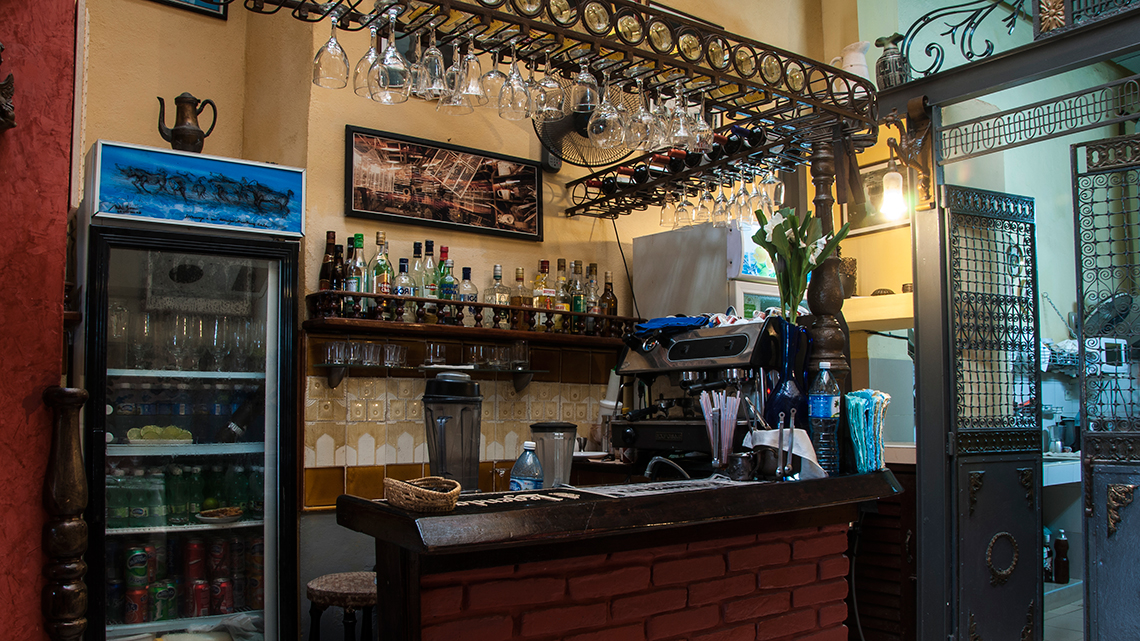 The infectious joy of the owners and staff along with the upbeat atmosphere of a place that knows it's doing what it does best very well indeed, have made ripples on the grapevine.
The evidence of its success can be found in the reviews and acknowledgments left by various celebrities of art, culture and sports. What's more, even TripAdvisor highlighted it with a "Certificate of Excellence" back in 2017.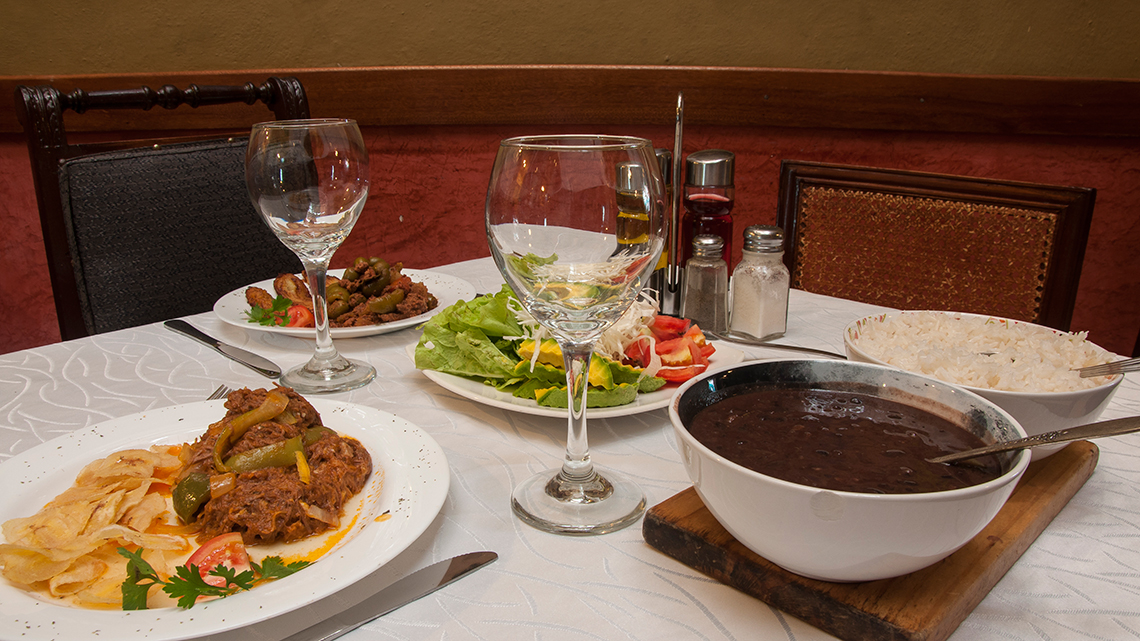 The lamb in red sauce, cooked in traditional dried, natural spices is the house speciality, but at Cubania Travel, we recommend you to try the "frijoles" – or Cuban beans!
"Simplicity is the essence of happiness."
Cedric Bledsoe.