Discovering Havana's Art Deco wonders on a cycling tour
Havana is a wondrous place for countless reasons but it particularly stands out for the many architectural styles that beautifully coexist together, often creating the most surreal cityscapes with an aged allure that gives it that certain "je ne sais quoi". In this post, we will focus on one particular style that flourished in Havana between the 1920s and late 40s, with numerous examples that still stand today, some in better condition than others but all equally worthy of admiration. Join us on this cycling journey through artful Havana's unique Art Deco style.
---
Back in 2013 Havana hosted the 12th World Congress on Art Deco and at the time it brought attention to the Caribbean capital's outstanding collection of Art Deco buildings. They come in all shapes and sizes; their architectural style, design or features sometimes cross over to include elements from other styles, and they can be found scattered along virtually all Havana neighbourhoods. Some are badly weathered, others stand tall, lustrous, and proud. They are all incredibly beautiful in their own original way and none of the buildings in this list is quite like the next. Prepare to embark on an exciting Art Deco cycling journey in Havana with some surprises along the way. Ready?
Cycling Havana's Art Deco beauty
Our journey begins on the corner of 25 y M at the heart of Vedado, just steps away from the iconic Habana Libre hotel. You will be stumbling upon your first Havana Art Deco beauty just seconds after getting started.
Vedado's Methodist Church on K and 25
We cycle down Calle 25, where you'll continue for two more blocks until reaching the corner between Calle 25 and Calle K where your eyes will soon feast on the straight-lined beauty of a Methodist church, the Iglesia Metodista Universitaria "Rev. Miguel Soto Asensi". Its tall sober beauty leaves no one indifferent. No one can miss its imposing grandeur; it clearly stands out from everything that surrounds it.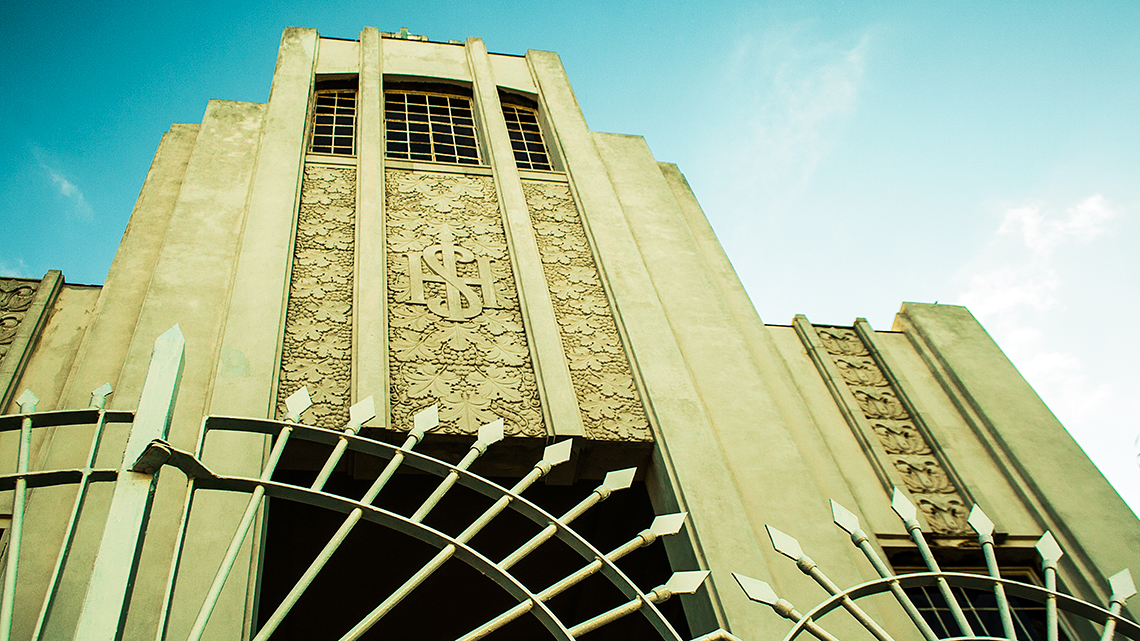 Built in 1950 by prestigious Cuban architect Ricardo Franklin Acosta, this is one of the newest Art Deco buildings in our route. Only a year after its inauguration its architect won a golden medal awarded by the Colegio Nacional de Arquitectos (Cuba's National College of Architects) for the building's originality, beauty, and practical functionality. Aged it looks but that's part of its charm.
Museo de Artes Decorativas – an optional stop for Art Deco interiors
The next stop is optional, but worthwhile, as it is on our way to the second Art Deco beauty on our itinerary. The exterior of the Museo de Artes Decorativas is not Art Deco, but if you like Art Deco objects and interiors, it is well worth the visit.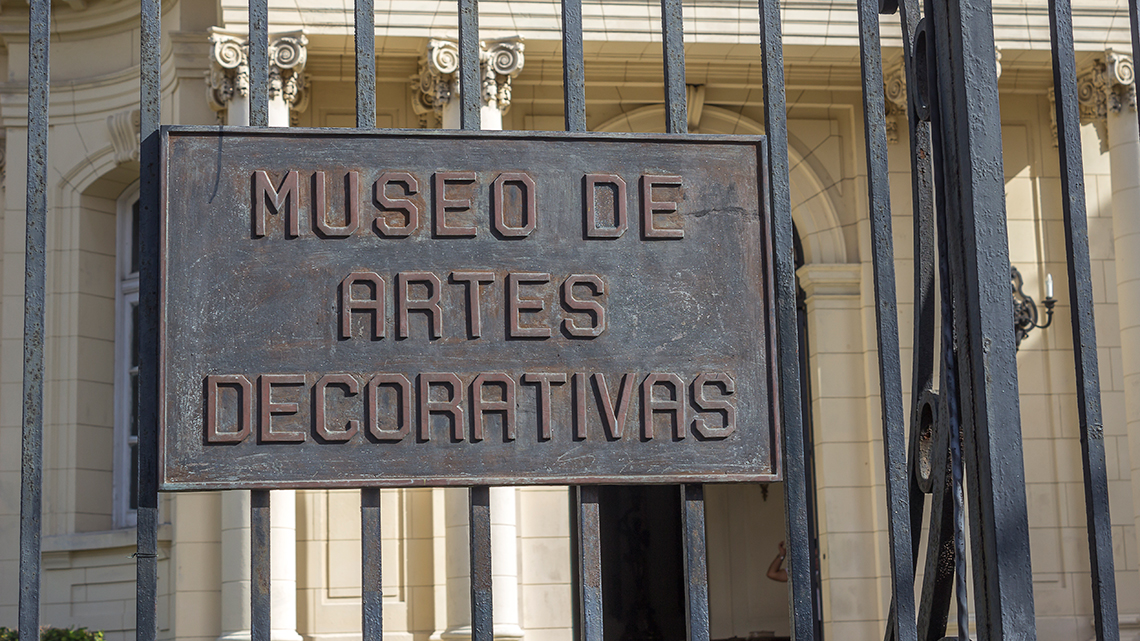 To reach it we head down Calle K and turn right on Calle 27 de Noviembre and continue cycling until reaching the point where it becomes Avenida Universidad. Here you take a right and then another right at the bifurcation with Avenida de los Presidentes and you will cycle up this beautiful leafy avenue. After a few blocks you can turn left on Calle 17 and get off your bike to admire the stunningly preserved Art Deco bedroom and bathroom of the Countess Revilla de Camargo at the Museo de Artes Decorativas.
The museum is housed in the grandiose home of one of Cuba's wealthiest families. The mansion takes over half a block and houses over 33,000 valuable antiques from different time periods, preserved for decades and exquisitely displayed in a series of opulent rooms and chambers. Its pink marble bathroom is the epitome of Art Deco, exuding timelessness through every pore. You can get off your bike to enjoy its sumptuous interiors or you can continue up Avenida de los Presidentes for a while longer towards our next stop.
Casa de las Americas
After taking a right on the corner of Avenida de los Presidentes you'll find a stunning grey and white Art Deco beauty rising tall and proud and standing out amid every other construction.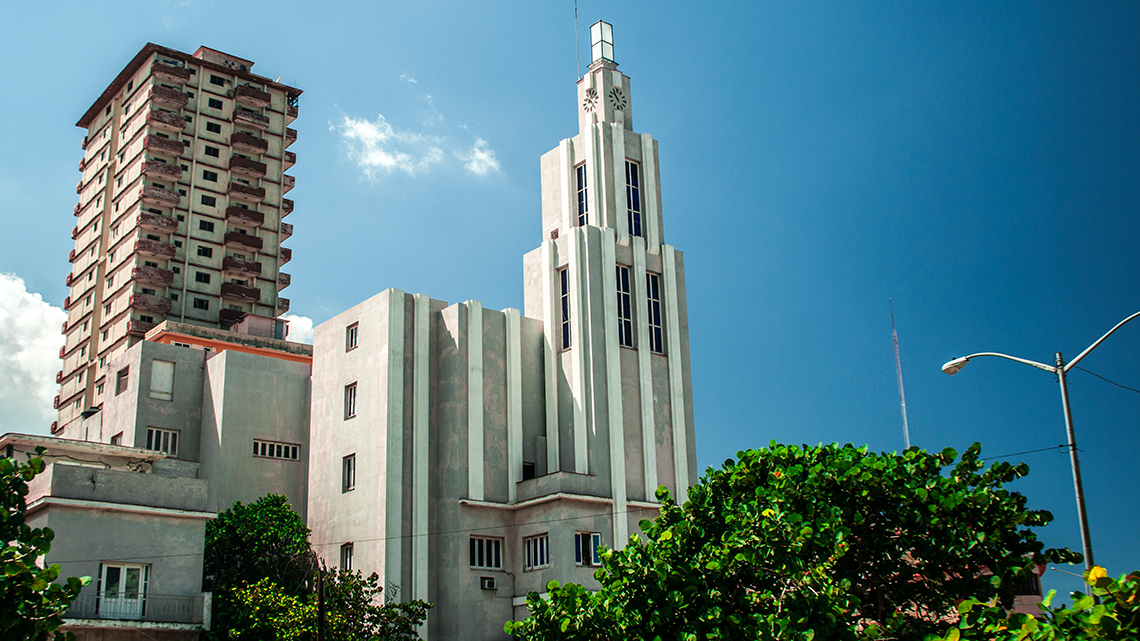 Built in the 40s for the Sociedad Colombista Panamericana (The Pan-American Colombist Society), its minimalist Art Deco style make it one of the most elegant buildings in the city. Today it houses "La Casa de las Americas", a cultural organisation that seeks the sociocultural inclusion of the Latin American community by disseminating literary and artistic works from all over the Americas and the Caribbean through exhibitions, concerts, competitions, festivals and seminars. In 2010 it was declared a National Monument and was listed as Cultural Heritage of the Cuban Nation.
Edificio Lopez Serrano
Now, we will return to Calzada by taking a right on Calle 3 and going down Avenida de los Presidentes again, this time in the opposite direction. After two blocks we will turn left on Calzada, and along the way we could stop to admire more Art Deco buildings as we pass them, but none will be as regal as the next one in our itinerary. So, we keep on pedalling away until we reach Calle L and head down to the corner of Calle L and Calle 13. It is here that you will marvel at the grandiose beauty of the Lopez Serrano Building, one of the oldest Art Deco pieces in Havana, built in 1932. In its heyday it was hailed as a modern block of flats and became a symbol of the city's progress and development.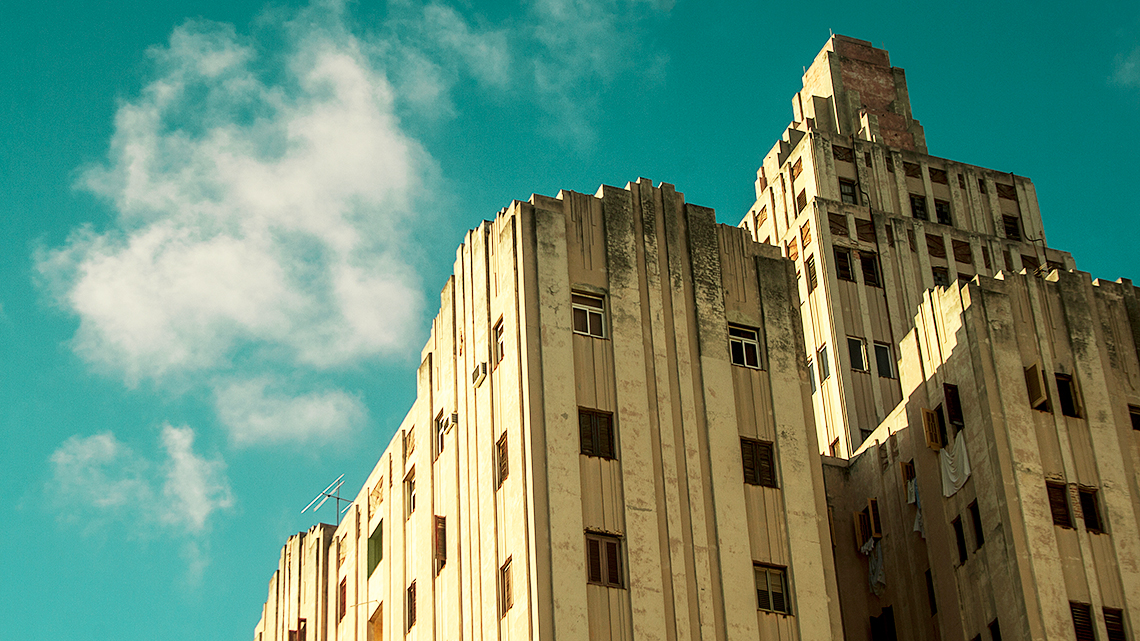 It stands 14 floors tall and its upper levels on the tower offer sweeping views of the city. Those appreciative of geometry will love its clean ascending lines but the devil is in the detail, like the zig-zagged arches of its façade and flower friezes. Step inside and you'll be even more impressed by the Art Deco features, with the original granite floor, the tiered planters, the geometrical ceiling lamp in the vestibule, the terrazzo designs, the red Moroccan marble walls, ceiling motifs and even its lift. All of it in the purest Art Deco style.
But the "piece de resistance" here is certainly the vestibule's eye-catching nickel-silver relief titled "Time", crafted by Cuba's finest graphic artist of the time, Enrique García Cabrera (we'll check out his home later on in the tour). This piece is not only visually appealing because of its fine craftmanship and Art Deco style, it is a representation of the era's increasing obsession with time and the growing mechanisation of processes during the 20th century.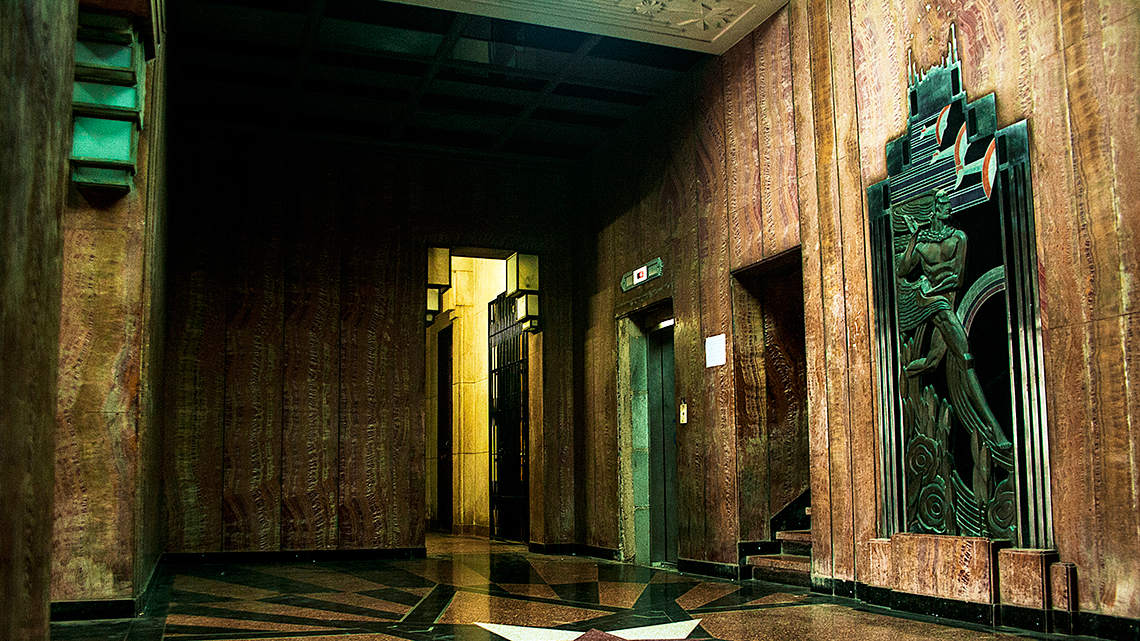 Despite its aging and forlorn air of neglect, it was last restored in 1978, when you look at it you have to picture a glorious Havana and a building whose design was inspired by New York's Empire State Building. It's named after the tycoon that built it and lives on preserving most of its robust splendour and all of its original design and fixtures (steel beams inside its walls ensure that it will continue to defy the passage of time and stand for a very long time).
Hotel Nacional de Cuba
We continue our journey by hopping on our bikes again and re-joining Calzada at the end of Calle 13. Calzada soon gives way to the Malecon avenue and, for a while, you will be enjoying a scenic bike ride by the sea. We turn right on Calle 19 and a few minutes before arriving to our next destination you will have noticed its majestic height rising above everything else. The Hotel Nacional de Cuba is a national emblem all on its own, and although not purely Art Deco in style, it seamlessly blends a mixture of influences: Colonial, Eclectic, Neoclassical, Moorish and, of course, Art Deco.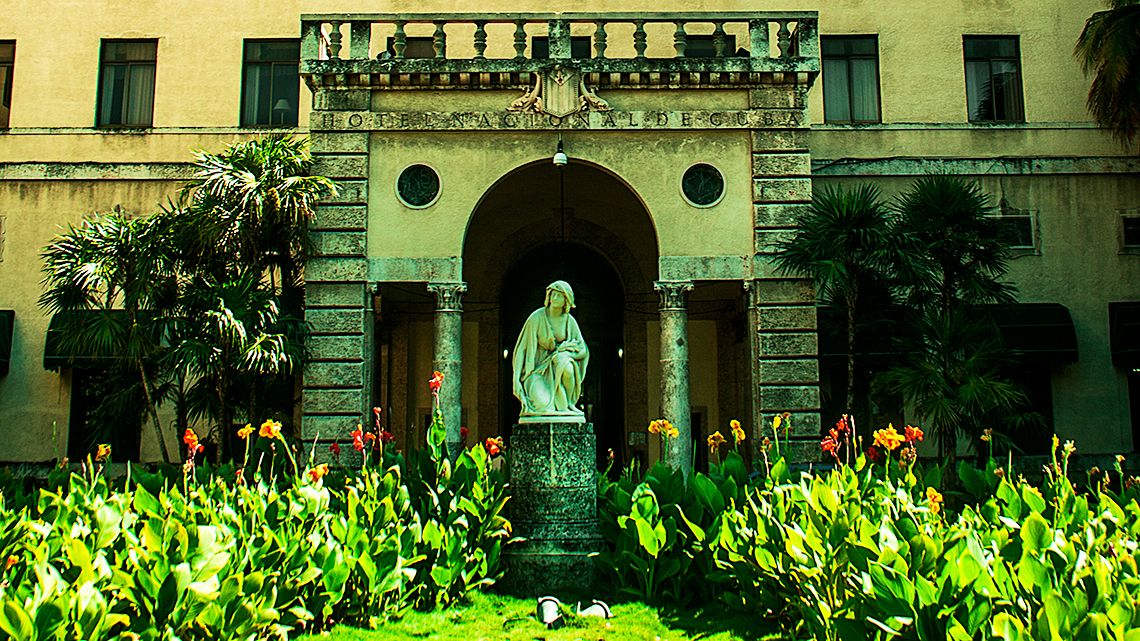 Inaugurated in 1930, Cuba's Hotel Nacional has a powerful historical and architectural significance, from its ornate lobby plagued with small and not-so-small details; beam ceilings, beautiful tilework and jaw-dropping lamps to its tranquil gardens overlooking the sea. This is a perfect stop for a cooling mojito, daiquiri or piña colada enjoyed on said gardens. After recharging your batteries, you will be back on your bike with renewed energy to continue with the rest of the journey.
Edificio Solimar
After re-joining Malecon, you will cycle for a few more metres and give a few turns as indicated on the map. We will not need to tell you where to stop as the next building, Solimar Building, stands in stark contrast against all the others that surround it.
Built in 1944, this original, one-of-a-kind block of flats and its sensual sinuous curves make it the most vanguard example of Modernism in Cuba and late Art Deco style. In fact, it is a dreamy mix of the two styles. Its 50 flats are home to ordinary Cuban families, many of which fight to preserve it as best they can.
Teatro Fausto
After crossing Paseo del Prado you will see our next stop, Fausto Theatre,  right in front of you, impeccably white, boxy, and elegant with the perfect harmony created by its vertical and horizontal lines.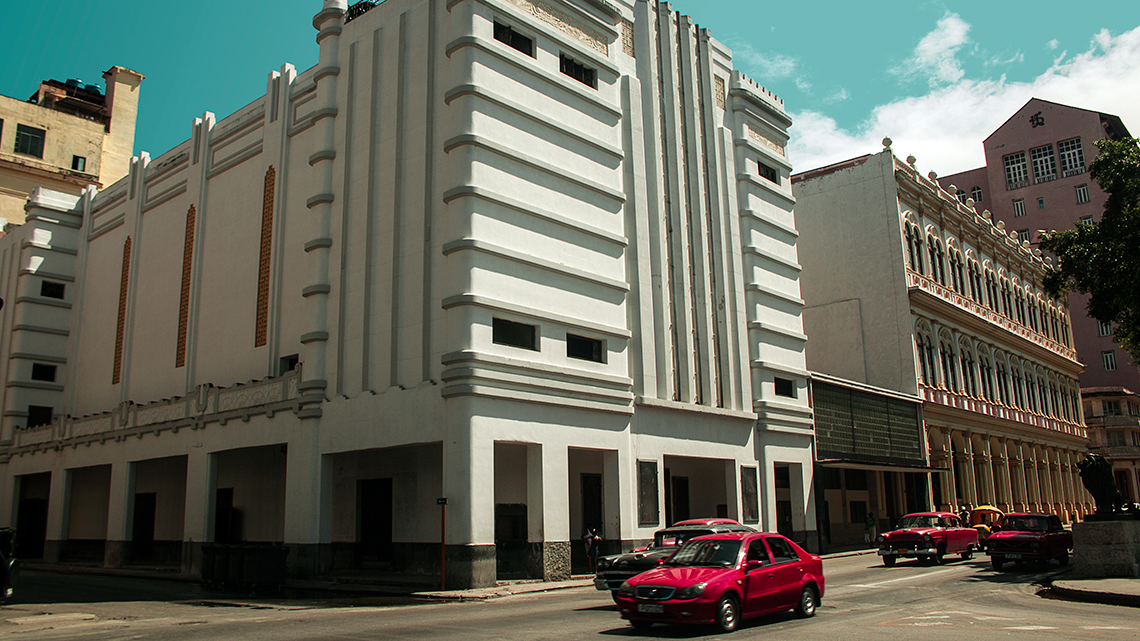 The theatre first opened its doors to the public in 1938 and remains open to this very day, still as a theatre and still preserving most of its original features inside out. Few remember that this became the first theatre in Havana to have air conditioning. It is one of Havana's most nostalgic architectural pieces and one of the few on this list that still serves its original purpose. A bittersweet reminder of Havana's Belle Epoque.
Edificio Bacardi
The most colourful, extravagant, flamboyant, and exquisitely beautiful of all Art Deco buildings in Havana is our next stop. It is also the best-preserved example of this art movement and architectural style in Cuba. You'll find the magnificent Bacardi Building in Havana by heading up Paseo del Prado from our previous stop-off point and then following the directions on our map. Right as you turn, you will notice the grandiose Bacardi building rising tall and proud above all other surrounding structures.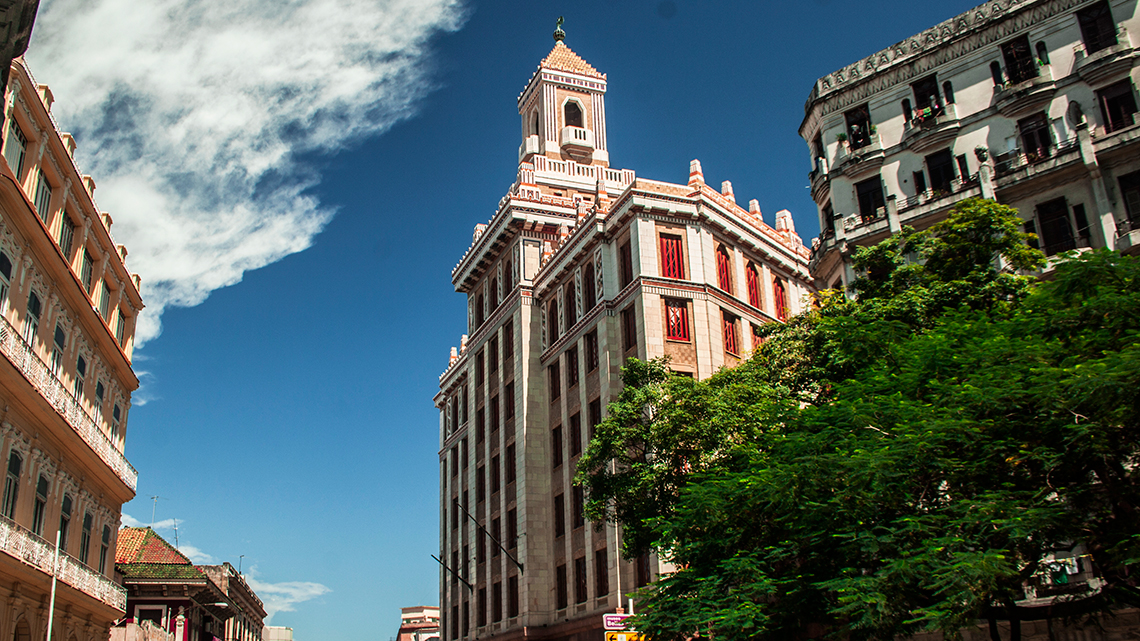 These were the former sumptuous headquarters of the Bacardi rum empire and the building was commissioned by Emilio Bacardi himself who possibly wanted to outdo the Hotel Nacional de Cuba, inaugurated in the same year, and every other building in Havana. It instantly became not just an exquisite work of art but Havana's first skyscraper. You will gasp in awe at is geometric flourishes, its majestic structure, unique twists, and the icing on the cake, quite literally, a bronze figurine in the shape of a bat topping the building at its highest point.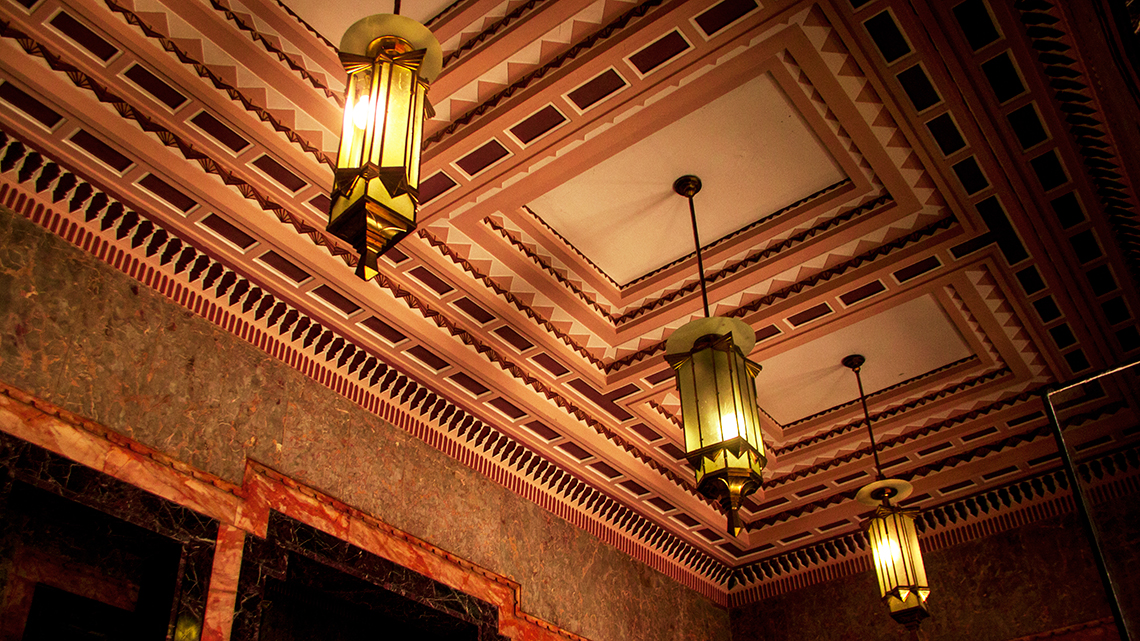 The attention to detail here is impressive. The entire structure has a staggered pyramidal shape and its interiors are the finest of its kind in terms of Art Deco style, from the lighting throughout, the lamps are fine art pieces on their own, to carved motifs on the ceilings and walls, fine ironwork, beautifully designed lifts an even its own typography. Here you can stop for a drink and bites at the café on the mezzanine floor or do a small detour and have lunch at Sloppy Joe's; yet another iconic, recently restored historical building; right on the opposite side of the block, before continuing on our Art Deco journey.
Teatro America
The easiest way to continue is by hopping off our bikes and walking back down Avenida de Bélgica, turning right on Neptuno, walking for another block and then getting on our two wheels again to pedal for five blocks and turn right on Galiano. And then you will see it. Havana's Teatro America has been endlessly photographed and featured in several travel blogs, brochures, and travel guides, usually with a classic car parked in front. You might have stumbled upon this iconic theatre before during your time in Havana but perhaps did not take the time to admire it in its full aged glory.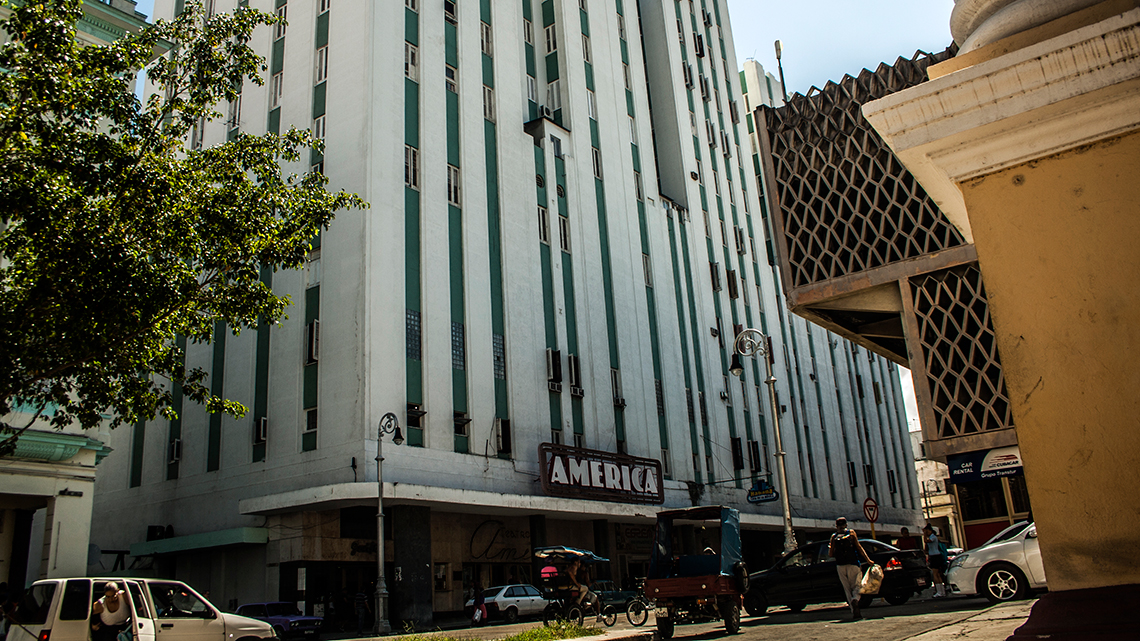 The complex on which the theatre stands is actually called "Edificio Ródriguez Vázquez", it first opened its doors in March 1941 and originally housed a cinema, a restaurant and bar, as well as 67 residential flats. It continues open to the public as a cinema to this day and you can step inside to admire its finer interior details, including the circular terrazzo floor with the zodiac signs embedded in pure Art Deco design.
After taking your time to soak in its beauty, you will hop back on your bike to head down Galiano street for a few more blocks and turn right on Simon Bolivar. Shortly after you'll stumble upon our next stop.
Site of former newspaper "El País" and surrounding buildings
At number 158 on Avenida Reina you will see what may appear as ruins, indeed the building is in a bad state of neglect, and might easily overlook it if we did not draw your attention to it. The former headquarters of "El País" newspaper once was a beautiful piece of Art Deco architecture, the remnants of which are still worthy of admiration. Take note of the friezes and try to picture it in better times. It certainly has seen better days.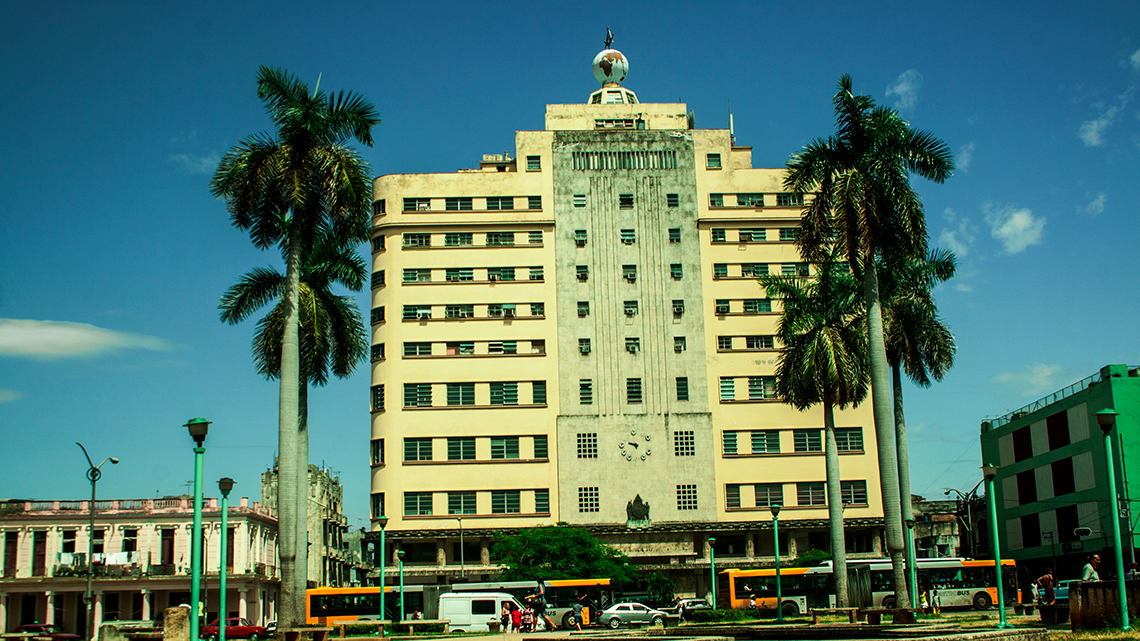 Along this same road you will notice that many of the block of flats feature some of the codes of Art Deco design. You are certain to be impressed by the building that houses the Masonic Grand Lodge of Cuba at the junction of Avenida Reina, also known as Avenida Salvador Allende, and Calle Belascoaín, or Padre Varela. This grand edifice first opened its doors in February 1955 and to this day remains one of the finest examples of the Modernist and Eclectic architectural movements in Cuba.
Cementerio Colon – since you are here…
Our Art Deco journey could end in our previous stop, or you could have made it even shorter and ended it in Teatro America. But, if you're thirsty for more and don't mind cycling in a straight line, more or less, for another half an hour or so, you could pedal your way towards Cuba's biggest collection of architectural styles all in one place – the Colon Cemetery (Necrópolis Cristóbal Colón). Here you'll find many tombs and mausoleums worthy of admiration, but in terms of Art Deco you can't miss the sepulchral vault of Catalina Lasa. More than a mausoleum it's a monument to love, as this crypt was built by her husband, Juan Pedro Baró and their peculiar love story was one of Havana's most romantic and scandalous of the time.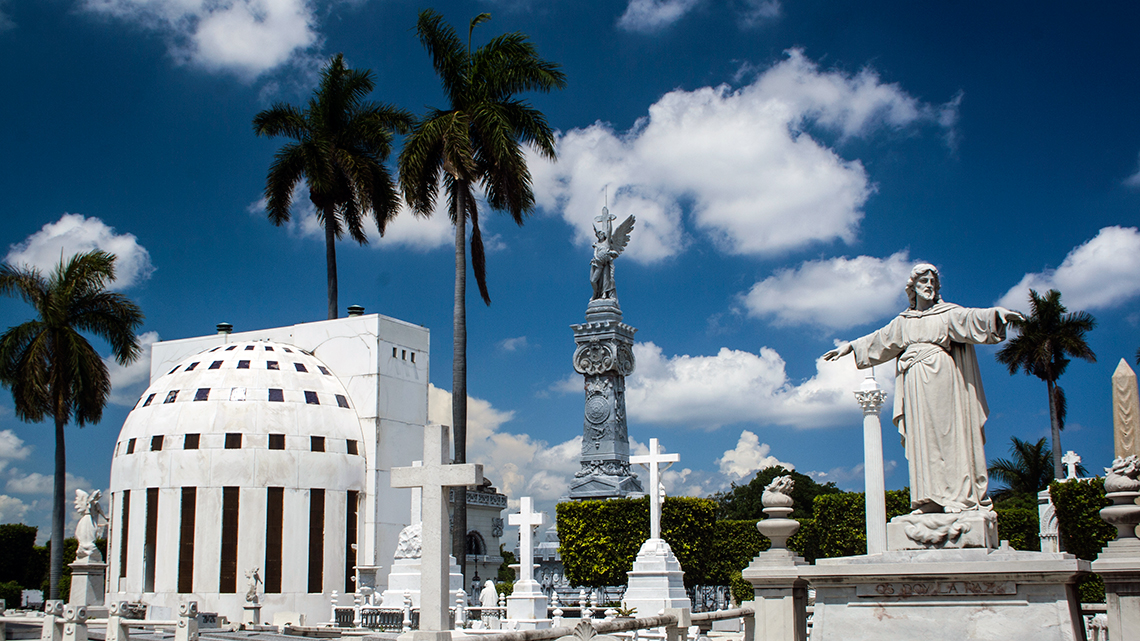 Other fine Art Deco examples in the cemetery include the pantheon of the Aguilera family and the mausoleum of the "Naturales de Ortigueira", built as the final resting place for the immigrants from that region in Galicia, Spain. There are more Art Deco examples to discover here so take your time to walk along and explore this peaceful place at your own pace.
Former home of Enrique García Cabrera – an optional last stop
If you've followed us this far, you've now done about 15 km on bike and been pedalling for around 2 hours, and although the journey has not been strenuous and you've had chances to stop for a drink or two along the way, or even lunch!, you may have had enough for one day. If that isn't the case, however, and you want to see more Art Deco splendour, you're only a hop away, or rather a short bike ride away from Havana's best kept secret in terms of Art Deco design – the former home of Enrique García Cabrera, Cuba's most prominent graphic artist of his time.
Famous for having designed many Art Deco features in Havana's most iconic buildings or having contributed to their beauty in some way, we already mentioned the work he did on the Lopez Serrano Building earlier on this route and he also crafted the bronze reliefs on the doors of El Capitolio. Understandably, his home was no less of a piece of art. Yet another one of his masterpieces, he himself designed the relief on the façade of his house and left the relief on the ground floor in the hands of his apprentice, Manuel Rodulfo. The actual house with its narrow, boxy shape was built in 1938 by Cuban architect, Max Borges.
Still thirsty for more?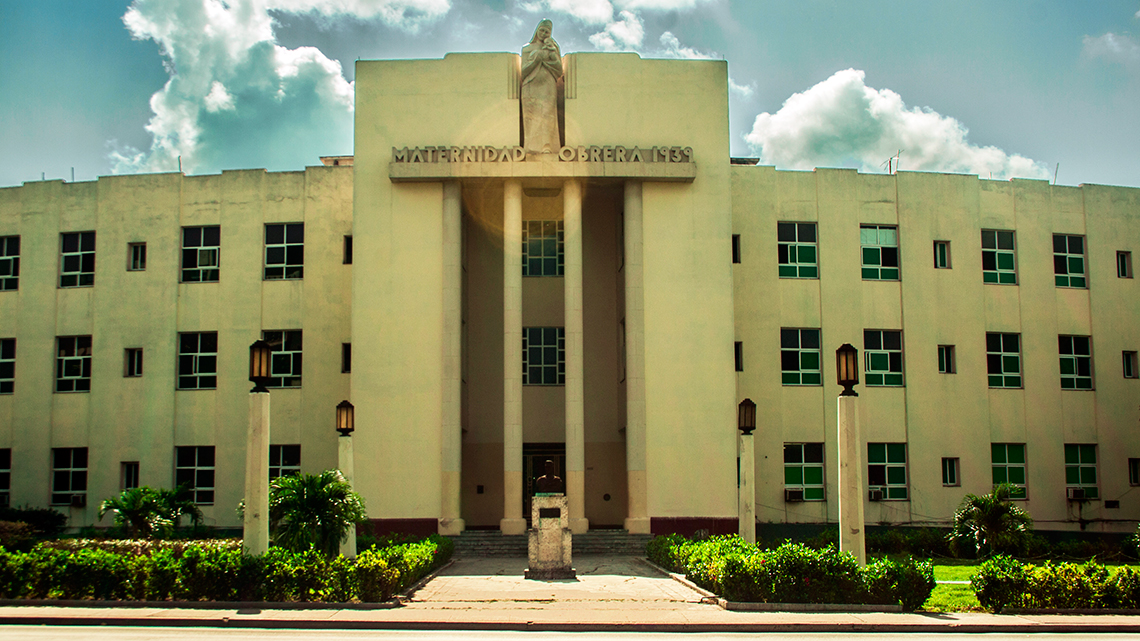 Even though we have tried to include the main Havana highlights in terms of Art Deco architecture and design, there are plenty more examples to see, some more famous than others. One worthy stop outside our cycling route is the Maternidad Obrera Hospital in the municipality of Marianao and the Teatro Sierra Maestra in Rancho Boyeros. Also, in Rancho Boyeros, just steps away from the Sierra Maestra theatre and worth checking out, is the post office built by Cuban president Gerardo Machado in a suburb named after his mother. The Reparto Lutgardita is conveniently close to Terminal 1 of Havana's airport, so perhaps one last site to see before you leave, and your Cuba holiday ends.
Check out our map for more Art Deco wonders to discover in Havana!