Five community projects in Havana you cannot miss
Discovering Havana's community projects offers you the unique opportunity to learn about the city's pulsating culture and contemporary trends, while also gaining an insight into the city's new entrepreneurs who find innovative ways to give back to the community in often colourful ways. Visiting community projects in Havana will give you an opportunity to mingle with locals in their own space and learn about their soulful projects.  
The problem is that they are not exactly signalled and scarcely included in travel guides, but here is where our Cubania expertise comes into play! Here we list 5 community projects that will give you a better appreciation of Havana, its citizens, and its folklore:
San Isidro
Havana's street art district
We begin our journey in the heart of Old Havana, where you will depart your Havana casa particular and cycle your way towards our first community project. Found southeast of Old Havana, the neighbourhood of San Isidro is known for one thing above all others, and that is its vibrant street art and eye-catching graffiti.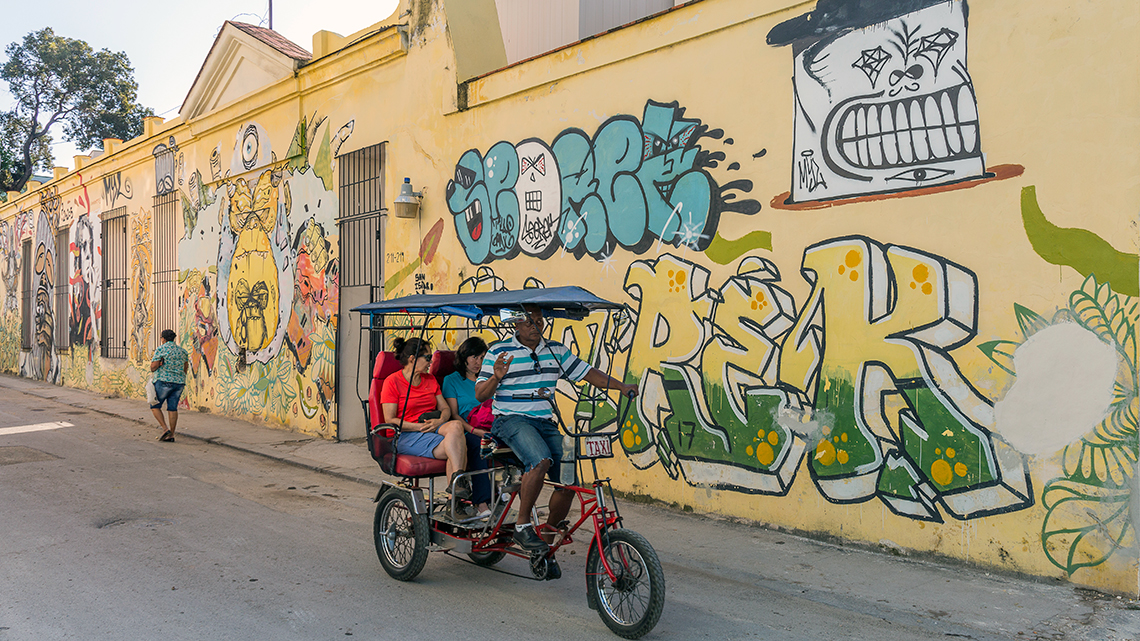 To admire the urban art for yourself all you need to do is cycle along San Isidro street and stop as you see fit to take a closer look or snap a few pictures with your camera. But no trip here would be complete without a visit to the Gorría workshop and gallery, where it all started. Founded by Cuban actor-cum-artist, Jorge Perrugorría, the Galeria-Taller Gorría exhibits an array of art pieces from a selection of local and foreign artists who have contributed to his vision by spilling their art out onto the streets and breathing life into crumbling old buildings and home facades.
Thanks to Perrugoría's intervention the streets of this neighbourhood have soon been filled with often mystical shapes and forms, fantastic creatures, poetic compositions, realistic life-size paintings and head-scratching pieces by the likes of like Mr Myl, Fabian, 2+2=5, Abstrk, UNEG and The Happy Zombie, among others.
Embracing Cuba's emerging artists whilst also inviting international ones, the first mural here appeared in 2017 on a public space right in front of Galería Taller Gorría (GTG) when a mixed group of Cuban and foreign graffiti artists made a collage of styles that would eventually spread throughout the entire neighbourhood.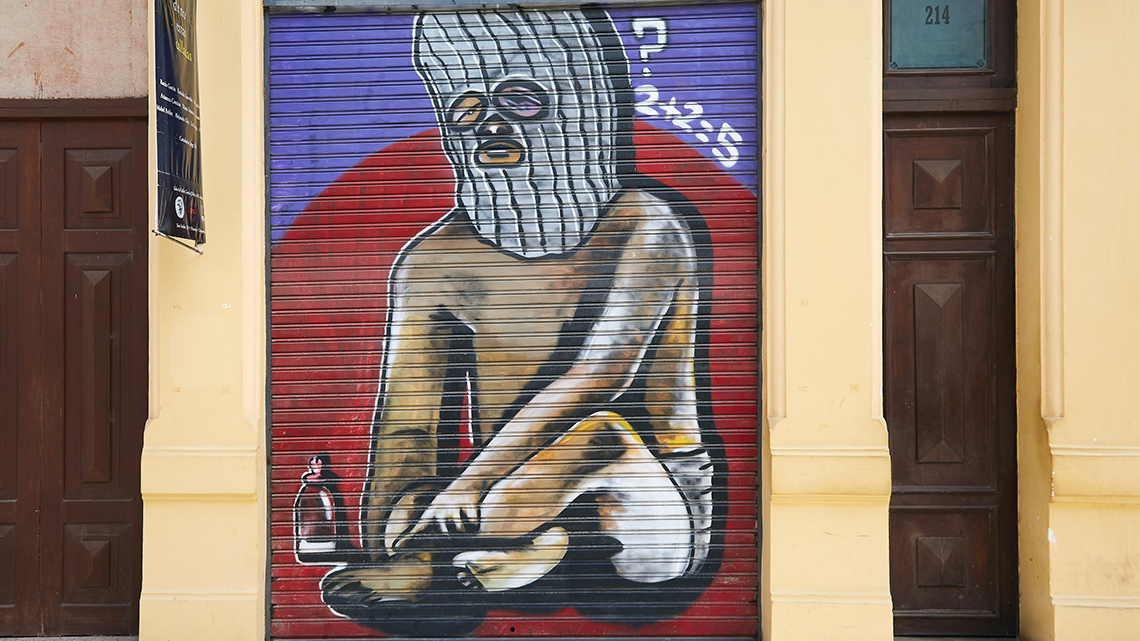 The community actively participates in the project and welcomes the art that adds a good dose of humour, sarcasm, beauty, extravagance, and pops of colour to otherwise tired and worn facades.
The GTG project hosts a one-day art festival every other month to coincide with new works being exhibited at the galleries, accompanied by live concerts, theatre performances, dance shows, body painting and more. During this one-day event you can also look forwards to new graffiti art and murals. So, who knows, if you are lucky enough you could be part of the urban art revelry on a visit here!
Artecorte
For the love of hairdressing
Also in "Habana Vieja" (Old Havana), our next stop is about 15 minutes away and an easy, straightforward cycling journey up Avenida de Belgica until you reach Barrio del Santo Angel, a beautiful little neighbourhood in Old Havana flanked by a church made famous in legendary Cuban novel "Cecilia Valdes o la Loma del Angel" by Cirilo Villaverde (one to add to your Cuba reading list if you manage to find yourself a copy in English). Considered the best Cuban novel of the 19th century, this book perfectly evokes the Cuba of the early 1800s, echoing the growing anti-slavery sentiment and delving into the complex problems of race relations in Cuba. If you come here after reading the novel you might imagine the characters coming to life in this picturesque little neighbourhood, which, has once again risen to fame this time not because of a novel but because of a rather peculiar community project.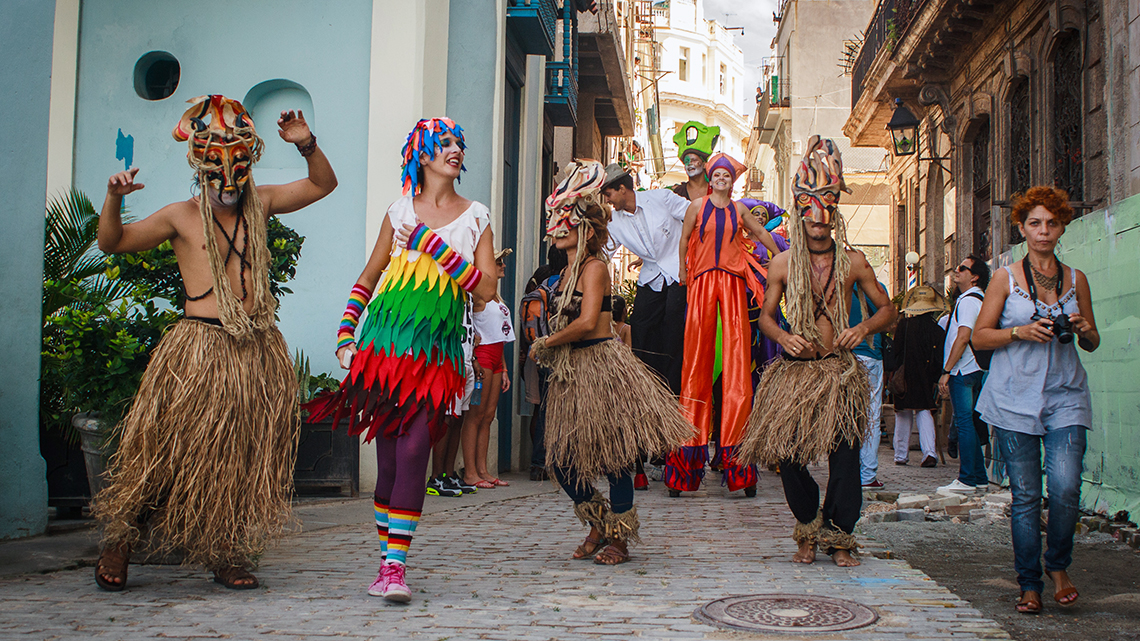 While Cecilia Valdes may not emerge from the church or the narrow alleyway now known as "Callejón de los Peluqueros", she certainly would have loved the new hair-loving vibe of the place. Why, you ask? Well, Callejon de los Peluqueros literally translates as "Hairdressers' Alleyway" and the neighbourhood has earned this nickname thanks to one visionary barber who found a way to give back to his local community while providing jobs to unskilled workforce and idle youth, and, at the same time, elevating the art of hair cutting to new heights.
This is the one place in Cuba where you will find the biggest concentration of hairdressing salons and barber shops, as well as a hairdressing school churning out skilled barbers and hairdressers. Trained by Gilberto "Papito" Valladares himself, the mastermind behind this project, a barber and collector of all manner of hair-salon-related objects and barber shop artifacts, the number of youngsters who have benefitted from the project grows by the day.
Papito's own barber shop and hairdressing salon is a living museum with historic hairdressing relics, from antique barber chairs to old barber's tools that are so well-looked after they can still be used. His salon is a living work of art, a trip down memory lane, a time-lapse you'll want to step into (and maybe make the most of the occasion to have a haircut, trim your beard or style your hair in the most amazing setting ever!).
Thanks to Papito's Artecorte (literally translating as "art of cutting") community project, backed by the Office of the City Historian, new life has been breathed into a previously decaying neighbourhood (like much of Old Havana) and the place has been revived to the point that it now feels chic and trendy without having abandoned its original, deep-set, colonial beauty and architecture. It feels like a breath of fresh air in a beautifully aged setting.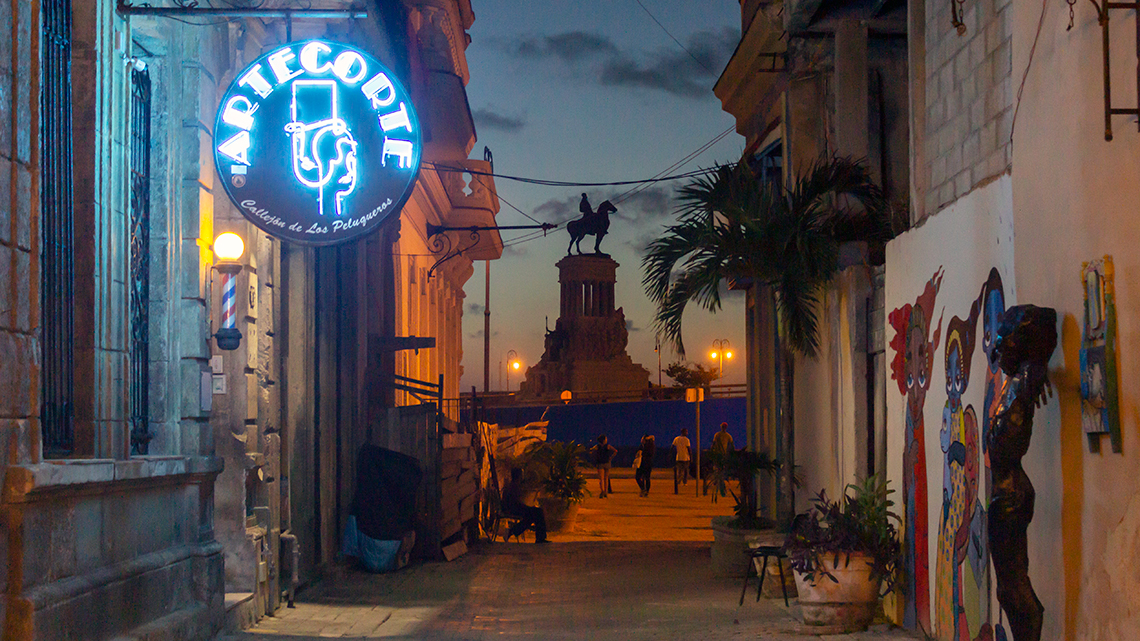 As you cycle along, you will notice the constant references to hair cutting thanks to the omnipresent images of scissors, the eye-catching wall art, the signs and the many private businesses who echo the community project. The vast majority of "paladares" and bars here put a percentage of their profits back into the local community project. Get off your bike to walk along this atmospheric alleyway and admire the new private businesses that have popped up, the private hair salons, owned and run by members of the Artecorte community.
Callejon de Hamel
AfroCuban beats and colour
After taking in the sights and sounds of Loma del Angel it is time to get back on your bike and head east towards the Malecon for some scenic pedalling by the sea. You will be cycling for around 10 minutes before taking a left turn on Parque Antonio Maceo and shortly after, you'll stumble upon Callejon de Hamel in Centro Habana.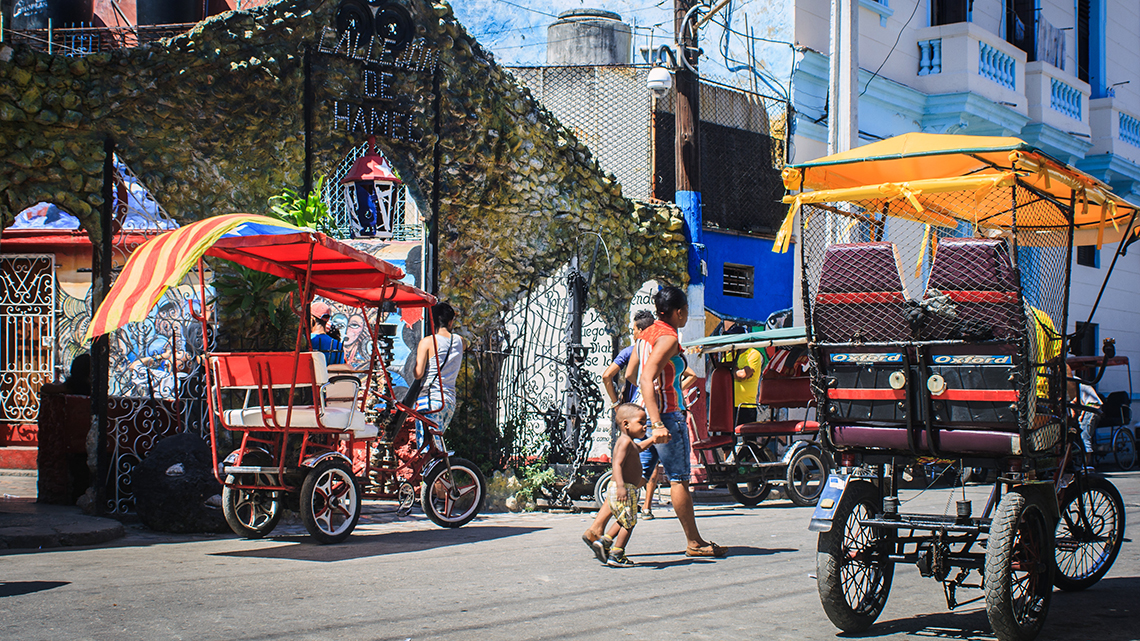 The best known and most widely popular of Havana community projects on this list, "Callejon de Hamel" is also known as the city's epicentre of rumba and AfroCuban music and dancing. Covering a smaller area than the previously mentioned community projects, Callejon de Hamel might be smaller in size but it is positively packed to the brim with art and popping with colour. With fabulous mural and urban art evoking AfroCuban traditions, religions, and folklore as well as some surprising fixtures and sculptures, this place is as photogenic as it is vibrant and full of rhythm.
The art and frequent live shows you can enjoy here are thanks to the founder of this community project, local sculptor and muralist, Salvador Gonzalez Escalona, who in 1990 took it upon himself to rescue a long-forgotten and neglected street to create something unique not just in the city, but in the entire island and the world.
This is a place where art and community come together, where children and neighbours join in on the artwork, the performances, the music, the singing, and the dancing.
If you come here on a Sunday prepare for bigger crowds as curious tourists come in masse to enjoy the live rumba sessions. To be fair, this place is so popular that you will find tourists here any day of the week at any time of day, but it's especially popular on weekends.
On Saturdays, there are art workshops for children, theatre shows, seminars on AfroCuban culture and community events.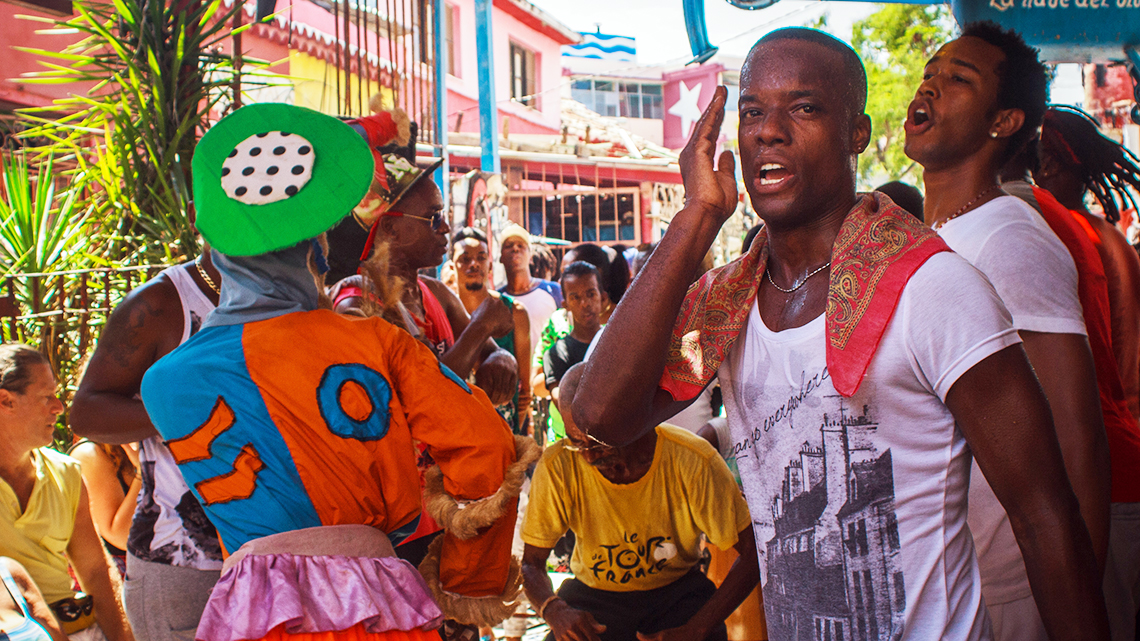 But it is on Sundays that the whole place sizzles with live rumba music, singing and dance performances, giving visitors a good immersion into AfroCuban rhythms, from guagancó to conga and yambú. Everyone is welcome to join in the dancing although many prefer to just watch and sort of fall into a trance with the unique mix of sensual-spiritual moves (warning – you may get goosebumps!).
To get an ever-deeper taste of the place you can enjoy a "mojito" or some other CUban cocktails at the nearby El Barrancon de Hamel and if you didn't stop for lunch in our previous stop off now it's the time to do it as our next destination involves some 30 to 40 minutes of cycling depending on your pace. For lunch we recommend you take San Lazaro and pedal for another minute or two to tuck into delicious fusion fare at El Cuarto de Tula or El Biky – both paladares come highly recommended!
Kcho Estudio Romerillo
A space for experimental art and culture
For our next stop, you will be hopping to yet another Havana municipality. We have gone from Old Havana to Centro Habana and our next destination is in the quiet residential district of Playa, more precisely in the "Romerillo" neighbourhood.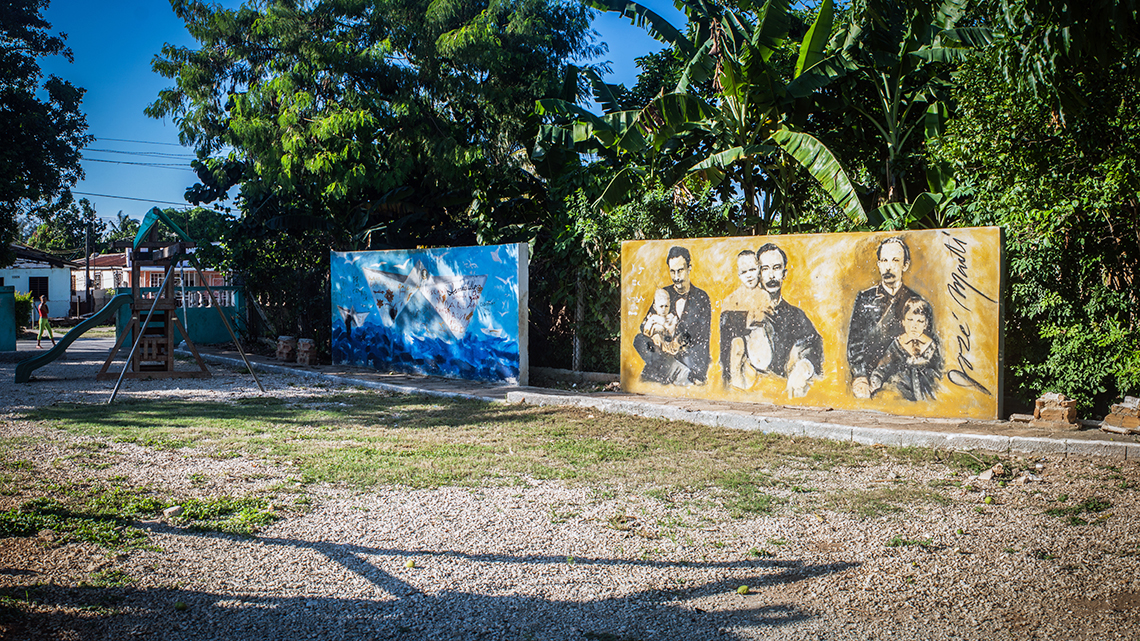 Here you will find yet another community project spearheaded by a Cuban artist. The Kcho Estudio Romerillo (Laboratorio para el Arte) consists of a large workshop or "lab" space conceived for all artists, potential or emerging to experiment in, exchange experiences and grow. The brainchild of Cuban artist Alexis Leiva Machado (a.k.a. Kcho), the lab's main objective is to promote art through experimental techniques, cultural events and the development of skills and fostering of talent of young local artists.
The inauguration of Kcho's cultural project was attended by Fidel Castro himself in January 2014. The lab space was an old bus repair workshop, now completely converted to hosts frequent changing exhibitions, a working space, and a library.
And if you ask yourself how exactly has this project benefitted the local community, we'll let you in on the fact that previous to the lab's development, the artist Kcho took it upon himself to rid the area of old overflowing rubbish bins and deserted terrain to create six new parks and recreational areas, as well as an amphitheatre. All of this while recruiting locals to help with the area's transformation and in the process make them aware of the importance of looking after their community.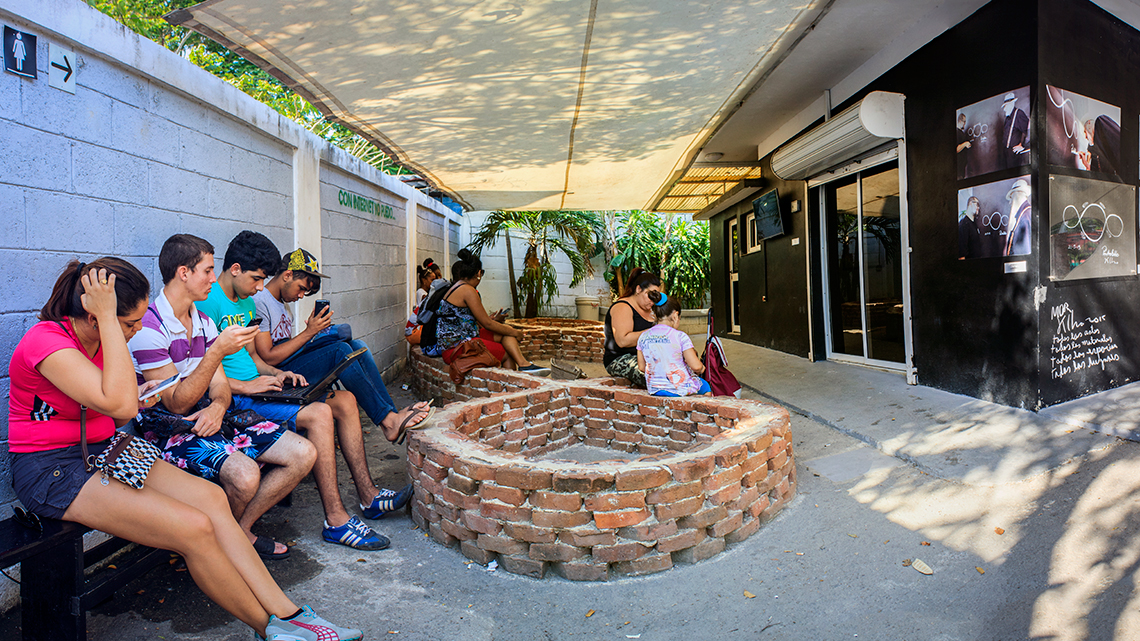 Thus, the project started with the rejuvenation of the neighbourhood and culminated with the creation of an art lab that, among other things, seeks to promote the culturalisation of impoverished areas and highlight how culture and art are key to the wellbeing of a community.
Fusterlandia
Like stepping into another world
After our previous stop, we head west to cycle for some 15 more minutes until reaching the town of Jaimanitas in the city's outskirts. It is here that you'll find the most surreal community project of all. One that takes over not just a block, an alleyway, or a neighbourhood but an entire town – and it keeps on growing! Since its rise to fame, the town of Jaimanitas has been synonymous with Fusterlandia.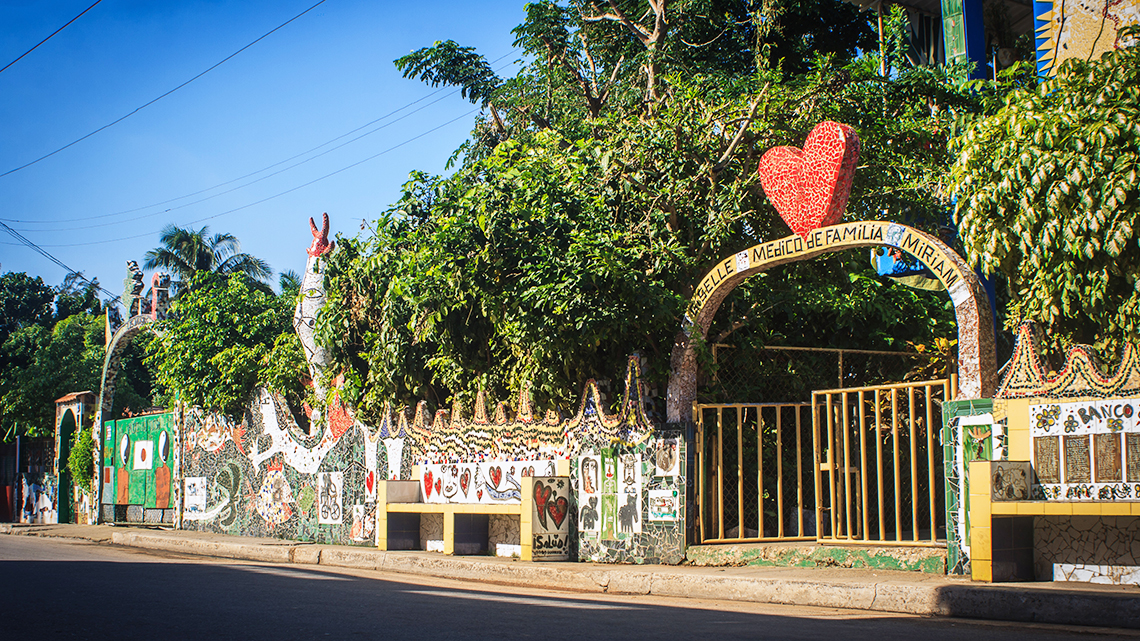 This community project is different to all others, strikingly different because of how it takes over the look of houses, walls, parks and even street signs. The common denominator is art, with culture at the centre of the movement initiated by a local resident and artist, Jose Rodriguez Fuster who in the 90s began to transform his surroundings as his work spilled out on the streets, on home facades, on benches, on bus stops, fountains, schools and even the local doctor's office.
Some call the man behind this rather folksy "beautification" of the town the Caribbean Gaudí and after visiting Fusterlandia you will quickly understand why. With a decidedly naïve stye he used tiles to create his compositions with splashes of bright colours everywhere.
With the permission and delight of neighbours, he was able to take his work much further than he initially envisaged and his hobby and mission soon turned into a community project where he began teaching his technique to local disciples that now continue to extend his work.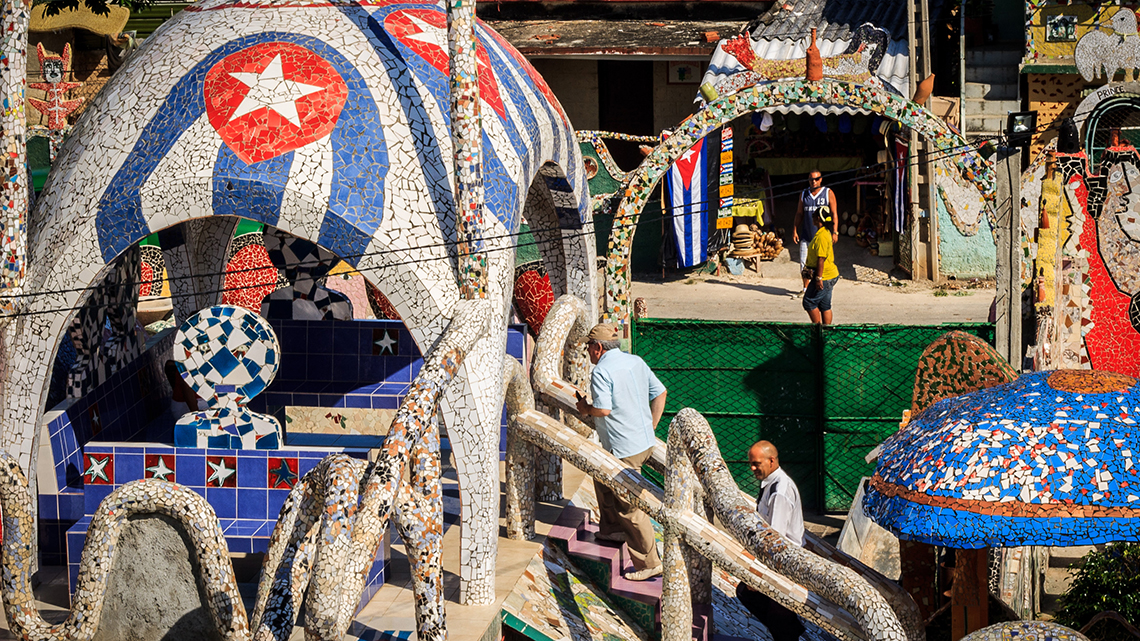 A surreal artist's paradise, Fusterlandia is more than meet the eyes and while you may find the creations gaudy or crudely childlike, Fuster's work has been compared to that of Picasso and the enchanted, whimsical fantasy world he has created has been applauded by locals, critics and visitors alike.
End of the journey – are you still thirsty for more?
If you are thirsty for more, there are a few more community projects to check out in Havana and beyond. If you do not mind cycling further and venturing into off-the-beaten paths municipalities like Lawton and Alamar, you could discover other art community projects like Muraleando or enter other whimsical worlds at the Museo de la Chatarra.
Sustainable Cuban Experiences
For the last 20 years, we have been providing exceptional and meaningful holidays, enriching the lives of active travellers and our community, and exposing them to a unique way of living by sharing real Cuban experiences in a sustainable way. From cycling across rural roads, trekking through lush mountains, mojito-sipping in Havana's hip bars or simply relaxing on warm, white sandy beaches – at Cubania we know how to create a holiday that just hits the spot.