Cycling and visiting Havana's "palaces"
Cycling around the Cuban capital of Havana is a highly enjoyable past-time. It is a famously beautiful city with expansive green parks and gardens, wonderfully preserved colonial architecture, a dated chic to its colourful facades, and a world-renowned music and bar scene.
Taking in all these sites is best done on a bicycle as Cuba is all about getting up close and personal – living the experience first-hand.
This cycling route takes you around many of the differing districts, presenting you with a wide range of cultural landmarks, specifically focussing on some wonderful buildings that the local habaneros call "palacios" – or palaces.
---
In Cuban popular speech, words do not always correspond to their real meaning. You can apply this dichotomy to any topic of conversation, and if you have ever got chatting to a Cuban, you will know exactly what I mean.
Without going off on too much of a tangent, let us stick to planning a cycling route you can follow in order to see the buildings that the habaneros call "palaces". In some cases, you will be able to see why they use this term for a particular building, but other times, it is really tough to work out.
Despite all being vastly different, it is an interesting journey cycling around Havana to find out more about these seven particular buildings, all of which possess unquestionable values for the people of Havana.
A cycling route to discover the best "palaces" of Havana
The itinerary is interesting because it includes the newest parts of Havana, as well as the oldest parts. It also includes places normally visited by tourists, as well as others off the beaten track. We will be traversing districts like Cerro, Plaza, Centro Habana and, of course, La Habana Vieja – Havana's old town.
Along the way we will see many other attractions, but we will focus on trying to understand why habaneros call certain buildings "palaces" when you and I certainly would not.
Prepare all the kit that you will need on the trip, as we will be travelling around ten kilometres. You will need water, sun-cream, comfortable clothing, a camera, and anything else you may like to grab. Now let us begin this "etymological journey"!
Palacio de los Deportes (Sports Palace)
We will begin at Cerro, at the junction of Avenue Boyeros and Via Blanca. The Palacio de los Deportes, named thus since its completion, is an imposing building dating from 1957, although sporting events had previously taken place in the surrounding areas.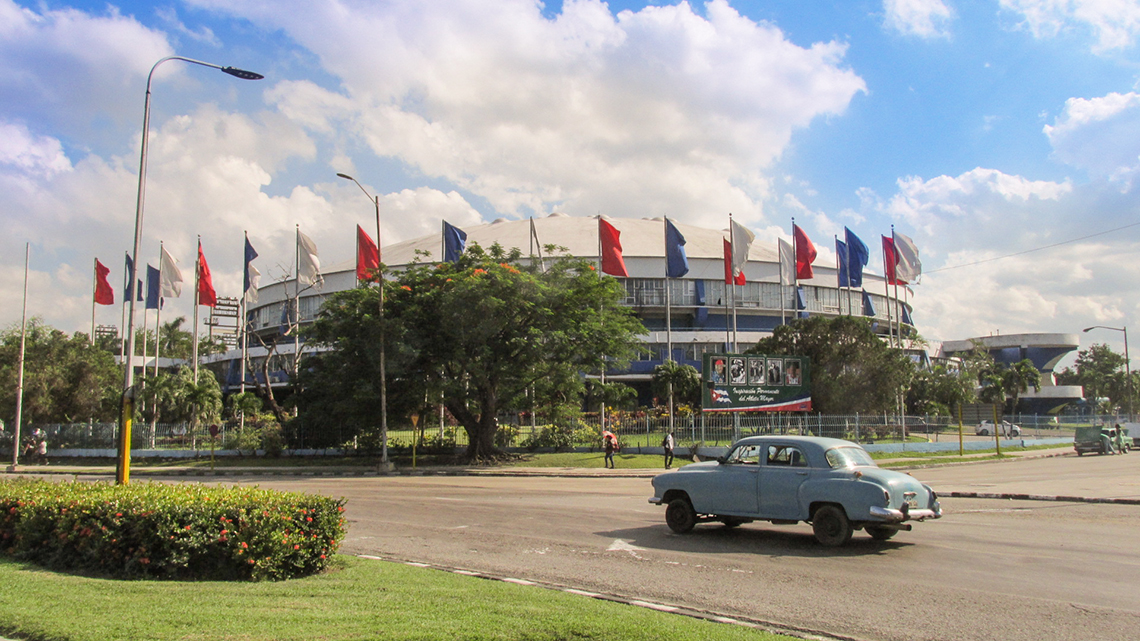 The Ciudad Deportiva (Sports City), the name normally used today, was labelled at the time as "an astonishing modernity".
The dome reaches 95 metres high, an architectural feat for the time, expertly carried out by an American construction company.
Since 1961, the National Institute of Sports, Physical Education and Recreation (INDER), has been located here and the whole area is full of people training and practicing different sports.
It has hosted various major sporting events as well as some really momentous evenings. You only have to bring to mind the acclaimed Rolling Stones concert in Havana in 2016 that took place here.
If we stick to the concept of the "palace", we can safely assume that the Sports City is a magnificent, grandiose construction, which has become a famous urban landmark in Havana. But let us keep riding our bikes following Avenida de Rancho Boyeros to see our next palace.
Palacio de la Revolucion (Revolution Palace)
We continue along Avenida de Rancho Boyeros and, after going almost two kilometres, we come across one of the most visited and well-known symbols of Havana – Plaza de la Revolucion (Revolution Square).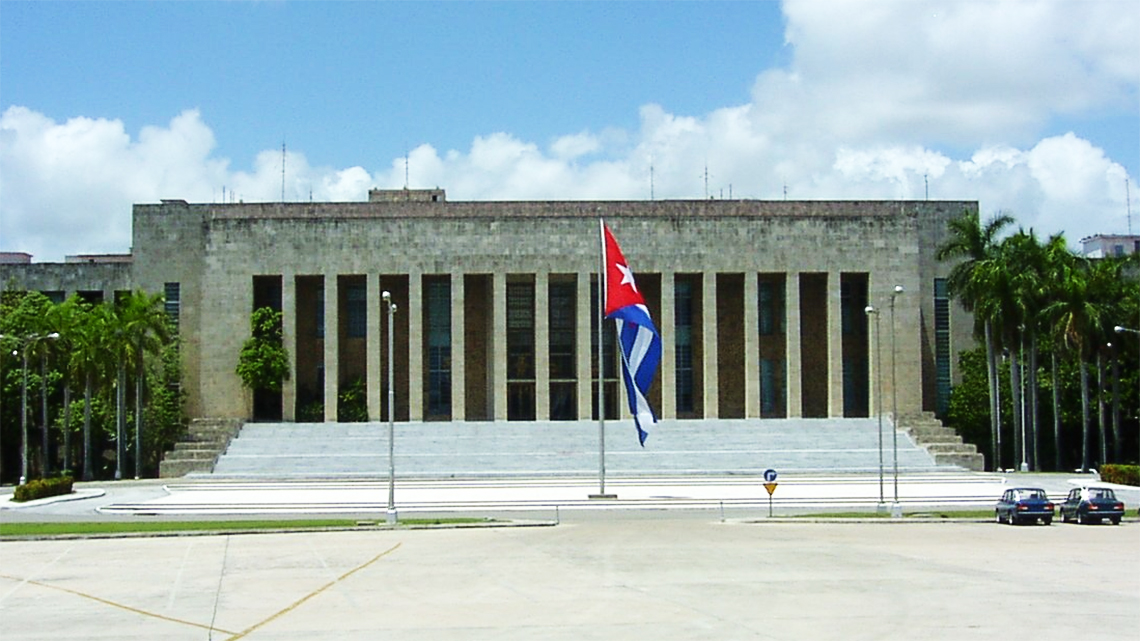 Every day, hundreds of visitors flock here, attracted by the beauty and architectural layout, as well as its important place in history.
In 1959 it was converted into a public space, par excellence, symbolising the Cuban Revolution. Cubans, and "habaneros" in particular, have gathered here to listen to long speeches by their leaders, attended masses officiated by the three different Popes who have visited Cuba, and danced along to pop concerts.
Set right behind the magnificent monument dedicated to Cuba's national hero, José Marti, the Palacio de la Revolucion (Revolution Palace) stands proudly. It was originally intended to be the seat of the Supreme Court and the Attorney General, but eventually became the island's seat of government.
The building is divided into three areas, with the first being the office of the Council of Ministers. The second are the headquarters of the Council of State and the offices of the President and the First Vice President. The last area houses the offices of the Central Committee of the Communist Party of Cuba.
This building originally intended to be another "palace", the Palace of Justice was renamed after the Revolution triumph in 1959. The building really stands out for its solidity, which was a strong influence in 1940s architecture.
Several historians place it as a transitional piece of architecture, spanning the Art Deco and Rationalism periods. It is clear to see the naturalness of the materials used to build it, the cleanliness of the shape, and its imposing size, the most striking element that characterises it.
Bearing all this in mind, I think you will agree that the Palacio de la Revolucion aptly fits the "palace" tag given it, because of its vast dimensions and the sheer elegance that make it a truly majestic building. But lest keep moving as the next palace in this route will certainly keep you shaking.
Palacio de la Rumba (Rumba Palace)
This is a place where you can enjoy culture "the Cuban way". Cuba is known globally for its music and dance, so if you like to work your legs (other than on your bike), you came to the right place. Get ready for some "rumba"!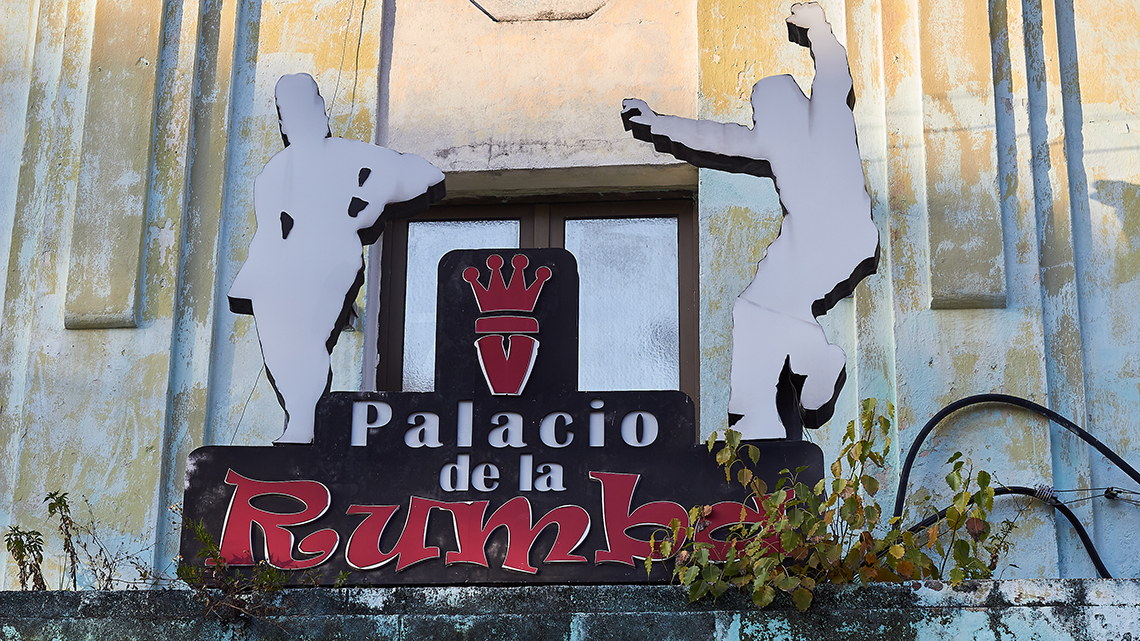 Built in 2009, it was listed as a place of important cultural heritage in 2016 and can be found in San Miguel, between Calle Aramburo and Calle Hospital. This is in the Centro Habana district, right in front of Parque Trillo.
It is the perfect place to watch a rumba group in action, where you will find eager participants not only from Havana, but from all over the island. The contagious way of dancing the rumba attracts so many visitors to this charming place, giving it real life. If you like what you see, make sure you come back and visit with your dancing shoes another day!
This is one of the examples where there is no real reason as to why it is known as a "palace", although it is worth clarifying that it is a good example of Cuban Art Deco.
However, the loud sound of the drums, the dancers letting loose, competitions such as the Timbalaye Festival and the International Cuban Rumba Festival, all make for a hugely cultural atmosphere. The air is thick with theoretical debates, musical concerts and indisputable links to the traditions associated with the Afro-Cuban religion.
Safeguarding that rich culture makes the Palacio de la Rumba a vital means of preserving the very history of a nation and its people. This is perhaps why Cubans call it a palace!
We have already travelled five kilometres and we are ready to go onwards. Along the way, you will find places that allow you to have a quick drink or even a bite to eat if you prefer.
If you like Chinese gastronomy, you have two options in Calle Salud: The Lotus Flower or Mimosa, both between Gervasio and Escobar.
If, on the other hand, you like to tuck into some local cuisine, then you can visit the famous San Cristobal (San Rafael, between Lealtad and Campanario) or the exclusive La Guarida (Concordia, between Gervasio and Escobar). Both are among the best "paladares" in Havana.
Now, back in the saddle – let us ride towards Malecon to visit the next palace on this route.
Palacio Presidencial (Presidential Palace)
The Presidential Palace is one of the most beautiful buildings in the Cuban capital. Inaugurated in 1920, it was designed to house the provincial government. However, the wife of the then President Mario Garcia Menocal was dazzled by the property, so it ended up being the actual residence of the presidential couple.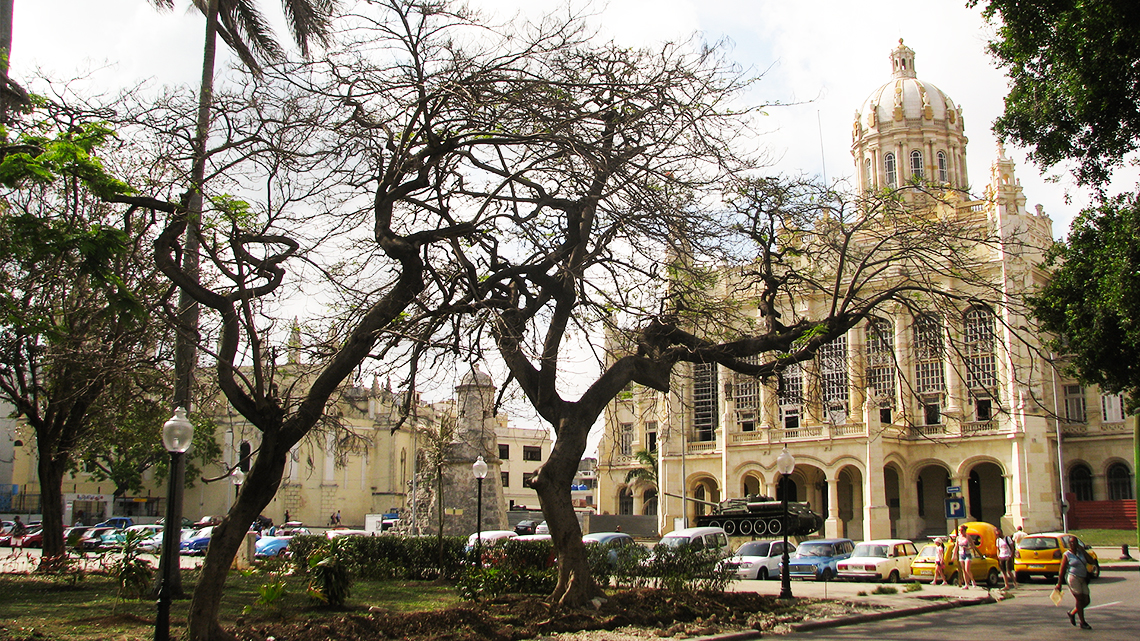 It is not difficult to see what makes it such a beautiful building. The steps are made from Carrara marble, there are sheets of gold in several of its domes and arches, lamps installed by Tiffany Studio, large mirrors that amplify the rooms, glazed ceramics, murals, paintings, and sculptures by prestigious Cuban artists of the time.
It is a true work of art of incalculable value, and along with the museum pieces on show inside, it continues to captivate everyone who visits it.
On 4th January 1974, the palace was converted into the Museum of the Revolution (Calle Refugio Number 1). In its rooms, much of Cuba's history is revealed through the valuable objects on show, official documents, and pictures that tell each stage of its story, from the arrival of the Spanish, through the colonial period, the Republic, and the Revolution.
Outside in the courtyard, there is a fine display of vehicles, a light aircraft, rocket launchers used in actual combat and, as the pièce de résistance, "Granma" the yacht that Fidel Castro used to arrive in Cuba from Mexico in 1956.
You can also see the well-preserved remains of the city wall, part of the defensive system that protected Havana in the colonial period.
The Presidential Palace is grandiose and majestic and sits proudly in an area of the city where the largest and most beautiful mansions are situated. And trust me, the Presidential Palace is even a cut above these…
Palacio Velasco – Sarra (Velasco – Sarra Palace)
A few metres from the Presidential Palace, or Museo de la Revolucion, there is a peculiar building that is home to the Spanish Embassy in Havana.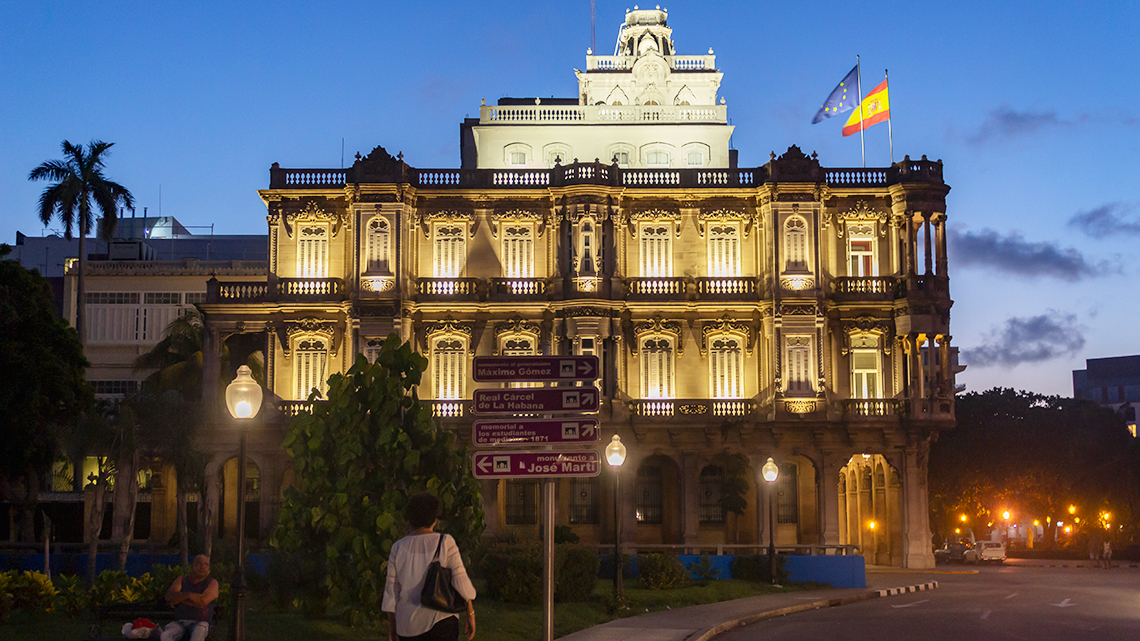 It was built in 1912 thanks to an enterprising group of pharmacists from Barcelona, José Sarra and Valdejuli.
Constructed in the Art Nouveau style, it stands out for its large number of windows, each with its own balcony, the sense of height that you get from the viewpoint in the tower, the extensive use of fine wood in its interiors, and the spacious corridors that surround the central courtyard.
It boasts a fine location too, situated right in front of the entrance to Havana's bay. This makes it a really unique building, visible from nearly everywhere in the surrounding area, especially at night, when the lighting shows off its extraordinary shape.
It is a magnificent construction and further adds to the deep architectural heritage of this wonderful city.
We will now cycle to the heart of colonial Havana for another two impressive palaces.
Palacio de la Artesania (Crafts Palace)
After having journeyed almost 8 kilometres and arrived in the oldest part of the city, we get to a well-preserved property, which is, in fact, one of the oldest buildings in the city.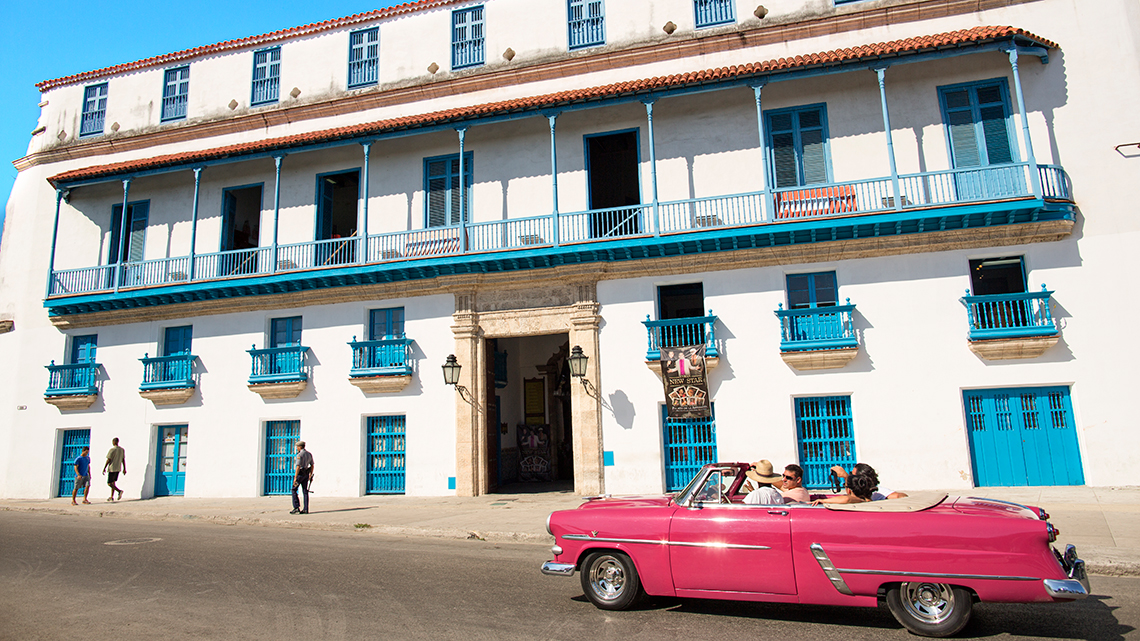 On Calle Cuba, between Cuarteles and Peña Pobre in Havana's Old Town, we come across a large house where the mayor and councillor Mateo Pedroso once lived.
It dates from 1780 and thanks to its enormous size, it can indeed be considered a true palace. It has three floors as well as a mezzanine – the middle floor boasting a formidable running balcony 32 metres long, considered one of the largest of the time.
Inside, a central courtyard is framed by galleries, polychrome wooden balustrades, and heavy stone columns. This courtyard makes for a popular place to visit both by locals and foreigners, mainly to purchase the coveted national products available here, like tobacco, coffee, rum, and other local artisan products which gives the place its name.
There's also food available, which you can enjoy whilst listening to traditional Cuban music, performed by small groups. It is a highly pleasant environment, ideal for relaxation, and the Palacio de la Artesania effortlessly unites tradition with contemporaneity, and culture with history, all in a stately and palatial mansion.
Palacio de los Capitanes Generales
Currently acting as Havana's City Museum, the Palacio de los Capitanes Generales is a fine example of the Baroque style in Cuba.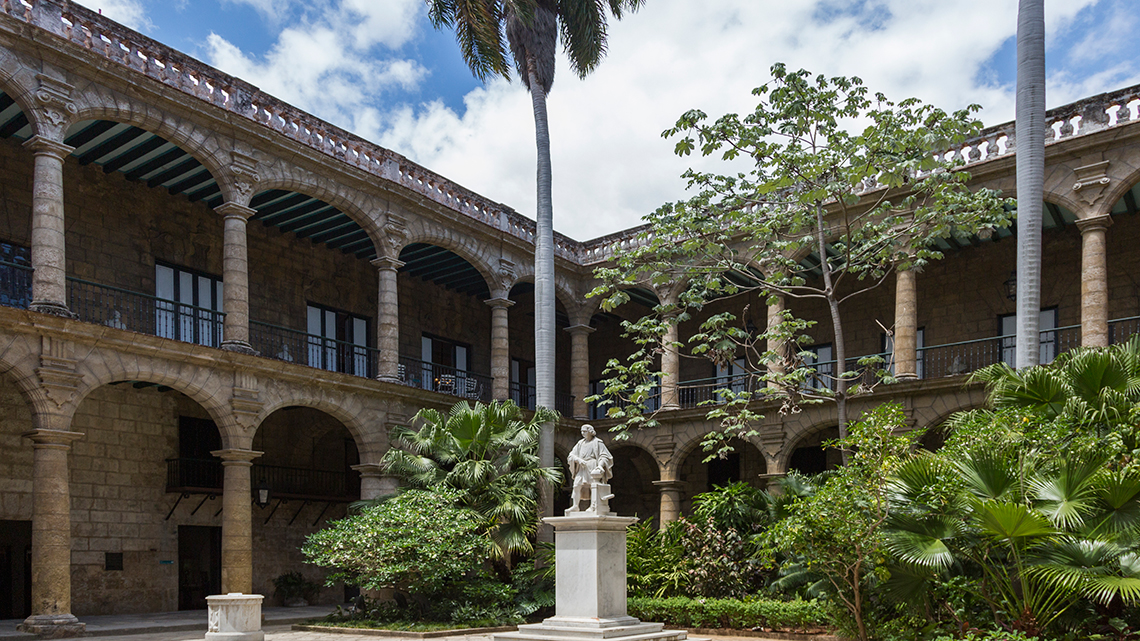 Situated on Calle Tacon, between O'Reilly and the bustling Boulevard de Obispo, it's located on the exact site where the town of San Cristobal de La Habana was born.
Built in the 18th century, it shows the typical characteristics of the time: the use of stone, the portal and its arches, the coffered ceilings, its interior corridors and, above all, the large central courtyard where the statue of Christopher Columbus stands.
Its 40 rooms exhibit various articles that illustrate the island's ways of life, from past to present. The unrivalled collection of artefacts is of a high historical-cultural value, and visitors can gaze upon carriages, sumptuously decorated rooms, amazing silver or porcelain pieces of tableware, religious objects, and banners and uniforms used by the soldiers who occupied Cuba at various stages.
This is a very beautiful building that is steeped in heritage and cultural value. What is more, it has the prestigious honour of being situated right on the spot that witnessed a group of parishioners become the first inhabitants of a nascent city 500 years ago.
In Havana there are many other palaces…
The city of Havana is crammed full of different buildings that bear the name "palace". There is the Palacio de Convenciones, Palacio de los Pioneros, Palacio Central de Computacion, as well as many other colonial palaces built by the Spanish.
In some cases, the tag "palace" is apt. However, others assume this term simply by having a commonly shared value that the people of Havana all recognise. For this route, we selected a selection that will demonstrate this diversity, as well as to explore the city beyond the more commonly trodden ways.
So, in little more than 8 kilometres, we are left to muse on this sweet juxtaposition, still trying to understand this enigmatic city and its inhabitants who are lucky enough to bustle through its old streets.