Cuba Cycling Routes – Guide Descriptions
As Cuba starts to re-emerge successfully from lockdown, our Cubania Travel guides are organizing group rides to get back on the saddle after a few months of home training. This weekend they'll be doing what they love best and cycling together from the outskirts of Havana to a small town called Bejucal, probably taking the route that crosses Havana's largest metropolitan park, Parque Lenin.
As they've been discussing where and when to go, there's been a lot of talk of favourite cycling routes in Cuba. So, we asked them to share with you their top routes and to put into words why they love it. We hope you can cycle with them soon!
One of the best and most exciting experiences you can enjoy is cycling around Havana with all its traffic and everyday bustle. Havana is the capital of the country and it has 16 different boroughs, but as a cycling guide, I take you around the main districts, Miramar, Vedado, Centro Habana and Habana Vieja (Old Havana).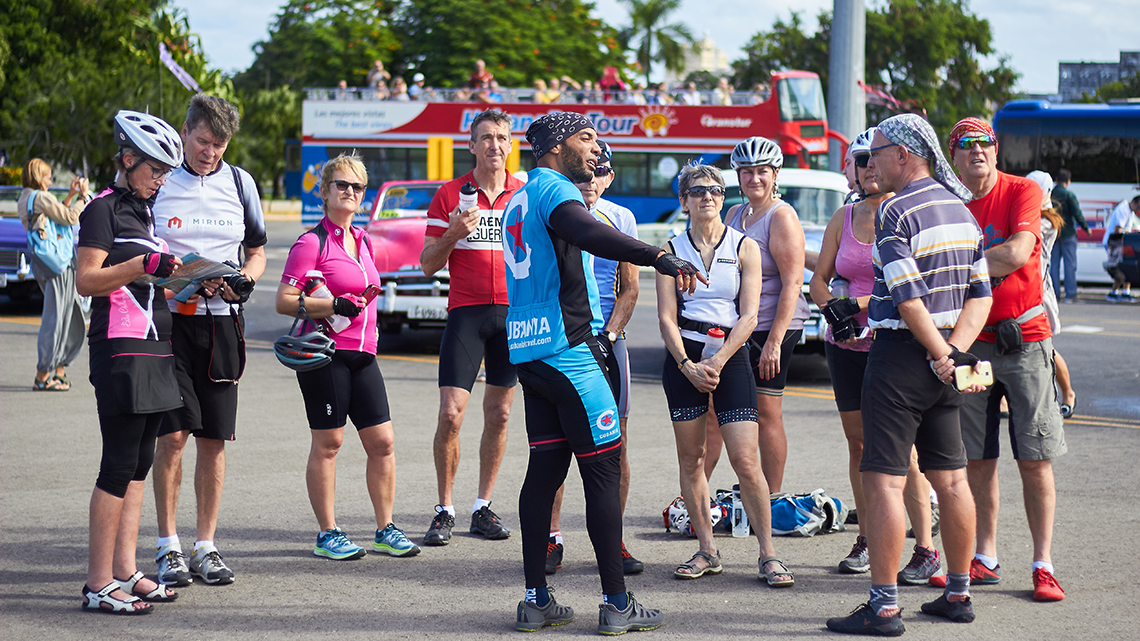 We couldn't start riding without checking out gear first, our bikes. And helmets are mandatory. All of the places we're going to visit aren't far from one another and yet so different. Miramar is the business district, known for housing 99% of the embassies of the country. Vedado is a residential district which dates back to the late 1800's when wealthy habaneros left Old Havana looking for more space to build their large houses. It still looks like a 1940s American neighborhood. I always stop at some spot where cyclists can enjoy the view of the ocean from the seawall, known as "El Malecón" for local people.
Next stop, Centro Habana. This is one the oldest parts of City. This area is next door from Vedado, yet so different. It's way older, busier with plenty of street life as residents go about their everyday business and there are crumbling buildings here and there. But still, there's a romantic beauty to the area, and it's my job to help people see this. Sometimes we stop at a private cafe known as "Dos Pelotas". We buy some juice just to cool off a bit and take a break from the scorching Cuban sun. Afterwards we check out the "solar" in the back. This is like a tenement building with a courtyard which all the neighbors share. This one in particular is known as La California. Every now and then neighbors get together here to enjoy "la rumba", one of many cultural and musical expressions inherited from our African ancestors.
We're not far from Old Havana or "Habana Vieja", so we get back on our bikes and start pedaling. Towards the end of our trip we make a quick stop at VeloCuba, a sort of private cycling repair shop and social enterprise located on the border between Centro and Habana Vieja. The women who run the shop offer free cycling and cycle maintenance lessons to the local community. Visitors get a guided tour of the place and this gives them a better understanding what cycling means to the locals and how creative Cubans can be in order to make some money.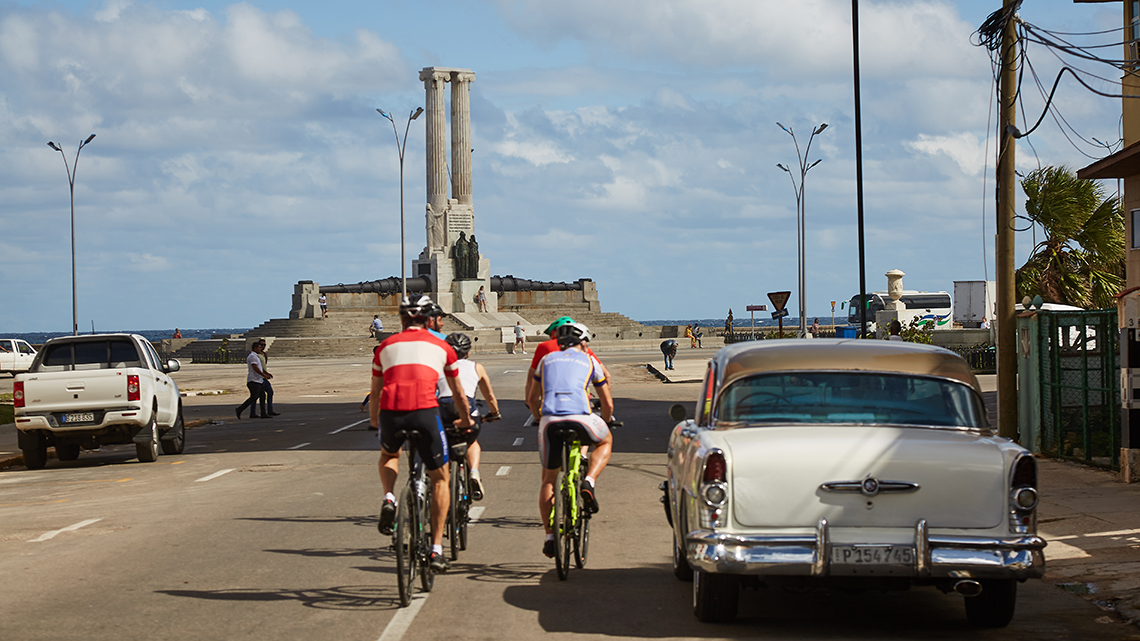 This is almost the end of the ride. We cycle our way into the old part of town. It feels like each one of our bikes is a DeLorean and we are cycling back into the past. Colonial buildings, military fortresses, castles, squares. It's an awesome view with lots of history to speak about…
Ride Details:
Cycling Distance: approx. 24km Route Link
Cycling Elevation: +163m / -169m
Featured in:
Havana to Las Terrazas, by Erik Garcia
When people want to get out of Havana and visit a unique and a tranquil place to enjoy Nature and the typical country people of this wonderful island, one of the best choices is Las Terrazas Community.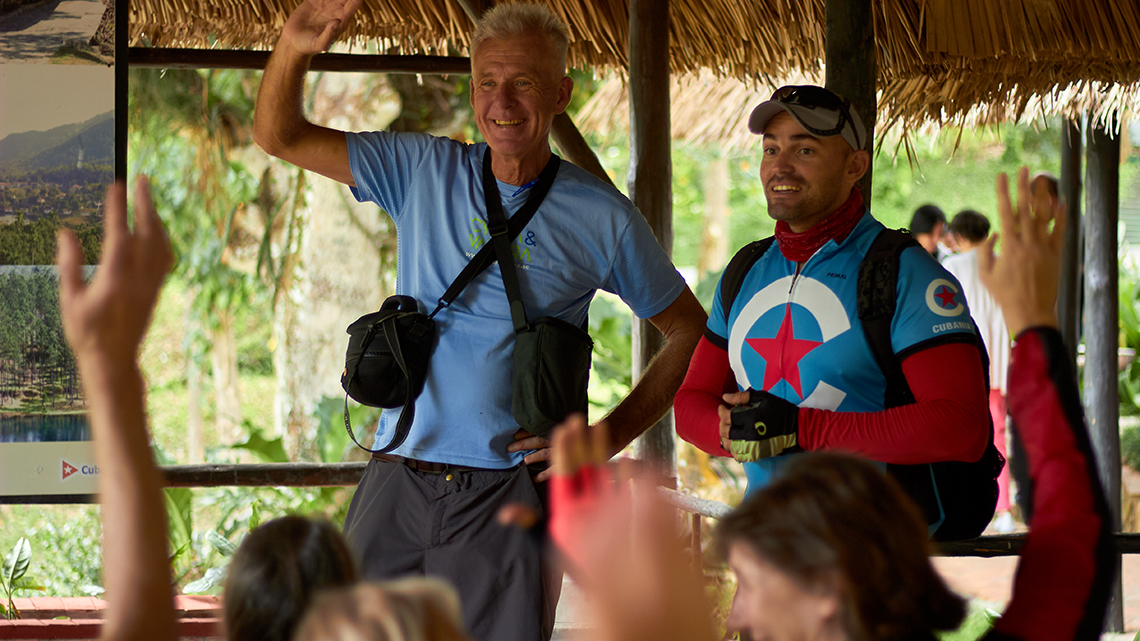 It's located to the west of Havana, and it only takes an hour to get there on the motorway, but for active people and those who share the philosophy of "Cycling is Life", 70 km (43 mi) on 2 wheels is the best way of getting there. Las Terrazas is a small eco-community built in the 70's to gather all the poor farmers who lived isolated lives in the nearby mountains, and offer them better housing, schools, health care and better working conditions.
These mountains are now part of the Biosphere Reserve Areas in Cuba. In other words, it's a protected area, where nature is protected, not only by the government, but also by locals. It's a paradise of forests and rivers which are home to an amazing variety of endemic and migrating birds, making it one of the best places to spot the Tocororo, Cuba's national bird.
Once you leave the big city behind you, the key word is "enjoy" during the entire cycling route! Many birds can be observed, stunning views of the North coast of Cuba, easy roads with occasional and gentle hills, very little traffic and several potholes, people and children coming up to the edge of the road to say "hello" with their usual happy faces. You share the road with some unbelievable vehicles invented and assembled by the "guajiros" to drive through the hills. Hills are very easy so don't panic!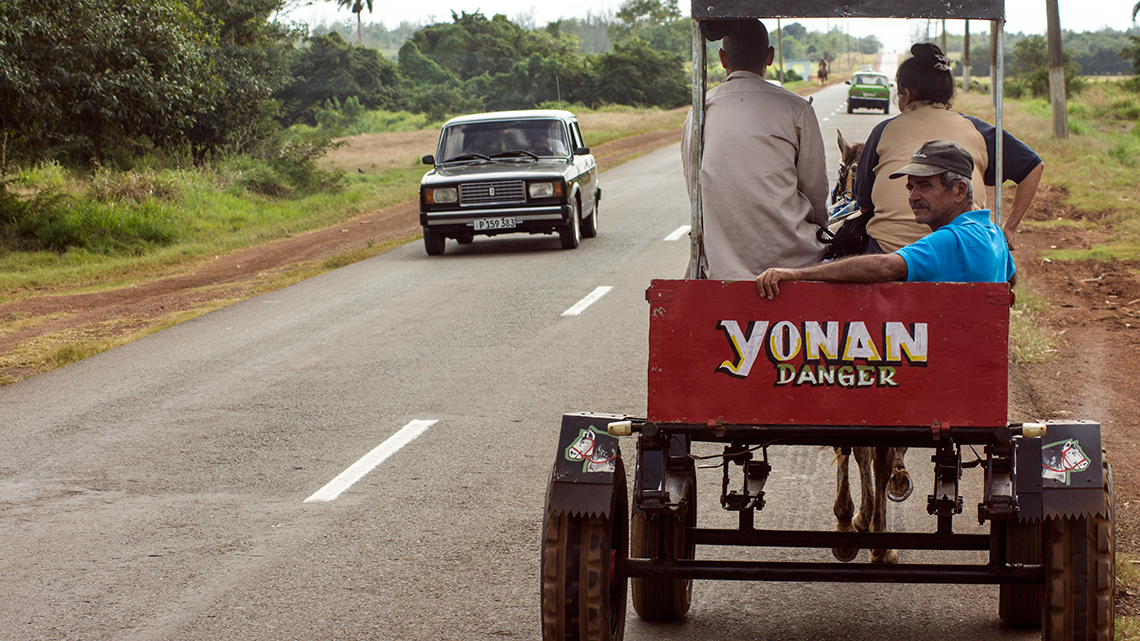 All you need is enough water to ride in a very humid (really humid!) and warm country, and it would be a good idea to carry some snacks to eat in one of the several shady areas on the road. If you're riding with Cubania Travel we make sure to provide these for you and stop in local villages for a break. What a great opportunity to practice your Spanish! Maybe you don't understand what people try to say, but the experience is memorable.
Cycling through many small villages will give you a snapshot of rural life in Cuba. By the end of the ride, when you get to the entrance of Las Terrazas Community, there is a checkpoint which marks the limits of the protected area. The air is absolutely fresh and pure! If you want to really challenge yourself , you can ride to the Hotel Moka which is set in the forest at the top of the steepest hill of the whole ride. Take your time to check-in and relax with a mojito and enjoy the views of nature and the white houses below you in the center of the village, where no more than a thousand of inhabitants live. They don't even have a policeman, because they all know each other very well!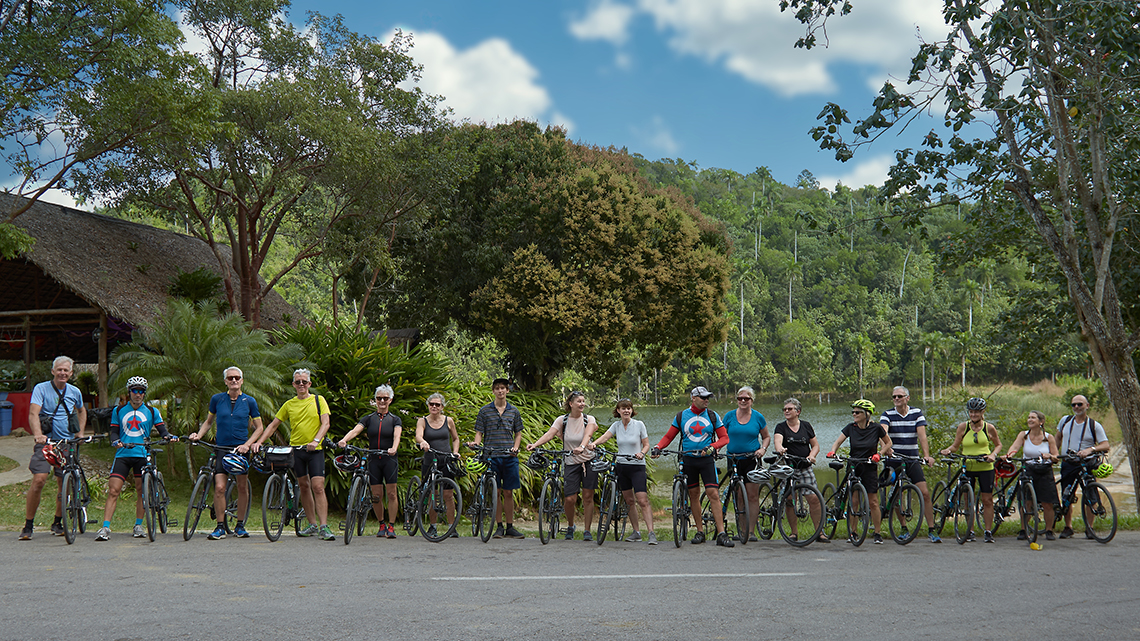 All in all, the most interesting part of this ride is the contrast between life in the big Havana, and life in the countryside of Cuba. It's up to you which one you prefer, but when people arrive in Las Terrazas, they fall in love with the place. Now, it's your turn. Go for it! Vamos!
Ride Details:
Cycling Distance: approx. 69km Route Link
Cycling Elevation: +523m / -378m
Featured in:
Wherever you wake up in Cienfuegos you always know you're somewhere special in the Caribbean. It doesn't matter where you look, you will always see the mountains meeting the sea. And somehow, every time you are in Cienfuegos your next destination is always Trinidad, I hardly recall going elsewhere, just like cause and effect, like Cuba and rum; Cienfuegos and Trinidad.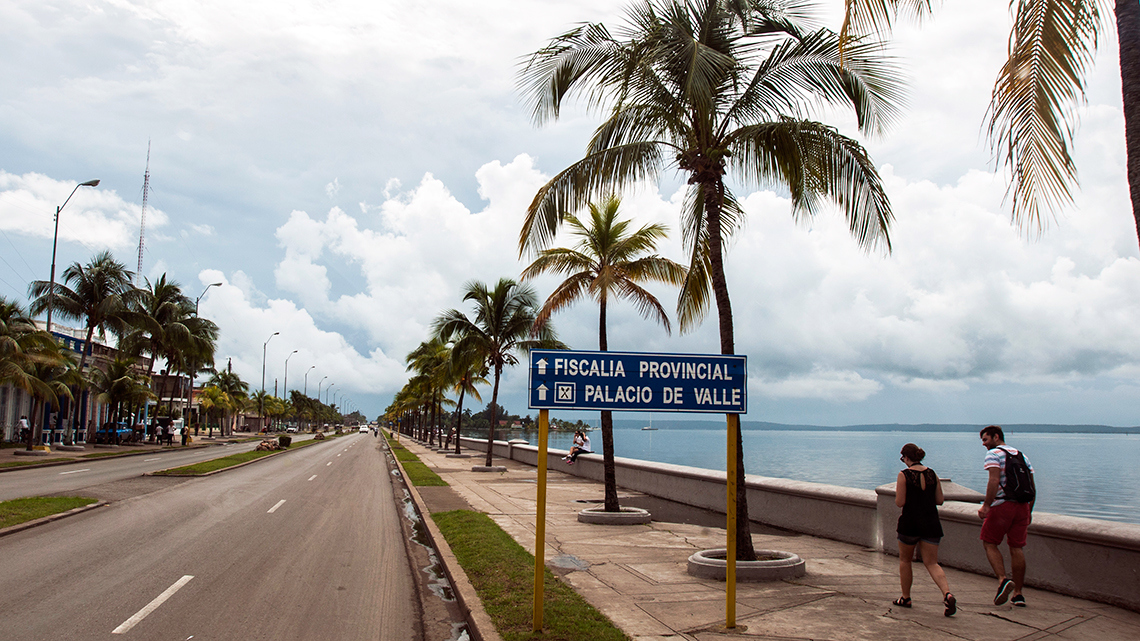 If you leave the city by bike, you set off through a perfect grid layout which makes navigation out of the city easy as you pass by people jogging along the "Malecon" under the shade of coconut trees, overlooked by "El Benny" statue on El Prado Avenue. With the Caribbean Sea behind you and the beautiful mountains ahead, you 'd think you are in paradise. After an undulating ride through mango groves, just 14 Km outside the city we ride a section called "the roller coasters". I shout:
"Keep it tight people, we are going up and down!"
Sweating, cursing and a lot of me cheering, but it doesn't work… I even get adventurous and sing "Eye of the tiger" by Survivors, nothing! They want to kill me, I always get that look back, the "nasty" look LOL, like it's my fault that the ups and downs are so steep! After 8 km of upulations and downdulations, the driver is waiting for us with fruit and snacks, and as we recover from the challenge, there's always a joke with a flash of sarcasm about my description and instructions about those hills, but it's all cool! That's the toughest section under our belt.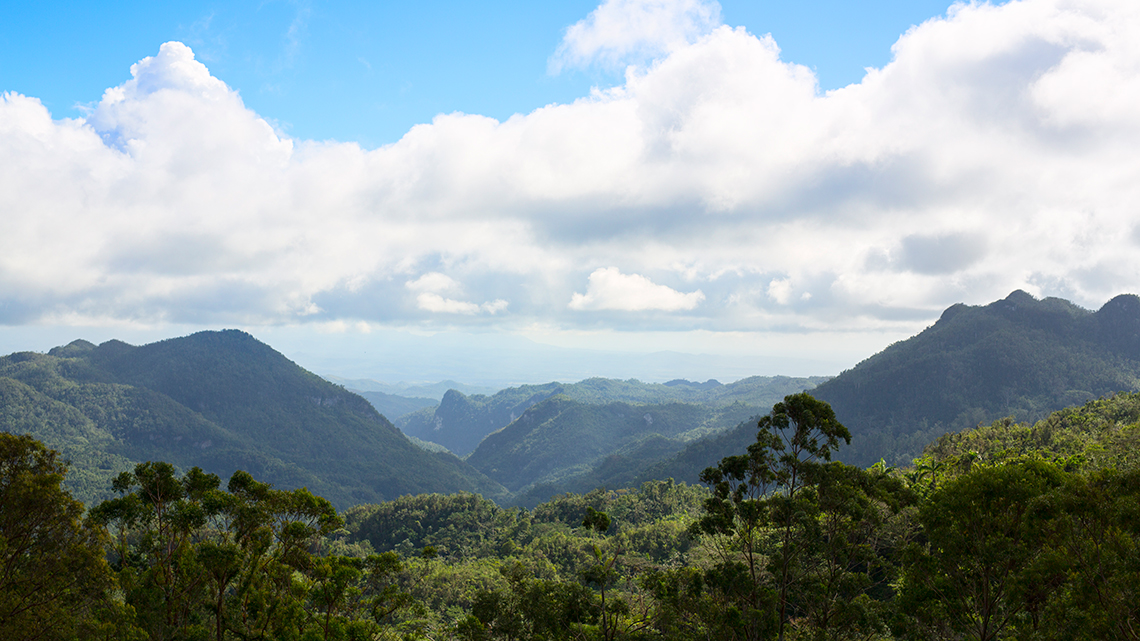 Let's go again, it gets easier from now on! Unbelievable views of the mountains and sugar cane on one side of the road, we spin through little villages and getting a respectful nod from farmers trotting along the way on horseback and exuberant waving from school kids catching some shade under a palm tree. Just when the heat starts to hit, suddenly you spot a statue of a Native American Indian, spear in hand, and it makes you hallucinate that you might be reaching ancient settlements or an important battle held between colonizers and locals, but is even better than that. It is a small hotel named "Guajimico", an indigenous name, with a coffee and cold drinks, just what we needed.
By now it's midday and 32′ celcius and 42 km on a bike so far, imagine how difficult is to get people back on the saddle, but we must as Trinidad is awaiting!
Before reaching Trinidad we sometimes stop for lunch at a country restaurant and sit in the shady terrace enjoying sea breezes and a hearty lunch before getting back onto our bikes for the final section of our ride to Trinidad.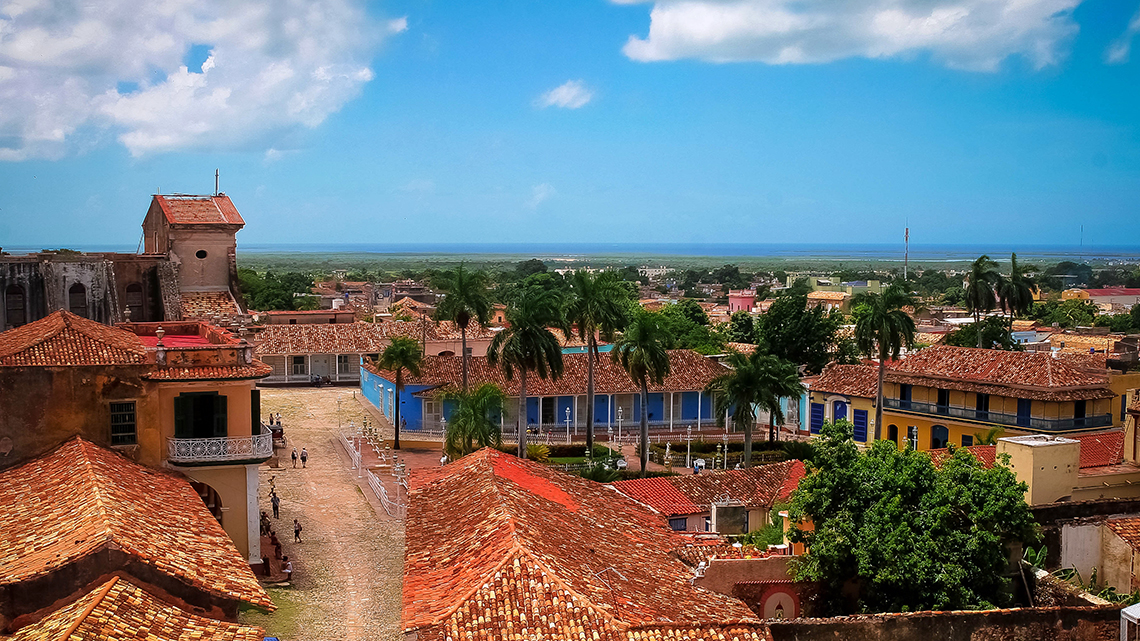 After lunch, we are literally sandwiched between the Guamuhaya mountains and the Caribbean Sea, it gets a little bit flat we are at almost sea level, passing sparkling Caribbean inlets to our right and enjoying views of the mountains to our left. Soon we can see the red tiled roofs in the horizon and a church and music, wait! Hey!? We are still 5km outside Trinidad, is that Cuban live music!? Incredible! We are here! Colonial Trinidad, where it doesn't matter where you look you could always "see" music meeting Cuban cocktails.
Ride Details:
Cycling Distance: approx. 87km Route Link
Cycling Elevation: +633m / -580m
Featured in:
Baracoa to Guantanamo, by Lismar Junquera
This route comprises a lot of what's beautiful about Cuba, but also encapsulates a bit of the bitter side of US-Cuba relations. Climbing mountains, magnificent scenery, local culture and people, the majestic Atlantic Ocean. Then the exposed Cuban limestone platform of Guantanamo, baked by the intense tropical Sun and home to Cuban Military Areas, a reminder of past tensions, due to the proximity of the US Naval Base in Guantanamo. All of these are parts of the environment cyclists will experience on their way from Baracoa to Guantanamo City. It's a road-cyclists dream and was one of the most famous ètapes in our local Vuelta de Cuba race, Cuba's Tour de France.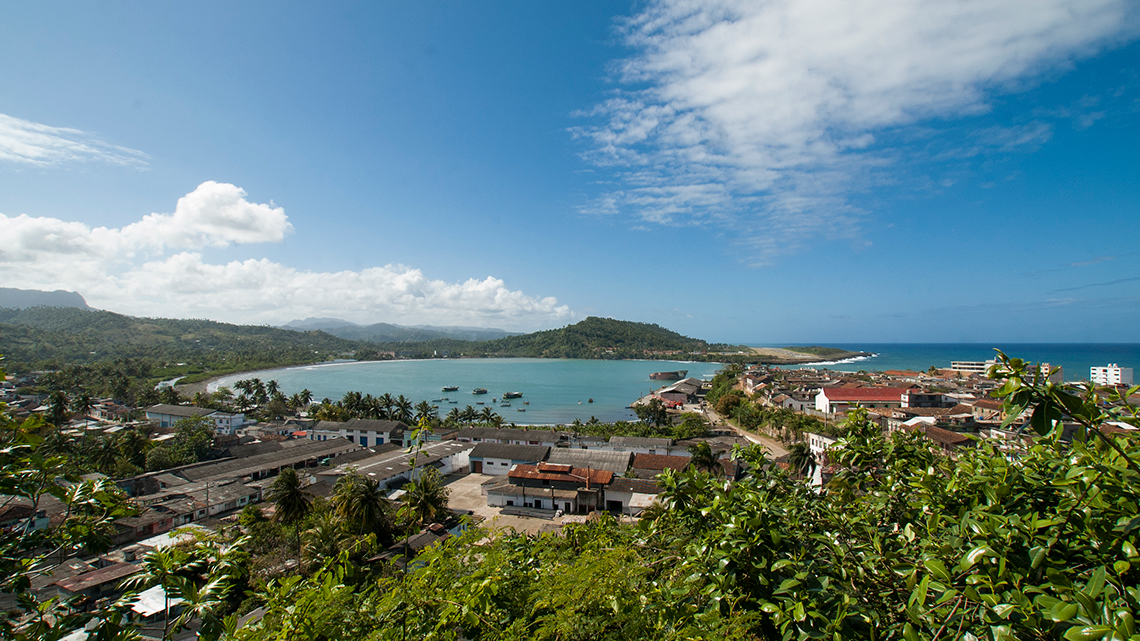 Once the group leaves Baracoa, first ever Spanish settlement in Cuba and founded in 1511, cyclists will face an interesting, as it is challenging, climb to Alto de Cotilla. Roughly 27 kms of ups and downs on a road known to Cubans as "La Farola". Going through local small villages among mountains with awesome views, this first section will end at about 550 Mt above sea level. At the viewpoint, all you'll want to do is catch your breath but bikers will usually find a crowd of friendly local people, offering all kind of seasonal tropical fruits, different varieties of bananas and local fruits such as Guanabana, Mamey, as well as the famous "cucurucho", a coconut sweet based local delicacy, home-made chocolate bars etc… and sometimes even Polymita shells, the local beautifully and colorfully patterned snail shells. These are now an endangered species so please enjoy them in their natural habitat and don't encourage the sale of their beautiful shells! From Alto de Cotilla on, the cycling gets even more exciting. Approximately 21 Kms of road, mostly downhill, will keep you very busy, despite the scenic views and the photo opportunities. This section gets a bit technical since it is a steep enough road downhill and very curvy.
By the time we reach the town of Cajobabo, the scenery will change. The striking contrast of the deep blue Atlantic Ocean, to the left, and the arid, rocky mountains to the right, will accompany the ride for the next 57 Kms. This is the driest landscape in Cuba and it sometimes feels like you're cycling on the moon! Different shades of blue, different rock formations, the intense sunlight and a tail wind will make the ride smooth through towns like Imías and San Antonio del Sur.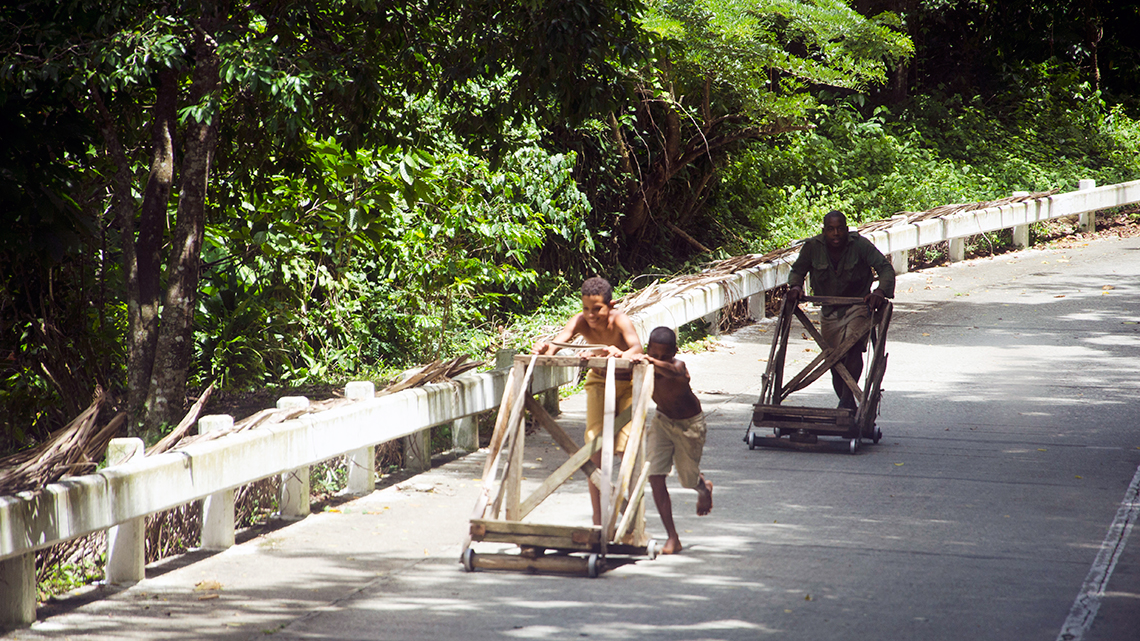 Then, from Tortuguilla to Glorieta, group will enjoy a 21 km, rollercoaster-like ride at first and flat at the end, as the cycling goes through the Frontier Brigade area. An important military base with combat troops is located here, boot camps and even tanks can be spotted on the way. The names reflect the "inner frontier" that separates Cuba from the Cuban territory occupied by the US Naval Base since the very birth of the Republic. Fortunately, no physical confrontation has ever happened, not even during the darkest times of Cold War and political rhetoric on both sides.
Once Boquerón check point, the restricted area which gives direct access to the Naval Base, is behind you, the job is almost done. It is just another 20 Kms to Guantanamo, the cradle of "Changüi" one of Eastern Cuba's traditional musical rhythms.
Ride Details:
Cycling Distance: approx. 152km Route Link
Cycling Elevation: +2,011m / -1,958m
Featured in:
The Skyline Route (Las Terrazas to San Diego de los Baños) by Liesner Crespo
The Skyline Route is a beautiful and very enjoyable ride. On day 3 of the "Western Skyline" itinerary is what some of us, the trip leaders, consider the "main course" of the cycling routes in this region of the island. This day has it all.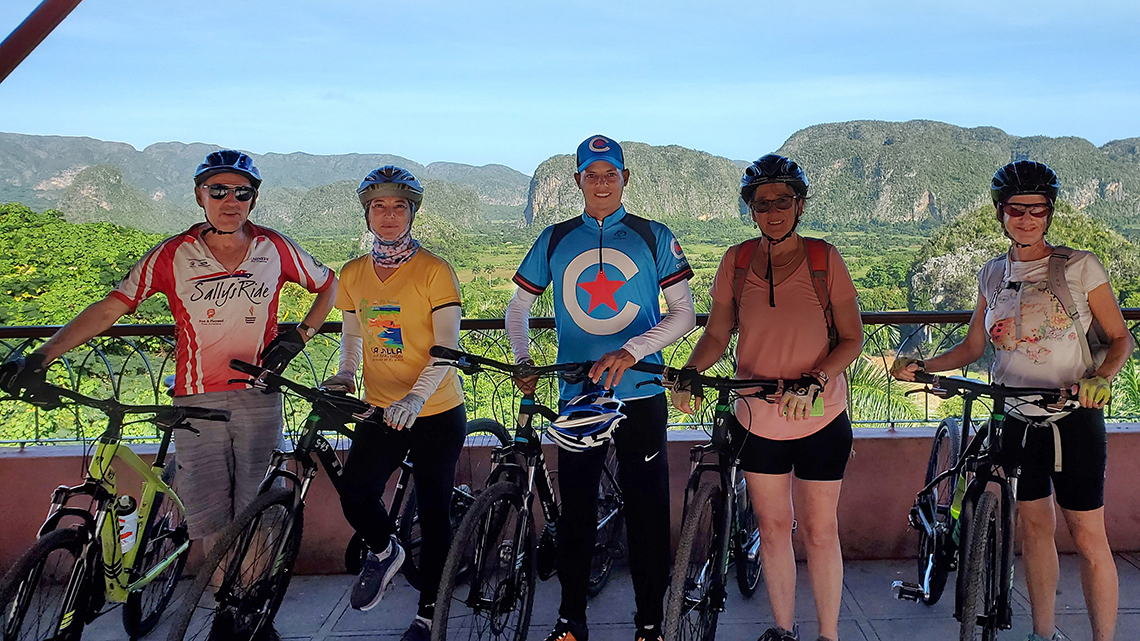 We begin at Hotel Moka perched at the top of a hill surrounded by the singing of morning birds and the green nature of Las Terrazas Community, a place located at the heart of Sierra del Rosario, in the middle of the 5,000 hectares of land declared Biosphere Reserve in 1985. The Skyline ride ends in the small spa town of San Diego de Los Baños.
We start the day descending from the Hotel along a narrow winding road which passes over a lake as we head out of the community. At first we're riding through the Biosphere reserve with gentle ups and downs through the beautiful and quiet roads of Las Terrazas which head to the "Carretera Central de Montaña". This is where the Skyline starts. At the end of this first 12 km leg, we face the first two tough hills, these are the perfect warm up for what's coming later on the day. The good news is that there is hardly any traffic on this route, and it's likely we'll ride for 1 hour and not see a car, though we may encounter a couple of tractors or a horse and cart belonging to the farmers of the area.
We ride along the Carretera Central de Montaña (what we call the Skyline Route) for around 33 km of tough long uphill climbs which some riders adore (and others endure!) , awesome descents (which cyclists descend with glee) and flattish roads on the peaks of the hills, enjoying the breeze on your face, but most importantly, the beautiful eye-catching views which often stop riders in their tracks to take pictures of the lush green surrounding mountains. You feel like you are riding at the top of the world.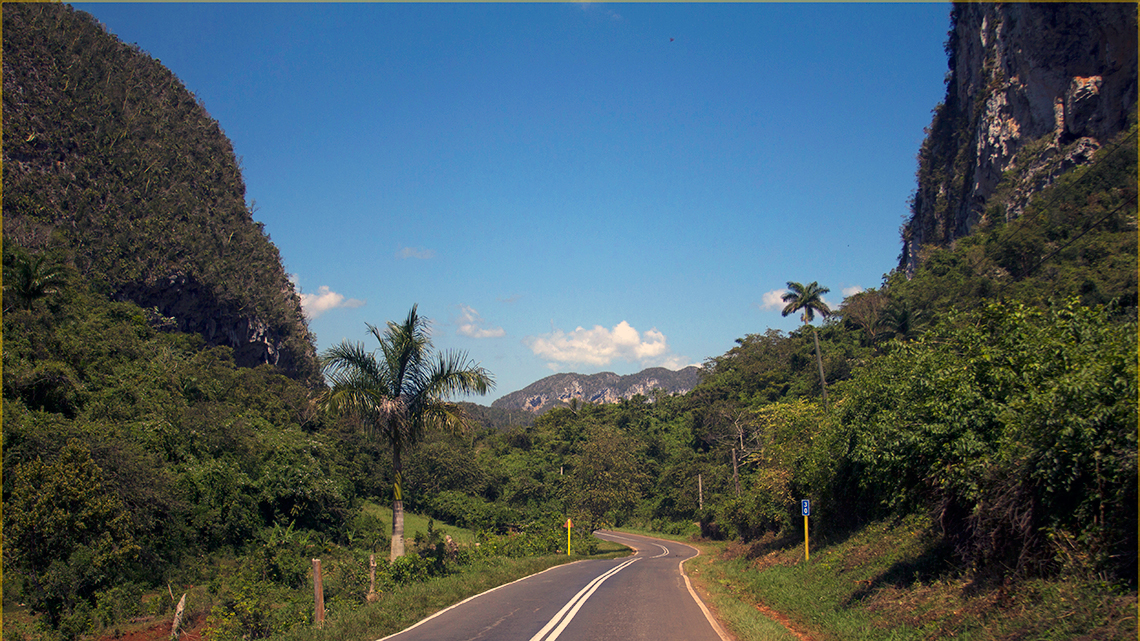 On a clear day, the North coast and the Atlantic Ocean can be seen from the top of some mountains. After arriving in the small rural village of San Cristobal the hills are done for the day and the rest of the ride is easy rolling along the provincial road, passing farmers homes and villages until we turn up towards San Diego del los Baños, formerly a popular spa town. We finish the ride at Hotel Mirador in San Diego de los Baños and have a late lunch and/or a dip in the pool before we continue to the final destination of the day, the beautiful, unique and breathtaking Viñales Valley where we stay the night to get ready for the next day adventure.
Ride Details:
Cycling Distance: approx. 77km Route Link
Cycling Elevation: +1,134m / -1,250m
Featured in:
The Viñales Valley offers a wonderful opportunity for cyclists and the 26 km route I'm going to describe always reminds me why cycling is the best way to see this amazing place.
Beginning in the lovely town and going to a deep part of the valley, we explore one of Cuba's World Heritage Sites, awarded to Viñales Valley by UNESCO for the unique farming methods used which have enhanced the beauty of the landscapes and produced the world's finest tobacco. The landscapes you'll see are so beautiful that you might imagine you're dreaming. Tall mountains we call "mogotes" pop out of the valley floor, covered in vegetation. Tobacco fields and fruit farms are dotted along the road, their pastel painted houses provided a lovely contrast to the rich red soil and the deep green of tobacco leaves growing in the shade of the mogotes.
Leaving the town behind, we head away from its colonial houses and cycle past fields and colourful farms. From movement to silence. From busy village roads bustling with everyday life, to tracks which have practically been abandoned, used only by local farmers heading to their fields. From classic cars and electric motorcycles to horses and bikes. The ups and downs remind us we are still in one of Cuba's most beautiful mountain ranges, potholes created by time and filled with rocks for the comfort of some cars, that remind cyclists once more that cycling is, indeed, an adventure.
Friendly dogs follow us sometimes, perhaps for the joy of running next to a cyclist, and we all have to stop or swerve every now and then for a hen followed by her chicks because they don't remember ever seeing any traffic on that road and they have priority. Domestic pigs snuffle the undergrowth looking for something to eat and hide in the grass when they hear you coming. A very unique cycling route.
But what makes really special is the landscape, reminding us all the time that we are in a unique place in the world. Viñales' most important feature are its mountains, amazingly sheer mountains known as "mogotes", made of Jurassic limestone so that this place is the oldest area in the island, existing for over 150 million years. These will follow you all over offering views that can only be seen in this place, the once naked limestone that has survived millions of years are now covered by vegetation, an amazing natural adaptation which has allowed flora and fauna to thrive. Birds soar over them and caves that are full of history can be found at the foot of the mountains. And right next to you, you'll see small houses and communities all over, with colourful houses and big farms, crops of many kinds depending on the season. And curing houses for tobacco leaves dotted all over the landscape so that it's impossible for us to forget that we are in the west part of Cuba, where the world's finest tobacco is grown. We are in the countryside where machines are not allowed and the farmers use animal force to work on the land, how amazing to see the oxen pulling the rooter. Once again, being in Cuba is like stepping back in time.
Kids playing in the gardens and yell a big "hello" when you pass in front of them, pets all over, moms doing laundry regardless of the time or day of the week, farmers collecting crops or selling them from tables set outside their homes, opportunities to stop for a nice fruit, pineapple fields where you stop and with a knife enjoy a sweet and juicy one, tamarind trees to jump and grab some. Cuban cyclist saying hello and getting off the bike if a big hill comes in front.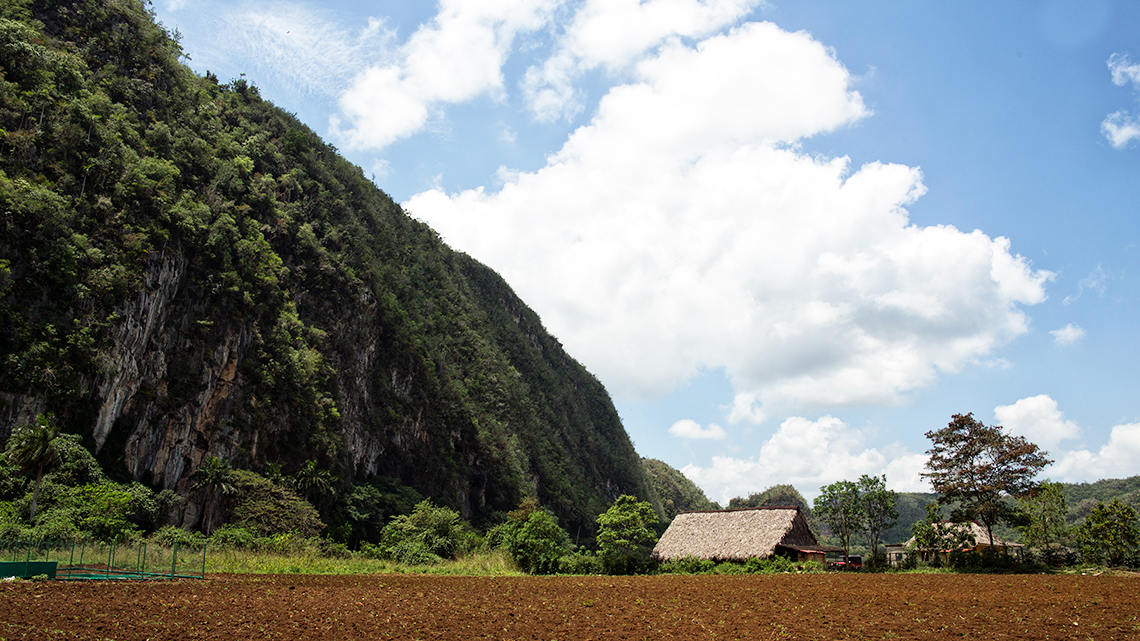 A route to know Viñales, to see the countryside, to let our eyes make a feast, to go back in time, but most important, to enjoy Cuba.
Ride Details:
Cycling Distance: approx. 26 km. Route Link
Cycling Elevation: +276m / -277m
Featured in: