Cuba by the Experts – Our Guides!
Cubania Travel have been experts in cycling and adventure trips to Cuba for the past 20 years. There isn't a corner of the island that hasn't been explored by our team of fantastic guides. Constantly on the road and full of love for their home country, our guides are bursting with top tips on where to visit and what to do.
Our insiders
Nobody knows Cuba better than the many guides who travel its length and breadth year-round. Not only do guides study Cuba's history vigorously before qualifying, they go on to repeatedly visit its many corners and are forever discovering new places and things to do. Guides form friendships in every province and every village, and they know the best place for coffee and which public toilets are best avoided. In short, guides are the font of all knowledge!
Cubania Travel has some of the best guides in the industry. Over the years, they have won many international awards, testament to their knowledge, dedication and charisma. Most of our guides studied foreign languages or history at University and our guide training programme further enriches their already encyclopedic knowledge. We entrust our guides with our travellers' safety and welfare but we also trust them to show visitors a seriously good time. From history and culture to outdoor sports and nature, our guides know Cuba inside out.
Six different perspectives from six different guides
There is a different Cuba out there for everybody, so we asked six of our guides to share with us what they love best about home.
Elenita, Eric, Lismar, Dainelis, Arley and Rayselis tell us about their favourite places in Cuba and what makes them so special.
Elenita
Elenita is Cubania's tiny fireball: to quote Shakespeare:
"Though she be but little, she is fierce!"
One of our youngest guides, Elenita has already been guiding for 5 years. Elenita loves her job as it allows her to be out and about and in nature, she's also a major chatterbox and is always ready to answer any questions visitors might have about Cuba. Her favourite way to travel is, of course, by bike.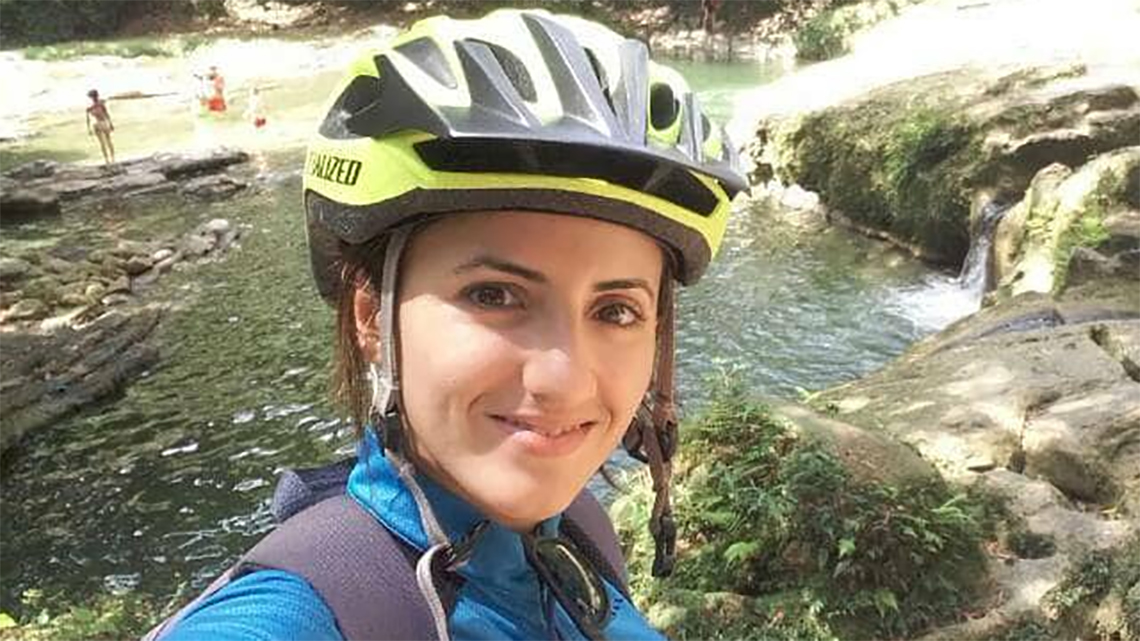 Favourite place in Cuba?
My favourite place in Cuba is without a doubt Baracoa, on the far eastern coast of the island. It was the first "villa" (or village) ever founded in Cuba and the first place Christopher Columbus landed. Its isolated location right between the Atlantic Ocean and the Nipe-Sagua-Baracoa mountain range, meant that Baracoa was cut off from the rest of the country for over four centuries. Baracoa's isolation has left it frozen in time and comparatively untouched by the modern world. Its flora and fauna, natural surroundings and culture are also completely unique.
It is known as the queen of chocolate and coconut because of its abundant cocoa and palm trees and it's one of the only places in Cuba that uses coconut oil and milk as staple ingredients. Much of what makes Baracoa unique comes from the strong indigenous presence in this area which can still be felt today. You feel like Christopher Columbus when you arrive in Baracoa, like you just discovered paradise, as he said:
"The most beautiful land human eyes have ever seen."
You can visit Baracoa on our Cuba Completa and Road Cycling Cuba tours, check out the tour section of our website for full itineraries or contact us to arrange a personalised tour.
Eric
Eric is charm personified with a cheeky grin and an almost flawless British accent. Eric started guiding in 2012 and as he loves exercising his body and mind, being a biking guide is the perfect job for him. Eric also loves walking and is one of our specialist hiking guides.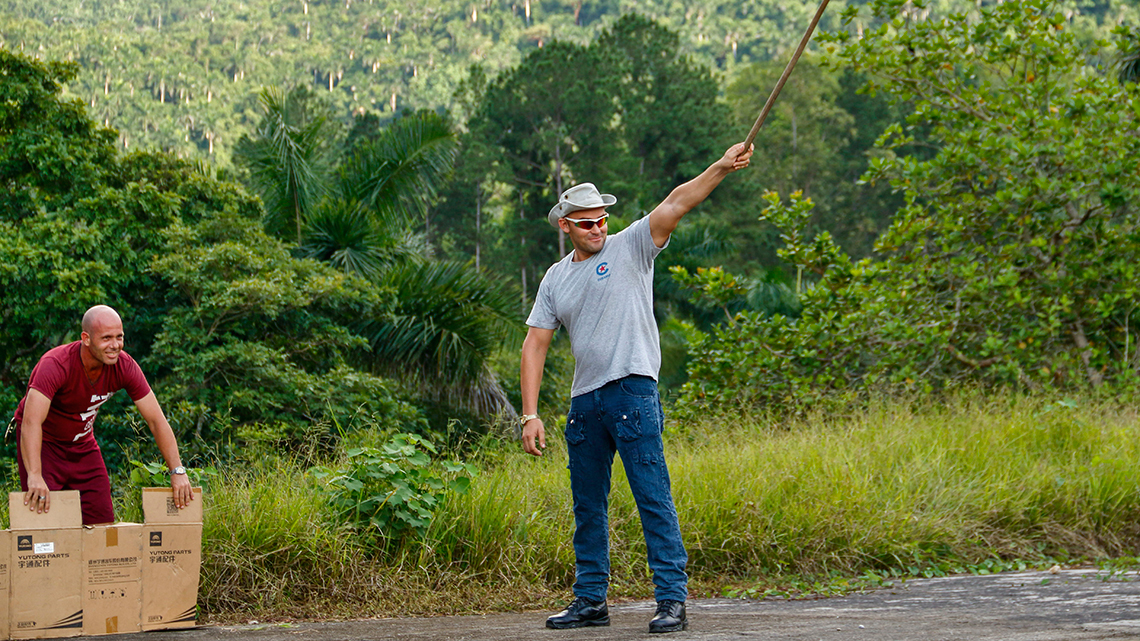 Favourite place in Cuba?
I have two! First, I love my hometown, Havana. Havana is a concentrated version of the rest of Cuba: you can find about 90% of Cuban culture hidden in the streets of this wonderful city and its surrounding areas. It is also Cuba's most cosmopolitan city and the largest city on the island. A bit of every province in Cuba is found in Havana – you just have to look for it! I currently live in Vedado in central Havana, but I am originally from Guanabacoa, which to the east of Havana and is the epicentre of Afro-Cuban religion in Cuba. Whenever someone is going through a hard time they'll be told to go and see a "babalao" (Santeria priest) in Guanabacoa.
One of my favourite things to to in Havana is go to the top of tall buildings and look at the city from a different perspective. I take my son to the top of the tower at the José Marti memorial in Revolution Square, which has an incredible view across the city. I also like the Packard Hotel in Old Havana which has an amazing location right at the mouth of the bay of Havana.
My other favourite place – a little further from home – is the Sierra Maestra mountain range in eastern Cuba. It's the largest mountain range on the island, home to the island's tallest peak – Pico Turquino – and one of my favourite places to cycle. It's also incredibly important in Cuba because of its revolutionary history: Fidel Castro hid out in the Sierra Maestra with his guerrilla troops whilst they plotted how to overthrow Batista's government in the 1950s. Did I mention it's also absolutely stunning?
All of our tours include time in Havana, you can explore Afro-Cuban religion with us on our Hip Havana tour and you can visit the Sierra Maestra on our Cuba Completa and Road Cycling Cuba tours, check out the tour section of our website for full itineraries or contact us to arrange a personalised tour.
Lismar
Lismar loves nothing more than a good bike ride, this, along with his passion for languages and history, makes him the perfect biking guide. Lismar was an English teacher at university before becoming a guide 6 years ago – his academic background means he's a stickler for facts.
Favourite place in Cuba?
Er, I can't make up my mind – there are too many! I love Viñales in Western Cuba and Hanabanilla in the Sierra del Escambray mountains in central Cuba. They both have such unique, awe-inspiring scenery. Hanabanilla is a man-made reservoir deep in the Sierra del Escambray. It's fed by three rivers: Guanayara, Rió Negro and Hanabanilla.
The name Hanabanilla comes from the Arawak language of Cuba's indigenous peoples, it's said to mean:
"Small basket of gold."
And it was the name of a princess who bathed in the river. The reservoir was built by an American company in the 1950s to provide hydroelectric power and the plant is still operational today. In the 1970s a hotel was built on the reservoir and during the soviet years it hosted members of the Cuban military, visitors from the Soviet bloc and a few Canadians and Americans on cultural exchanges.
Nowadays the hotel is open to everyone but it's far off the beaten track giving Hanabanilla the special feel of somewhere really steeped in nature. I love camping, kayaking, hiking and paddling in this beautiful area.
You can visit Hanabanilla on our Road Cycling Cuba, Kayaking in Cuba and Western and Central Cuba Trek tours, check out the tour section of our website for full itineraries or contact us to arrange a personalised tour.
Dainelis
Dainelis joined Cubania in 2018 and quickly became an essential part of the team. Dainelis exudes enthusiasm and has a genuine passion for meeting people from all over the world, learning from them and teaching them about Cuba. When she started guiding in 2015, Dainelis took to it like a duck to water and says she is still:
"In love with her job."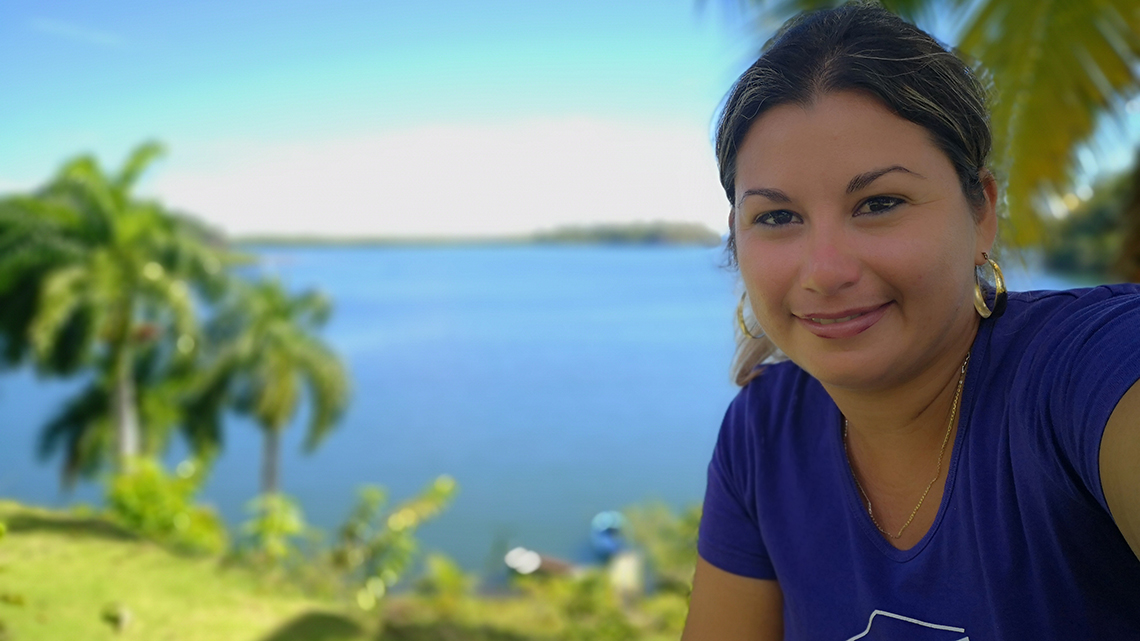 Favourite place in Cuba?
I'm a nature lover who enjoys the simple things in life. I'm the happiest, most relaxed person in the world when I'm just sitting on a chair looking at an amazing landscape. No surprise then that my favourite place in Cuba is the Alexander von Humboldt National Park, considered the epicentre of Cuba's biodiversity. The Alexander von Humboldt National Park is located in the Nipe-Sagua-Baracoa mountains in eastern Cuba and was declared a World Heritage Site by UNESCO in 2001. It's a truly incredible place full of breath-taking natural beauty, the kind of place that makes you feel completely at one with nature.
You can visit the Alexander von Humboldt National Park on our one of our personalised tours, contact us for more details.
Arley
Arley the darling, never happier than when sipping a cold Cristal beer by the sea. Arley never expected to become a guide – he started off a Judo star and after an accident, he dreamed of studying Chemistry. Instead, Arley ended up studying English which lead him into guiding, something he's pretty pleased about given it's:
"The best job in the world."
Arley loves discovering new places, meeting people from all over the planet and getting out on his bike.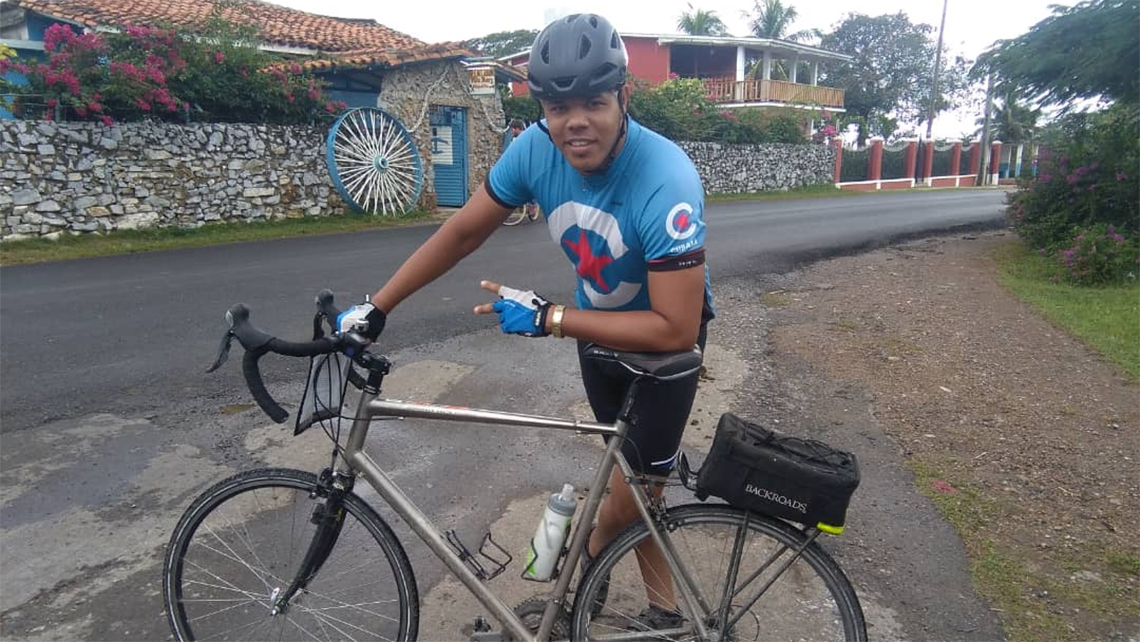 Favourite place in Cuba?
I have two! First there's Tope de Collantes in the Sierra del Escambray mountains in southern Cuba. In terms of cycling, it's the best place to really challenge yourself – there are plenty of hills! Nature is so abundant and there is so little traffic that you feel as though you're cycling alone through the forest.
The fact there are so few people around means that locals invite you into their homes and treat you like long-lost friends. The happiest person I know lives in Tope de Collantes: her name is Orla. Orla doesn't have much but she says she doesn't need anything material to be happy, she has everything she needs in the tiny village of Jibacoa up in the mountains: her friends and family. The best thing about Orla is her traditional coffee: planted, harvested and prepared right on her property.
Another place I love is the notorious Bay of Pigs; it has the perfect mix of sea and forest. The sea at the Bay of Pigs has a really special colour and due to its rich collection of endemic species it has been made a protected area, along with the surrounding forest. As far as I'm concerned, the Bay of Pigs has a little bit of everything: culture, history and nature. Not to mention the best sunsets in the world and the most delicious fresh seafood!
You can visit both Topes de Collantes and Playa Larga on our Cubania Classic Cycle, Road Cycling Cuba, Central Cuba Trek, Family Beach and Culture tours, check out the tour section of our website for full itineraries or contact us to arrange a personalised tour.
Rayselis
One of Cubania's longest-standing guides, Rayselis is also the loveliest. Her warm smile and red-hot dance moves make her difficult to resist. Rayselis has been guiding for 16 years and loves:
"Turning the ordinary into something extraordinary."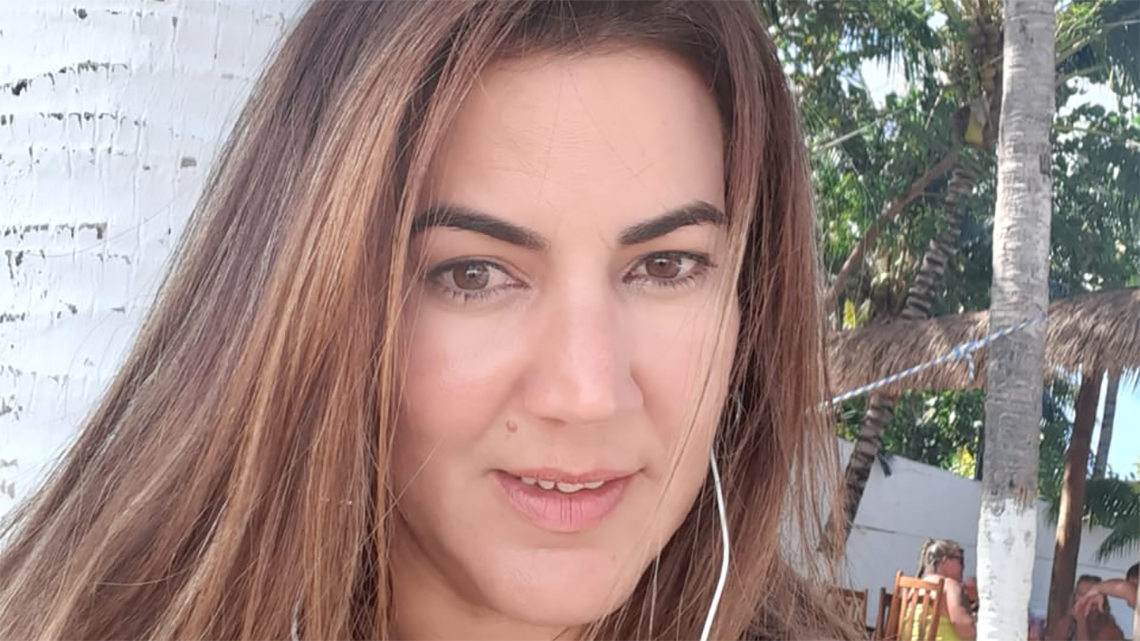 Favourite place in Cuba?
Only one!? I have so many favourite places in Cuba; as soon as I feel I've captured the essence of a place I fall completely in love with it. As I can't choose, I'll put together a collage of paradise.
The first image in my collage is a breathtaking sunrise over the limestone hills of Viñales Valley accompanied by a cup of Cuban coffee.
The next is the tranquility of the virtually untouched Cayo Levisa, a tiny island where you have the ocean at your feet and live in a wooden cottage surrounded by palm trees.
I'm saving a corner my collage for Havana, as it's cobblestones hide all kinds of stories, but I also love any place where nature dominates and you feel like an intruder. Places like Guanaroca lagoon in Cienfuegos with its pink flamingos or the peace and quiet of the summit at the heart of the Sierra Maestra. Then there's the unspoilt Yumuri river near Baracoa, surrounded by exuberant vegetation. Swimming in it is an unforgettable experience – just watch out for the currents!
When it comes to dancing you can refill your lungs with energy and amity in Santiago de Cuba and Trinidad. Trinidad will doubtlessly make you the protagonist of its own story to fabulous historical, cultural and natural backdrops.
For the final image in my collage: you can never beat a sunset in the Caribbean…
Have a browse of our tours to find all our many trips to Rayselis' recommended locations. You can also contact us to find out more or arrange a personalised tour.
Insiders tips from the real experts
The passion our guides have for their home country is pretty clear; it's no wonder they have chosen to spend their lives sharing it with others. Of course, though they are quick to recommend places, it's they themselves that are our chief attraction. Cuba is at once both miraculous and mystifying and it's never better explored than in the company of an expert guide.
Want to visit Cuba with an insider? Contact us.