Colonial Havana, a pirate's dream – a journey to discovering its complex fortress system
Cuba was one of the Caribbean's most coveted island for pirates and corsairs who repeatedly raided the island on several occasions throughout history. The aim was not always to steal some bounty but also take hold of cities like Havana, which was once occupied by the English for an entire year! On a Cuba holiday to Havana, you can admire the complex fortifications built to fend off invaders and here we tell you which ones to include on your itinerary!
---
Havana was once the Caribbean's most brightly shining jewel, coveted by corsairs and pirates alike. The entire island itself was the Spanish empire's most precious colony due to its strategic geographical location as a gateway to the Americas, an ideal trading port and mid-way stop-off point. With so many eyeing its rich potential the Spanish Crown had to fortify it in several ways and the magnificent remnants of these outstanding fortification systems can be explored on a holiday to Cuba.
Havana, specifically, as the country's capital and trading centre, had to safeguard its riches more than any other part of Cuba and as such fortified itself as much as it could. The result is several fortresses, turrets and keeps, some interconnected with each other and, all of outstanding colonial beauty.
But Havana's complex fortification system is not just beautiful, it is also a protected UNESCO World Heritage Site and its fortress system is one of the most complex and best-preserved in the New World.
Havana Fortification System – Vedado and Old Havana
To discover them we suggest getting on a bicycle as one of the best ways to go from one point to the next, stopping at some midway point for refreshments and a bite or two. Let our cycling journey through fortified Havana begin!
Torreon de la Chorrera
We could start at the heart of Old Havana if all you wanted to see were fortresses and castles but since we'll also be including keeps and turrets in this journey we actually suggest starting in the Playa municipality, right at the mouth of the Almendares River. This is the point where the Malecon ends (or begins, depending on how you look at it) and right here you will get to admire the first of the colonial fortress in our journey. Its full name is "Santa Dorotea de la Luna de la Chorrera", but few know its lengthy moniker as most simply call it "Torreon de la Chorrera".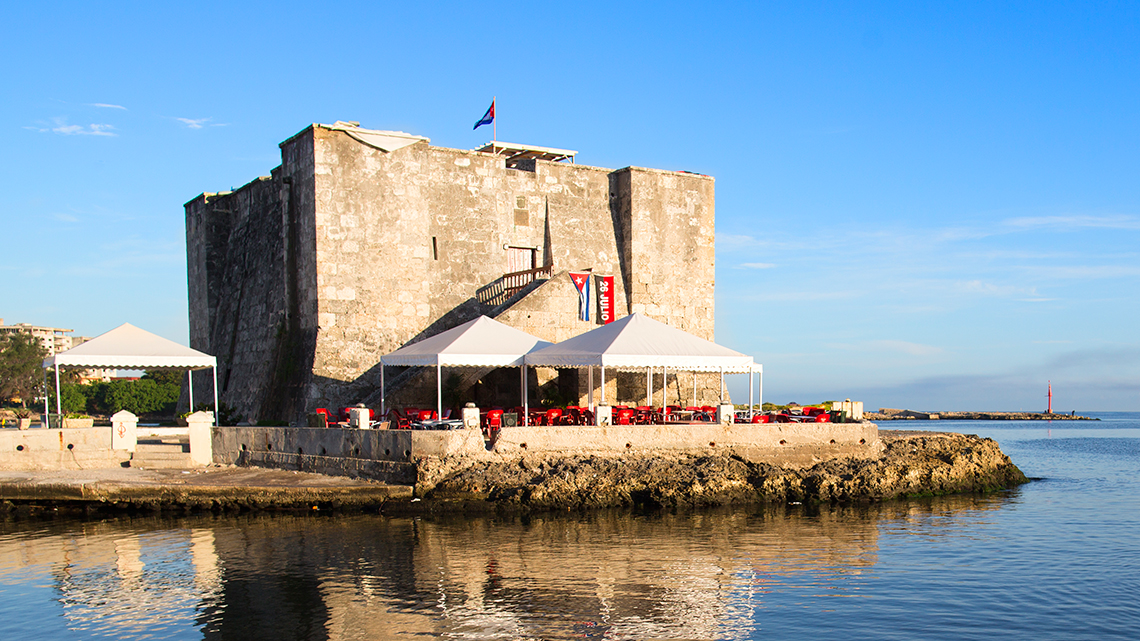 Built in 1646, its location was strategic to stop corsairs and pirates reaching a source of drinking water during their attacks to the city. Around 50 soldiers stood watch here, equipped with all manner of weapons, including 12 cannons, five of which protruded from its triangular windows and another seven crowning the top of the turret.
British Invasion of Havana
This turret was almost completely destroyed during the British Siege of Havana in 1762 as part of the Seven Years' War, so the one you see today is a rectangular reconstruction, the original was round in the Moorish style present in most Spanish castles and fortresses, by Juan Bautista Antonelli; the eldest son of Battista Antonelli, the architect who built El Morro and San Salvador La Punta castles; after Havana was handed back to the Spanish government in 1763. Torreon de La Chorrera proved its worth during the British invasion of Havana, when Cuban colonel Luis de Aguiar tried to fend off the attack of two English ships led by George Keppel, 3rd Earl of Albemarle. He was able to hold them off until Cuban soldiers ran out of ammunition, after which they fled a virtually destroyed turret.
Nowadays, despite the wear and saltpetre abrasion, the fortress is preserved as a relic with a very different function. As you will soon notice, it now houses a restaurant offering outdoor seating with spectacular sea views. The structure you can see and explore today has a stone staircase separated from the towers and joined by a drawbridge. Its top tower, once a lookout point from which guards stood watch is now a viewpoint offering splendid views of the sea and Havana. You can linger here with a drink and a bite, but best return at dinner time to enjoy the amazing sunset views.
Torreon de La Caleta / San Lazaro
After leaving our first medieval attraction in Havana, get ready for a scenic cycling journey along the Malecon for a while, where you will be pedalling away for around 5 km until reaching our next stop, yet another medieval-style turret.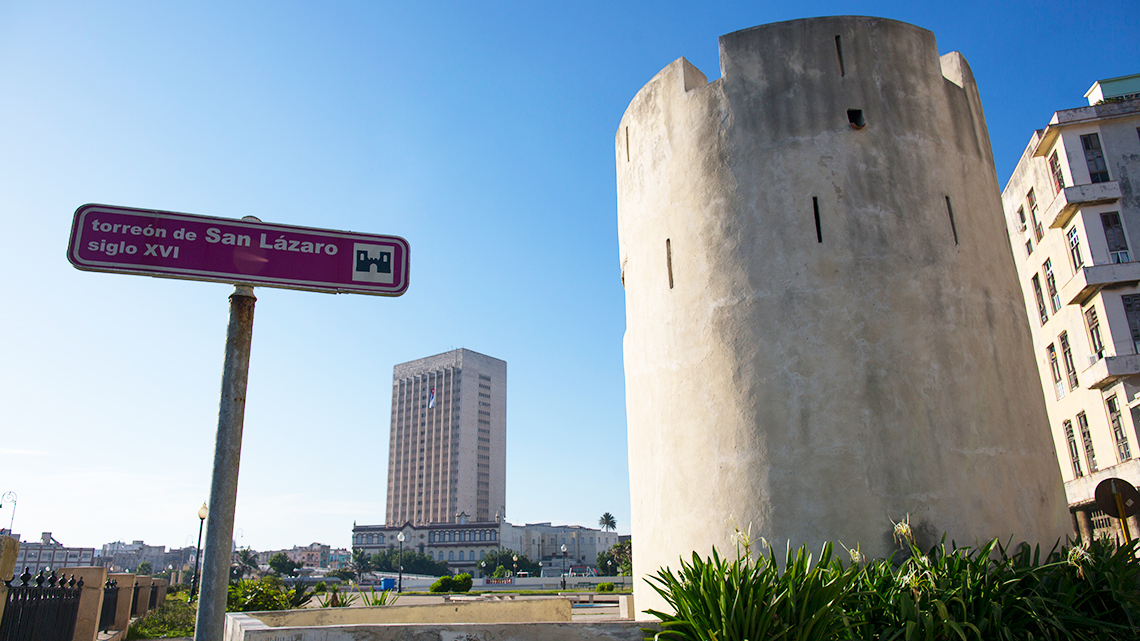 Far more simple and significantly smaller than our previous one, Torreon de San Lazaro, its official name, or "Torreon de la Caleta", as it's also called, has a cylindrical shape like a small tower because it indeed served as a watchtower.
Built in 1665, its purpose was to serve as a mid-way lookout point strategically located between Old Havana's fortresses and La Chorrera to allow for better visibility. Its location solved a major visibility problem as viewing the fortresses from this point was impossible, which made this part of the city more vulnerable.
Its size and structure might not be all that remarkable, but its function was of vital importance. Its walls are 1.30 metres deep with tiny loophole windows that allowed soldiers to open fire without exposing themselves and it features parapets on the top. There is no reason to linger here as its compact structure means that a quick view and inspection will suffice before getting back on our bikes.
Castillo de San Salvador de la Punta
Our next stop is right at the point where Paseo del Prado ends, and the Malecon meets Avenida del Puerto.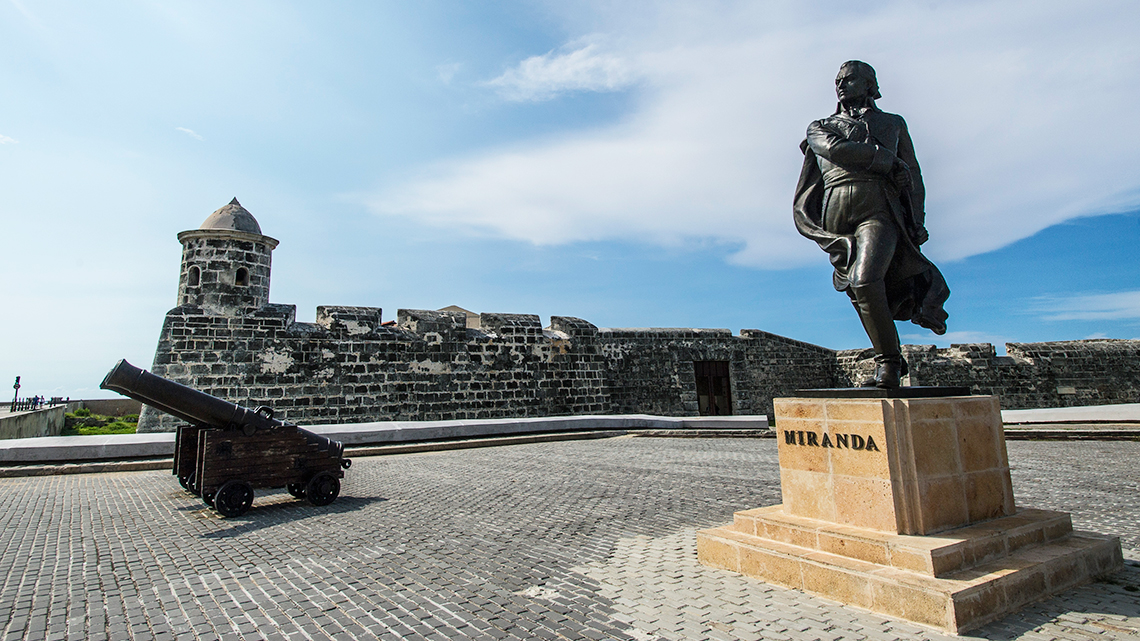 This is the first castle we will visit in our journey and an impressive one at that. The San Salvador de La Punta castle, commonly referred to simply as "La Punta" to shorten its long name, dates all the way back to 1587 and is one of Havana's three main fortifications, along with Castillo de la Fuerza and El Morro. The long and costly process of building it was heavily debated and as a result its construction was stopped several times.
Like the other two main fortresses in Havana, its purpose was to protect Havana Bay from all-too-frequent attacks by corsairs and defend the city. Impressive because of its sheer size and how well it remains preserved against all odds
Its Renaissance style is of great beauty and the thickness of its walls, up to three metres deep, made it impenetrable and virtually unbreakable. Along with El Morro fortress it enjoyed a privileged location as both fortresses opened crossfire against any vessel that dared enter Havana Bay.
Today you can explore its interiors, now a museum exhibiting documents and objects related to its history. From archaeological remains found inside its walls to blueprints and floor plans and valuable pieces found in shipwrecks discovered along the bay.
The surroundings of the castle are ideal for long leisurely walks to take in the surroundings and take a break, enjoying the magnificent vistas over El Morro, the castle's faithful battle companion. An all-white modern looking monument with a gap in the shape of a seven might catch your attention, if you get closer you can read the plaque awarding Havana the title of "Wonder City of the World" in 2016 as voted by thousands of travellers during the search for the world's of New7Wonder Cities.
On your way to our next colonial Havana castle you might spot a small building resembling a fortress but don't be fooled, this one is a much more modern structure imitating older ones in order to blend in with this old part of the city but built much later. It is actually a police station known as Cuba y Chacon and has nothing to do with the city's medieval defence system.
Time to get back on your bike and pedal along for another kilometre or so to admire the first of all fortresses to be designed and built in Havana.
Sustainable Cuban Experiences
For the last 20 years, we have been providing exceptional and meaningful holidays, enriching the lives of active travellers and our community, and exposing them to a unique way of living by sharing real Cuban experiences in a sustainable way. From cycling across rural roads, trekking through lush mountains, mojito-sipping in Havana's hip bars or simply relaxing on warm, white sandy beaches – at Cubania we know how to create a holiday that just hits the spot.
Castillo de la Real Fuerza
Considered the oldest fortress still standing in the Americas, the Castillo de la Real Fuerza is as beautiful as it is legendary. This is where the first Spanish governors kept their gold and silver before shipping them off to Spain. Located very close to Plaza de Armas, the castle was also the first residence of the island's first captains general.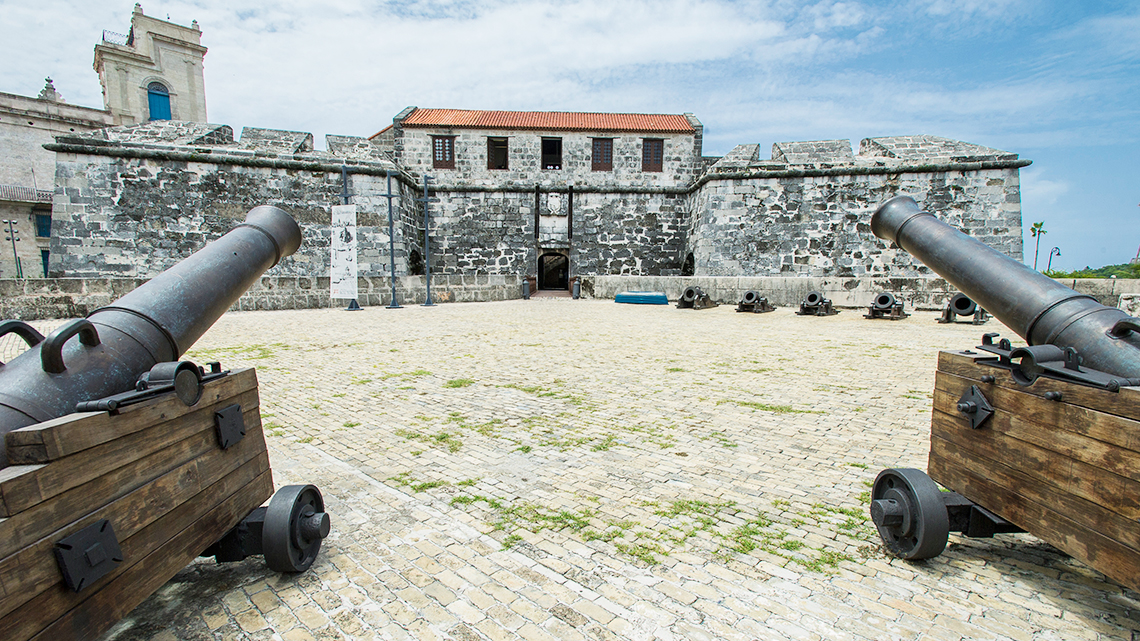 Built between 1558 and 1777 the castle features a Renaissance first floor and sits surrounded by a moat with a drawbridge. Despite its unbreakable look it had to be fortified with the construction of all the other fortresses that followed later because its location inside the bay made it much more vulnerable and meant that this one fortress alone couldn't really protect the city, though looking at it you wouldn't say that…
Inside, its halls exhibit valuable pieces rescued from the countless shipwrecks and wreckages found along the island's shores. One of said halls is dedicated to exhibiting ship models, among them Santisima Trinidad, one of the main naval ships of the Spanish armada at Trafalgar, meticulously replicated in scale model full of detail. You will also find replicas of the trio of ships that took Christopher Columbus and his crew to the New World.
Its top affords excellent views over Havana Bay with sights to take in including the floating figure of El Morro Castle, the San Carlos de la Cabana Fortress, Havana's Christ, not dissimilar to Rio de Janeiro's but smaller, and the long seawall promenade known as Avenida del Puerto.
La Giraldilla – symbol of the city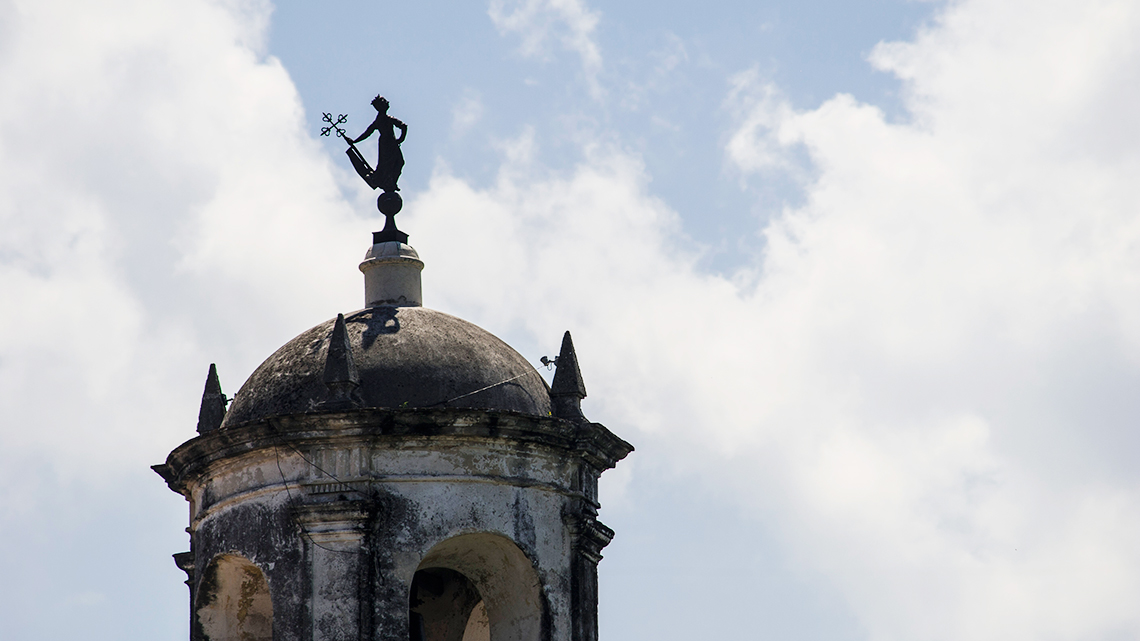 Crowning the castle is a bronze symbol of Havana, the very same used to represent the city in numerous posters and memorabilia items, in fact it is part of the logo of the Havana Club rum. We are talking about La Giraldilla, a weathervane in the shape of a woman representing the triumph of faith. Inspired by the figurine crowning "La Giralda" in the Cathedral of Seville, Spain, this Cuban version is an act of love and remembrance of Isabel de Bobadilla, the faithful wife who stood watch over the castle's tower for the return of her husband, Hernando de Soto, the seventh Cuban governor, who would die in his attempt to conquer Florida.
You can admire the original statue at ground level on the castle's entrance, the one at the top of the tower is a smaller replica.
Atares Wall and Fortress
Continuing our journey as we pedal further down along Avenida del Puerto, we'll pass by eye-catching attractions such as the pretty San Francisco de Asis Square with its lion-guarded fountain and usual flock of pigeons, probably the only place in Havana where you'll see them, the Iglesia de Paula church and Almacenes San Jose, where you can peruse all manner of souvenirs under one huge roof, a former dock warehouse.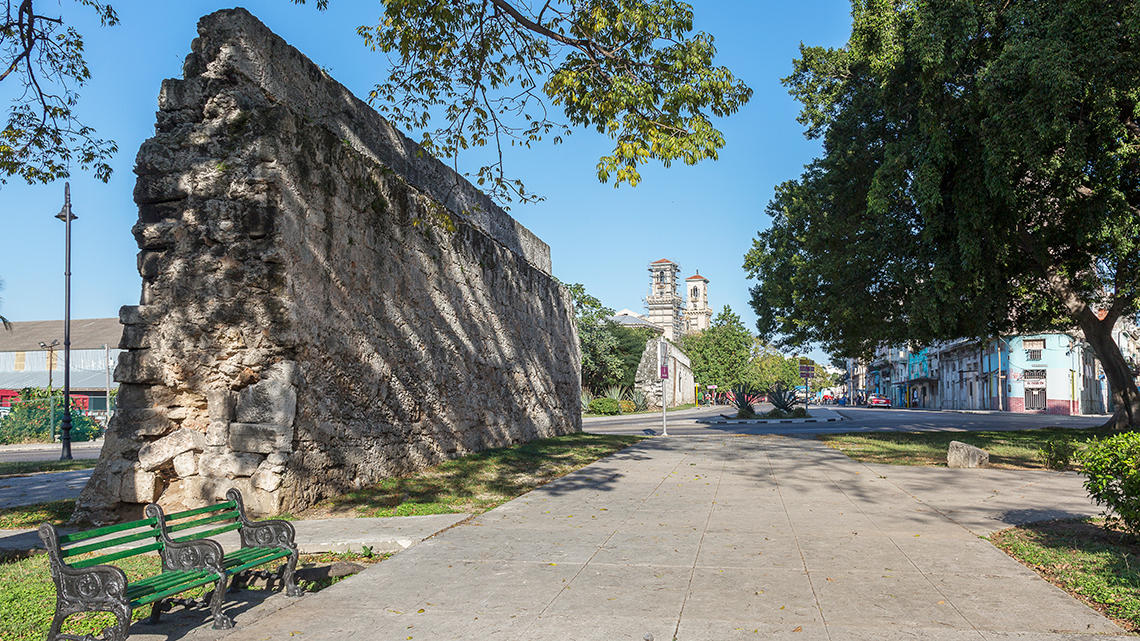 As we approach our next medieval castle, we will stop to take a look at a fragment of the great big wall that once surrounded Havana to protect it. You will find it on Calle Egido and according to legend it cost 3 million pesos to build its four-kilometre perimeter. With 10 gates that linked life from inside the wall to the world outside, said gates opened daily at 4:30 in the morning and closed at 8:00 p.m. every evening when a cannon shot from La Cabana fortress announced their closing. These walls remained intact for nearly a century, even when now all that are left of them are fragments still standing in the city's oldest part. The cannon shooting tradition, however, continues to this very day and although it no longer announces the city's curfew and is now done at 9 p.m., it marks a special point in the day of all habaneros.
Castillo de Atares
To reach our next (optional) stop you will continue pedalling down Avenida del Puerto for some 4 more kilometres to find a small but nonetheless remarkable fortress.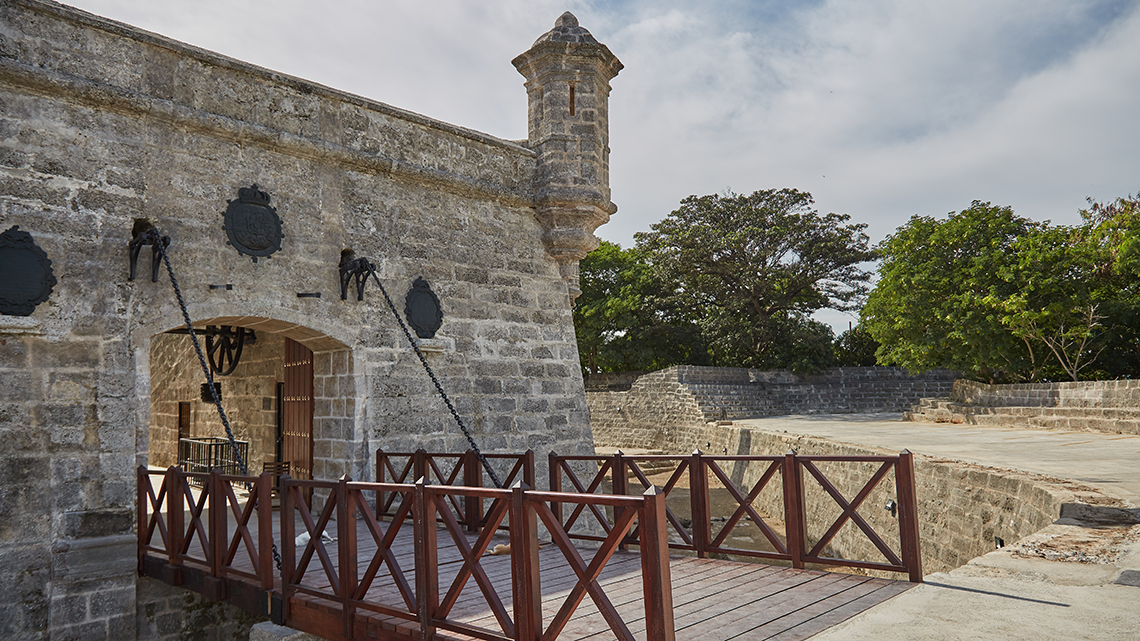 This hexagonal hilltop castle with an enviable, panoramic location atop "La Loma del Soto" dates back to 1767 and was built as part of the city's second colonial defence system. In its heyday, Castillo de Santo Domingo de Atares, its full name, had capacity for up to 90 men and over 26 pieces of heavy artillery. Complete with a moat and housing valuable sketches from Leonardo Da Vinci, it is worth stepping inside.
To mark Havana's 500th century last year, the castle was restored and opened to the public for the first time in a very long time, so don't miss your chance to visit it and admire it inside out.
Crossing the Bay for more
At this point you can take a break and cool down with a cocktail at any of the nearby bars and cafe, or you can get ready to cross Havana Bay in search of more medieval treasures. To do this you'll need to head back the same way you came until reaching El Curita park on Calle Dragones and Belascoain, where you'll need to hail a cab to take you through the tunnel to the other side of the bay. If you come here on a bike, you will have to head to the Regla ferry station to board the boat that will take you and your bike to the other side of the bay.
Castillo Tres Reyes del Morro
Right after crossing the tunnel your eyes will meet Cuba's most famous fortress, perhaps its most impressive, as well as highly photogenic, and one of the oldest too. It has featured in countless travel brochures and photographs along with its iconic lighthouse and has come to be considered a symbol of Havana.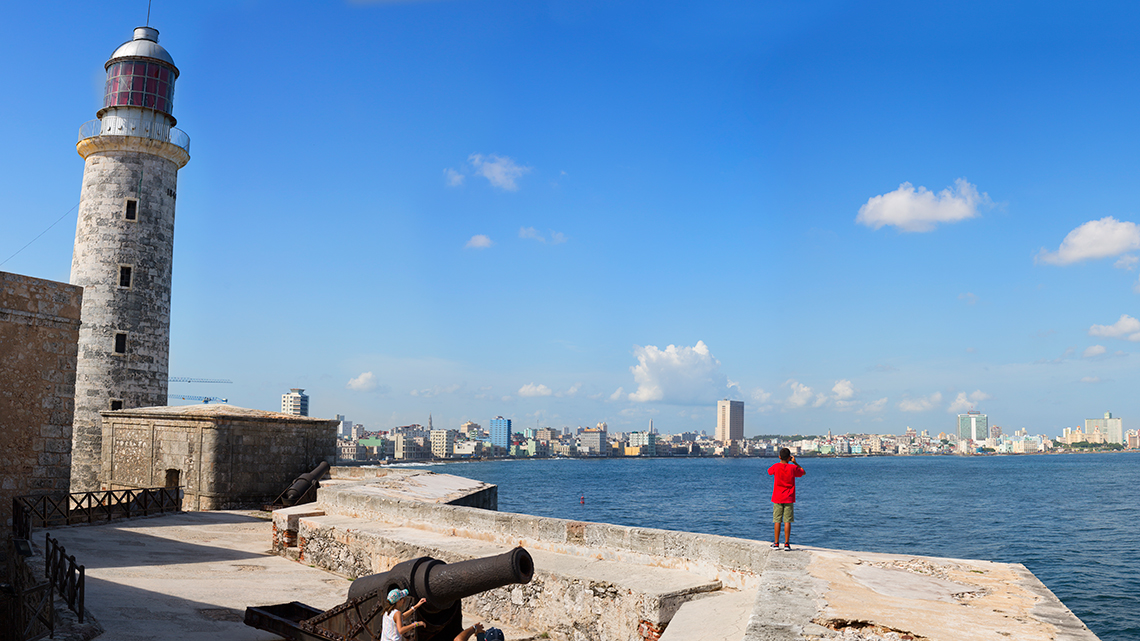 Built between 1589 and 1630, the Castillo de los Tres Reyes del Morro has the shape of an irregular polygon majestically poised on top of a cliff and seemingly rising from the sea. It once housed over 200 men and several cannon batteries named "The Twelve Apostles", which played an important role during the British invasion of 1762.
The lighthouse that you see today replaced the original in 1845 and stands 45 metres tall above sea level. Since 1986, along with San Carlos de la Cabana, this fortress is considered part of the Parque Historico Militar Morro-Cabana.
During your visit make sure to stop by Balcon de la Reina (queen's balcony) to enjoy one of the most beautiful views of Havana, especially at sunset when many head here to drink in the spectacular vistas. You can truly see all of Havana from here!
Along with the La Real Fuerza and La Punta castles, El Morro is included in Havana's coat of arms. It's indeed an unmistakable emblem of the city.
San Carlos de la Cabana
"He who owns this hill, will own Havana."
Above is the memorable phrase uttered by our next castle's designer. The magnificent fortress of San Carlos de la Cabana is the youngest in our itinerary, built to avoid another invasion like the British in 1762. As such it was built after the city was handed back to Spain a year later, in exchange for Florida, to expand Havana's defence system.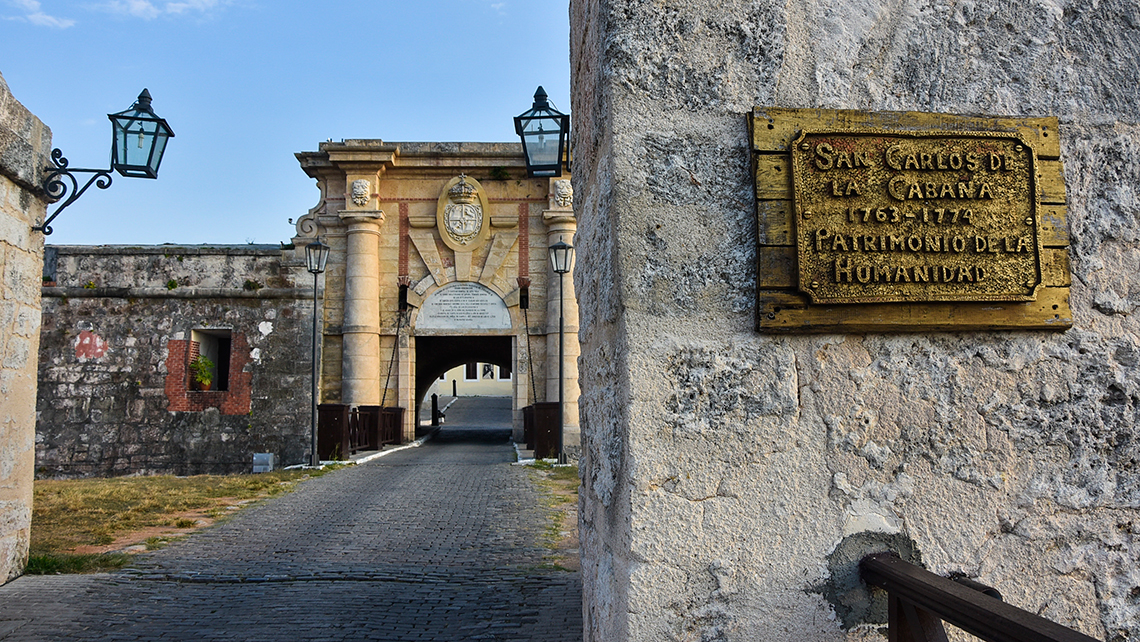 Considered the biggest, most ambitious military construction ever built by the Spanish in its colonies in America, it never suffered the strains of battle. It was never attacked. Perhaps it accomplished its mission by simply deterring potential invaders. Its sheer size would have made the ruling monarch at the time, King Carlos III, unhappy, as he used to complain about the elevated costs of building fortresses, declaring that a fortress that expensive should be visible from Madrid. Not quite the case, but not too far off the mark!
Here you can visit one of the chambers where Ernesto Guevara's set up his general command headquarters during the first few years after the triumph of the Revolution and check out the confession booth used by Spanish officials and soldiers
But this place is famous for one thing above all others – the daily cannon shooting ceremony that takes place here at 9 p.m. every evening, perhaps Havana's longest kept tradition, kept alive in full pomp and flair with the cannon shooters themselves dressed up in colonial military attire and doing ceremonial line-ups and marches.
Your journey could easily end here and you could head back across the bay to enjoy a well-deserved lunch in an Old Havana paladar or eat right here at scenic paladars like Mirador "El Clasico" serving fresh lobster among other specialties. But if you can hold off until our next proposed stop your dining experience will be even better. If you are still thirsty for adventure and can endure one more cycling stretch, read on.
Torreon de Cojimar
Now our next stop requires quite a bit more cycling than our previous one – 22 km to be precise, but if you're really into the experience, like to leave no stone unturned and like discovering far-fetched corners, it'll all be worth it.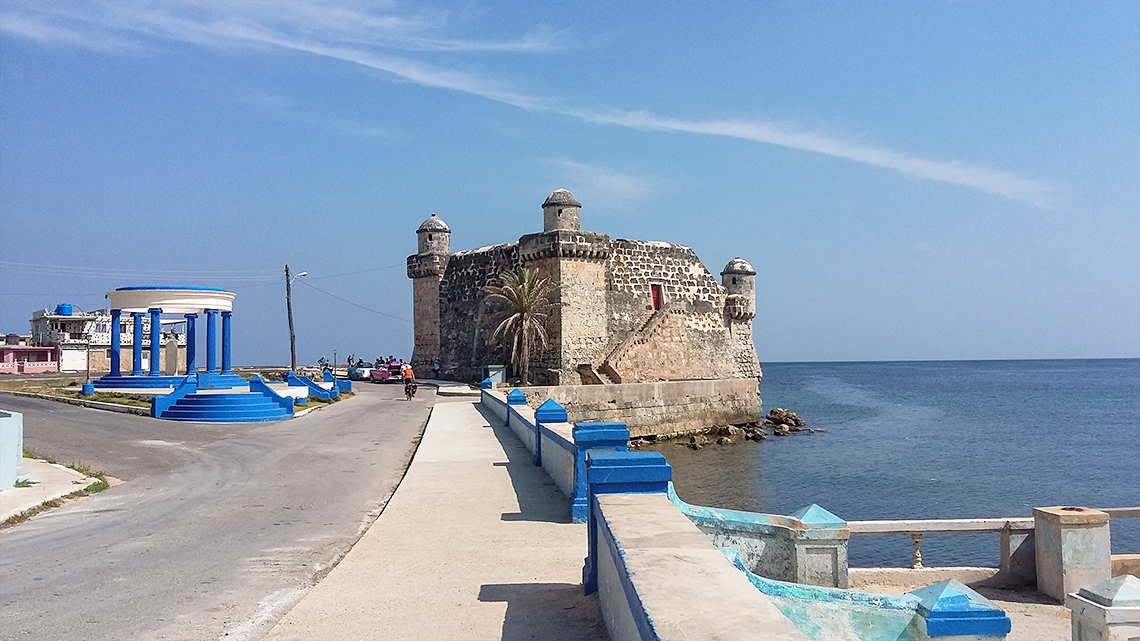 Next, we will be heading to the small town of Cojimar, made famous by its most international resident – American author and Nobler prize winner, Ernest Hemingway. The fortress you will find here was built in 1649 and a few steps from it you will find a monument paying homage to "Papa" Hemingway, as he is known here. No doubt Cojimar is a mecca for those who love Hemingway's literature, they can follow his trail here, right on the sleepy seaside town that inspired one of his most famous novels: "The Old Man and the Sea".
But back to the fortress, which is what you came to see after all. This one has a square shape, is 80 feet long and 40 feet wide, has a drawbridge and, according to old records, it used to house 11 cannons and had room for up to 50 men. During the British invasion, this turret was neutralized and taken over by the English who kept hold of it until they left Havana a year later. It needed several repairs and eventually, with the passage of time a town started to take shape around it.
While you're here and in case you didn't stop for some grub earlier in our cycling journey, there are a couple of paladars where you'll not only get to tuck into the most mouth-watering dishes but you'll also enjoy the most breath-taking sea views!
You have two choices. Head to Donde Albert, a small cosy restaurant virtually right next to the turret, you will hardly need to walk, to enjoy a family-owned atmosphere with warm service, reasonable prices and exceptional food with freshly caught specialties. Alternatively, La Terraza de Cojimar is also within easy walking distance but located directly overlooking to the sea, so close you will taste the saltiness in the breeze. Then fall into a seaside trance and relax to the sounds of the waves as you reflect on your day's sightseeing journey.
Fascinating Havana colonial castles and fortresses
As you have seen if you read this far, Cuba was, for a very long time, Spain's most prized and coveted possession and nowhere is this clearer than in Havana, which had to be fortified not only several times but with more a more complex defense systems than any other colony in the Americas. Havana's fortresses are also grander and more spectacular than any other in the Caribbean or indeed the American continent. Our journey through Havana's colonial wonders includes the majority of the city's defense system, but it's not exhaustive, there are more surprises to discover here and there, like Castillo del Principe in Vedado for instance. After embarking on this journey, you will understand how Cuba was the very last colony Spain surrendered, and not willingly!
Need help planning your Cuba holiday?
With over 20 years of experience organising sustainable tours in Cuba, at Cubania we have your back. From Cuba cycling tours to family or LGBTQI-friendly Cuba tours, we've got something for everyone!