A route through Old Havana's five main colonial squares
The history of Havana, since its very foundation, can be told through its five colonial squares, each marking a special time period and each with its own singularities. In this blog we invite you on a scenic journey along Havana's main squares with fantastic stop offs in which to enjoy a cooling drink as you let it all in sink in. Join us in this riveting journey as you get better acquainted with colonial Havana.
---
Old Havana is a fixture on any tour of the Cuban capital, but to truly get to grips with the history of the city, it's not enough to roam free with your camera at the ready snapping away at each photogenic building or scenic spot as you walk along (this is a great idea of course, but only after you've been properly introduced to the main sights). One of the best ways to truly soak in Havana's vibrant history is to discover its five main colonial squares.
Which is why this time we propose a journey through Old Havana's colonial squares, stopping to admire each one of these colonial beauties in style as we suggest great spots for the most striking photographs, cool venues, art galleries and bars in which to enjoy cooling libations while taking in the colourful views. It is up to you whether you do this journey on foot or on a bike. Either way, the experience will be rewarding. We only recommend you do this trail in the morning to avoid the hottest afternoon hours and to plan for around 2 to 3 hours, depending on your pace, whether you cycle or walk your way along and how much you like to linger. The route itself can be easily done in 20 to 30 minutes, but we will include stops along the way, and trust us, you will want to linger.
Plaza de Armas – Havana's birthplace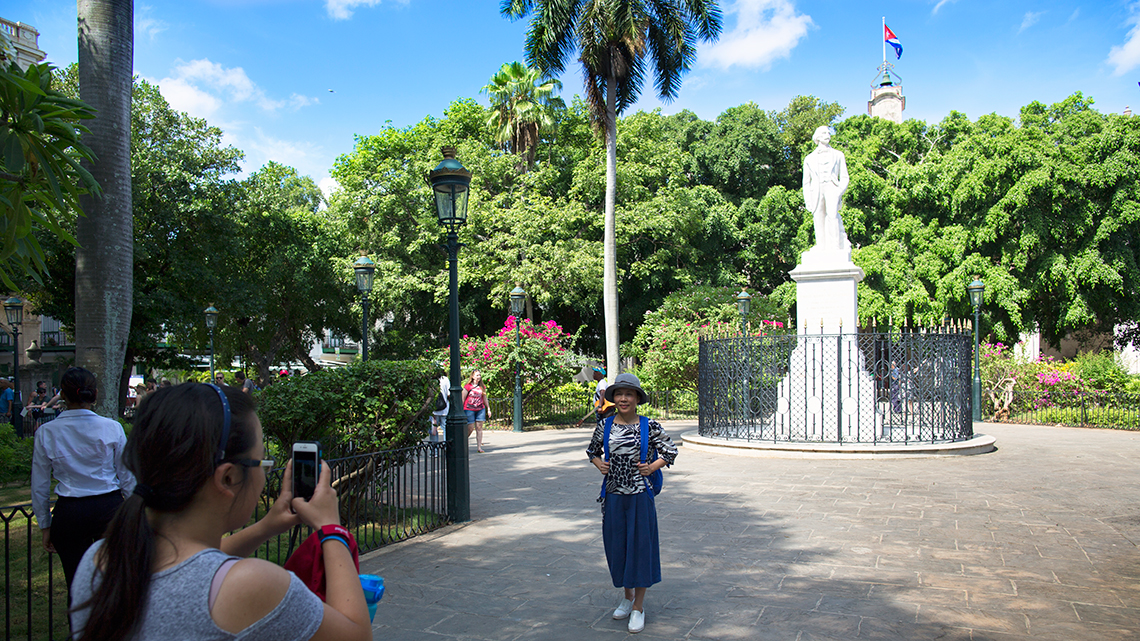 We start off our journey in Plaza de Armas, the first of the squares in our urban trail and the oldest one too. This is an apt place to begin with as it is the place where the city of Havana was born back in 1519. As you will soon notice its layout and style evokes the fortified squares of medieval Europe.
Adjacent to it you will find "El Templete", a small gated monument of significant historical value and special pride among "habaneros". The temple-like Greco-Roman monument with Doric columns was built in 1828 to mark the exact site where Havana's first mass and first town council meeting took place back in 1519.
Facing El Templete is a ceiba tree (various ceibas have replaced the original through the centuries, the one standing there today was planted in 2016 so it's only a few years old but its predecessor stood in place for over half a century while the one prior to that managed to reach the grand old age of 131!) and a column erected by one of the city's Spanish governors; known as "Columna de Cajigal". On its pedestal stands the Virgin of Pilar, patron saint of Spanish sailors.
Legend goes that if you make a wish and circle the old ceiba tree three times, your wish will be granted, and this is precisely what many habaneros line up to do at midnight every 15th November, coinciding with the city's anniversary.
Old book vendors and magnificent palaces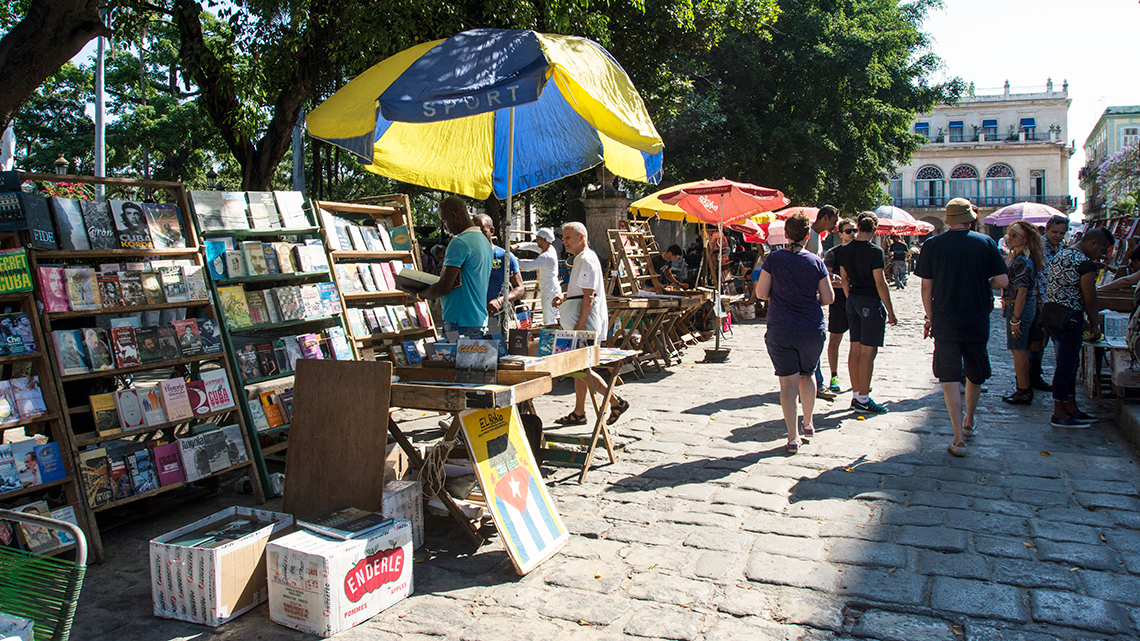 Flanking one of the square's sides you will find the imposing Palacio de los Capitanes Generales (1776) and next to it the slightly older Palacio del Segundo Cabo (1771). In the former's interior patio, you will find a statue of Columbus placed there in 1862. The building has had many uses throughout time. Initially, it was the residence of the 65 Spanish captain generals sent to govern the island, later it was occupied by the U.S. Administrator during the American intervention between 1898 and 1902 and after that it became the presidential palace up until 1920. Along its history it also served as prison and housed several government offices. Facing this building you will find vendors of old books who have been stationed here for years.
Cuba's only wood-paved street
Standing in front of Palacio de los Capitanes Generales, you will notice a unique quirk, the extension of pavement stretching before you is made of wooden blocks imitating cobblestones. Why this peculiarity? And why is it the only street in the square, actually in all of Havana, to have been built this way? According to legend, one of the city's Captain Generals found the repetitive noise of horse hooves and carriage wheels in the cobblestones and the splashing on the pools of mud that gathered in front of his magnificent residence irritating, so he ordered to pave the street with noise-cancelling wooden blocks. The experiment worked but ultimately proved too costly to be extended to other parts of the city.
As you walk around this square and soak up the history, bear in mind the fact that it is from this point that Havana began to grow and take shape. Also notice how, regardless of the amount of people gathered here at any one time, this is one of the city's quietest corners. Surrounded by exuberant vegetation, this is also the leafiest of Havana squares, with plenty of shady spots. Drink in the low murmurs and reigning silence.
Plaza de la Catedral – the city's spiritual heart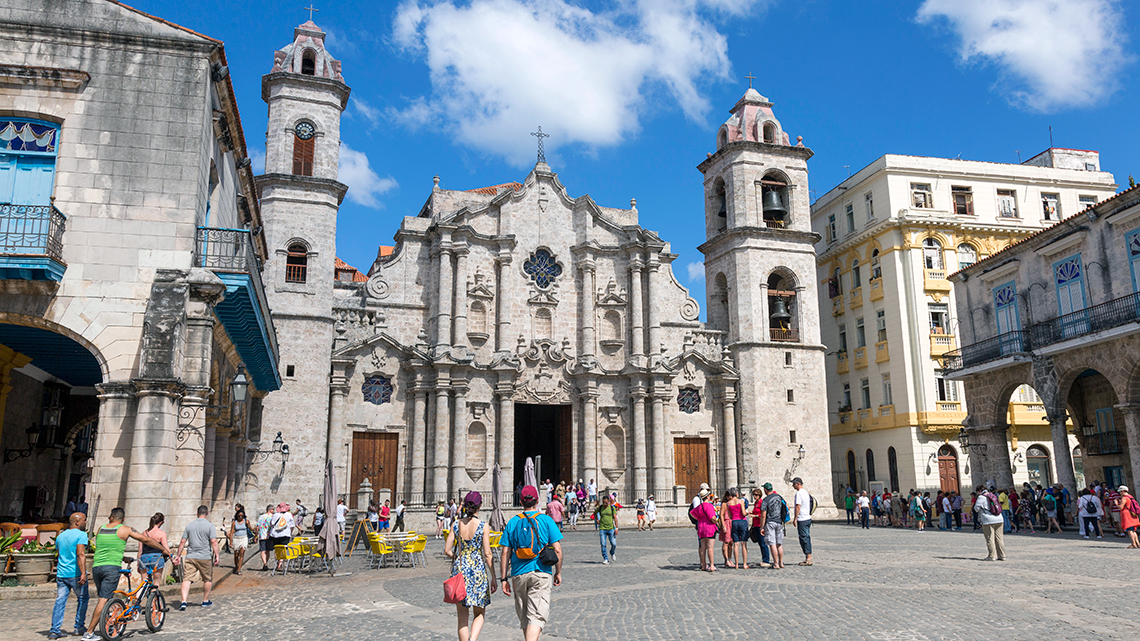 Only a few steps and a couple of blocks away you will come across Plaza de la Catedral (Cathedral Square), one of the city's most photographed places. From Plaza de Armas' western end, we walk up Calle Tacon and turn to the left on Calle Empedrado. The Plaza de la Catedral opens up before you in all its magnificent glory. The whole area is considered one of the city's most beautiful spots, chosen by many for wedding photos and incessantly photographed by tourists and locals alike.
Looking at it, it is hard to imagine that it was originally named "Plaza de la Cienaga" because of its muddy terrain. After gaining popularity as one of the most frequented squares in the city, it was drained and paved. It was then that wealthy families moved in and began building their mansions around it, all of which still stand today, some now housing museums and galleries like the Centro de Arte Contemporaneo Wifredo Lam (one of Havana's finest art galleries) and the Museo de Arte Colonial, others house restaurants like El Patio and others like Piscolabis Bazar offer a wonderful mix of local artisan art and drinks in a cool space. Highly rated by TripAdvisor reviewers, this place, part shop, part café is one of Havana's most unique establishments full of quality handmade decorative items, original gifts, jewellery, and accessories. Not your typical souvenir array.
Towering over all other surrounding buildings, not precisely in terms of height but certainly in terms of splendour, is the Havana Cathedral, with its curves and fine details to appreciate and linger over. From any point here you can get stunning pictures or cool selfies. Step inside the cathedral to be regaled with its inner beauty and cool down for a bit, walk around the square to get a feel of the place or sit in one of its cafes to soak it all in and people watch
Despite it being number second in our journey of square discovery, this was one of the last main squares to be built in Havana and continues to be one of the most, if not the most, popular of all.
Where to drink, lunch or brunch
From this point La Bodeguida del Medio is just metres away. Going back to Calle Empedrado and walking down (westwards) for another block you will instantly come across it, it's virtually in front of the cathedral and highly recommended for the quintessential mojito (this bar is its birthplace after all). Also, in Plaza de la Catedral, heading down to the small alley (Callejón del Chorro) on its southwestern corner you will find one is one of the island´s most famous and most popular "paladares", Doña Eutimia, stop for lunch here or make a note to return another day. Also tucked away here is perhaps Havana´s best and most authentic patisserie, the privately owned Bianchini II, serving a selection of crepes and international pastries (including Cuban, try the "masa real") as well as hearty savoury breakfasts and pizzas. A great place for a quick snack.
If you want to linger, also on this little alleyway on the square, step inside the Taller Experimental de Gráfica to watch artists at work, see their creations and perhaps even exchange a word or two. It´s permanently open to the public and quite a cool place and authentic place to check out.
Plaza de San Francisco de Asís – Pigeons, lions and a lucky gentleman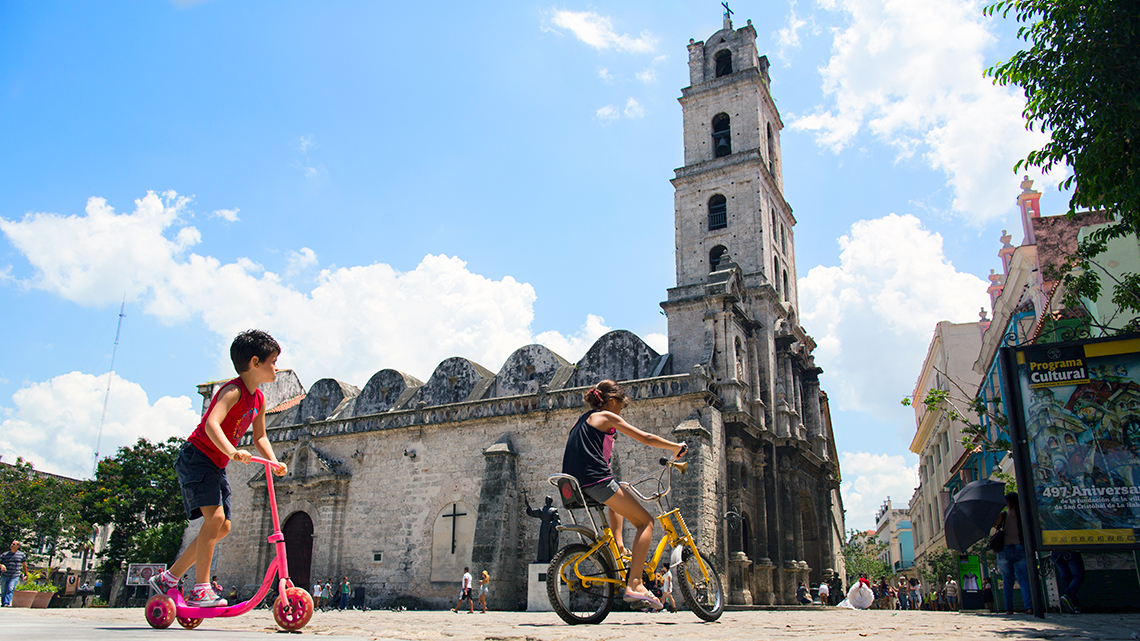 We exit Plaza de la Catedral by going to its easternmost corner and heading down Mercaderes for three more blocks, passing the Hotel Ambos Mundos; where Ernest Hemingway lived for a period of time and wrote the first chapters of "For whom the bell tolls". Its rooftop terrace is one of the best places in which to catch a break while enjoying a birds' eye views of the old part of the city. We turn left on Calle Amargura for another block, after which we´ll go down Oficios which ends right on our next square, and there you will have it, the pretty Plaza de San Francisco de Asís with its salty air breeze opening up before your eyes. You can feel and almost taste the sea only metres away.
The second oldest square in Havana, founded in 1628, it is also one of the most picturesque with its centric fountain "Fuente de los Leones" and the old San Francisco de Asís convent, now a spectacular classical music and chamber music concert hall. Check out the entrance to see if you can catch a performance during your Cuba holiday.
Back in 1761, this centric plaza was considered the best place in the city as the city hall (now housing some "casa particulares"), police station, jail and customs office where located around it. Nowadays you will find here a post office from where you can buy some exotic stamps (whether you are a collector or not) or send your friends a postcard the traditional way. There is also a handy CADECA exchange bureau in case you need to exchange some money. If you are in the mood for some souvenir shopping, nearby (check our map) you will find Almacenes de San Jose, a former enormous warehouse now housing the biggest souvenir and crafts place in all of Havana. Dozens of Havana vendors gather here to sell tourists their wares, from jewellery to clothes, decorative items, paintings and more.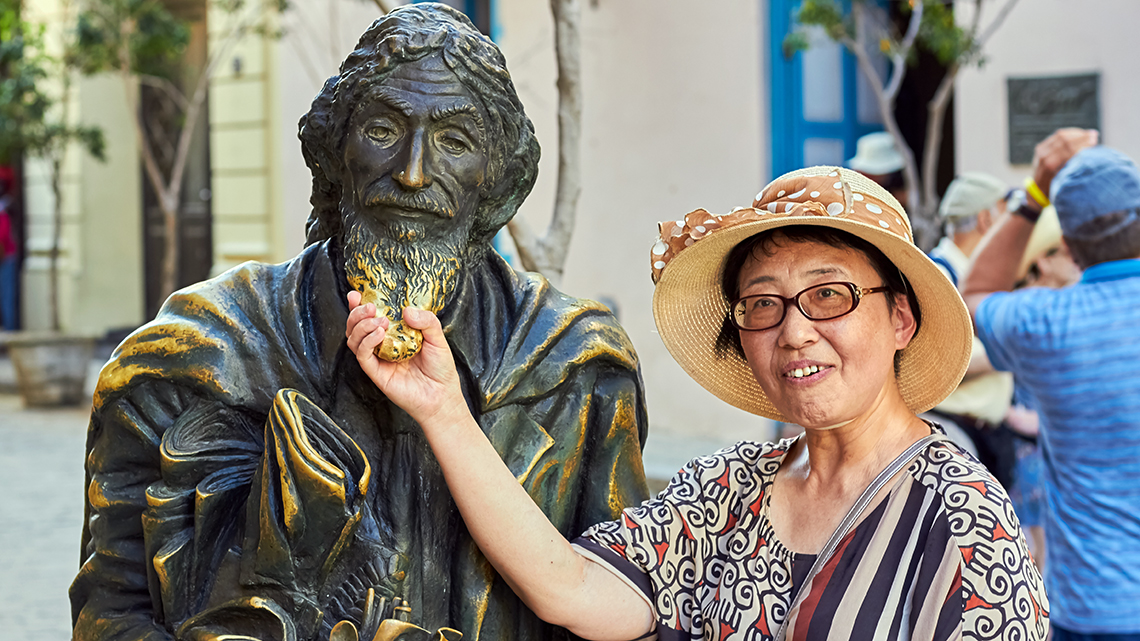 It is from this point that many guided tours of Havana start and this is also one of the few places in Havana where you will see pigeons gather, and for many Cubans this is one of its draws and thus it's also dubbed, "plaza de las palomas" (pigeon square).
Before making your way to the next square, be sure to stop by the life-size bronze sculpture of the "Caballero de Paris" (The Gentleman from Paris) based on a peculiar and somewhat extravagant homeless gentleman that used to roam Havana streets. Rubbing his beard is said to bring good luck. So, have a go!
Plaza Vieja – The old square that was new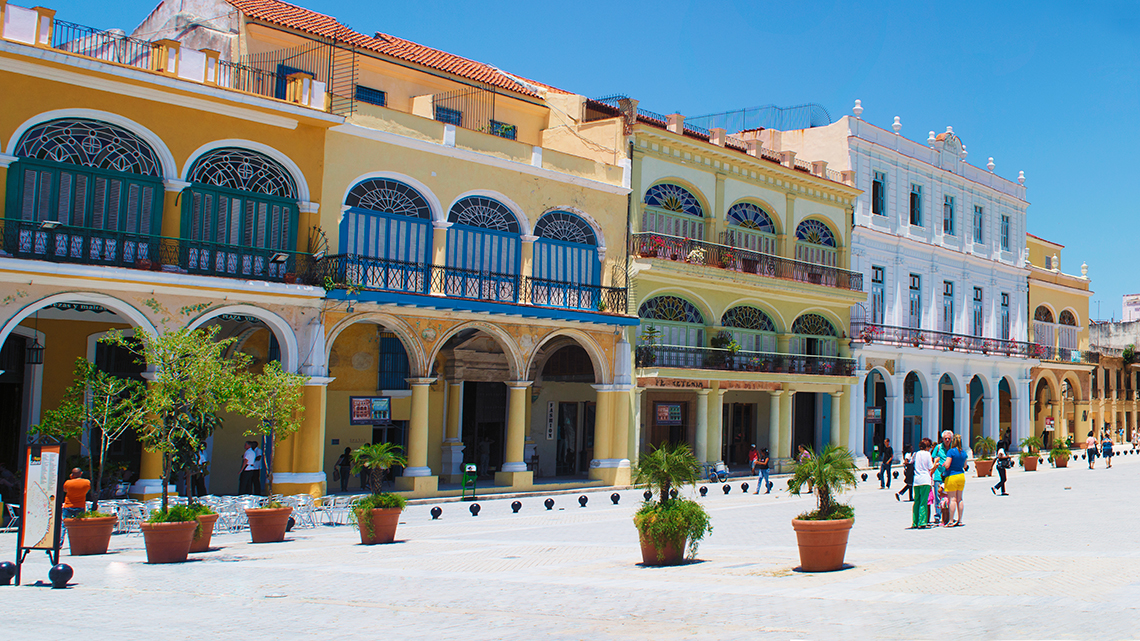 Continue down Calle Oficios after passing "El Caballero de París" and turn right on the next street to your left, Teniente Rey. Keep walking on the left side, passing the small and monastery-like Hotel Los Frailes and casa particulares like Casa Fran & Birgit and Teniente Rey 16 (in case you were planning to stay in a hotel during your Cuba holiday, we highly recommend going for a casa particular instead, nothing rivals the personalised, attentive service you get and the fact that you are investing directly in a Cuban independent small business as opposed to the coffers of a hotel chain. See here some of our top rated casas in Cuba).
You will then take your next left turn down Mercaderes street once again, and you will soon be stumbling upon Plaza Vieja (Old Square), our fourth square in this journey. Its colourful facades make it very easy to spot.
Despite its name translating as "Old Square", in terms of antiquity, this was the third of Havana squares to be created, after Plaza de Armas and Plaza de San Francisco de Asís, although some historians dispute this and claim it to be the second. Emerging as a popular open space in 1559 its surroundings soon became a residential area for the rich and wealthy in colonial times. Its creation constitutes the first planned attempt to extend the city seeing the increasing demand for urban and commercial development of the city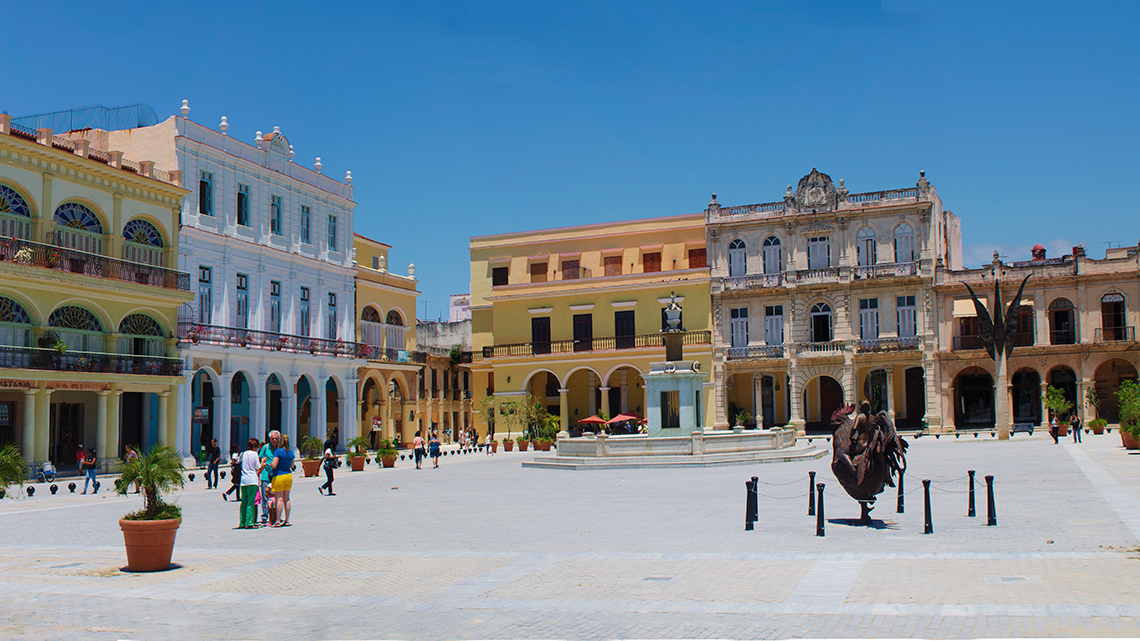 Originally, and conversely, it was named "Plaza Nueva" (New Square) and its layout has the peculiarity of having a trapezoid shape instead of the traditional rectangle. Its name changed to Plaza Vieja upon the creation of what is now known as Plaza del Santo Cristo, the last square in our route, which instantly became the newest and continues to be so out of the five main colonial squares in Old Havana.
This is the most colourful of all Havana squares in this visit and also one of the liveliest, lighting up at night with all sorts of events. It differentiates from others by not having any administrative government building nor religious space and it was indeed created to foster commercial development as an outdoor market.
Stopping for a bite or two, a cocktail or two
If you need to cool down with a drink, a snack and a striking view there are a handful of great options right here in Plaza Vieja. Café El Escorial is one popular hotspot as is the newest, privately-owned Azucar!!! Lounge Bar with a more modern vibe, a great location on the second floor affording great balcony views over the entire square.
Don Eduardo Alegre is another great place to chill out and hang out in, with tasty bites and even tastier cocktails plus amazing views over the square from the second-floor terrace. The atmosphere is electric and the staff attentive.
We also recommend La Casa de la Cerveza to freshen up with freshly brewed beer, which is actually brewed onsite.
Old history, modern art
Another highlight of Plaza Vieja, beyond its picturesque vibrance and livelihood is its art. there is one particular bronze sculpture by famous contemporary Cuban artist Roberto Fabelo that stands out here, "La Mujer y el Gallo", depicting a woman sitting on top of a cockerel holding a fork as a weapon. The other remarkable work of art in Plaza Vieja is "Natura", a flower-like structure rising over 10 metres tall by Cuban artist, Juan Quintanilla.
One of the world's last remaining Camera Obscuras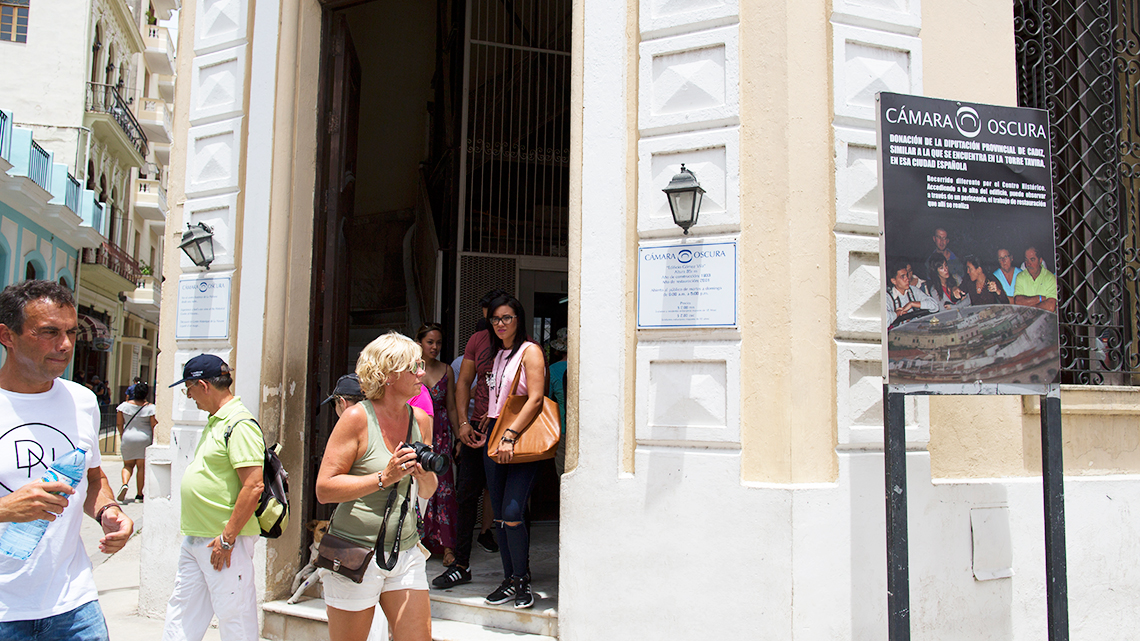 By the way, another draw to this square is the fact that it lies in front of Havana's Camera Obscura, one of the few remaining ones in the world. Enjoy amazing views of all of Havana through the periscope here inspired by no less than Leonardo da Vinci and then go out on the terrace to get a bird's eye view of this part of the city, including Plaza Vieja, El Capitolio and a great part (if not all) of Old Havana.
Plaza del Cristo – Havana at its rawest and most authentic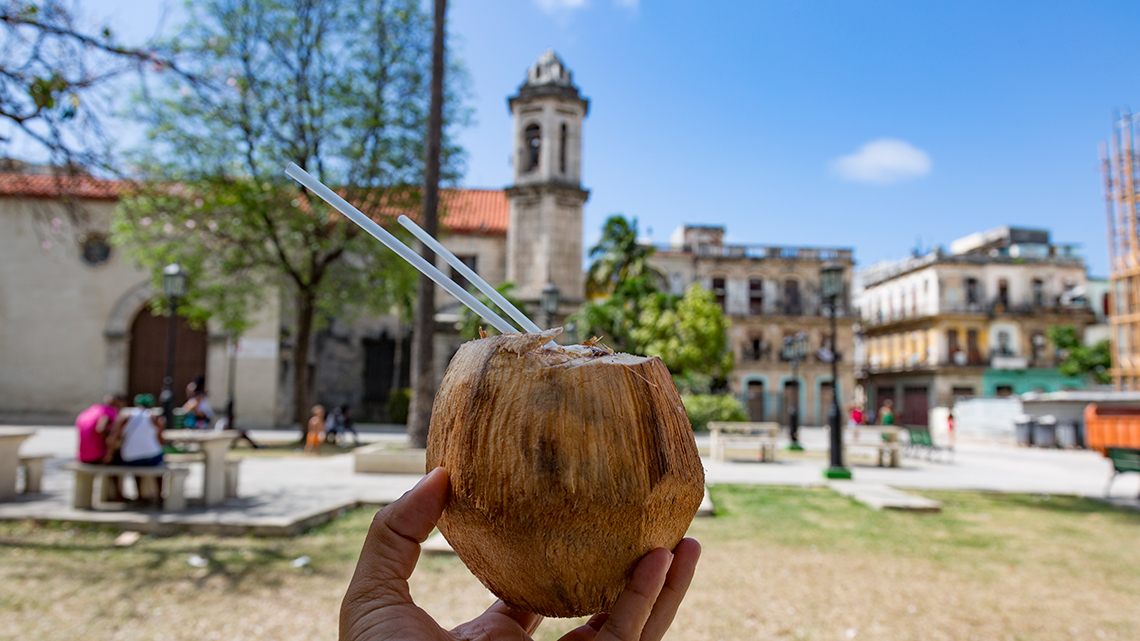 To see the very last square in this journey we will have to walk a bit more as it is located further apart from the others. Do not worry, only about 10 minutes' walk apart. This is why it has remained out of the tourist trail for so long and is seldom visited by foreigners, but all the more reason to visit!
We left it 'till last because it's a great place to end the day, or at least part of your sightseeing for the day. To get here, exit Plaza Vieja on Muralla Street on its southwestern corner, walk for a block and you will come across a variety of "casas particulares" and then turn on your next right up Calle Cuba, where you will find a couple more. Take the next left along Teniente Rey (you could have exited Plaza Vieja on Teniente Rey, we just want to give you a more scenic journey and deeper Havana immersion) and continue walking down for another five blocks. When you see Calle Cristo on your right, you will be right in front of Plaza del Cristo (Christ's Square).
Creative shops, original designs, and cool rooftop terraces
By the way just, before you get there, there is another fantastic shop to check out to your left; "Clandestina". Their cool t-shirt designs and prints are so popular that retail giant Zara was accused of copying their "Actually, I´m in Havana" t-shirt design, but after protests and demands for the products to be taken down due to intellectual property rights, they quickly removed the items from sale.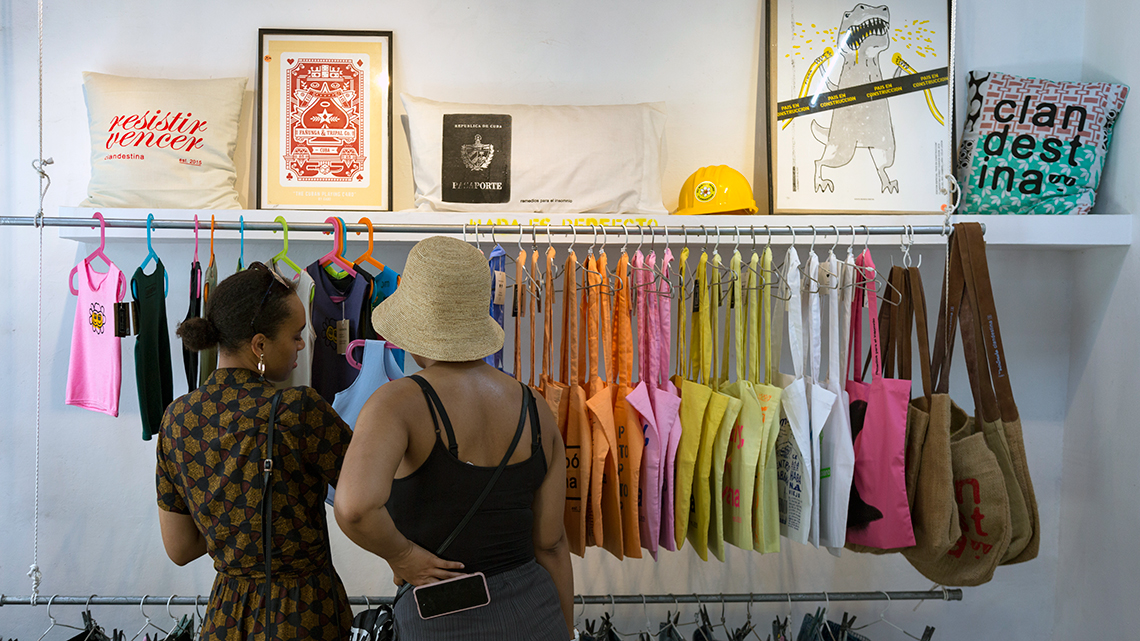 Being the least touristy out of the five Havana squares mentioned here, Plaza del Cristo has more local atmosphere and gives you a deeper immersion into Cuban daily life. You will watch children running about, people chatting on the streets, old cars that look as though they are about to succumb to the overpowering heat or whose parts look barely glued together, less well-looked after streets, humble street vendors, improvised food stalls and authentic charm.
Hey, but do not let the real Cuban feel and the less aesthetically pleasing surroundings fool you. This is a great place to be and a great place to eat and drink too. El Chanchullero de Tapas, one of the most popular, up-and-coming Cuban paladars (very popular with locals and tourists alike) is located right here and serves up great cocktails for very reasonable prices. The mojito is 2 CUC and you can enjoy it from a breezy rooftop terrace.
Our journey ends
From this point, you could continue along Teniente Rey for two more blocks and end up in El Capitolio, where another sightseeing journey could begin but ours ends.
We hope this route has inspired you to see more of Havana on your next Cuba holiday, if you do this five-square trail next time you are in Havana do tell us all about it and give us your own highlights, we cannot wait to hear them!