48 hours in Viñales, what to do, where to eat and what to see
In recent years, Viñales has risen to the top of must-see places in Cuba, with more and more travellers adding this green paradise to their Cuba holiday bucket list. There is good reason for this of course, or rather, a handful of reasons, and we are here to highlight them all whilst also telling you how to make the most of a trip to Viñales in just 48 hours, read on!
---
Beautiful Viñales with its iconic mogotes, its verdant tobacco fields, its exuberant vegetation, scenic plains of ploughed fields with the odd thatched-roof shack popping up as though in the middle of nowhere, its mysterious caves, its exciting flora and fauna, its sustainable tourism and kind-hearted, sweet-natured locals, all make it a dream escape for adventurers, nature lovers and those seeking a true escape from all worldly noise. This is the ideal place to take a step back, savour the slow pace of life, feel at one with nature and connect with the wonders of Mother Earth in a very authentic, very unadulterated, and very Cuban way.
Viñales in 48 hours, a mini travel guide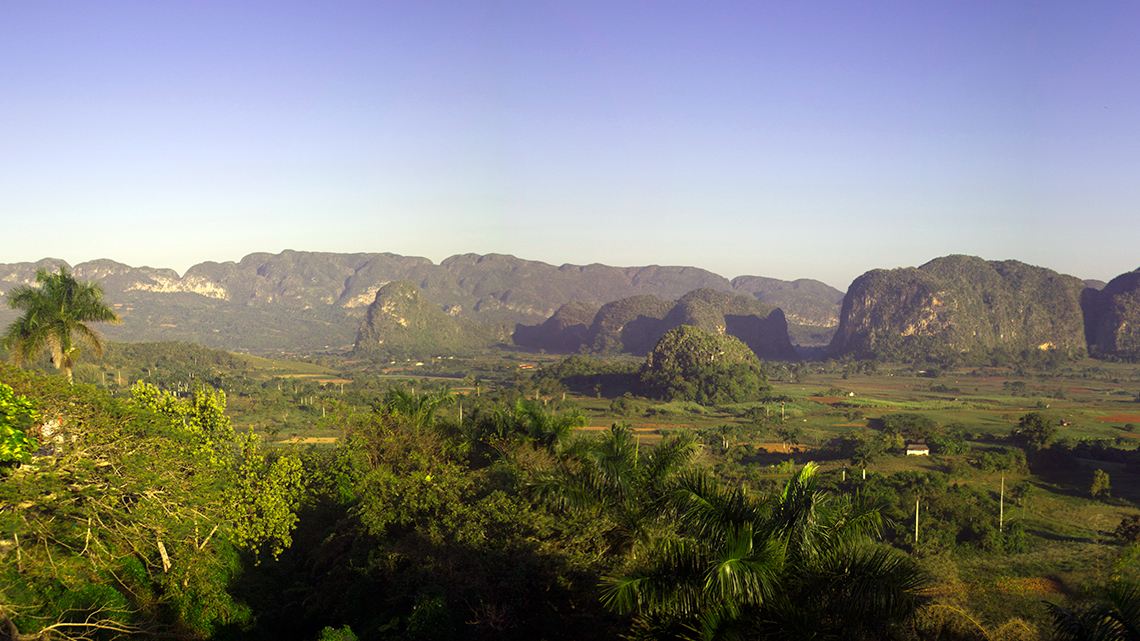 What to see and do if you have 48 hours to spend in Viñales? Keep on reading and you will learn how to make the most of your time in Cuba's most famous green attraction.
Day 1 – Taking in the karstic landscape and tobacco fields
The best part of a trip of Viñales is of course seeing the Viñales Valley itself, the glistening jewel in this otherwise sleepy and conventional (at least by Cuban standards) provincial town.
Hiking, climbing, mountain-biking or horse riding?
There is nothing quite like admiring those sleeping giants, the "mogotes", rising like dormant dinosaurs (they actually kind of are, as these karstic outcrops date back to the Jurassic period), topped by lush greenery and standing several hundreds of metres tall. You can admire them from afar, get up-close and even climb them! There is a well-established rock-climbing club in the area with a reputable, well-known status, so if you like extreme adventure sports, Viñales offers an exciting opportunity for a one-of-kind climbing experience!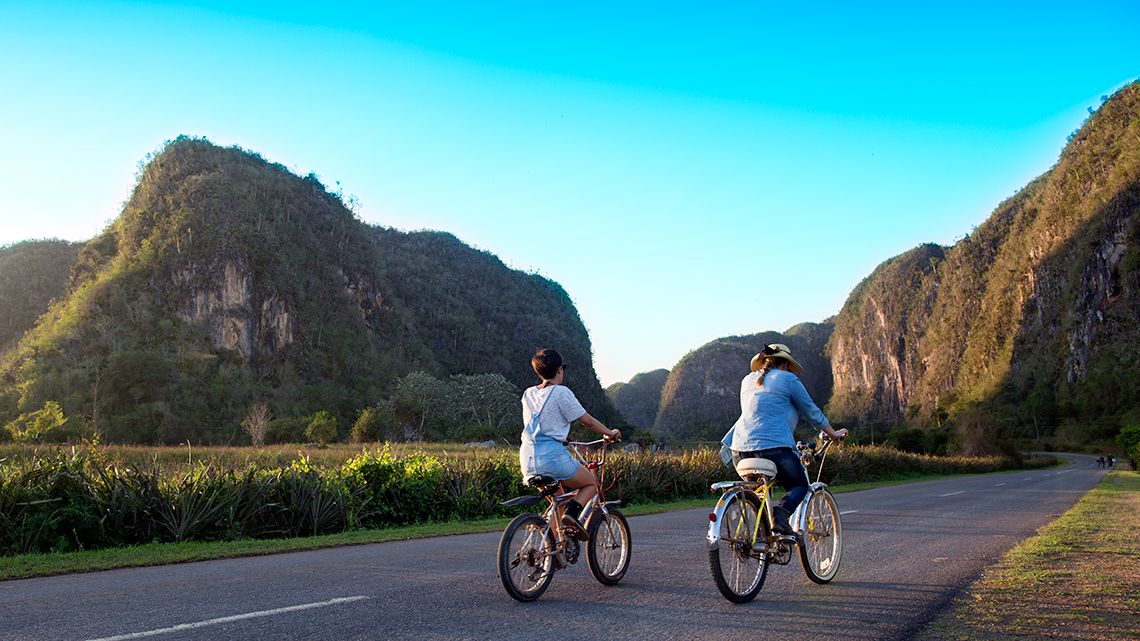 Picture-perfect in every way
Touring the Viñales Valley, a declared UNESCO World Heritage Site and National Park, can be explored in a number of ways, on your own and on foot, meandering through among rolling planes of tobacco fields, on a mountain bike (there are special biking tours organised, you will love our very own coming up soon but more on this below). Viñales' terrain is ideal for mountain biking with challenging routes that attract many two-wheeled enthusiasts to the region. The area has even been included in Cuba's Titan Tropic biking race.
Beyond the cycling tours, other popular ways to tour the Viñales Valley is on a horse-riding tour or on a guided trek, you can book both as private or group tour guided by expert locals. They are of course an excellent way to see the valley, but we recommend exploring on a bike instead, it is just as scenic but more hands-on and far more exhilarating. These tours typically last between 3 hours so that will be the first half of your first day in Viñales covered. The riding or cycling journeys are very scenic and relaxing, you will cover a relatively large distance, compared to walking or riding, and take in magnificent views and stop at places of interest, like Viñales' famous tobacco plantations.
Doing the tobacco plantation tour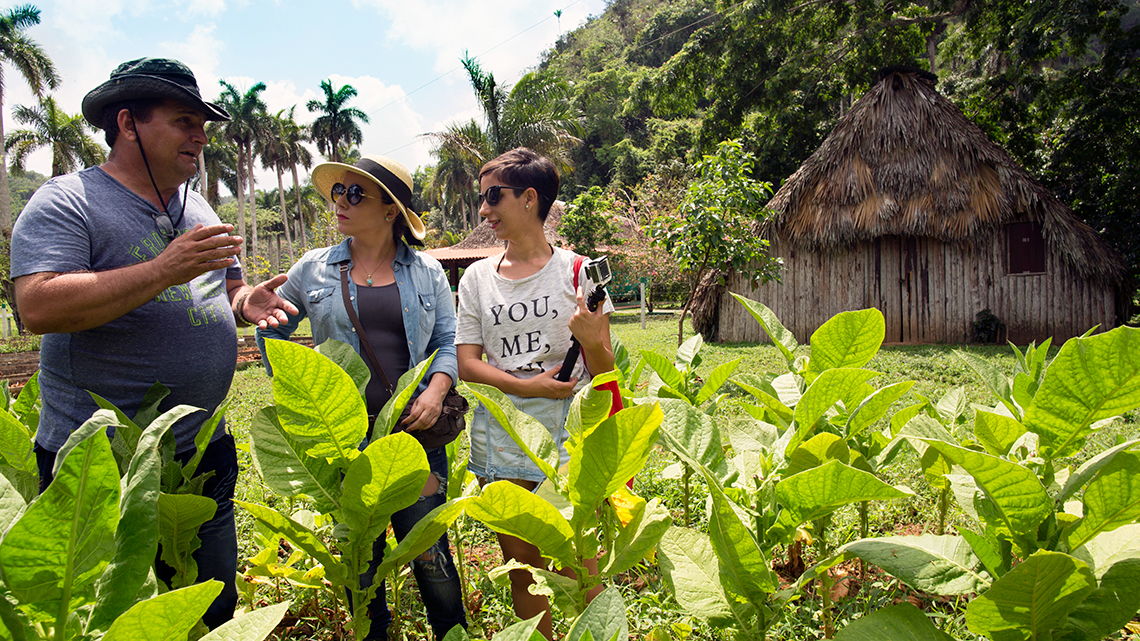 You do not have to be a cigar smoker to enjoy the tour of Viñales' tobacco plantations where you will be told about the tobacco growth cycles, from seed to harvest season, drying and cigar-rolling. Here you will be offered a taste of the finest cigar in the world and will also be able to purchase some at a lower price than anywhere else in Cuba, so stock up if you want to bring some back home for friends and family.
Need help planning your Cuba holiday?
With over 20 years of experience organising sustainable tours in Cuba, at Cubania we have your back. From Cuba cycling tours to family or LGBTQI-friendly Cuba tours, we've got something for everyone!
Hitting the town
In the afternoon, you can chill in your "casa particular" (where we recommend you stay by the way, no hotel beats the casa particular experience, especially in Viñales) for a bit or go out and explore the small town. It might not look like much at first sight, but the town has been a National Monument since 1978 because of its architectural value and some colonial buildings that have withstood the test of time.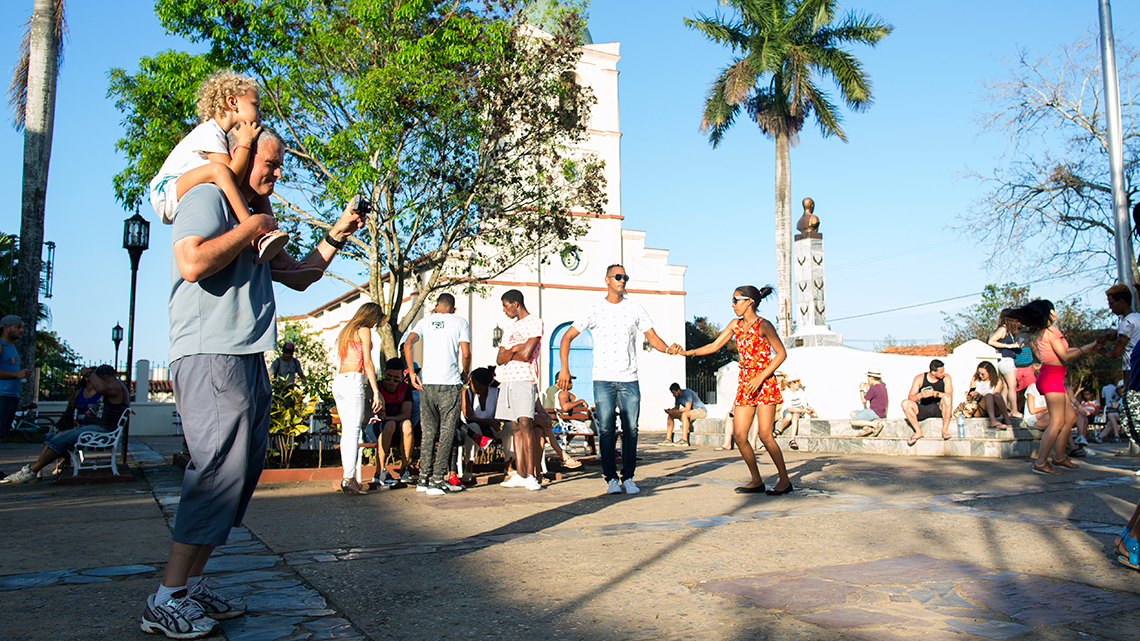 Its simplicity adds to its charm. A square, a church and around them everything else. There is a museum housed in a 19th century house where you will find fossils found in the area, objects and historic documents about the people that have shaped the history of the town, like the first ever artist to ever capture the Viñales Valley on canvas.
Dancing the night away
The town of Viñales might look super quiet in the daytime but at night it comes to live with music and dancing. Right on the main square, the Centro Cultural Polo Montañez cranks up the volume with live music on some evenings, recorded music on others, drinks, and salsa dancing classes on most nights. If you happen to be there on a Saturday, you will see how the party spills out onto the street and people dance outdoors in the main square. Tourists, locals, the entire town and then some, gather here to dance and have a jolly good old time. The atmosphere is jovial and light and this might turn out to be one of the most fun evenings in your Cuba trip, we kid you not!
Day 2 – Exploring caves, trying the hop-on, hop-off bus and hitting the beach
Cueva del Indio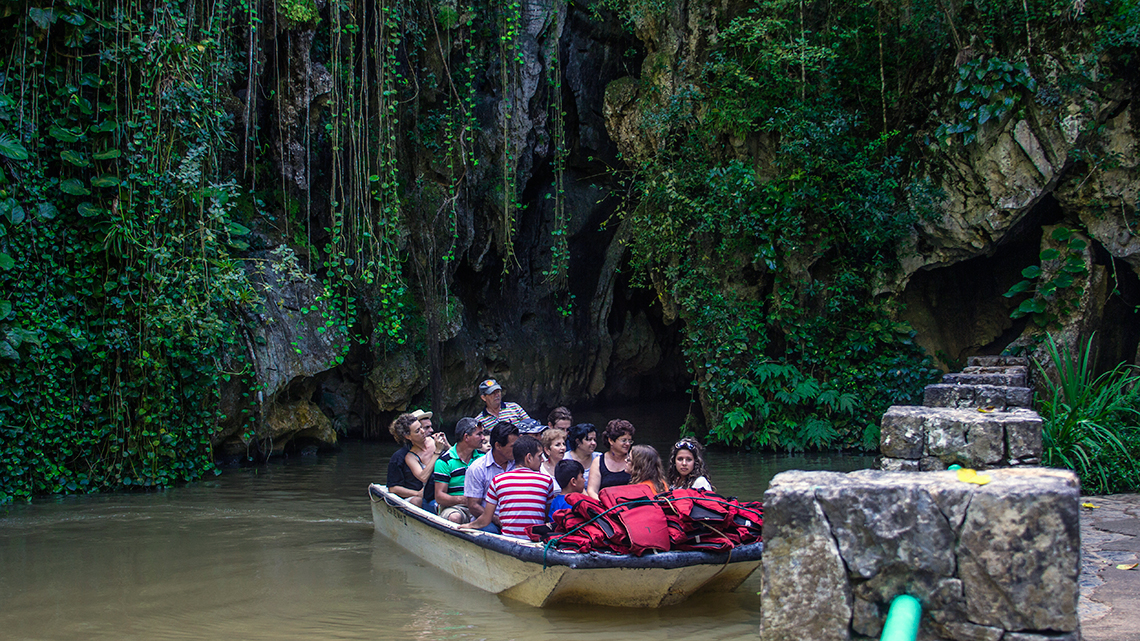 The second most famous attraction in Viñales after the Viñales Valley is "La Cueva del Indio" with a crystalline underground river running through it and making for spectacular photographs. After entering the cave and going down a stone staircase, a boat awaits to take you on a scenic sailing journey as you admire the astounding stalactite and stalagmite formations throughout. The cave was once inhabited by the first original natives of the island (the Ciboney people) and on its walls several paintings were found, as well as objects, utensils, and fossils. Even though only a kilometre of the cave is open and accessible to visitors, the experience is sure to be a highlight of your trip to Viñales. Be sure to get there early to avoid the crowds.
After exploring the cave, there are a few more caves to explore in the area if speleology is your thing, otherwise you could pay a visit to "Los Acuaticos" to learn about the legend of one local's healing powers and the water rituals performed there in a spectacular location surrounded by dense vegetation, or, stop by Casa Taller Raices to immerse deeper into Viñales' history and folklore.
We propose two more places to see on your last day in Viñales below, both of which you can get to by using Viñales' hop-on/hop-off bus.
Viñales' hop-on/hop-off bus
Not many tourists know this, but there is a hop-on/hop-off bus departing from the town of Viñales (the bust stop is on the main street so hard to miss it) with many drop-offs at several points of interest along the Viñales Valley. Here we tell you about two of the best places to stop at to enrich your Viñales experience.
Mural de la Prehistoria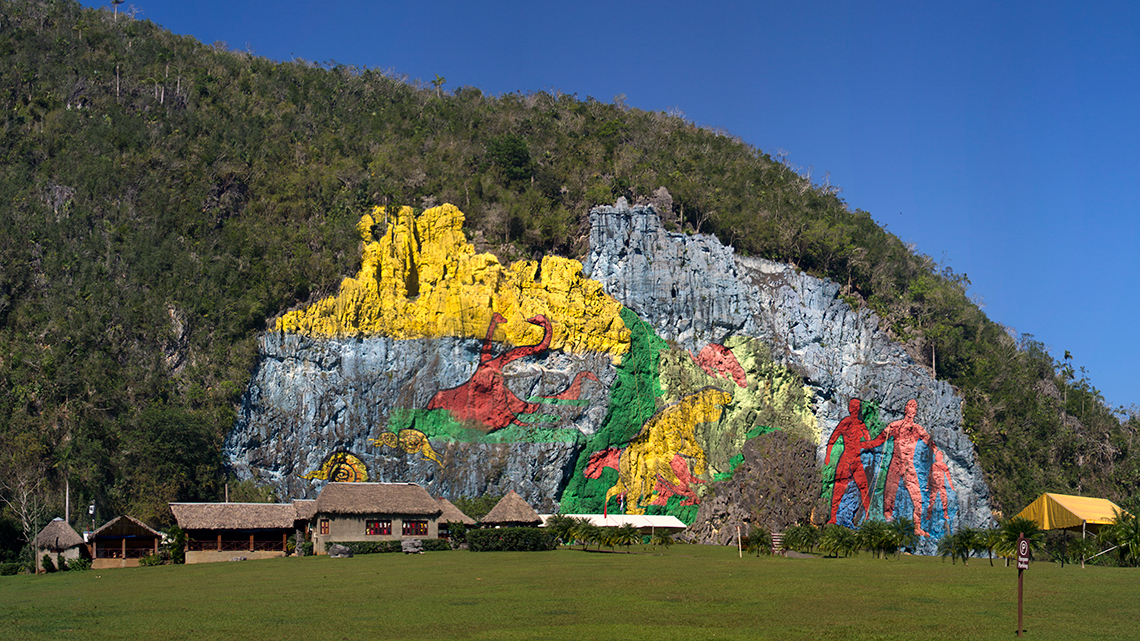 You can get off at Mural de la Prehistoria to admire one of the world's biggest and most unusual al frescos, painted on the rocky side of a mogote. The mural was done in 1961 by a Cuban artist with the help of 18 other artists hanging in ropes and harnesses and it took them 4 years to finish it. Before you dismiss it as gaudy or even juvenile, get up-close to see the detail (it was painted in lines) and to appreciate the amount of work that went into creating this 120-metre wide art piece wrapped by wild nature. It depicts the prehistorical times to which the mogotes belong and the original human inhabitants of the area.
Hotel Los Jazmines
Now, we are not suggesting you stop here for a drink, a bite, or even to spend the night (although you could if you wanted to) but the true highlight here is the hotel's amazing viewpoint, which is a definite must-see in your trip, and we are not exaggerating one bit. Consider this, most of the stunning photographs you have probably seen of Viñales have been taken from this viewpoint, so if you want your own piece of picture perfection you must head here with your camera. It is a great place for jaw-dropping selfies that are sure to impress!
Cayo Jutías
If you want to end your visit to Viñales on a splashing high, then you have to venture off a little further. But not that much further, just a 45-minute car ride. No, the hop-on/hop-off bus won't bring you here but if you are eager to see a different side to this part of Cuba, the extra effort and journey to get you to Cayo Jutías will be so much worth it.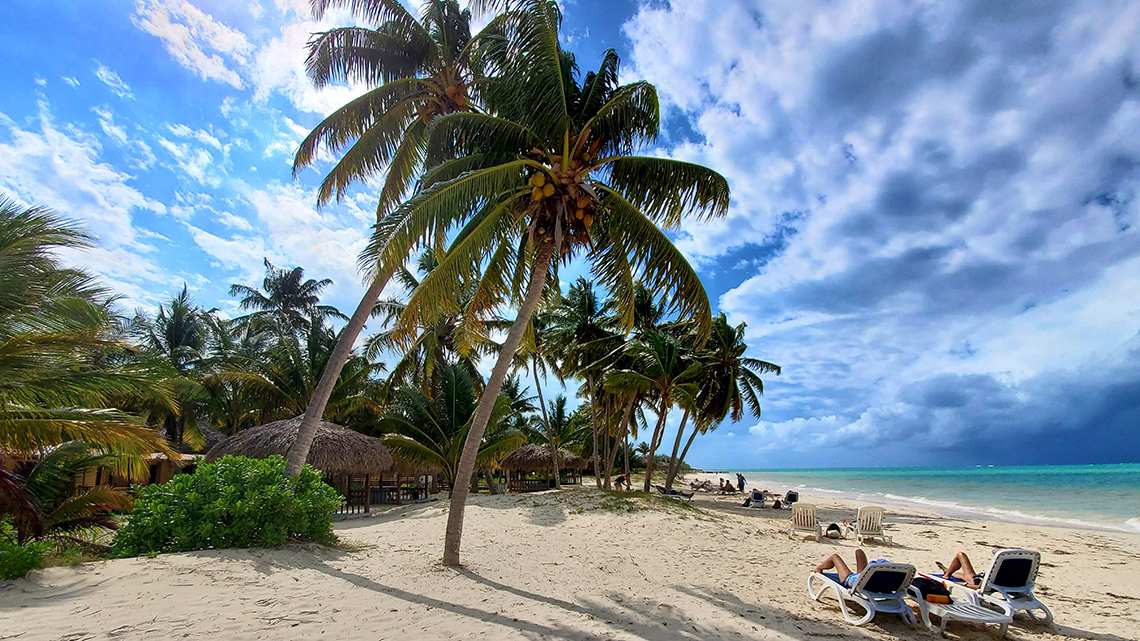 Now, this option is only doable if you come to Viñales on a rental car or if you are prepared to haggle in town with taxi providers to take you there, as the paradisiac beaches of Cayo Jutías are 60 kilometres away. It is not a quick ride but, in less than an hour you would be rewarded with what will feel like your own slice of island paradise.
A four-kilometre-long little isle off-the-coast of Pinar del Río, Cayo Jutías is pure white-sand bliss and turquoise-water splendour. In fact, many regard its beach as the best in Cuba. Its delightfully wild and untouched, raw, and paradisiacal in every way. The perfect place to put the perfect end to your Viñales trip.
Where to stay in Viñales? Hotel or Casa Particular?
Even though there a couple of hotels in Viñales, we definitely recommend you stay in casa particulares as they are part of the raw and authentic Viñales experience. Viñales' casas particulares vary in price, size and facilities but the service is always excellent. Nothing beats staying with a Viñales host. For our recommendations on the best casa particulares to stay at in Viñales check the selection of casas we suggested in one of our previous blog posts.
Eating your way through Viñales
Those conscious about what they eat, with a penchant for healthy food and who appreciate organic, locally-grown ingredients will absolutely love their dining experiences in Viñales, as a number of local "paladares" are actually set on farms or adjacent to them, meaning that the food served there is strictly farm-to-table only. In fact, Viñales is number one in Cuba for the farm-to-table experience, so prepare to sustainably dig in!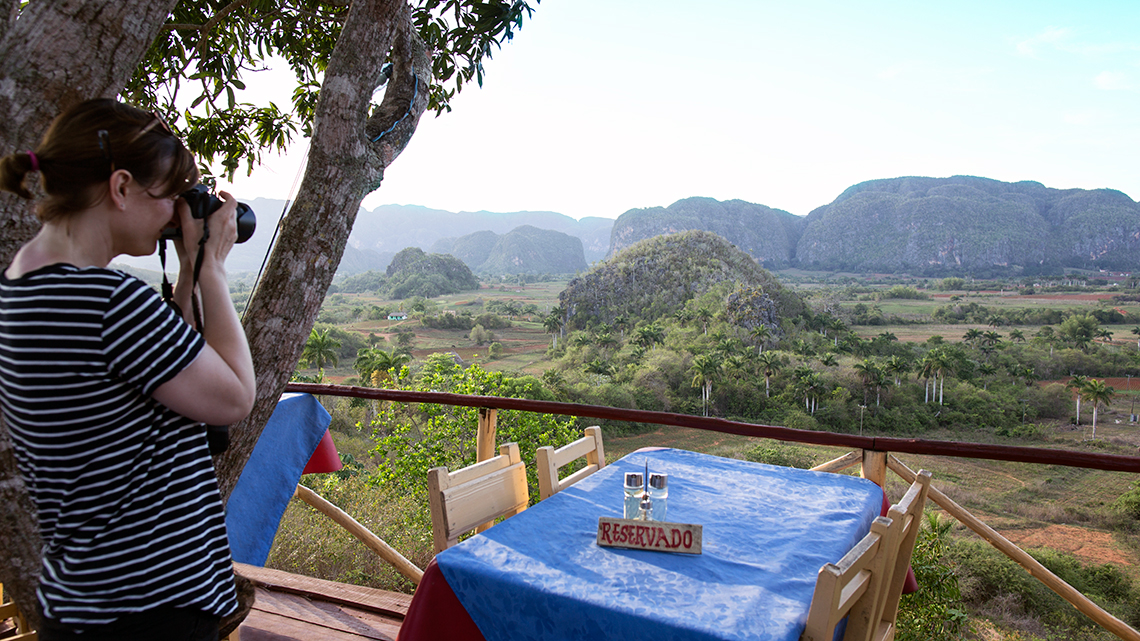 A farm-to-table experience
Farm-to-table food is gaining more and more popularity these days, yet there are few restaurants in Cuba that can deliver an authentic farm-to-table experience while being located right next to the farm where the ingredients grow. Funnily enough, most of them are located in Viñales, so dining in one of them is a must-do during your trip and you simply can't pass up on the opportunity. Here we give you two outstanding places in which to tuck into farm-to-table food in Viñales.
El Olivo
Hailed as Viñales' most buzzing restaurant, El Olivo delivers tasty Mediterranean cuisine cooked with freshly picked, 100% organic ingredients that come from a nearby farm 3 kilometres up the road. You are welcome to head up there to see for yourself where what you have eaten comes from and grows. They serve generous portions of lasagne and a variety of pasta dishes, which are some of their most popular, along with more refined Mediterranean classics like duck a l'orange.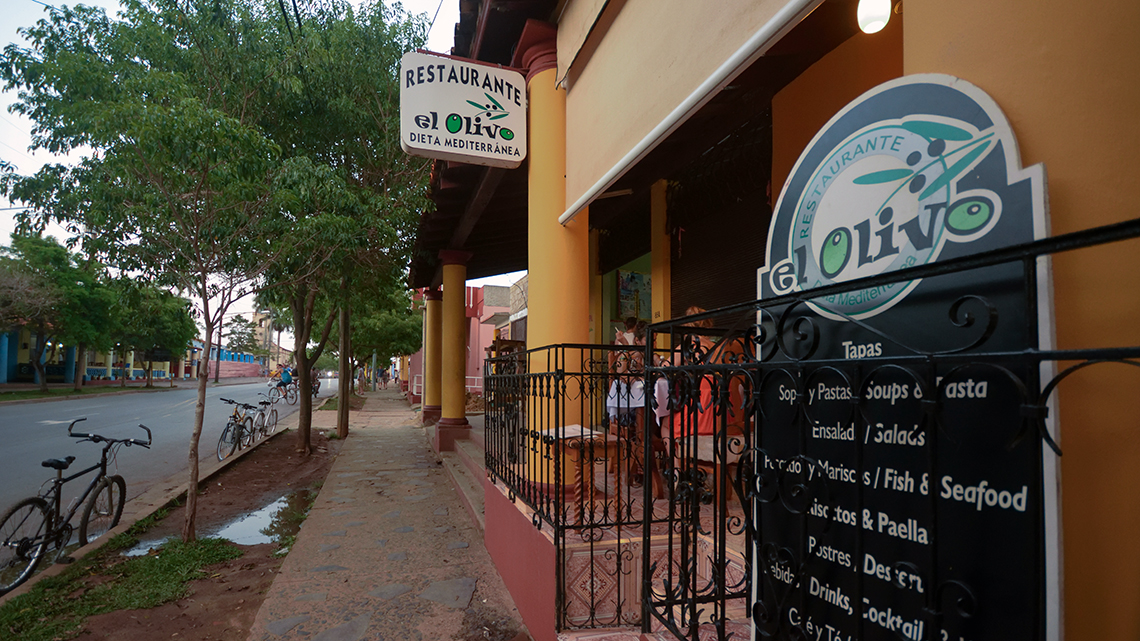 Also, extremely popular are their salads topped with a selection of dried fruits and freshly made goats' cheese. They do pack some surprises and unexpected twists that you would not expect from rural Cuba at all, like their rabbit dressed with herbs in a dark chocolate sauce. By the way, there are plenty of delicious 100% vegetarian and vegan options too, so much so that it has been listed in Happy Cow thanks to their meat-free soups, grilled veggies, salads, and vegan paella. El Olivo's growing popularity among visitors earned it this year's Traveller's Choice 2020 Award!
Vista al Valle
This is a restaurant that is part of casa particular Villa El Valle, a beautiful retreat famous for having one of the most spectacular views of the Viñales Valley. Likewise, the paladar that sits on it offers the most splendid views over Viñales and the cuisine perfectly matches the stunning surroundings. The food offered here comes from the farm located right onsite and they are happy to show you around. As you savour the tasty dishes you will be soaking in the awe-inspiring views. Could you ask for more?
Coming up in Viñales – guided bike tours with Cubania Travel!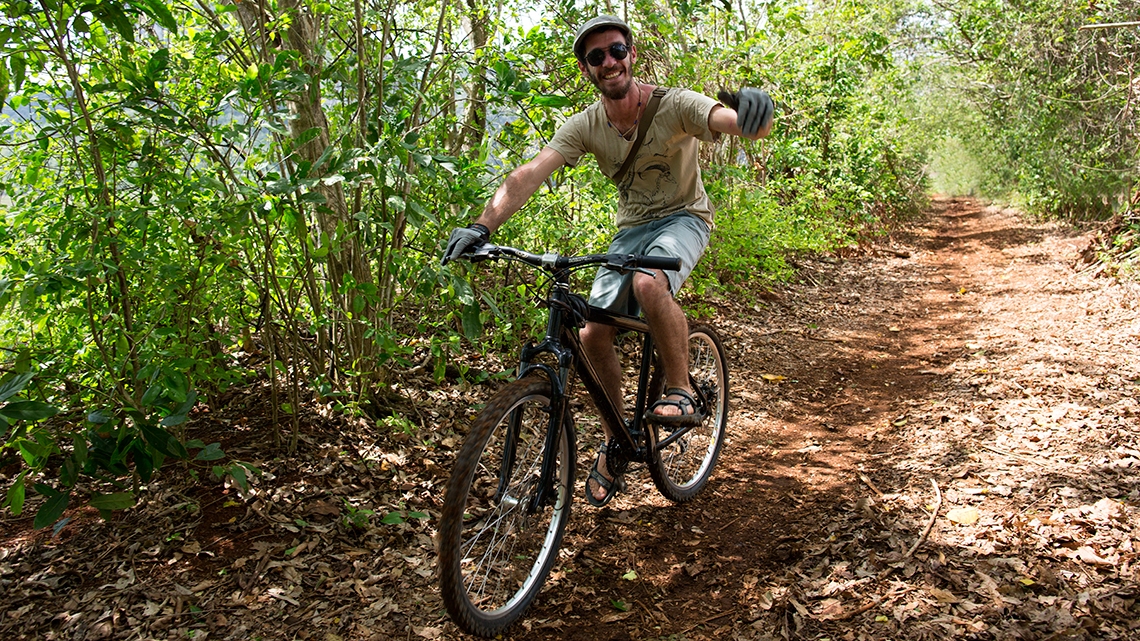 Viñales is an outstanding place for cycling, so much so that it has been included in various stages of the Titan Tropic competition, Cuba's own Titan Desert version. Plenty of cyclists make Viñales their base for days of exploring the valley floor, the majestic hills, and surrounding areas. Cubania Travel has partnered with Cubanacan to offer daily guided cycle tours around Viñales Valley. If you're new to adventure cycling and want to taste the excitement of bicycle touring, then head to the Cubanacan office in the centre of town and book a morning tour of the Valley with us. We cannot wait to show you our new cycling adventures in Viñales. Stay tuned!
Get inspired with our sustainable, active tours
With over 20 years of experience organising sustainable tours in Cuba, at Cubania we have your back. From Cuba cycling tours to family or LGBTQI-friendly Cuba tours, we've got something for everyone!