48 hours in Trinidad – what to see, do and enjoy on a short visit to Cuba's time-capsule city
How to experience Trinidad in 48 hours without missing out on anything is what this blog post is all about. Exploring this half-a-millennium old city as part of your Cuba holiday can be easily done in 48 hours if you know how to make the most of your time. Here we give you tips on where to go, what to see, where to eat, what to do, where to stay and where to dance the night away.
---
The quaint and quirky city of Trinidad is right at the top of must-see places on a Cuba holiday and if you have got 48 hours to do it, you will get to really take in its spirit and discover all of its wonders. That is, of course, if you know how to make the most of your time in Trinidad and that is precisely what we are here to help you do.
With this day-by-day itinerary of Trinidad, in 48 hours you can leave with no stone unturned and depart feeling like you've truly absorbed its essence and really experienced some of the many attractions on offer in this beautiful colonial town.
Unravelling Trinidad's treasures in 48 hours
Trinidad truly is a time capsule, everything here remains as it has been for the last couple of centuries, preserved in ways that few other places in the world can match. The time-warped beauty of its colonial architecture, quaint cobblestone streets and picturesque squares draw many visitors to this part of Cuba. It is easy to reach from Havana (about 4 hours away by car) and often offered as a full-day tour from the capital. But it is better to linger and experience Trinidad in 48 hours. It gives you just enough time to not only take in the sights but also learn more about the region, its peculiar history and soak in the provincial, laidback vibe. A half-day or full-day tour is not quite the same. An overnight stay is what makes any visit to Trinidad special.
Day 1 – the mandatory city tour
Before you do anything else, exploring the city centre of Trinidad is a must and probably the easiest, most instinctive way to start your 48 hours in Trinidad. It might help if your "casa particular" (where we recommend you stay by the way) is located around the main square (indeed many of them are) and so our suggested location will feel as a natural starting point.
Plaza Mayor and its surrounding attractions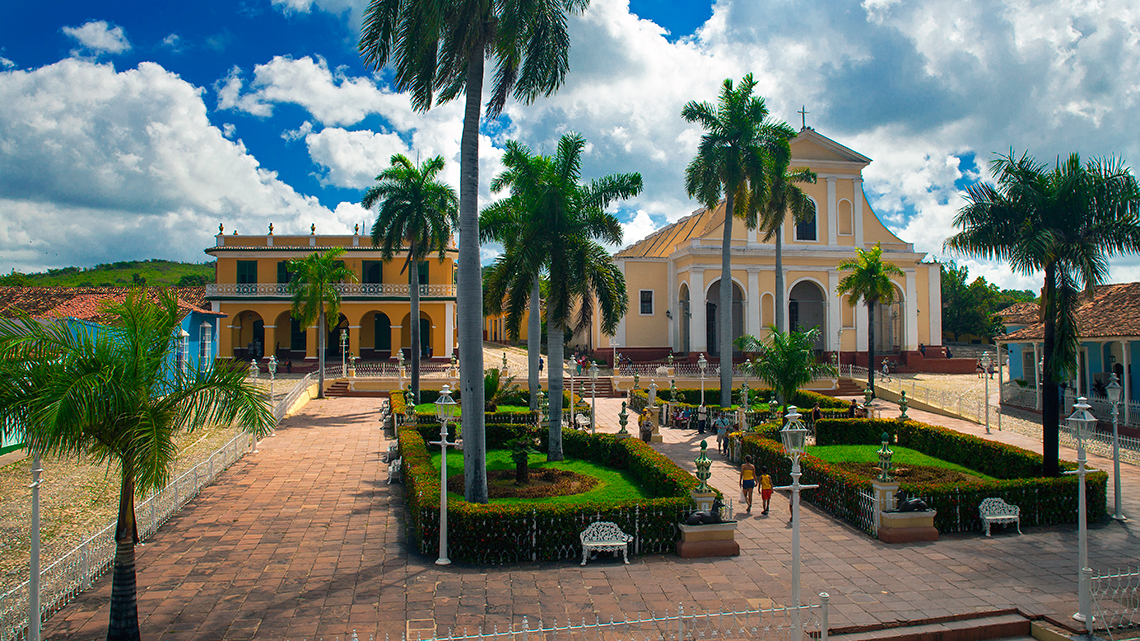 It is always best to start right from the heart, and the heart of Trinidad is, without a doubt, its Plaza Mayor, the city's main square, around which most museums and attractions are found. As you will soon notice just by standing here, the whole of Trinidad is a museum, so every turn you take is sure to be Insta-worthy. The colours, the light, the surreal feeling that you're in a time-warp, it all adds to the sensation of having stepped back in time and the era you suddenly find yourself in moves at a much slower pace. Everything around you will seem to stand still, as it has for hundreds of years, majestically still to be perfectly captured in numerous ways. This is one of Cuba's quietest cities after all, at least by day.
Trinidad has that other-worldly feeling. How can an entire city stand still for centuries, unchanged and virtually untouched remains somewhat of a mystery. Its location helps, as does the love with which Trinidadians help its upkeep and maintain its city clean and pretty.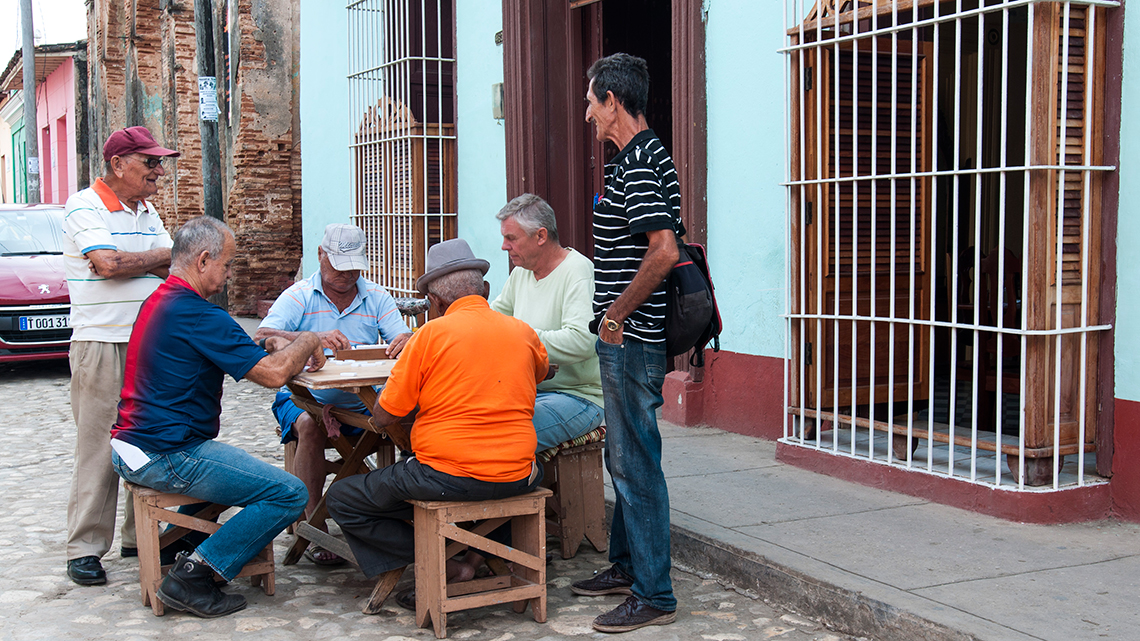 On one end you will spot the grand yellow church, Iglesia Mayor Santísima de Trinidad, a symbol of the city and a beautiful one at that. Inside you can marvel at the wooden altar of Señor de la Vera Cruz and ponder about its mysterious appearance hundreds of years ago, how it ended in Trinidad remains. Also, around Plaza Mayor you will find other buildings of significant inner and outer beauty, including the Museo de la Arquitectura and Museo Romantico, both highlights that are definitely worth a visit.
Depending on what time you arrive to Trinidad you could easily combine a walking tour of the town with another attraction or activity (including hitting the beach) but this will also depend on how much walking and exploring you want to do in town versus whether you like to mix things up and do something else after an hour or two of sightseeing. But giving you options is what we are here for so, read on for more on what to see and do in Trinidad if you have got 48 hours.
From museum to museum
The history of Trinidad can be told through its museums and there are plenty of them to visit. Of course, you don't have to see them all although you might like to if you are into museums and especially if you like perusing antiques as there are some beautiful 19th and 20th century objects to admire, from vases to furniture, clocks and paintings, it's a treat for collectors and design lovers alike!
Romantic Museum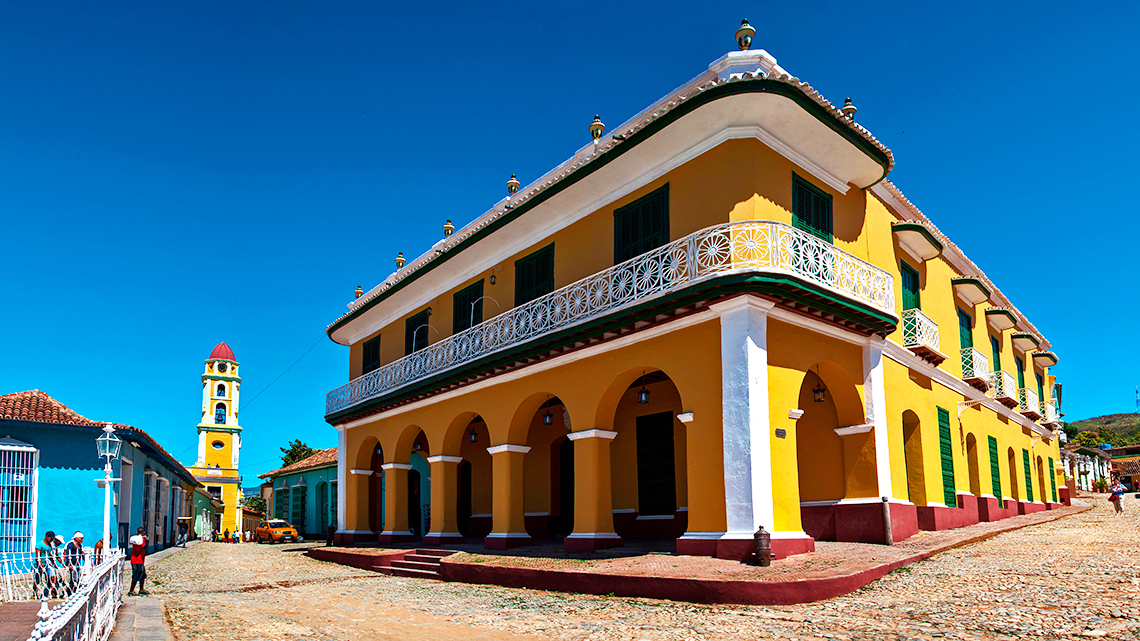 An obligatory stop is the "Museo Romantico" (Romantic Museum), one of the most visited by locals and tourists alike, and for good reason! Also known as Palacio Burnet, this stunning mansion was the former abode of the Counts of House Brunet, once of the most influential families in the region. Built between 1740 and 1808 its interiors boast splendid Moorish style on the first floor with wooden beams and fine wood carvings while the second floor has a clear neoclassical influence with big arches and a more sober style. All of its 14 rooms are on show and they look as their owners still lived there, preserving all original furniture and décor. You can easily picture the way of life of Trinidad's wealthiest families a couple of centuries ago.
Museum of Colonial Architecture
Also, on Plaza Mayor, Trinidad's "Museo de la Arquitectura Colonial" (Museum of Colonial Architecture) is another of the city's relics. A fully renovated colonial mansion the museum shows off the colonial splendour the city enjoyed in its heyday thanks to the wealth of its inhabitants, who profited massively from the slave trade and the booming sugar industry (you can discover more about its darker side on the Valley of the Sugar Mills). Step inside and you will get to peer at valuable objects, fine carpentry works, brickwork, flooring, beautiful wooden carvings, and a collection of historical timepieces.
Other interesting museums in Trinidad
If you want to discover more of Trinidad's history beyond Plaza Mayor you can head to the "Museo Municipal de Trinidad" (Trinidad's Municipal Museum), also known as Palacio Cantero, where each of the rooms exhibits a time period of the city since its foundation, focusing on a specific historic timeframe. In other words, it visually sums up the history of the city and it is a great way to get to know it in more depth, from its customs to lifestyle and traditions.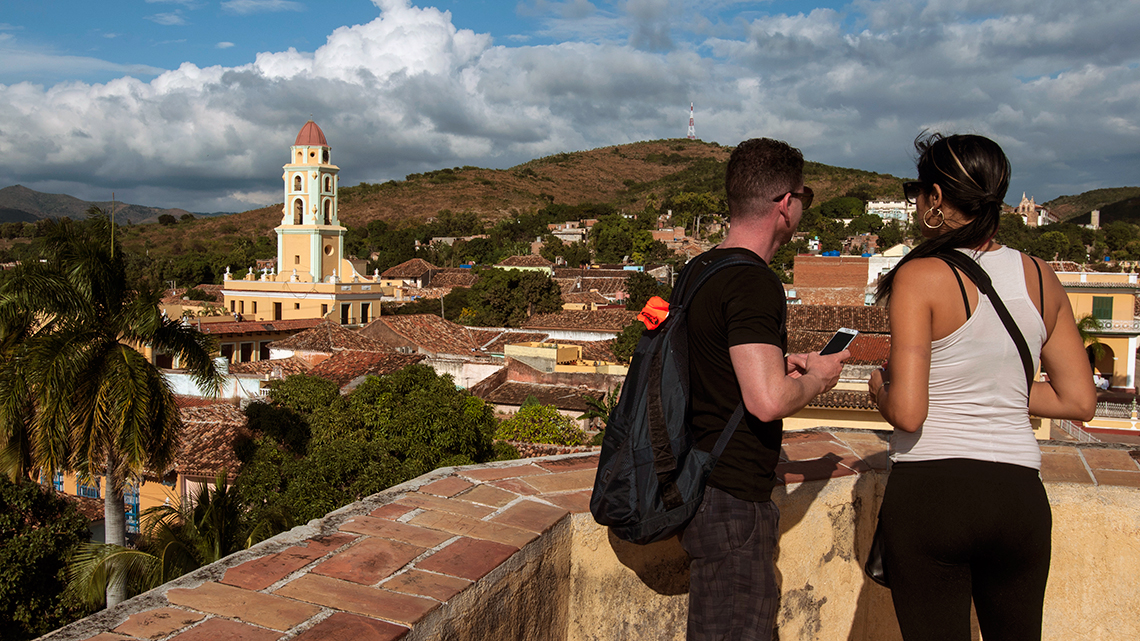 To learn more about the history of this region, the "Museo Nacional de Lucha contra los Bandidos" (National Museum of the Fight Against Bandits) is a must and also offers a great viewpoint from which to admire all of Trinidad and beyond. Once a convent dating back to the 18th century, only the tower remains from the original construction and it can be climbed for glorious views. The rest of the building functions as a museum illustrating a passage of the Cuban Revolution, when the nearby Bay of Pigs was invaded by armed CIA-backed "bandits" (hence its name). The museum exhibits documents, uniforms, letters, photographs, and remains of a bittersweet battle.
Freshening up with some canchanchara
At some point during your sightseeing journey in the town of Trinidad you will want to make a stop for a drink, in this case we strongly recommend you try the local drink "canchanchara". This refreshing concoction made of "aguardiente" (the Cuban equivalent of schnapps), lemon juice, honey, and ice, is served on traditional clay cups and many tourists become instant fans. Will you be one of them?
Many bars and restaurants in Trinidad serve canchanchara but it is best enjoyed at its namesake bar whatever the time of day and offers a great excuse to take a break and let the surroundings sink as you succumb to the strong yet sweet taste of this Cuban libation while listening to the live sound of Cuban music.
Hitting the beach
Depending on how much or how little sightseeing you want to do on day one, you can escape to the beach for the rest of the day. Playa Ancon is only a 15-minute ride away, so you can easily walk around Plaza Mayor, see a couple of museums, and leave the rest for Day 2.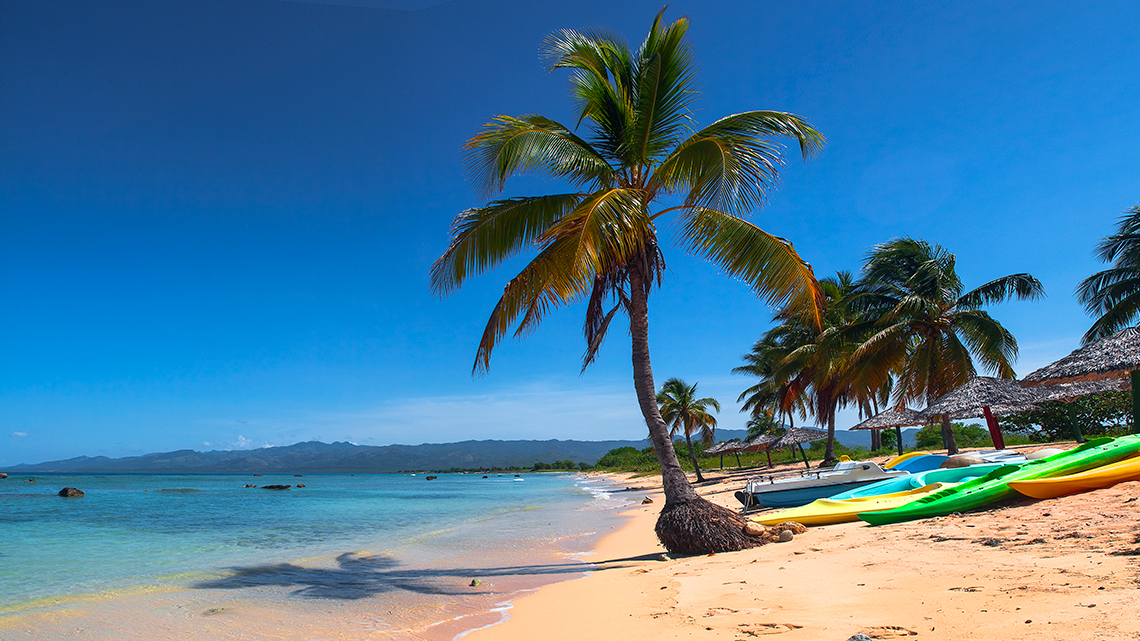 This long beach can feel like a secluded paradise in places, especially in comparison to other busier Cuban beaches. You'll be delighted by the wide sandy beach and calm, sheltered Caribbean Sea, so close to the city of Trinidad. Its proximity to the city and ease of access make it a favourite stop for many visitors and locals alike. You can come here by bus, taxi or cycle your way, with the latter being an option we highly recommend as you can venture further out and select a more isolated stretch away from the two beachfront resorts here.
You can go scuba diving by hiring gear at Hotel Ancon or book a snorkelling excursion. Or you can just lay back, dip your toes in the white sands and relax for the rest of the day.
Partying the night away
Trinidad might be very quiet during the day but after sundown things liven up at quite a few venues, so you will have plenty of opportunity to get your dancing shoes on either of your two evenings in town. La Casa de la Trova is a good place to start and an obligatory stop in Trinidad, with traditional live son music as well as salsa and popular Cuban rhythms. Exceptionally good mojitos are served all night long and the atmosphere is joyful and welcoming, you will not be able to help but join the dancing.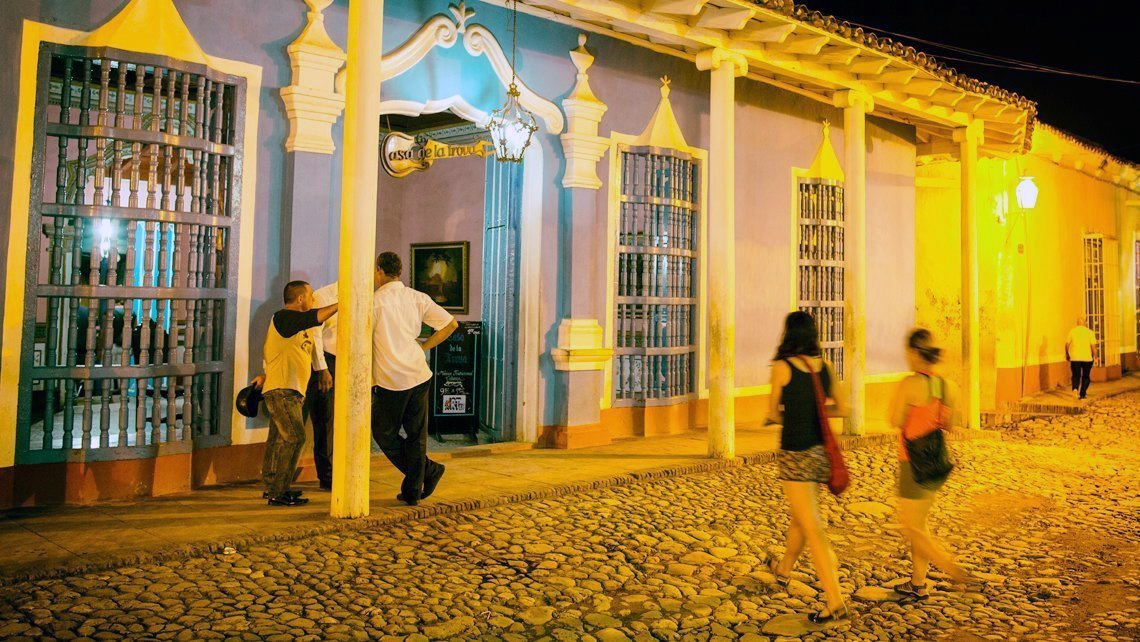 If you still feel like partying after midnight you can drag your dancing shoes to Discoteca Ayala, a nightclub inside a cave gathering visitors and locals alike with a varied mix of tunes and excellent Cuban cocktails.
If you fancy going bar-hopping in Trinidad there are still a few more options, including Casa de la Musica where Cuban and international sounds mix (from recent chart-toppers to all-time hits and oldies). Jazz lovers will feel at home at the Trinidad Jazz Café and for a night of AfroCuban music there is the Taberna Ochún Yemaya. Trinidad also has its own Bodeguita del Medio, as Cuba's most famous bar has opened a local franchise here, so if you fancy some mojitos, now you know the best place to enjoy them in Trinidad. As sleepy as the city may seem by day, it certainly comes to life at night!
Day 2 – discovering a UNESCO relic
A must-see attraction that everyone should see in Trinidad and which many day-trippers miss out on is the "Valle de los Ingenios" or Valley of the Sugar Mills. A UNESCO marvel that visually tells the compelling story of the sugar trade industry like no other place in the Caribbean can. The interconnected rural valleys of Santa Rosa, San Luis and Meyer makeup the vast 225 square-kilometre beauty of the sugar mill valleys, dotted by more than 50 sugar mills worked by over 11,000 slaves at the peak of the sugar trade in the 19th century.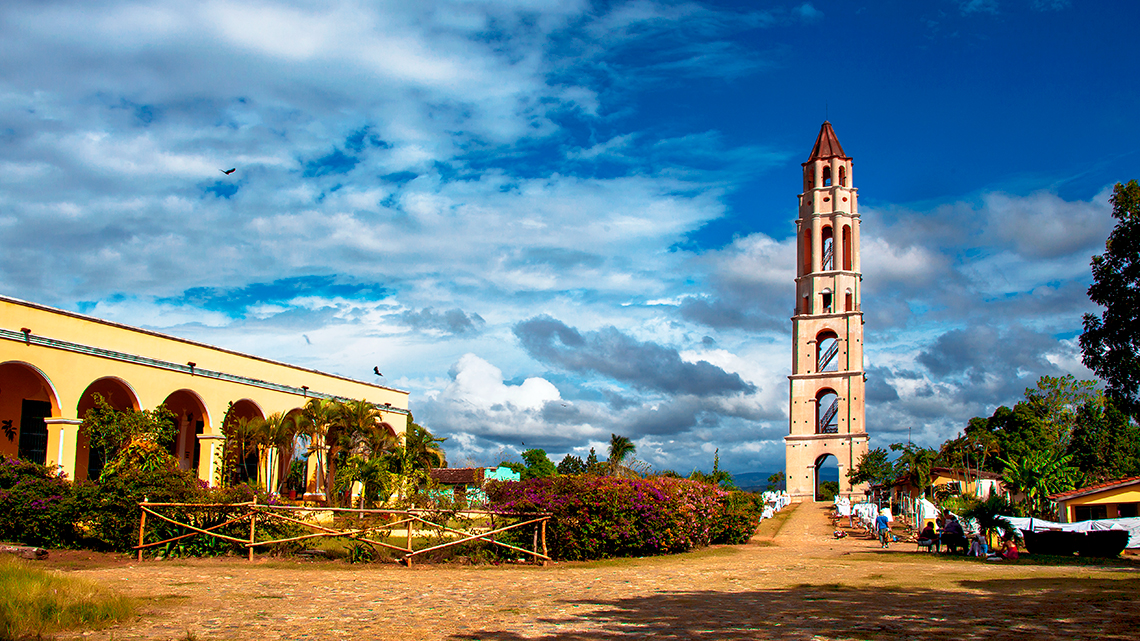 Here beyond admiring the beauty of the scenery from the top of the Torre Iznaga while sipping "guarapo" (a non-alcoholic drink made from sugarcane juice), you can take a look at the biggest, best preserved collection of artifacts related to the sugar industry the kind in the Caribbean. From plantations to mill buildings, 75 former sugar mills, barracks and even archaeological sites, the jaw-dropping Valle de los Ingenios stands as the best-preserved testimony of the sugar industry in the Caribbean during the 18th and 19th century, together with the slave trade associated with it.
You can make your journey here all the more interesting and exciting here by taking the steam train that departs from Trinidad daily and goes past haciendas and places of historical value in the valley. Within the valley itself there is a local train that crosses the valley to offer even more sweeping views. Undoubtedly a visit you will not forget!
Eating your way through Trinidad
After your adventure in Valle de los Ingenios you are sure to have worked up an appetite and upon your return to Trinidad you will have quite a few choices to enjoy a delicious lunch. Of course, we will be recommending "paladares", as private restaurants in Cuba not only have the best flavours and freshest ingredients but also the greatest charm and atmosphere. Not to mention, you will be directly putting your money into local's pockets and thus positively impacting the local economy.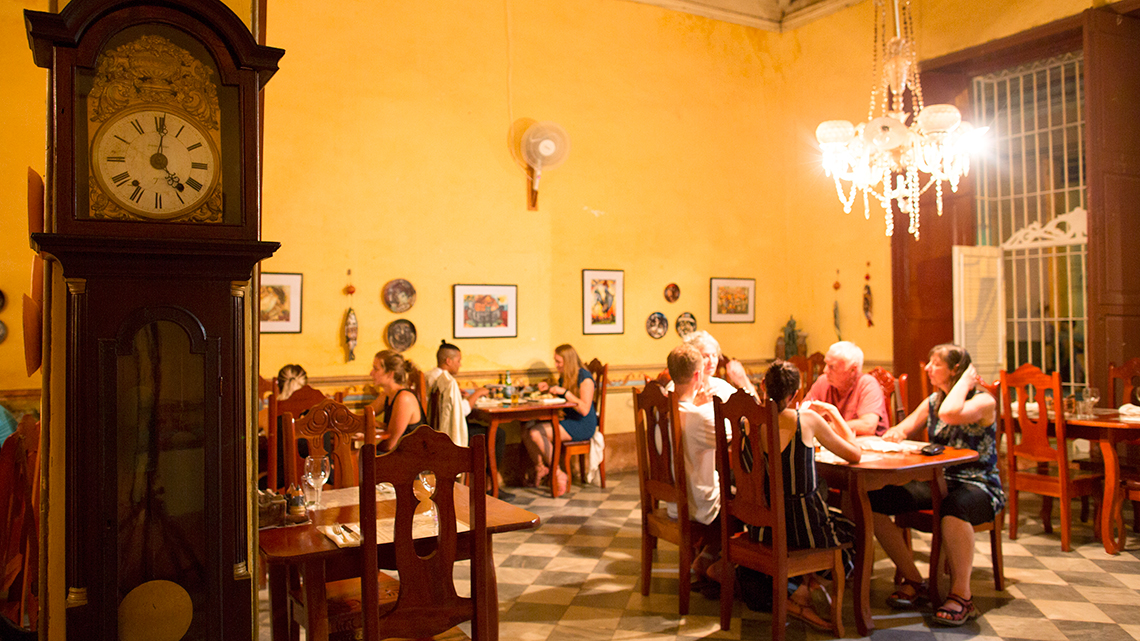 La Botija
La Botija is a great stop to try the lightly spiced tamales, tuck into some sweet and sour pork ribs and feel the heat rise with the "camarones picones" (spicy prawns). If you are in the mood for some tapas try the "pinchos mixtos" whose recipe was a winner at the Trinidad's Regional Food Festival. Another winner is the "crudo de pescado trinitario" and there are plenty of options for vegans and vegetarians too.
La Ceiba
For authentic local cuisine and reasonable prices, you cannot go wrong at La Ceiba which also offers al fresco seating in a leafy outdoor patio. For no more than 8 to 10 CUC per person you can savour delicious food, enjoy live music, and drink wine from the onsite glass-topped cellar. Our top recommendations include the "pollo meloso" with honey, lemon, and mustard as well as the lobster, served in hefty portions with a side serving of rice and salad.
La Redaccion
If you like simple food with simple, wholesome ingredients and are not fussy about presentation or sophistication La Redaccion is your place. Housed in a historical mansion that once was the headquarters of local newspaper "El Liberal", the owners here put the focus on the quality of ingredients and simplicity to bring tantalising flavours. They offer local cuisine, sans-gluten options, and vegan and vegetarian dishes. The mouth-watering pork belly cooked in a traditional stone oven is a popular dish as are its pork and lamb burgers, served alongside homemade bread and salad.
Where to stay in Trinidad?
Staying in an authentic, colonial Trinidad house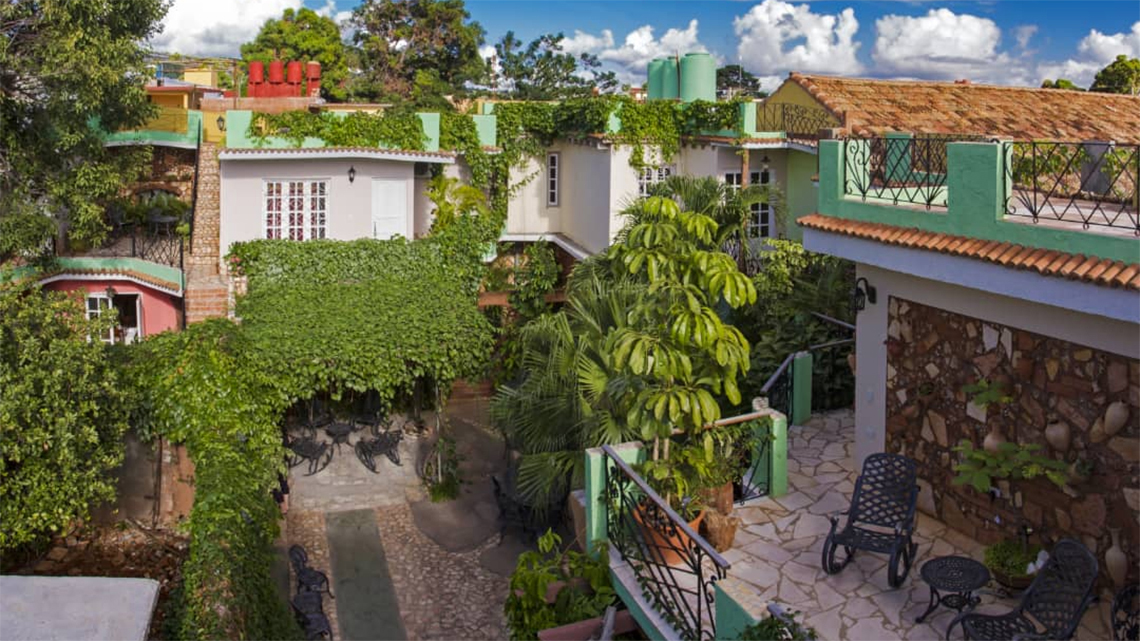 Wherever in Cuba you want to go we will always recommend a "casa particular" over a hotel, as the charm and authenticity of staying with locals cannot be remotely compared to anything else and will enrich your Cuba holiday in many ways. But when it comes to Trinidad, we will put even more emphasis on staying in a casa particular. Trinidad's casa particulares truly shine and outshine any hotel or resort you could possibly stay in. The fact that you will get to sleep in authentic, lived-in 19th colonial houses and mansions is just the beginning. The friendliness of the hosts, the hearty breakfasts in stunning interior courtyards and the finer details will make you fall head over heels with your accommodation. That's the Cuban way!
There are many beautiful casas particulares in Trinidad that we wholeheartedly recommend, and one of our favourites is "Casa Osmary y Alberto" because of all that it offers. Because of its size alone and how it has been converted to host guests, this 8-room casa can feel like a small hotel rather than your typical Cuban bed & breakfast but it has yet another bonus feature – a nearby family farm that you can visit and where you can enjoy traditional spit roast pork with all the trimmings.
Maybe 48 hours is not enough to truly savour Trinidad
We tried, and maybe failed. There are so many other places and experiences to be enjoyed in and around Trinidad that this list of recommendations cannot be considered an exhaustive one, but that is only because of time constrictions. If you have got 48 hours to see Trinidad many would consider that more than enough time to get a full flavour of the city, but others may be left wanting for more. If you want a deeper connection with the region, there is plenty more to do.
For example, we left out the fantastic trekking routes to be done just outside the city or the amazing waterfalls in Tope de Collantes that you can easily visit from Trinidad. Or kayaking under the rushing sound of El Salto del Hanabanilla. Or perhaps a visit to nearby Cienfuegos for yet another unique city experience with a French accent. After all, maybe we should really recommend you stay for a week and use Trinidad as a base to discover an amazingly beautiful part of Cuba, but that is a topic for another post. Hasta luego!