48 hours in Santiago de Cuba – getting a taste of Cuba's most Caribbean city
Cuba's second city is bursting with rhythm and sound. Famous for its vibrant carnivals and enthusiastic, energetic people, Santiago de Cuba certainly packs a lot of culture. Getting to know the city in 48 hours is doable, especially if you follow our suggested itinerary to experience all of its highlights. Plan it right and you will be dazzled by lively Santiago in 48 hours or less!
---
The last of Cuba's original seven cities to be founded back in 1515, Santiago de Cuba was the island's first capital city for half a century and even after surrendering this title to Havana a few decades later, it retained its fame and importance.
Officially declared Cuba's hottest city because of its sweltering heat and soaring temperatures, this passionate land is boiling hot in more than one way, also famous for the way locals fervently fought to uphold the ideals of the Cuban Revolution.
It is not by accident that Cuba's most famous musicians, rhythms and dance forms come from Santiago de Cuba as its proximity to Haiti and the many people that migrated here from several geographical points made it a cultural melting pot. Since its very foundations, Santiago de Cuba received migrants from Haiti, Jamaica, Louisiana, China, and the region of Catalonia in Spain. Hence why it is also called Cuba's most Caribbean city and its most multicultural ethnically speaking. The end result is a mixed, lively population, proud in its traditions, music, dancing and revolutionary spirit. Excited to discover it yet?
48 hours to see the best of Santiago de Cuba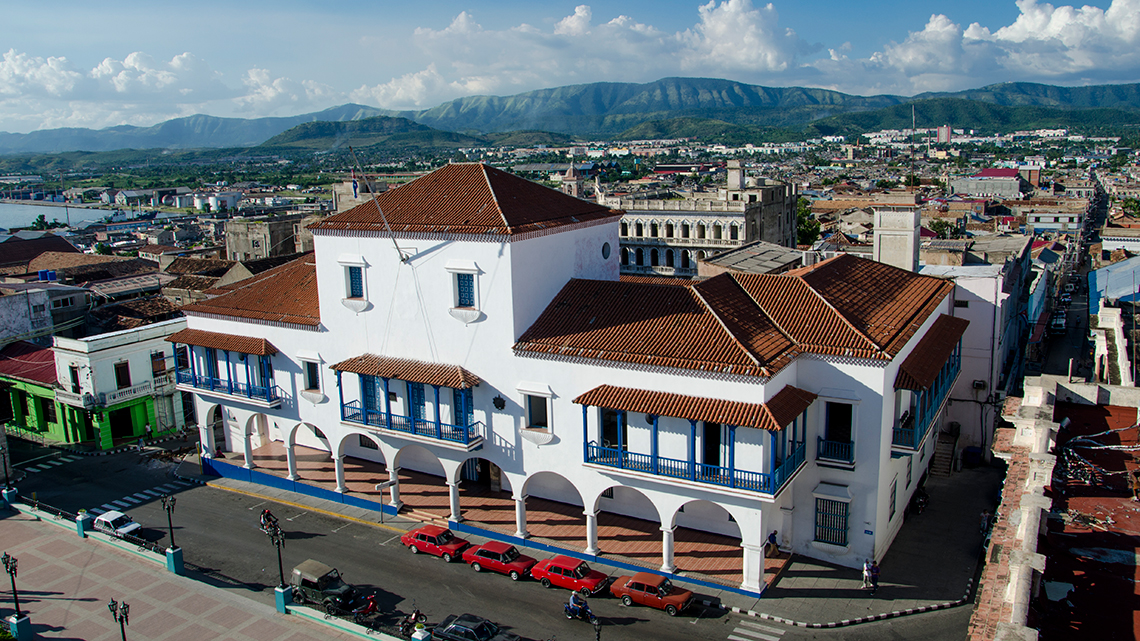 After dropping things off at your casa particular upon arrival, we have a few suggestions on where to stay further below, you will want to get a taste of the city with a walking tour.
Day 1 – a full-bodied taste of Santiago
We suggest starting things off in the city centre at Parque Cespedes the beating heart of it all, exploring the old historic town and getting a flavour of Santiago's streets, colours, people, and sounds. From this point you can explore other picturesque squares like Plaza de Marte or Plaza Dolores, famous for its peculiar characters, from religious groups to old men playing chess. Not too long ago some of the stars from the Buena Vista Social Club earned their living playing here. You are bound to come across a local band playing traditional music and you can request they play your favourite Cuban song.
Cuba's oldest house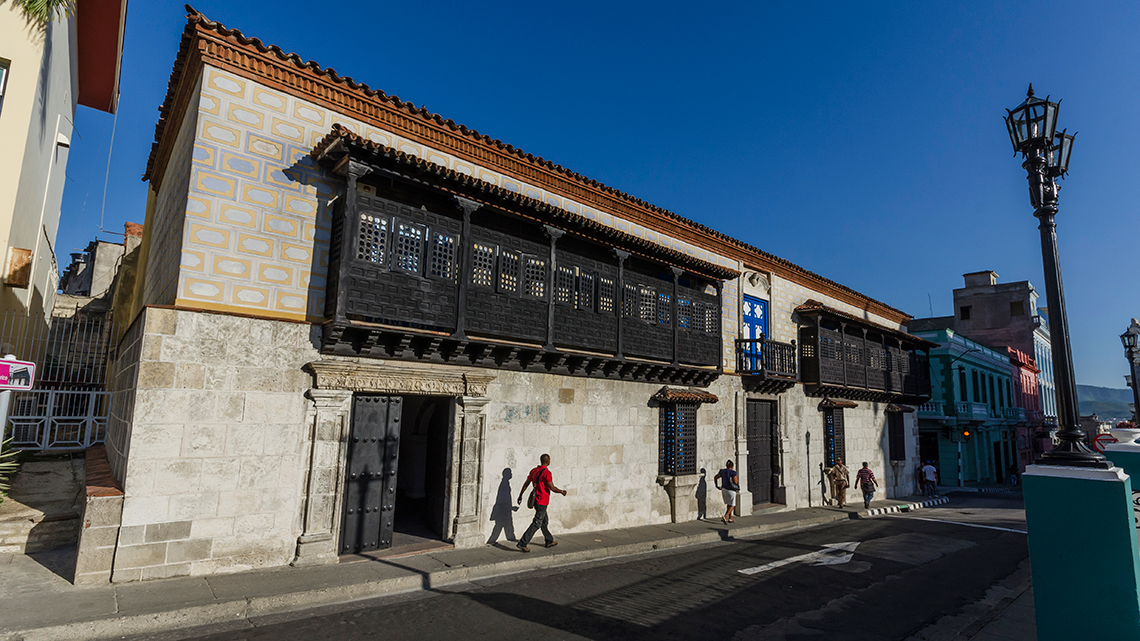 One of the must-see places in this part of the city is Santiago's first ever abode, the former residence of Don Diego Velazquez, the first Spanish governor in Cuba, not the painter, that founded the country's seven initial settlements. Of great historical value and architectural beauty, it is almost a miracle that this place still stands in the well-preserved state that it does. Now converted into a museum, we highly recommend standing on one of its balconies to take in some of the most amazing photos of your trip. From here you can take in Santiago de Cuba's beautiful bay and spot the Castillo de San Pedro de la Roca fortress in the distance, which we also recommend you visit.
Because this attraction is located right at the heart of the historic centre, from here you can easily walk to other attractions like the stunning piece of colonial architecture right in front, Hotel Casagranda, and the majestic cathedral, also in front to the right.
Need help planning your Cuba holiday?
With over 20 years of experience organising sustainable tours in Cuba, at Cubania we have your back. From Cuba cycling tours to family or LGBTQI-friendly Cuba tours, we've got something for everyone!
Santiago's liveliest street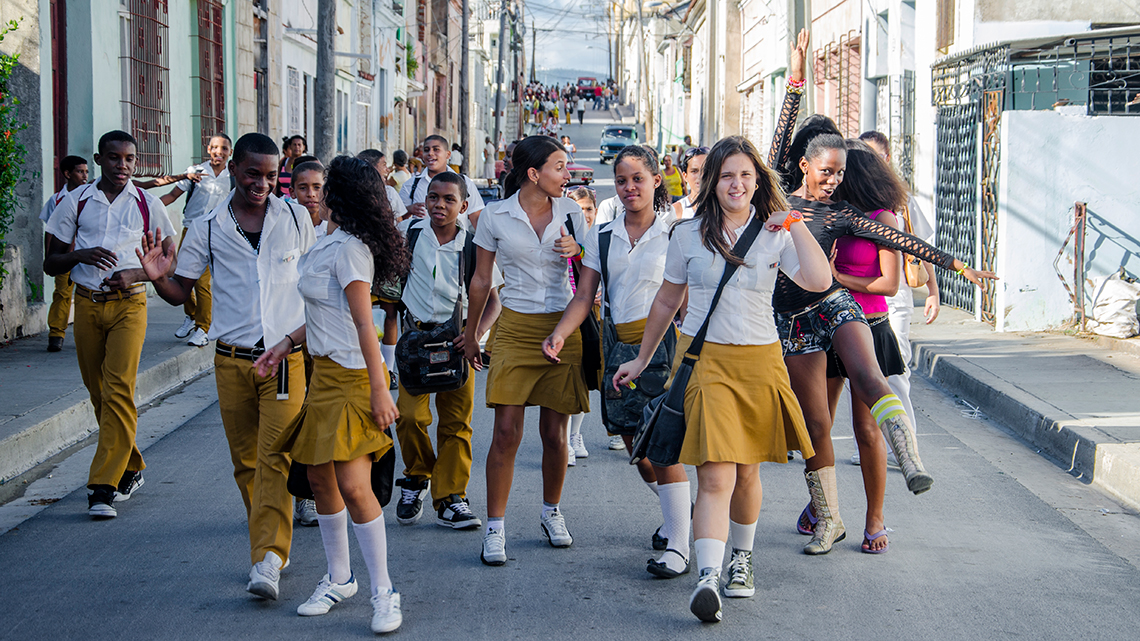 From our previous stop and since you are in the area, a trip down Enramadas street is a must, especially to soak in the livelihood of the city's busiest street and to indulge in a bit of people-watching. Similar to Calle Obispo in Havana but wider, "Enramadas" is Santiago de Cuba's shopping district and whatever the time of day you will see crowds going to and fro, rushing and browsing to find a good bargain or two.
Stopping for a bite
Right on Enramadas you will come across St. Pauli, a "paladar" with a quirky entrance offering tasty dishes at reasonable prices. Some of their star dishes include the grilled lobster and "yakitori" chicken or the chicken chunks dressed in a chocolate sauce while top deserts include the coconut ice cream which comes aptly served in a coconut shell.
For an alternative place in which to get some decent grub head back up to Santiago's oldest house and right opposite the Hotel Casagranda entrance you will find Thoms Yadira Restaurant, an even more popular paladar with rave reviews thanks to dishes like the star paella, the seafood platter or the milk flan and fruit crepe. If you want a break from typical Cuban food, this is it!
Climbing the steps of Padre Pico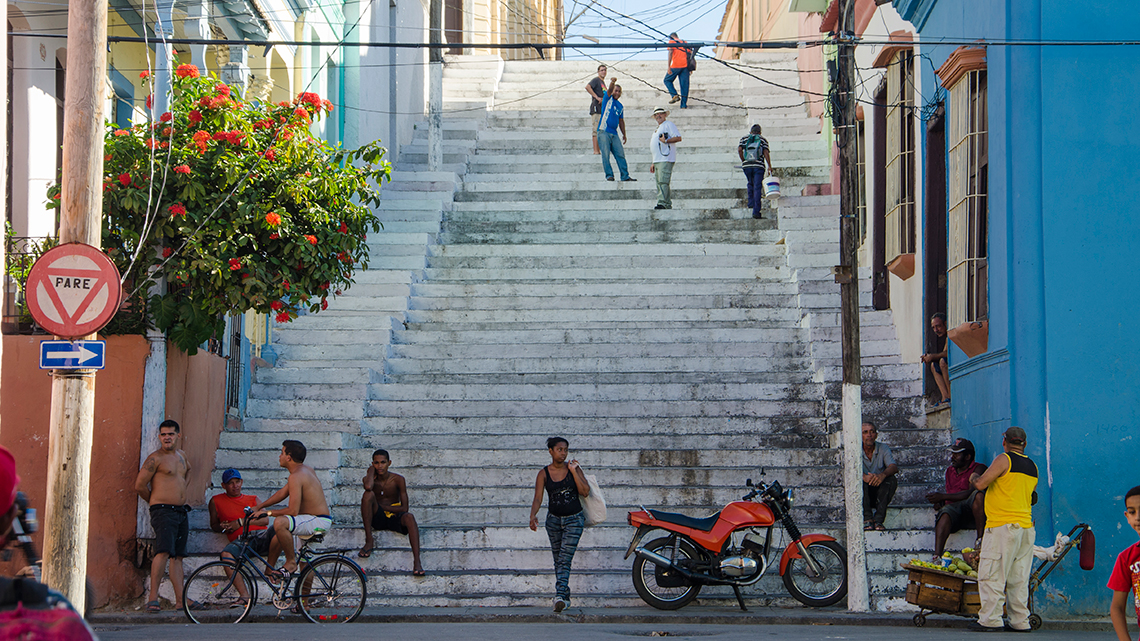 To help you digest a hearty lunch there is nothing better than getting on the move again at a leisurely pace to do a bit more of sightseeing. One scenic spot in Santiago de Cuba are the famous steps of Padre Pico, also one of the most photogenic places in the city. Climbing all the way up you might break a sweat but there is no rush, you are on holiday. So, climb at your own pace and take lots of photos along the way! Some of the most stunning photos you will take require no climbing and are done at an angle from the bottom of the staircase.
Discovering Cuba's musical cradle at Casa de la Trova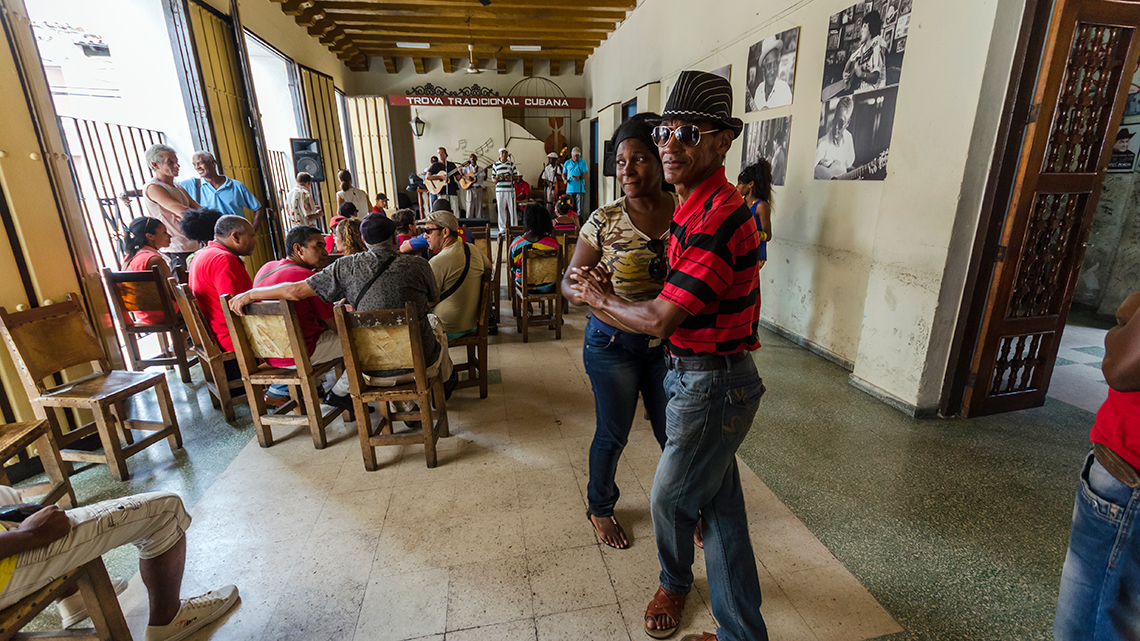 Most Cuban sounds that you know and love today came from this "tierra caliente" (hot land) and they are played live every day and every night by talented musicians at Santiago de Cuba's most famous music joint – Casa de la Trova "Pepe Sanchez". This epic place is the one to come to with your dancing shoes on, although many visitors are happy to just take a seat and fall into a Cuban musical trance.
An unmissable stop in our itinerary, this place has been visited by countless famous performers from Cuba and beyond, including ex-Beatle, Paul McCartney, who not only enjoyed a live session of Cuban son but also took home a handful of CDs.
Come to enjoy the live sounds of "guaracha", "son", "cha cha cha", "danzon" and, "mambo" while sipping on a cooling mojito.
Museo Bacardi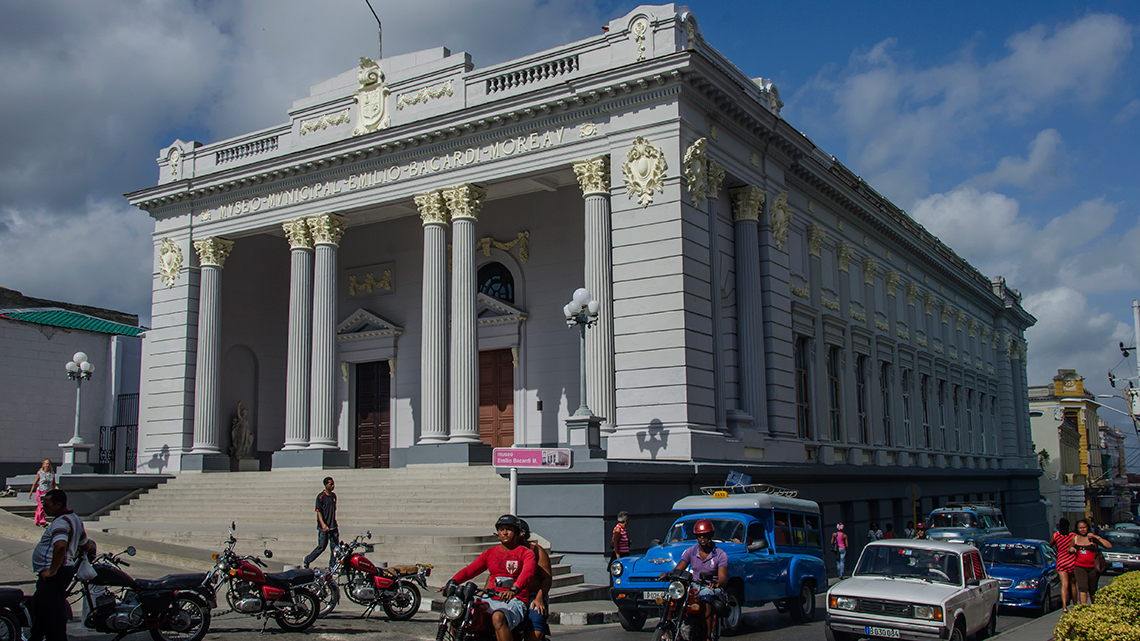 No, this is not a rum museum. Named after Emilio Bacardi Moreau, the "santiaguero" that made Cuban rum famous, this museum documents the history, archaeology, and art of Santiago de Cuba and beyond. Divided into three main halls, there are some fine paintings to admire from some of Cuba's most famous international artists from all times: from Wifredo Lam to Rene Portocarrero and Amelia Pelaez.
In the history hall you will find objects, documents, and clothing from the colonial period, most specifically the time period covering Cuba's independence wars, so it is a great place to learn more about Cuba's history.
A seaside walk
Like many other cities in Cuba, not just Havana, Santiago de Cuba has a seawall promenade worth exploring. This malecon might not be as long and impressive as Havana but it is nevertheless a great place to unwind and relax after a day of sightseeing. Come at sunset from some splendid views and you might even be serenaded by live bands.
Day 2 – exploring beyond
We have dedicated our first 24 hours in Santiago to checking out the old town, exploring the city centre and getting a flavour for "santiagueros", their music and their traditions.
The two places we are about to suggest are at opposite ends of each other and quite a distance away but will add and enrich your trip in two different ways.
Castillo de San Pedro de la Roca – a UNESCO wonder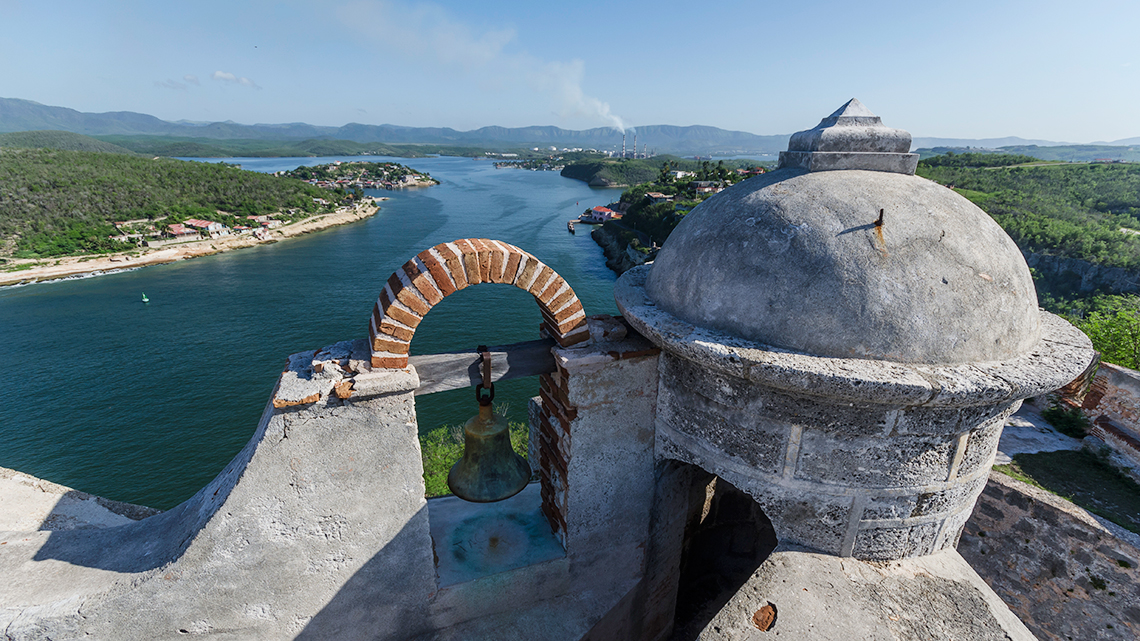 You will have to cycle 20 minutes south of the city centre for our next attraction. Famous for its lighthouse, the Castillo de San Pedro de la Roca is a must-see place in Santiago de Cuba and UNESCO site worth admiring. This magnificent fortress had to be rebuilt several times, in fact, in the midst of its construction in 1662 it was attacked by English freebooters who took hold of Santiago for two weeks and during their rather violent stay destroyed a good part of the fortress.
Then, a few years later the fortress suffered significant damages caused by a series of earthquakes. Rebuilding works started again and soon after its foundations were shaken by two more earthquakes in 1757 and 1766. The fortress as you see it today has not suffered anymore damages since and has served as a prison, a military base and again as a fortress during the Spanish-American War when a US fleet attacked the city in 1898. Restored again in the 60s after falling into decay.
Walk around, breathe in the gorgeous views from all angles and revel in which has been described as:
"The best preserved and most complete example of Spanish-American military architecture."
Santa Ifigenia cemetery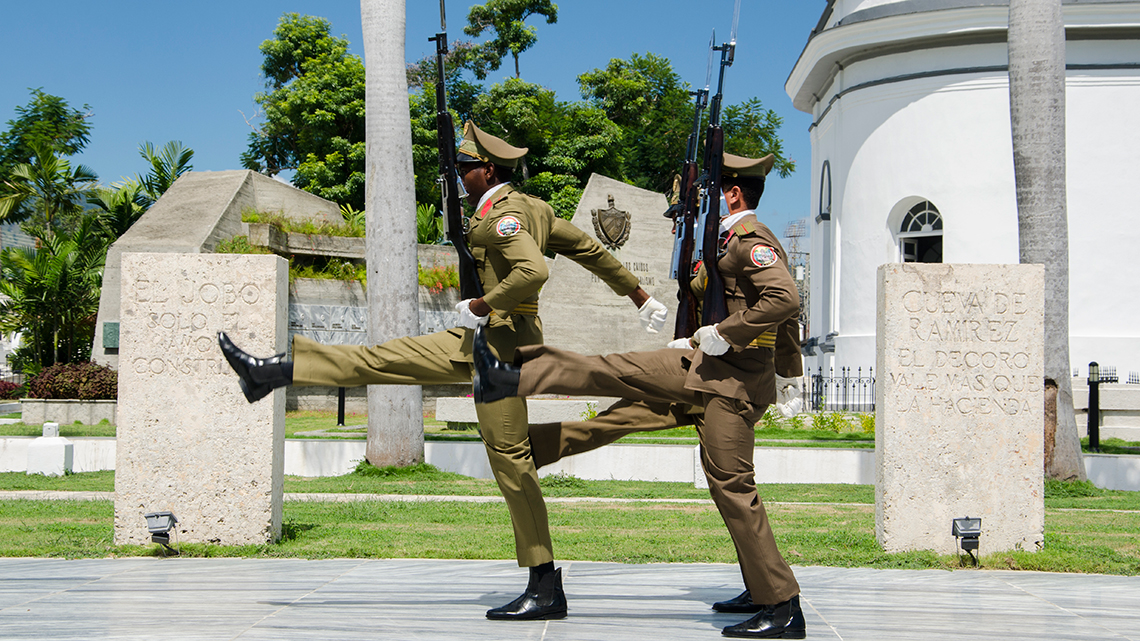 Located at about 15's minute drive from the city centre in a northwest direction, the Santa Ifigenia Cemetery is one of Cuba's oldest and most beautiful. This is the resting place of many national heroes, from Jose Marti to Antonio Maceo, and, most recently, Fidel Castro, whose tomb has now become a place of pilgrimage for many inspired by his legacy and ideals. But that is not all, this is also the resting place of Cuban music stars and legends from all times, including many members of the Buena Vista Social Club like Company Segundo. If you come here at the right time you might catch the change of guards, a solemn ceremony that many visitors look forward to.
El Cobre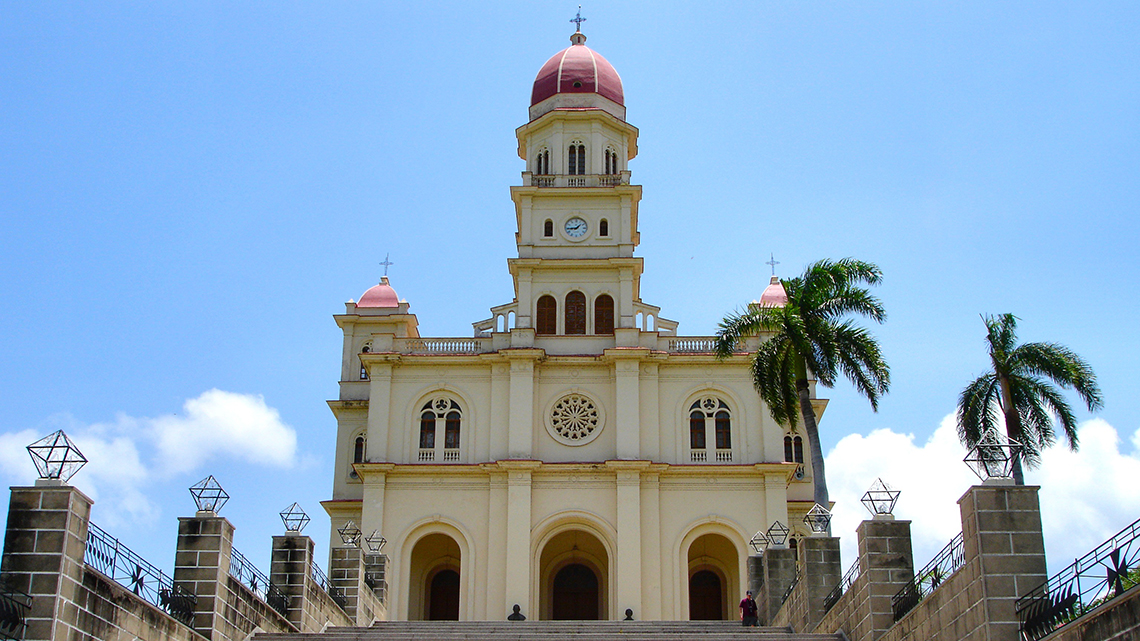 If you still have time in Santiago de Cuba and are thirsty for discovery, we suggest making the journey to the town of El Cobre to see the shrine of Cuba's patron saint, Our Lady of Charity of El Cobre. The virgin is worshipped by thousands of faithful devotees from all parts of Cuba, and by faithful we mean Catholic Christians as well as followers of AfroCuban religions because of the special way that Catholic saints and virgins have an equivalent in the Yoruba religion. In this case, Our Lady of Charity of El Cobre is also the Yoruba goddess, "Oshun".
Located at the top of a hill, the shrine itself is beautifully surrounded by lush mountains, making for glorious views all around and adding a sense of spirituality to the place in the way it blends with nature. Whatever the time of year or time of day you arrive here, the many pilgrims making their way here and climbing the 254 steps to the shrine is a sight to behold. The shrine itself has been blessed and visited by many popes throughout history, the first one of them being Pope John Paul II in 1998, then Pope Benedict XVI in 2012 and Pope Francis in 2015. But the virgin's fame and glory doesn't end there, Ernest Hemingway himself donated his Nobel Prize gold medal to Cuba's patron saint, which is displayed in El Cobre shrine.
From the Santa Ifigenia Cemetery to the town of El Cobre you will have a 30-minute car journey, the shortest route. There is an alternative one through an old road, but we are sure you will want to minimise travelling time.
Where to stay in Santiago de Cuba
If you have 48 hours to experience Santiago de Cuba during your holiday, you are best off staying in the city centre, where you will also find fantastic lodging options in the form of casas particulares. Full of Cuban charm and flavour, casas particulares are the best way to experience Santiago de Cuba and we have a trio of places to recommend.
Roy's Terrace Inn
Perfectly located only a 4-minutes' walk away from the centric Parque Cespedes on a quiet street that gives a respite from the downtown hubbub, this "casa particular" is roomy, clean, and elegant with modern facilities and warm hosts. Its terrace is actually a rooftop restaurant and a panoramic one at that with some of the best dining views in all of the city.
Hostal Amanecer Cubano
Also, in the heart of the historic centre with a central location close to the cathedral, this casa particular offers two spacious air-conditioned rooms in a stunning neo-colonial house. Serving up scrumptious breakfasts by smiling hosts that will go out of their way to make your stay exceptional, you cannot go wrong with a stay here.
Casa Frank y Evelin
An easy walk to Parque Cespedes, this casa particular is also fantastically located. Breakfasts on the balcony are simply glorious and the two rooms offered here have all mod-cons and facilities you will need and expect. Owned by a welcoming family, Frank will take delight in telling you how to play dominoes or give you a relaxing massage (he is a certified therapist). From the balcony you can watch life buzz by and feel part of this warm family.
More of Santiago de Cuba?
If you are still thirsty for more or have some extra time to spend in Santiago de Cuba you can head to Parque Baconao, some 60 km away from the city centre and covering an area of around 327 square kilometres. Its main centrepiece is the "Gran Piedra" (great rock), a prehistoric mass of mineral from volcanic origin weighing more than 63,000 tons. You can climb all 459 stone steps to the top if you are up for a challenge and want to enjoy some spectacular sea views. This natural park is also home to a rather quirky prehistoric valley dotted by dozens of life-size dinosaurs sculpted stones. Surely a completely different way to enjoy a very different side to Santiago de Cuba!
Sustainable Cuban Experiences
For the last 20 years, we have been providing exceptional and meaningful holidays, enriching the lives of active travellers and our community, and exposing them to a unique way of living by sharing real Cuban experiences in a sustainable way. From cycling across rural roads, trekking through lush mountains, mojito-sipping in Havana's hip bars or simply relaxing on warm, white sandy beaches – at Cubania we know how to create a holiday that just hits the spot.