48 hours in Baracoa – discovering one of Cuba's most unique places
A 48-hour stopover in Baracoa can be an incredible opportunity to discover one of Cuba's most peculiar places and the island's oldest settlement. There is a mystical air about this corner of the island and its remoteness alone has kept it hidden from the world for decades. From cocoa routes to trekking, beach-basking, and discovering the most colourful snail in the world, we tell you how to explore Baracoa in 48 hours. Read on!
---
Sleepy Baracoa is shrouded in mystical allure with legends galore. You might wonder what exactly it is that makes it so special, but just glancing around is sure to make you fall in love with its natural beauty and its blissful silence might lull you into a rather pleasant trance. Welcome to the slow lane, to an easy-going, naturally exuberant, and geographically privileged life. With an idyllic location at the mouth of a horseshoe-shaped bay, everywhere you look beauty will greet you.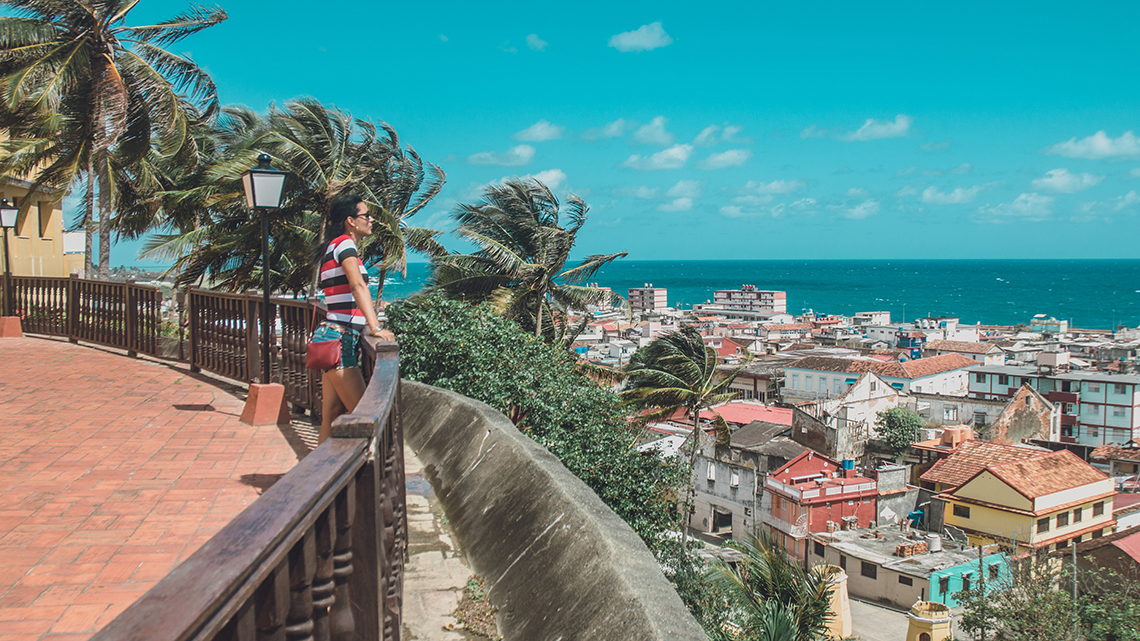 Surrounded by lush mountains and sitting at the heart of a UNESCO-declared World Heritage Site and Natural Park, this provincial town is full of little discoveries to be made. Cut off from the world by high mountains and the sea, it was not until the construction of a road over and through the mountains that Baracoa was finally connected to the rest of Cuba in 1965. The road will be one of the highlights of your visit but since its construction not much has changed in this time warped zone. Cuba's oldest, easternmost city is sure to captivate you.
One more thing, despite its beachside location, this part of Cuba is completely devoid of resorts of any kind (so far) and remains fairly undeveloped, so it still feels remote and off the beaten track despite its increasing popularity with tourists (both national and international) over the last few years.
But where to go and what to see in Baracoa if you have got roughly 48 hours? Read on to find out.
★ Day 1 in Baracoa – getting acquainted
To get a first taste of the city we recommend walking around town, exploring its streets, taking in the spectacular vistas over the horseshoe bay, checking out museums or hitting the, often, secluded beach; especially if you come in low season months, there'll hardly be anyone there.
Viaducto La Farola
There is only one way to arrive in Baracoa by land and that is through the only road linking it to the rest of Cuba, in this case the city of Guantanamo. Said road was built on the sinuous mountain of "La Farola" and it's an incredible feat of engineering, celebrated by how perfectly it blends in with the surrounding natural environment and how impressively it showcases the spectacular views along its entire length. It is one of "Cuba's Seven Engineering Wonders" so make sure you take a good look at it as you traverse it by car or by bike.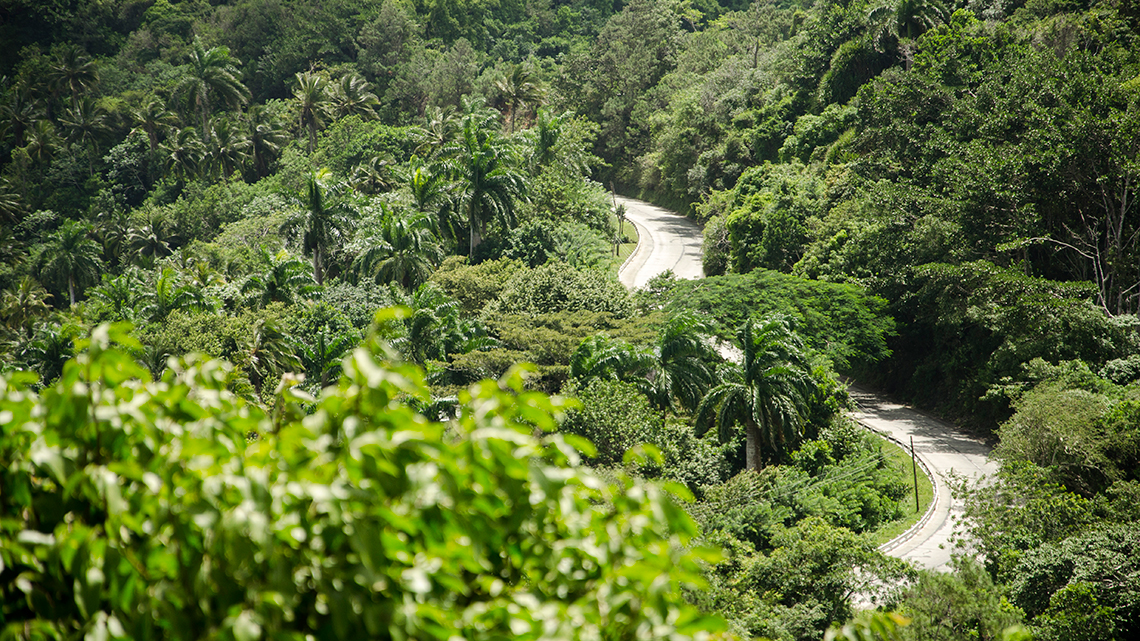 The vistas from this mountain are amazing and the 30-kilometre-route is a head-turner whichever way you go. On the Guantanamo-Baracoa journey, the landscape changes from coastal desert to tropical rainforest and on the way, you can marvel at the dense vegetation, crystalline streams, and tall palm trees. From a distance the road looks like a thin line cutting through the most wondrously lush and dense vegetation. Just imagine that for over 400 centuries no such road existed, and Baracoa was only reachable by boat. Utter seclusion indeed.
Photographing (or climbing) a natural anvil of epic proportions
From almost any point in Baracoa you can look over the bay and marvel at Baracoa's famous flat-topped mountain, El Yunque, a symbol of the city named thus because of its resemblance to an anvil. It not only makes for a photogenic shot, but it also has its fair bit of history. Poised some 500 metres above sea level it was the only witness of the clash of cultures that occurred when the Spaniards first arrived here in 1492 and met its native inhabitants, the Taino Amerindians. Legend has it that the mountain later served as refuge to Taino and African slaves escaping from their barracks and seeking freedom. In its surroundings, you will find the decadent ruins of once luxurious mansions built by the French who arrived in Cuba from Haiti fleeing revolution.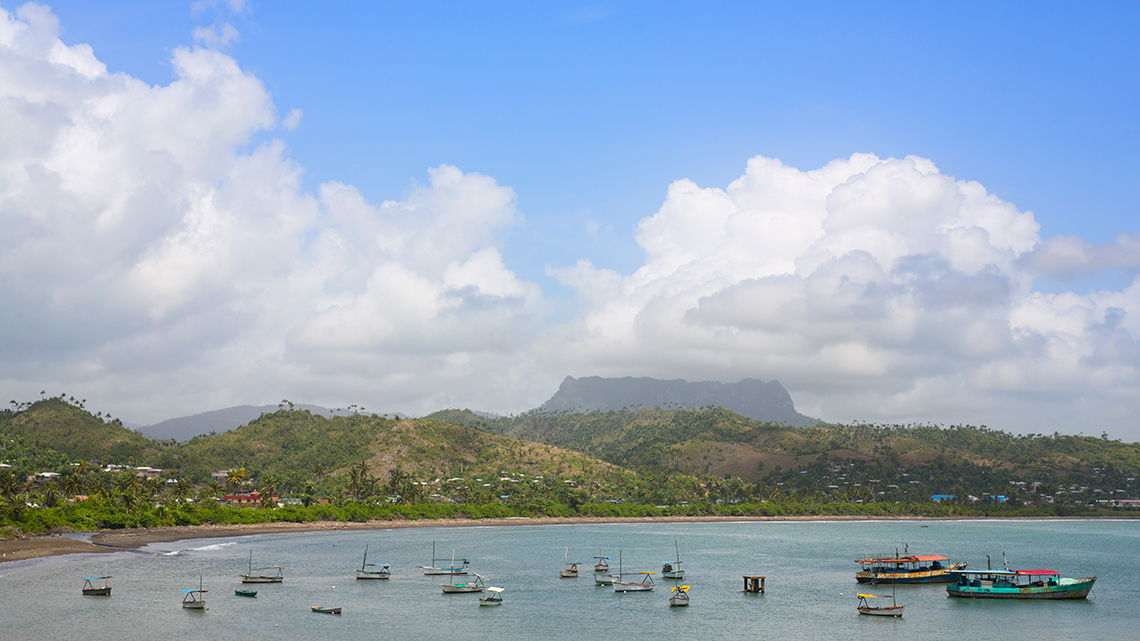 El Yunque is both a National Monument and a symbol of the "Primada City", as Baracoa is also called, with "primada" meaning first. As we told you earlier Baracoa became Cuba's first ever colonial settlement upon its foundation by the Spanish Conquistadores in 1511. Virtually wherever you stand in Baracoa, El Yunque is visible, so take as many photos of it as you can from different angles and viewpoints, then compare to see which one comes out as a clear winner (in your eyes at least!).
For a more immersive experience, you can also climb El Yunque, where first you will have to wade along Río Duaba, a scenic experience all of its own. For a hiking route you will not forget, on your way up you will be able to spot numerous birds, insects, and plant species along the way. The journey up and back down will take approximately four hours to complete. On your way down dive into Río Duaba's waterfalls to cool down.
A city with many titles
Beyond being often referred to as Cuba's first city, Baracoa also boasts several titles: "Landscape City", "Water City" (because of the convergence of three rivers, Río Miel, Río Toa and Río Yumurí) and "City of Mountains" in reference to the city being wrapped around a chain of mountains bursting with exotic vegetation and virgin forests teeming with endemic flora and fauna. Crystalline rivers, virgin beaches fringed by sea grape shrubs, almond trees and coconut trees all unite to create a rather unique paradise. So, do watch out for its many natural wonders, whether you book a trekking adventure, indulge in some beach-basking or you venture out to explore on your own.
Meandering Baracoa's old-world streets
There are a lot of picturesque sights to enjoy as you walk or cycle your way along downtown Baracoa and explore the city centre and beyond. You will soon notice how the majority of houses lined along the city's main street are a mix of wooden plankboards and concrete one and two-story edifications painted in bright colours.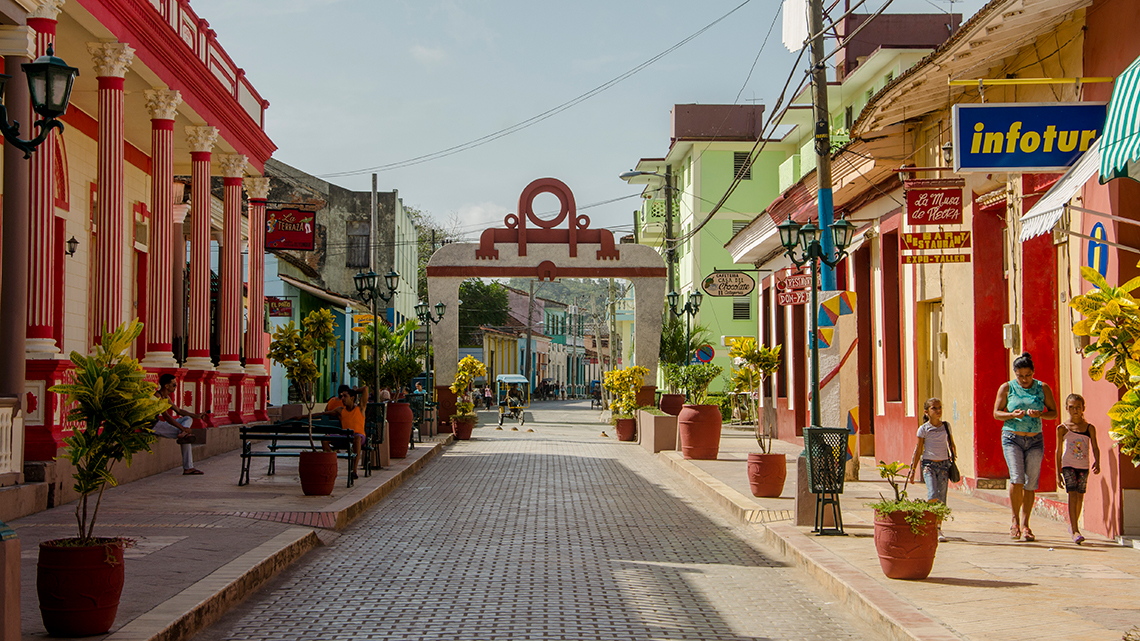 Pizzas and refreshments are sold from many of these houses' windows. Absorbing provincial life in the quiet streets of Baracoa will quickly show you how different everything in this part of Cuba is compared to the rest of the country. Not only does the city and its residents have a more relaxed attitude, even by countryside standards, but everything here seems to be permeated in some kind of dreamlike status.
There is hardly any traffic aside from a few cyclists, pedestrians, the odd horse-drawn cart, or classic car. Yes, there is evident Cubanness (or "Cubania" as we prefer to call it) and a decidedly Cuban flavour in Baracoa, but of a different kind, which takes us to our next section: savouring Baracoa's autochthonous cuisine.
Need help planning your Cuba holiday?
Cycle through charming Havana, paddle through Bay of Pigs' mangroves, learn some killer salsa moves, trek through the tobacco fields of Viñales or relax on pearly-white sandy beaches mojito in hand.
Whether you are after Cuba cycling holidays, action-packed outdoor holidays, learning all about Cuba's rich history and cultural highlights or getting involved in the up-and-coming, cool New Cuba – we'll steer you clear of the mainstream so you can enjoy Cuba, the Cuban way!
Discovering Baracoa's peculiarly "coconutty" culinary culture
There are many dishes in Baracoa that you will only be able to taste here and nowhere else in Cuba. Its most typical and common dishes also include scrumptious deserts to sweeten the deal. For mains you can't go wrong with "fricasé de carnero" (lamb fricassee, a nod to the town's French heritage), "hallaca" (a kind of tamale cooked in corn leaves with pork inside), "bacán" (slow-cooked ground plaintain with pork inside, similar to hallaca but only in looks and not in taste) or any freshly caught produce from the sea with star catches including shrimps, lobster, octopus or the autochthonous "cojinua". Some local restaurants also specialise in meats cooked with wine, especially chicken and mutton.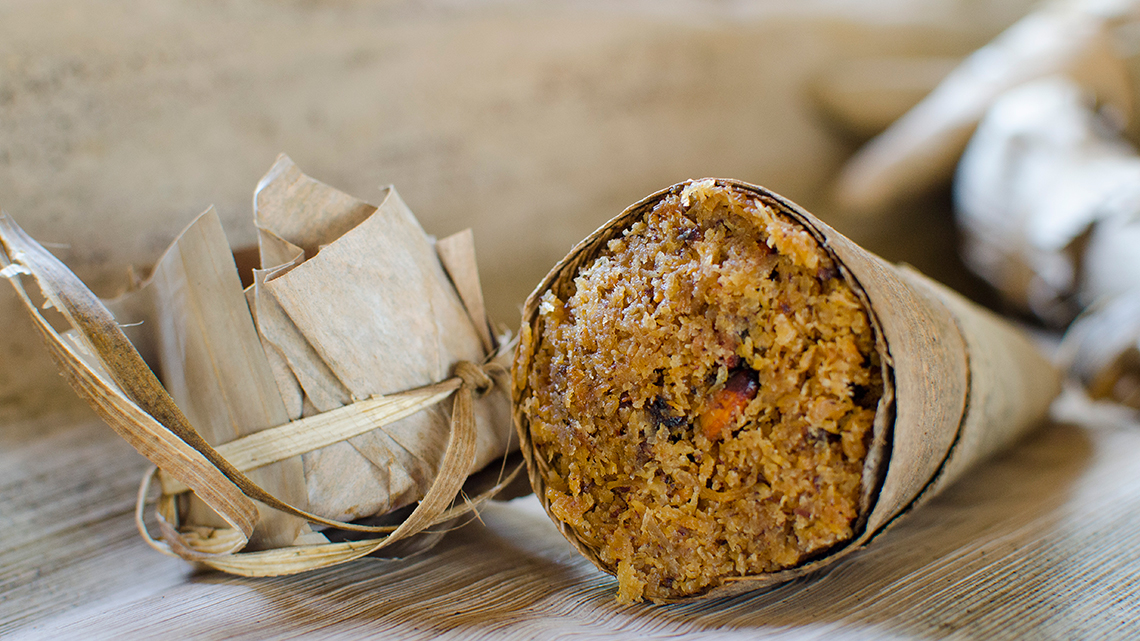 Here is another peculiarity, coconut milk is a key ingredient in Baracoan cuisine and one that you will hardly find used elsewhere in the country! It adds a depth of taste to many of the local dishes here. Bacán for example is served on a bowl of coconut milk as is the local "calalú" (the Cuban version of callaloo). You will find that many of the fresh seafood served here come bathed in coconut milk.
Vegetarians need not fear as delicious veggie options abound, and they include vegetables (yes, you have guessed it) dipped in coconut milk, grilled, and cooked with local wine or with bitter orange. Some veggies also come cooked in chocolate sauce (from locally grown cocoa) and there is selection of tasty pasta dishes.
Sweetening the deal
And for dessert? Probably Baracoa's most famous dish is actually an artisanal sweet made in small local mini factories. Baracoa's "cucurucho" can be enriched with multiple ingredients, typically: guava, papaya or pineapple but its main ingredient (surprise, surprise!) is the coconut, which is grated and cooked until shaped into a soft dough, which is when additional ingredients and spices are added. A real treat for those with a sweet tooth!
Another famous Baracoan dessert that you can also find in other parts of Cuba is the "coquito", yet another recipe with coconut as its main and only ingredient. It consists of grated coconut slow cooked with sugar, then moulded into (typically) little balls or ovals and left to cool and harden. It is typically sold by street vendors or from private's homes windows and a must-try!
Where to eat in Baracoa
To sink your teeth into some delicious local fare in Baracoa head to restaurant La Roca, a beautiful paladar housed on the upper floor of a residential two-story building. Like many other paladars, its owners live here and the service you get is as though you are eating at a friend's home. Specialising in Caribbean fare with a Cuban twist, there are veggie options galore and attentive service by the dedicated chef who comes and checks on diners. Prepare for a family-style feast with finger-licking bites. On most nights, a local band livens up the atmosphere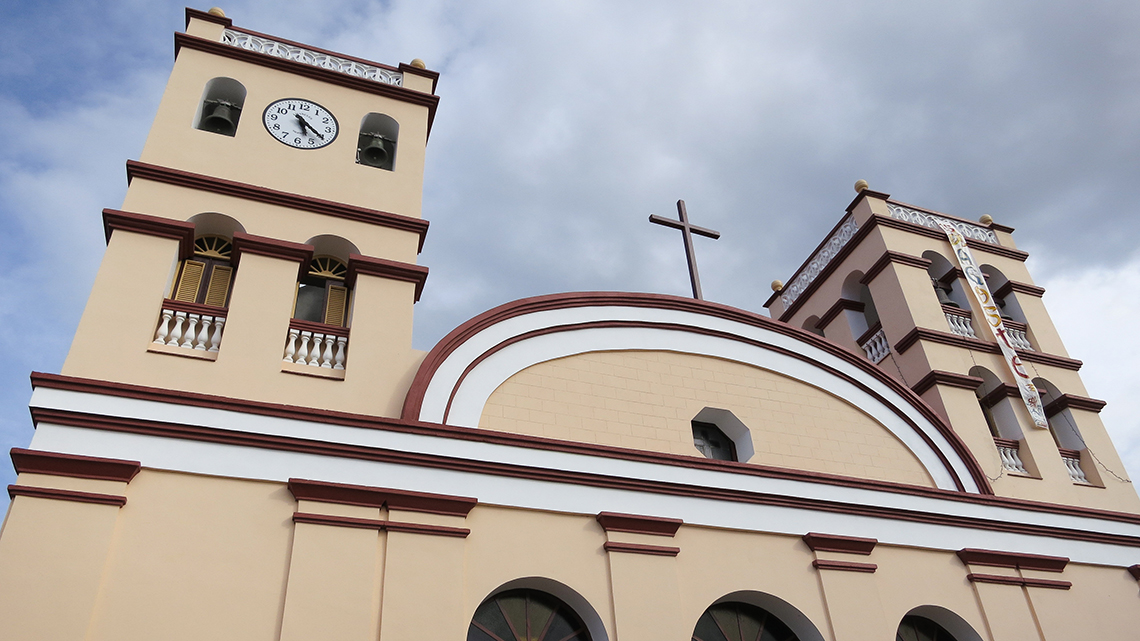 Alternatively, you cannot go wrong at El Buen Sabor, winner of TripAdvidsor's Traveller Choice Awards 2020 and famous for serving equally good local cuisine in hearty portions. With an open-roof terrace you can dine while looking over the city.
Another fabulous restaurant, especially for vegetarians, is La Colina, where you will simply fall in love with the veggie-friendly "calalú" cooked with locally grown "quimbombó" (okra). There are plenty of meat and seafood options too and the lobster coconut in coconut sauce is a winner. But this paladar steals the most hearts because of the sweeping city views and sea views it offers from its rooftop terrace.
Museum-exploring or beach-bumming?
After lunch on your first day in Baracoa you have a few options, you can continue exploring the town and checking out museums like checking the museum to admire "Cruz de la Parra", or head to the beach. It all depends on your mood and whether you want to get to know the city better from a cultural and historical perspective or whether you prefer basking in its natural riches.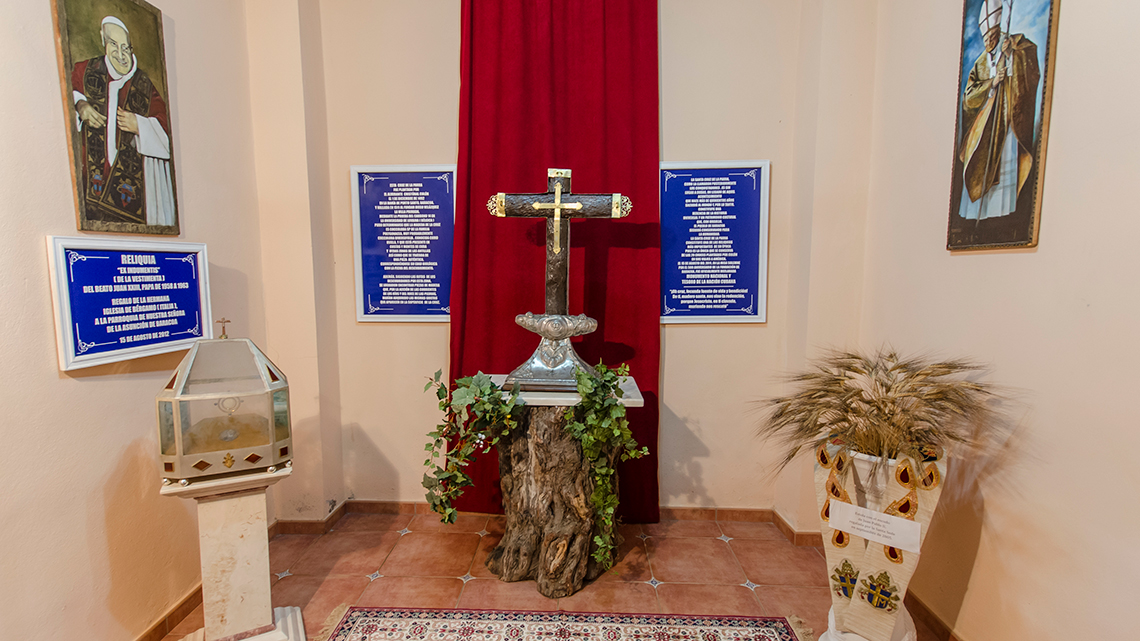 For delving into Baracoan history head to Museo Fuerte Matachín, housed inside an old and small fortress, the second of its kind to be built in Baracoa by Spanish Royal decree to further protect the city. The museum exhibits archaeological collections from the indigenous period in this part of Cuba as well as objects encompassing the colonial period, the French presence in the city, the independence wars, the Cuban Republic, and the Revolution.
Head to the Iglesia Cruz de Parra to witness the city's most valuable historical piece and relic, the "Santa Cruz de la Parra" (The Holy Cross of the Vine), first erected on this land by Christopher Columbus himself upon his arrival on 3rd December 1492. He placed 29 of these all-over Latin America and this is the only one in the world which is still intact.
During your sightseeing journey stop by centric Plaza de la Independencia for a spot of people-watching under the shade of leafy trees.
Unwinding by the beach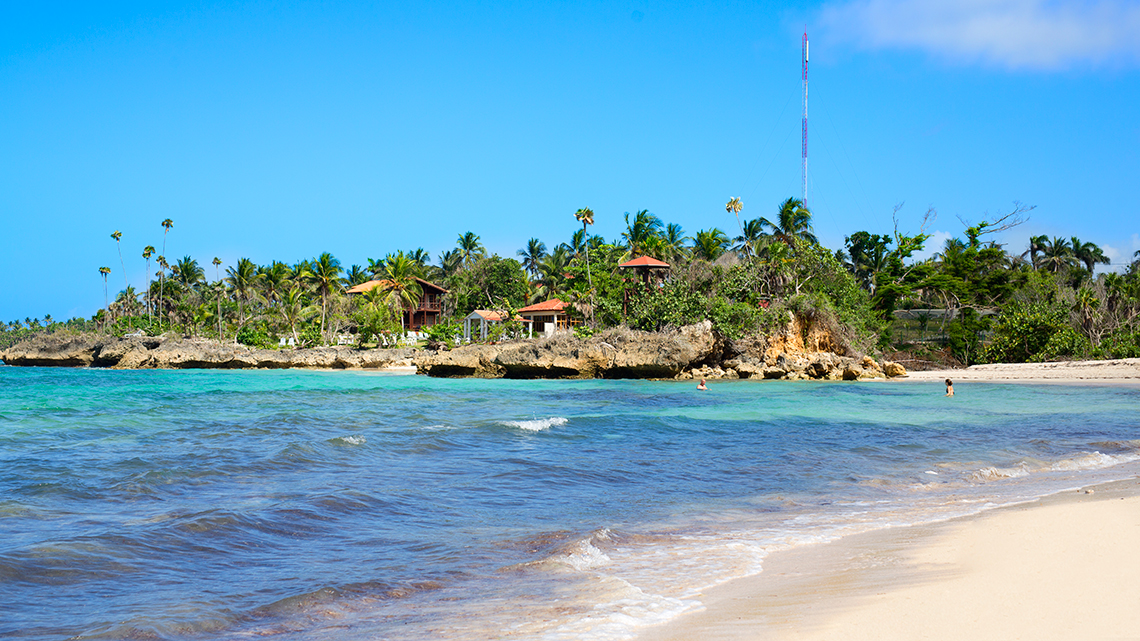 If beach-basking is on your to-do list during your visit to Baracoa you will have to hire a taxi to take you to Maguana Beach, about 12 miles from the city centre. Spending an afternoon here, letting it all sink in while surrounded by the brightest shades of turquoise and emerald in the sparkling waters will make the trip here worth it. You can lay back on the powdery soft white sands or hire a lounger from locals and have the perfect ending to a perfect day. If you stay for sunset, all the better.
★ Day 2 – Trekking adventures
If there is one thing that Baracoa is most famous for, beyond its infectious laidback attitude, provincial life, and peculiar cuisine; that is its natural riches, which include some of the most jaw-droppingly beautiful wild sights. This is why a Baracoa holiday comes highly recommended for nature lovers, birdwatchers and adventure seekers.
Exploring the heart of a World Heritage Site
Alejandro de Humboldt National Park
A world biosphere reserve which served as refuge for many species during the glacial and Miocene-Pleistocene eras, its rich diversity and conservation is one of its many draws. Named after the German geographer, geologist, naturist, and historian credited with having discovered this part of Cuba (also nicknamed Cuba's second discoverer), this national park is of outstanding natural beauty in multiple ways.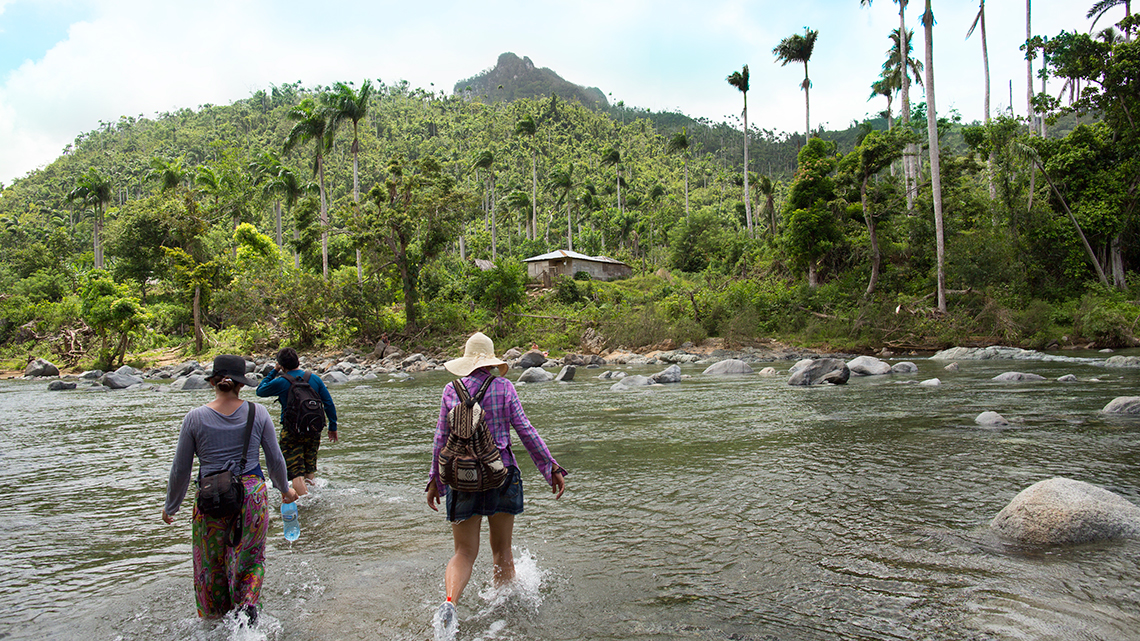 Here you have a handful of options, hire rowboats to sail along the Yumurí River and then stop at a deserted beach for a swim and lunch or even better, book a full-day or half-day safari or trekking tour along "Cuchillas de Toa". There are three main excursions to choose from, one spanning 3.5 kilometres, another 7 kilometres and a third one on a boat traversing the river that cuts through the park. Watch out for numerous bird species, among them the severely endangered ivory-billed woodpecker, the Cuban parrot, the Cuban parakeet, and a variety of hawk species.
One thing is for sure, there is no better place for discovering Cuba's diverse ecosystem, indeed the best-preserved ones are all here.
The dense rainforest feels like a sanctuary of Mother Nature and there is so much to enjoy. You will come across coffee and cocoa plantations. Taking the cocoa route comes highly recommend as you learn where all of Cuba's cocoa is grown and later processed into chocolate. From private and state-run cocoa farms to chocolate factories.
There are many species that you will only find here and nowhere else in the world, a clear example is the one we are about to introduce you to: the polymita.
The world's most colourful snail
A visit to Alejandro Humboldt's National Park must include an obligatory stop by "Cueva del Paraiso", a cave system made up by three underground caverns where you can admire the world's most endangered and most brightly coloured snails with shells that seem painted by hand into spiralling patterns. No matter how many of these you spot, none will be like the other, they have the peculiarity of each being unique.
Where to stay in Baracoa
Like most other places in Cuba, Baracoa has an ample selection of casas particulares, with varying levels of sophistication, but all with the essentials and the most attentive hosts, which is why we always recommend staying in a casa particular in Baracoa or anywhere else in Cuba. Not only do you give back to the locals and put money directly into their pockets, but you get the full local experience with a family host.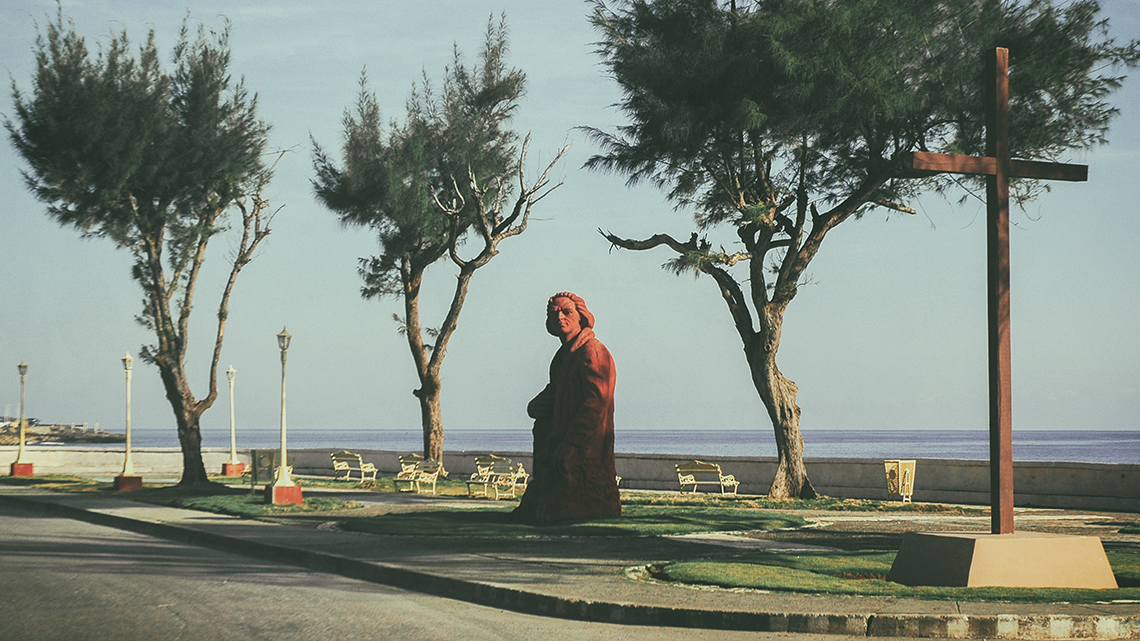 We recommend a stay at Casa Terraza Brisa del Mar, a three-story house offering two bedrooms fully equipped with air-conditioning, in-room bathroom, and personal fridge. Delicious home-cooked breakfasts are served on the rooftop terrace overlooking the bay. Likewise, Casa Bella Vista is directly poised overlooking the bay and offers even more spectacular vistas over the sea and El Yunque mountain with equally charming hosts. To be fair, you simply cannot go wrong with virtually any casa particular in Baracoa, we are simply highlighting two because choosing a casa particular in Baracoa is not this blog's central theme.
★ Baracoa in a nutshell
It was upon landing near Baracoa that Christopher Columbus claimed this was:
"The most beautiful land that human eyes had ever seen."
And this phrase has been taken to represent all of Cuba but it actually referred to this part of Cuba only, the first to be discovered. With a unique layout, a privileged setting secluded from the rest of the world, crisscrossed by several rivers, overlooking the sea, and surrounded by heavily forested tall mountains, Baracoa feels like an island within another island. Discovering it fully might be the highlight of any Cuba holiday and here we have shown you how to do just that in 48 hours.
The Sustainable, active travel experts in Cuba
With over 20 years of experience organising holiday tours in Cuba, we are the leading cycling and active travel experts in Cuba, offering sustainable travel experiences that bring you closer to authentic, local life.
Join a small group, create your own private group or go bespoke, you'll travel safely with an international team of travel professionals, with English-speaking tour guides and 24hrs support during your holiday.